The military's deliberate bombing of camps sheltering people displaced by war has terrorised tens of thousands of IDPs, including in Kayah and Kayin states.
By FRONTIER
Ma Thel lived in Moso village in Kayah State's Hpruso Township up until the Myanmar military killed and burned more than 30 civilians in the notorious Christmas Eve massacre, one of the worst mass killings it has perpetrated since the coup.
After the massacre, Ma Thel and her family fled to the Ree Khee Buu IDP camp, west of Hpruso town, where they hoped they would be safe. But as the Tatmadaw steps up airstrikes against ethnic armed groups and People's Defence Forces, it has also been accused of deliberately bombing villages and camps sheltering people displaced by fighting, inflicting more fear and misery on their lives.
On the morning of January 17, the military bombed the camp where Ma Thel and about 400 other people were taking shelter.
"I turned off the lights when the junta's helicopters bombed the camp," recalled Ma Thel, who was breastfeeding her two-month-old child when the bombs began to fall.
One of the bombs exploded about 30 metres from a building where civilians were taking shelter, killing two young girls, aged 12 and 15, and a man in his 50s. It left a crater more than a metre deep.
Fearful camp residents, who had already fled violence, were forced to again run for their lives, this time taking refuge in nearby mountains and forests without proper protection from the elements.
"We were so scared. We began fleeing the camp at six in the morning," Ma Thel said.
A member of the Refugee Assistance Committee in western Hpruso Township said there was no fighting in the area when the Ree Khee Buu camp was attacked, and the military knew it was an IDP camp.
"When the Ree Khee Buu IDP camp was bombed by the Myanmar military, people in other IDP camps were afraid to stay and moved to other safer locations, like caves and forests. They moved to those places for their safety," he told Frontier, speaking anonymously.
Since the military seized power in a coup in February of last year, scores of civilian-led armed groups have formed in opposition to the takeover.
Some are known as People's Defence Forces (PDFs) and are generally loyal to the National Unity Government, a cabinet appointed by elected lawmakers ousted by the coup, while others operate more independently of the NUG.
Many of the PDFs and other civilian resistance forces cooperate with established ethnic armed groups that have fought for political autonomy for decades. Nowhere is that more apparent than in Kayah State, where the largest ethnic armed group, the Karenni Army, fights side by side with PDFs and resistance groups under the umbrella of a coalition called the Karenni Nationalities Defense Force.
There have been reports of similar bombing attacks on IDP camps and civilian villages in other areas where anti-coup resistance has been fierce, including in Kayin and Chin states and the Bamar heartland regions of Sagaing and Magway.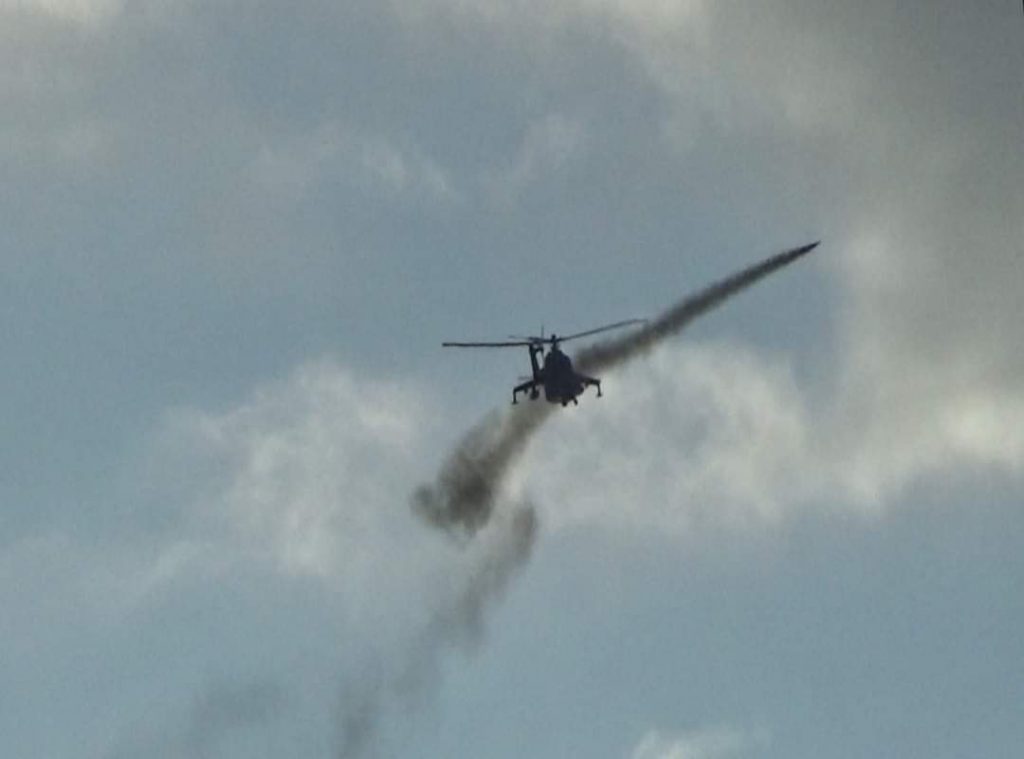 'The junta's helicopters bombed the camp'
IDP camps began to form across Hpruso Township in May last year, with displaced civilians facing increased difficulties as fighting escalated. The junta exacerbated the situation by restricting deliveries of food and other basic necessities to Kayah State. With the military suffering mounting casualties in the ground war with resistance groups, it increasingly turned to airstrikes in December.
U Aung San Myint, secretary (2) of the Karenni National Progressive Party, the political wing of the Karenni Army, appealed to the United Nations and other international organisations to provide humanitarian aid.
"The displaced people in Karenni State are suffering from a shortage of humanitarian assistance," he said, a situation complicated by the fact that only a few roads link the state to the rest of the country.
"Now, Loikaw city has become a battlefield, disrupting the flow of goods from other states and regions. The displaced people in Kayah State are in urgent need of humanitarian assistance," he told Frontier on January 31.
The KNDF said that since December 2021, the junta has bombed civilian targets in the state capital of Loikaw, as well as Hpruso and Demoso townships, and in Pekon Township just across the border in southern Shan State.
The KNPP says since airstrikes began, the number of IDPs in Kayah increased from 110,000 to over 170,000. The United Nations said in mid-January that half of the population of Loikaw Township has been displaced and nearly 90,000 of the state's residents have been forced to leave their homes due to fighting. The 2014 census found that Kayah has a population of 286,627.
Ma Thel says she has felt insecure since she survived the deadly bombing of the Ree Khee Buu IDP camp. "Living as an IDP is exhausting and frightening for me. I want to live at home," she said.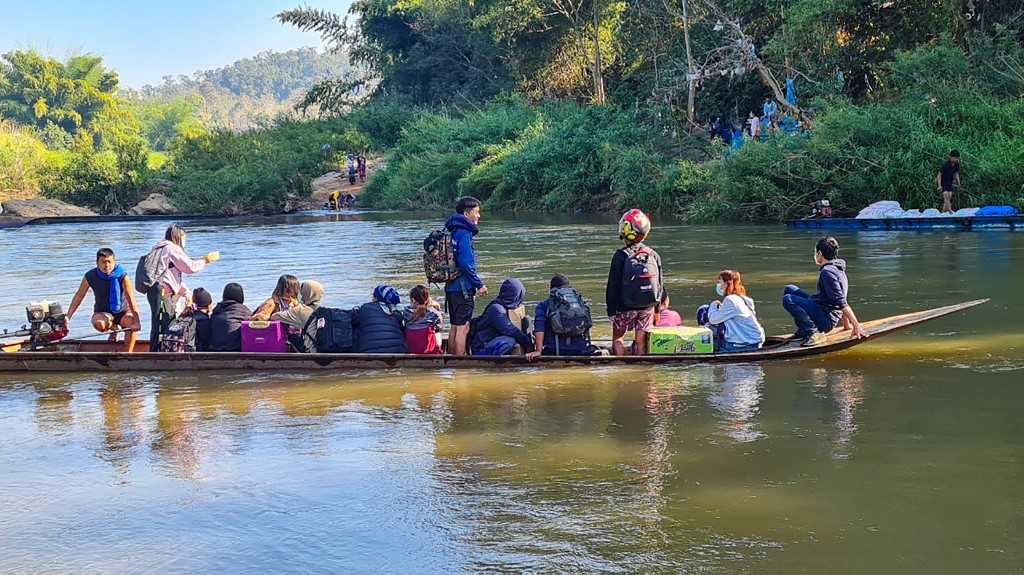 Fighting at Lay Kay Kaw displaces thousands
It's a similarly grim story in neighbouring Kayin State, where military airstrikes have targeted civilian areas in territory controlled by the Karen National Union. The KNU's armed wing, the Karen National Liberation Army, is one of the country's most influential ethnic armed groups and has also been cooperating with PDFs.
In December last year the Tatmadaw launched an offensive involving airstrikes and artillery fire at Lay Kay Kaw, a town in territory controlled by KNLA Brigade 6, where political dissidents were in hiding. Security forces arrested dozens of political fugitives, including two elected MPs, and the clashes displaced some 20,000 people, many of whom headed for the border with Thailand.
U Bo Sein, an aid worker on the border, said displaced people from Lay Kay Kaw and a number of other villages that had come under attack were forced to hide along the bank of the Thaungyin (Moei) River, which forms part of the border between Myanmar and Thailand. Many who crossed the river then hid in the jungle for fear of being arrested by the Thai army.
"I don't know how long this conflict will last, so I want a stable place for the displaced people because they often find it difficult to move from one place to another," he said.
In January, Thai authorities reportedly forcibly deported between 3,000 and 4,000 refugees, tearing down their makeshift shelters and sending them back across the river. In December, Thailand insisted that the refugees returning to Myanmar were doing so voluntarily, because they were "worried about their property". Bo Sein called for Thailand to be more accepting, especially given the Myanmar military's propensity for airstrikes.
"We want a safe and secure place for the displaced people, including the elderly, children, and pregnant women. The Myanmar military should avoid conducting airstrikes on areas where displaced people are taking refuge. It is more convenient for the Thai authorities to accept displaced people," he said.
The NUG's Ministry of Human Rights said in a statement issued on January 31 that the Tatmadaw has conducted airstrikes in 44 of the country's 330 townships. The United Nations Office for the Coordination of Humanitarian Affairs said that as of February 2, fighting in Myanmar had displaced more than 425,000 people.
On January 20, ethnic armed groups and resistance forces in Kayin, Kayah and Chin states called on the UN to designate no-fly zones in conflict-affected areas and to declare IDP camps, hospitals and schools as safe zones.
"At this point, the danger to human life is really on the red line. A person who is alive today, may not be alive tomorrow. The right to life is completely lost," said Aung Hsan Myint from the KNPP.
This story is also featured in this week's Doh Athan podcast by Frontier Myanmar.