One of the leading lights of the "new wave" of directors is Christina Kyi, who burst onto the scene earlier this year with two hit films: Oo Pel Tamyin ("Deception") and Mudras Calling.
By SITHU SOE | FRONTIER
A CHARACTERISTIC of Christina Kyi's films is that they shun established actors. This is a major break with convention: In Myanmar's movie industry, stars have been seen as the key selling point of a film.
Instead, she has turned to a cast of unknowns, many of whom have no acting experience.
Here Frontier's Sithu Soe speaks to Christina Kyi and Ba Nyo, who played the character of detective U Htein Win in Deception.
Ba Nyo: When I met the French [acting coach Mr Thierry Bleu], he studied me. He liked the way I smiled, the way I laughed and my sarcastic way of speaking. That's why I was chosen. He didn't ask me many questions, he just asked if I could take a training course and I said yes.
Christina Kyi: There were other candidates who wanted to act the part of detective Win Htein. But when we met Ba Nyo, we liked his smile. He looked likable. As soon as we met him, we noticed his charisma.
When he talked to someone in public, it was okay. But when he was about to act, we had to warn him every so often. "Aba [grandpa], speak naturally. Speak as though you are speaking to me. I consulted with [lead actor] Ko Zenn Kyi to enable him act like that. A few minutes before we filmed, I made Zenn Kyi talk to Aba.
Most people change their tones when they hear the word "action" shouted. But we like natural tones so much.
Ba Nyo: In the role I had to run after a thief. It was filmed at Yadanar Market behind Mingalar Market [in Mingalar Taung Nyunt Township, Yangon] and I had to run about 15 times.
They wanted to make me so tired but I wasn't easily tired. So, [they said], "Run again, please, Aba. Run again, please, Aba" – they repeated and repeated it. I had to run about 15 times and finally the last time I was really tired.
Because I was not only tired but also running after that fellow, the thief, I was so angry that I happened to use dirty language, such as "son of a bitch". So, in that role, some comedy appeared.
Christina Kyi: We try hard like this to do our work. We want real tiredness and real sweat.
Ba Nyo: [In another scene] while I was learning palmistry from a female palmist, I made a gesture at her son by raising an eyebrow. I like this acting.
I came to the female palmist with the pretense of wanting to learn palmistry. The [hero in the film] was worried that fellow [the son] might run away. When her son brought me a cup of tea, I made a gesture by raising an eyebrow at him like this … When he knew that I came to see him, he was afraid of me.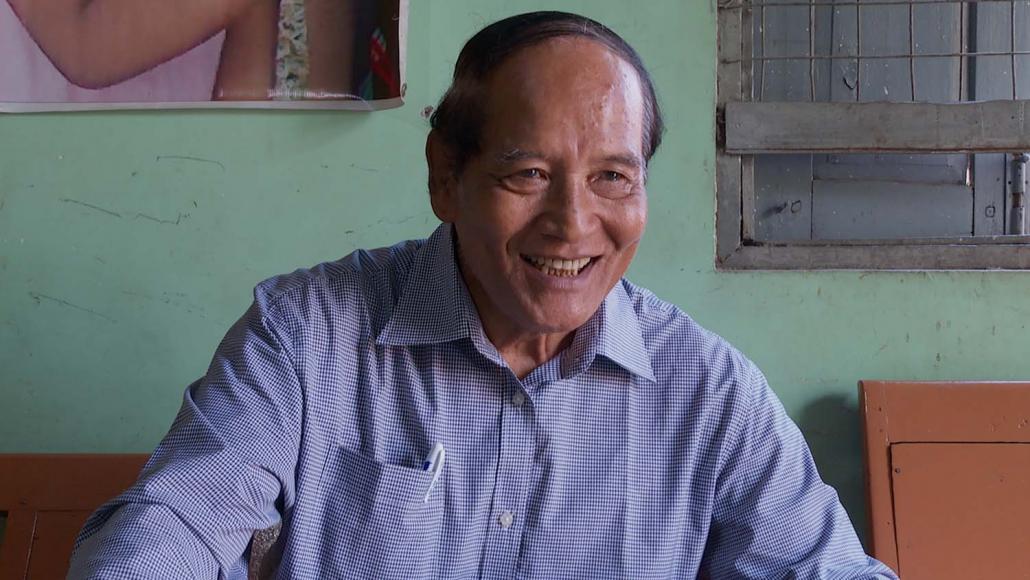 Christina Kyi: According to the script, he [Ba Nyo] had the upper hand [on the son]. But rather than threatening someone with an angry face, we thought it would be more frightening to threaten them with a faint smile.
So instead of threatening by widening his eyes, we asked Aba to threaten like that. It is kind of sending the message that he is everywhere and has all the power.
Ba Nyo: We had to negotiate some things during shooting. What I wanted to do was different from what they wanted. They told me to act naturally, like in the outside world.
In my last scene, when I had to mix with the crowd, I wanted to show off. They knew it. They warned me, "Aba, you are overacting. Stay in your character." They were able to instruct me in detail. They are very clever.
Christina Kyi: We have a crew, cast and assistants – about 40 people altogether – so many people came up and looked at us while we were shooting because they wanted to know what we were doing.
If you want to show off in a place like that, our film may change into a play. I need to tell you point blank … If you overact, you might go out of mood and character.
So we had to instruct Aba a lot not to overact like that. But Aba is respectable. No matter how often we asked him, he never lost his composure.
TOP PHOTO: Director Christina Kyi (Sithu Soe | Frontier)