Residents of conflict-wracked Sagaing and Magway regions who have left for the relative safety of big cities face challenges that include discrimination, harassment and barriers to their children's education.
By FRONTIER
Ma Cho and her children became reluctant migrants this year, joining the estimated hundreds of thousands of people who no longer feel safe in their homes in conflict-wracked areas of the country. Many of those fleeing have headed for the relative safety and stability of big cities such as Yangon, Mandalay and Nay Pyi Taw.
Ma Cho, 45, and her family were living in Kawlin Township in Sagaing Region, which along with neighbouring Magway Region and Chin State, became hotbeds of resistance to the junta and the targets of punishing raids by the military.
In April this year, Ma Cho and her two daughters, aged nine and 18, left their home in Kawlin town and moved to rented accommodation in Yangon's outer Hmawbi Township, where her elder sister lives. Her husband stayed behind in Kawlin to watch over their property.
"Without someone keeping watch, all the things in my house would be stolen and taken away. Then we would have nowhere to live when we return home if there is peace again," she said.
In Kawlin, Ma Cho was one of many people in her community who made a decent living from panning for gold in nearby creeks, work that she enjoyed because she could set her own pace. "If I worked in the morning, I could earn at least K10,000 (US$4.75) per day. You earn as much as you work," she said.
Ma Cho's husband also earned good wages working in the gold mines, but lost his job after the coup. He started buying and selling used tin cans and water bottles for re-use to earn money, but even that trade has dried up due to the conflict in the area, and he is now completely unemployed.
Ma Cho said that in the immediate aftermath of the coup there was little change in the area where she lived, but as anti-junta resistance groups known as People's Defence Forces grew in strength, military crackdowns worsened.
She said regime forces hunting for PDF fighters began torching houses and arresting villagers.
"People did not dare stay in their houses; there was no security in my hometown and schools were closed," she said.
Since moving to Hmawbi, Ma Cho has begun selling mohinga, a rice noodle fish soup that is a staple Myanmar breakfast.
"I was relieved to be able to begin selling mohinga, thanks to the assistance of my sister; I earn just enough to live," she said.
A resident of Hmawbi Township said the newcomers from Sagaing Region keep to themselves and do not want others to know where they are from. "They live quietly," she said.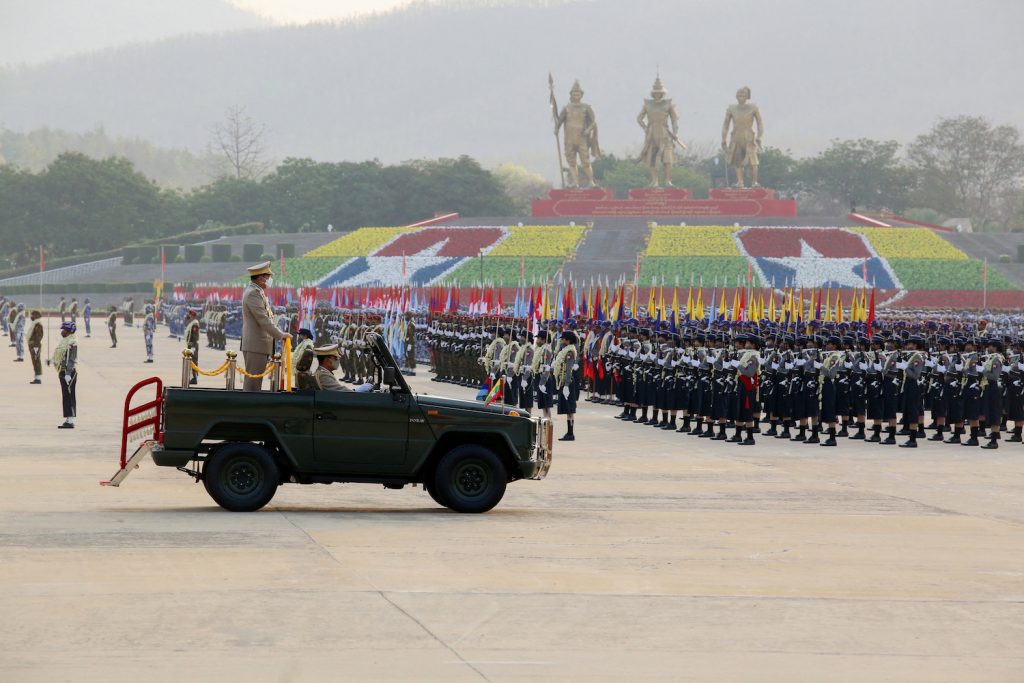 Capital pressures
Many people who have become internal migrants because of the conflict have also moved to Nay Pyi Taw. The capital is perceived by those fleeing insecurity as one of the safest locations in the country due to the concentration of troops, but that also means general oppression is more pronounced.
A community of former Sagaing Region residents live in a monastery in Pobbathiri Township, where they keep a low profile.
"They are afraid that people would know they are from Sagaing Region. They moved here and took refuge in a monastery because their houses were burnt down," a woman who lives in the village told Frontier.
"Last month the police came and checked on them. The abbot explained that they are innocent people who moved here because they don't dare to stay in Sagaing. The abbot spoke highly of their honesty and good character, and only then did the police leave," the woman said.
Most of the former Sagaing Region residents, who make a living as daily wage labourers on farms in the area, declined to be interviewed by Frontier for reasons of personal safety.
"We hire them when we need weeding done on our farm. They are paid K4,000 ($1.90) for a morning's work," another resident told Frontier.
People moving from unstable areas to towns and cities face many challenges, including access to education. After relocating, parents usually want their children to continue their education, but are often finding it impossible due to bureaucratic requirements.
One of the former Sagaing residents now in Pobbathiri Township said one of the families wanted to enroll their daughter in the 10th grade at the local school but was unable to do so because she lacked the necessary transfer documents due to her previous school being closed.
"The girl has to do farm work with members of her family; it is such a pity," the woman said.
Ma Cho encountered a similar problem at Hmawbi.
"We had trouble when we tried to enrol my younger daughter in fifth grade at a school in Hmawbi. They said she needed transfer documents from her school in Kawlin, but schools there are not open. However, eventually we were able to enrol her with a recommendation letter from the administrator of the ward where we live," Ma Cho said.
Migrants from Sagaing and Magway regions have also encountered discrimination when trying to find work. Employers are reluctant to explain to junta-appointed ward administrators why they employed people from the two restive regions, who can be identified by a prefix number on their National Registration Cards.
After workers protested outside a factory in Yangon's Shwe Lin Pan industrial zone in late August against discrimination towards migrants from Sagaing, Magway and Mandalay, the junta's labour ministry dismissed their complaints as propaganda.
Ma Nay Chi, 23, left Myaing town in Magway Region when job opportunities there evaporated because of instability and came to Yangon to find work in June.
"The first two factories refused to accept me because I came from Magway Region, only the third factory gave me a job. Most employers are scared to hire people from Magway and Sagaing, but it should not be like this," she told Frontier.
"Employers should not discriminate against those who come from unstable regions to find work for a living," Nay Chi said.
Another problem for migrant workers is an increase in checks of household registration lists.
Two weeks after the coup, the junta reintroduced the legal obligation for householders to report overnight guests, which the National League for Democracy government had removed from the Ward or Village Tract Administration Law. It was known as the "midnight inspections law" and its reintroduction has paved the way for night-time raids by joint teams of administrators and security forces.
The frequency of the checks has increased markedly in big cities. Boarding houses and workers' dormitories have been targeted, making landlords more cautious about renting.
A boarding house owner in Nay Pyi Taw's Zabuthiri Township said one of his tenants is a young woman from Magway Region who is attending a training course in the capital.
"When she went to register at the ward administration office, the ward administrator asked me if I could take responsibility if she got into trouble for any reason," he told Frontier. "I told him I would. She is just an innocent woman attending a training course."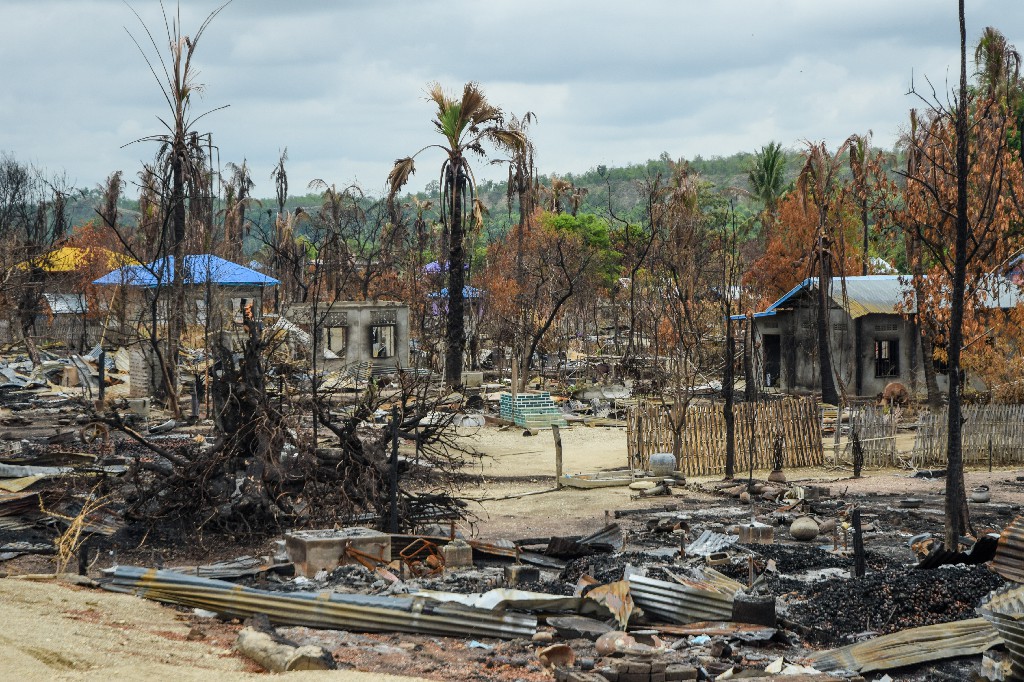 Reluctant war migrants pine for home
Many of those who voluntarily relocated from villages and small towns to seek refuge in cities feel uncomfortable in their new surroundings. There is a common desire to return home as soon as there is peace and stability.
"We don't want to live in cities. We only came here because of concern about security and for our children's education," Ma Cho said.
Daw Kyi, 84, from a village in Magway Region's Myaing Township, never imagined she would have to flee the comfort of her home. But after soldiers began launching raids and harassing residents, she left Myaing and went to live with one of her sons in the Sagaing Region capital, Monywa, in June.
"I never thought that at my age I would have to run away from home because there was unrest in the country," said Daw Kyi, who remembers living in a bomb shelter as a child during the fighting between Allied troops and the Japanese Imperial Army during World War II.
"Now that I'm old I want to live in my hometown, where my other children live, but my son won't let me return home because it is unsafe. I only want peace in the country," she added.
Figures released by the Institute for Strategy and Policy show that armed conflict since the coup has displaced more than 1.5 million people as of August 20. ISP-M says there are at least 533,833 displaced in Sagaing, 37 percent of the total, followed by Magway Region with 171,450, and Kayah State with 163,600. Those figures are unlikely to capture the full scale of the displacement, with many people relocating to stay with family in different cities who may not be captured in the data.
Sagaing Region has also recorded the highest number of destroyed homes and civilian casualties. Of the 2,273 civilians killed by the military since the coup, 850 were slain in Sagaing, the most of any state or region, according to monitoring group Assistance Association for Political Prisoners.
"People should give whatever assistance they can to those who had to migrate because they can no longer survive in their native areas. Now, migrants from Sagaing and Magway are facing discrimination; it is only because of the military," a Nay Pyi Taw resident told Frontier.
In addition to their NRCs, internal migrants are also being asked to show a "travel recommendation letter" from the ward administrator in their hometown, essentially giving them permission to travel.
This has not been announced as an official policy of the State Administration Council but appears to be another ad hoc requirement that suspicious local authorities have imposed, targeting mostly people from Sagaing and Magway.
"When we have to travel on business, we are thoroughly checked during the trip. It is difficult for us to even travel to Pakokku, the nearest town, because of frequent fighting between soldiers and the People's Defence Forces. We have to monitor information about the situation on the way before we leave," said a woman from Magway Region's Myaing Township.
"No matter where we live, our situation will be more difficult than people in other parts of the country because we are all residents of Magway Region, who are taking part in the revolution with all their strength. Until we have achieved victory, we will be in this difficult situation," she added.