Riverbank erosion is making life more precarious for many farming communities, especially in Ayeyarwady Region, where some villages are moving on a near-annual basis.
By SU MYAT MON | FRONTIER
Photos NYEIN SU WAI KYAW SOE
DAW NILAR WIN stands on a dyke and looks out over the Ayeyarwady River, so wide and swollen the other bank is barely visible.
A few decades ago, the riverbank was about 6.5 kilometres (4 miles away) from where she's standing; now the dyke is the riverbank.
Continuous erosion has brought the Ayeyarwady closer and closer to a number of villages in the area – a common scenario in many communities in the delta and along waterways elsewhere in the country.
Nilar Win, 42, and her family of five live in Ngapyaw Taw, a village on the west bank of the Ayeyarwady River in Hinthada Township, about 130 kilometres northwest of Yangon.
The family has had to move three times in the past four years as water has repeatedly inundated their home. They are now stranded on the dyke. Although it's illegal to build there, they and dozens of other Ngapyaw Taw residents have constructed homes, and the regional authorities sympathetic to their plight have so far tolerated their presence.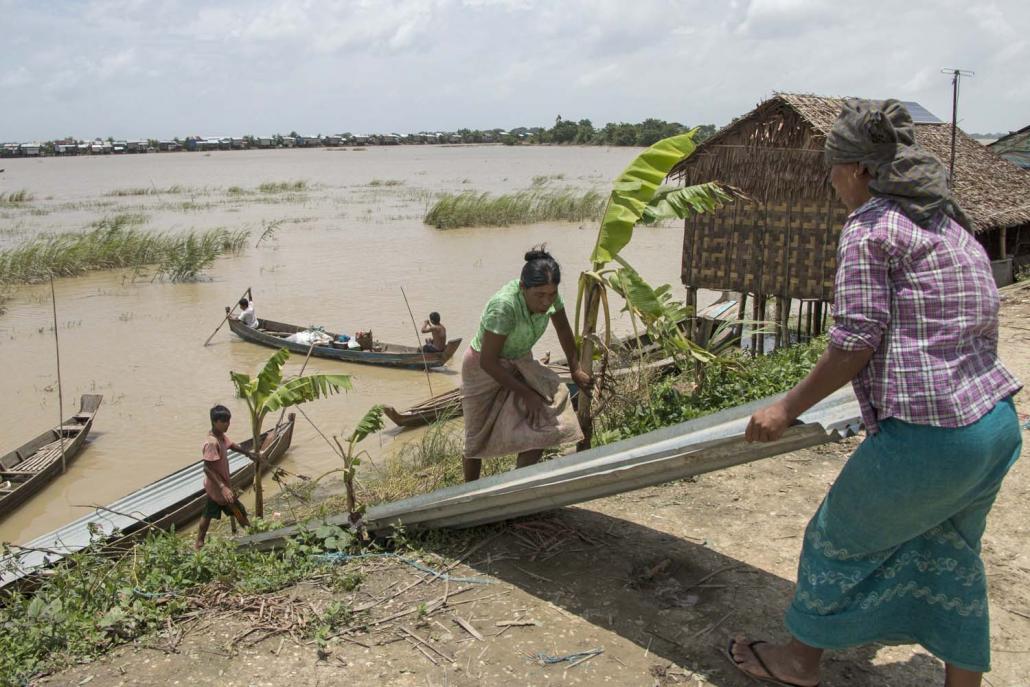 "We have to live on the dyke because we are poor and we cannot afford to move away from the river because we rely on it to survive," she said.
Nilar Win's husband is a seasonal fisherman, and she also raises chickens and pigs to support the family and educate their three children. Moving house every few years made it hard for the family to save. "We are living hand-to-mouth," Nilar Win told Frontier.
Before the monsoon arrived this year, there were 72 houses in Ngapyaw Taw. As the water level rose in early July, the current became more powerful and began eating away at the bank, undermining the foundations of 22 houses and sweeping them away. In 2014, it was worse; all 72 houses in Ngapyaw Taw were washed away and later rebuilt.
But it's not the only village in the area that's been affected. In 2015, 60 of 146 houses in the adjoining village of Tar Ngote were destroyed by riverbank erosion. Last year, a swollen Ayeyarwady washed away the remaining 86 houses in Tar Ngote, as well as a primary school funded by Japan that cost more than K100 million and was also attended by children from Ngapyaw Taw. The school's 80 children are being educated in a temporary wooden building erected by villagers.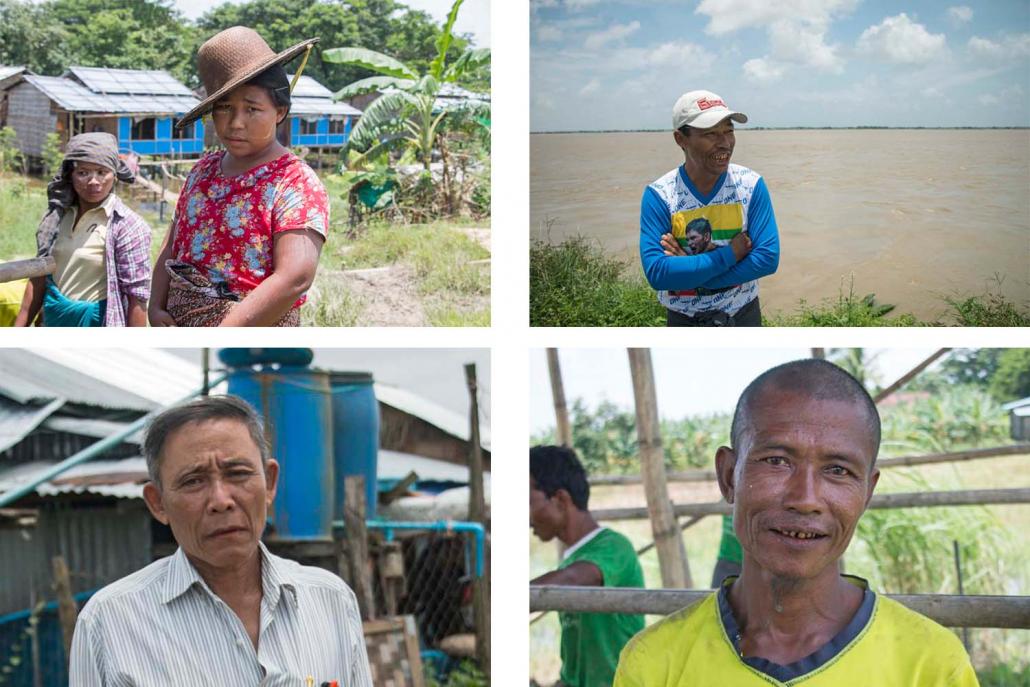 Tar Ngote has been relocated to a nearby site where 146 houses have been erected, none of which was affected by erosion this year despite still being near the river.
U Win Tin, 45, the headman of Tar Ngote, said riverbank erosion had begun posing a serious threat to the two villages in 2014 and 2015.
He said that when villagers asked for government help to relocate they were told they would need to find the land themselves.
Win Tin said most of the villagers were poor and could not afford to buy land in the area, where an acre costs about K3 million.
"Most of them cannot afford to move elsewhere," he told Frontier.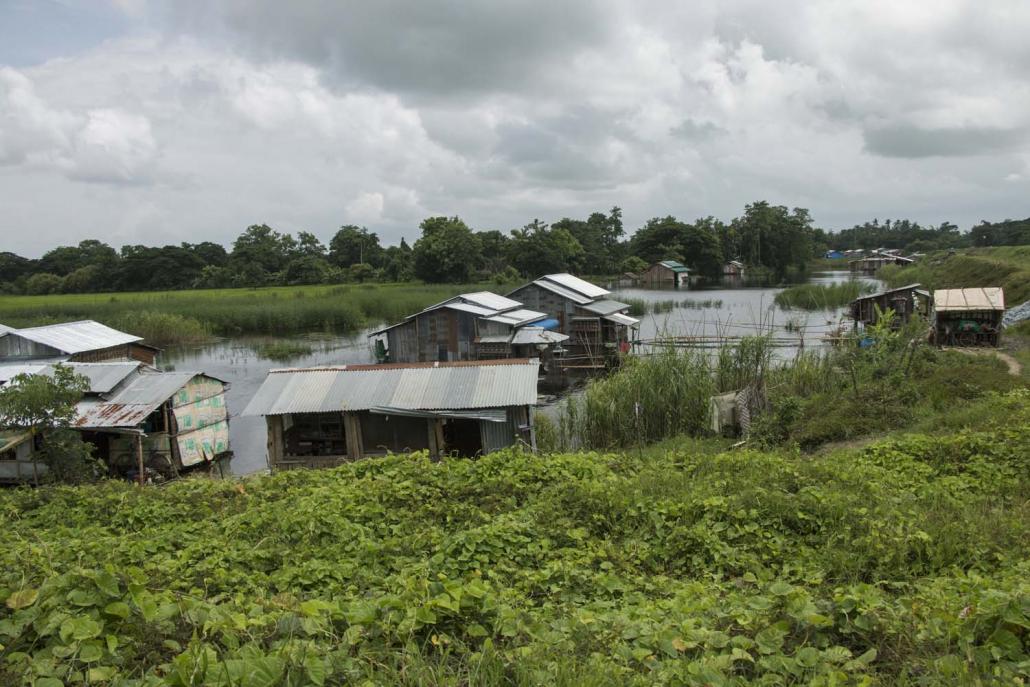 The erosion has meant that the amount of available land in the area was in decline, exacerbating the situation.
Win Tin said letters asking about land for villagers to rebuild their houses had been sent to the regional government for more than a year but it was yet to respond.
If the government could not help with land for relocation, he said, villagers who had rebuilt on the dyke would have to remain there, despite being in breach of the law.
Win Tin said the Ministry of Social Welfare, Relief and Resettlement had provided about K100,000 in supplies, including food and clothing, to each affected household in both villages last year.

But this was not a sustainable solution, he said, adding that the amount being spent by the government on relief for people affected by riverbank erosion was likely to eventually match what it was spending to try to address the problem.
"The government will be paying it endlessly but it is not the best solution and not effective," Win Tin said.
Villagers said charity groups had visited this year to donate rice and other food but there had been no sign of government officials.
"If the charity groups had not come to donate food we would have starved and not been able to help each other rebuild our houses – it really helped us," said U Nyan Htun, 45, a resident of Ngapyaw Taw who has had to move five times.
He was working with a group of villagers in early August to help rebuild the home of his younger brother on the dyke.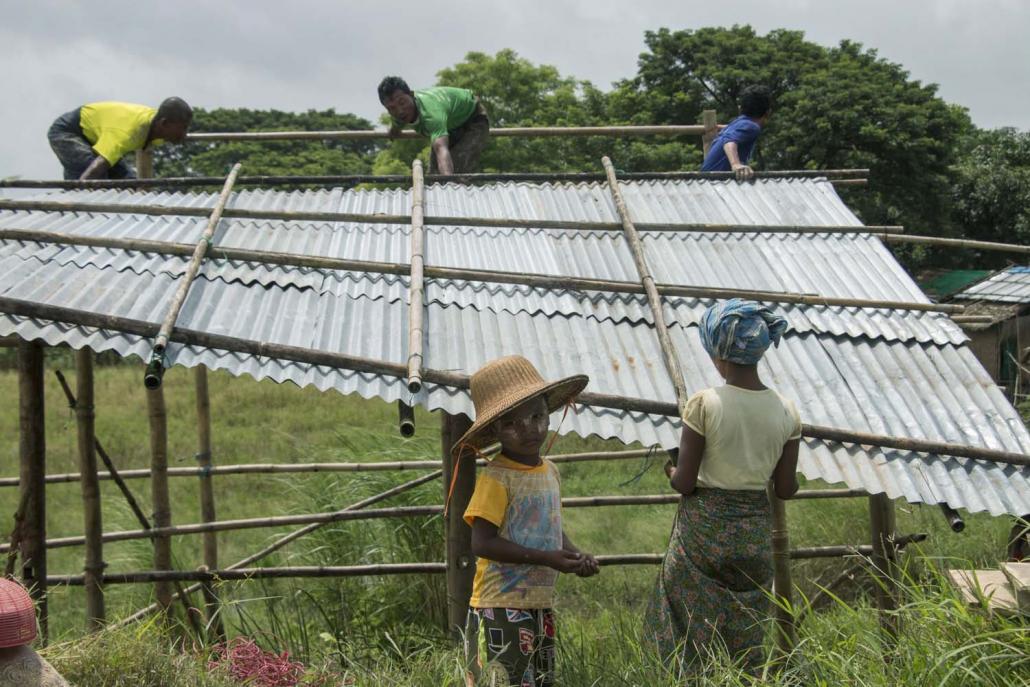 The risk of further erosion means that villagers who have been forced to relocate build basic structures, Nyan Htun said.
"None of us can afford to buy land … so these are the most splendid houses we can build," he said, indicating towards the simple huts – made from a mixture of wood, bamboo, thatch and corrugated iron – that have been erected on the dyke.
Nyan Htun said the villagers were desperately hoping that the government would allocate land on which they could rebuild their homes.
U Hla Moe, director of the regional government's Department of Water Resources and Improvement of River Systems, said Hinthada and Maubin, about 110km to the south, were the districts most affected by riverbank erosion in Ayeyarwady Region.
About 100 houses had been destroyed by riverbank erosion so far this rainy season, with Hinthada the worst affected, he told Frontier.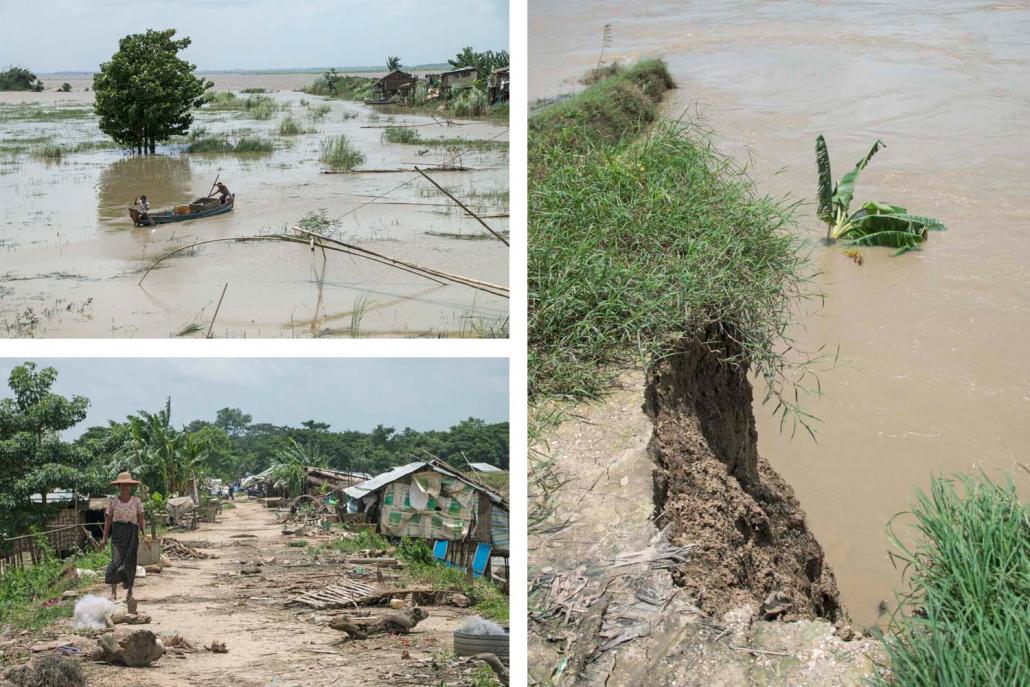 The regional government's budget for preventing riverbank erosion in 2018-19 is estimated at K5.5 billion, but Hla Moe estimated that more than K100 billion was needed to properly address the problem.
He also said that the regional government was not building embankments to prevent erosion in rural areas, because it had decided instead to prioritise work in delta towns.
A spokesperson for the Disaster Management Department in Nay Pyi Taw said Ayeyarwady Region was the area most affected by riverbank erosion, followed by Magway, Sagaing, Mandalay and Bago regions. Since April 1, 260 cases have been reported nationally, affecting 9,000 people.
The Myanmar Action Plan on Disaster Risk Reduction released in 2017 said riverbank erosion had claimed 261 lives since 2014.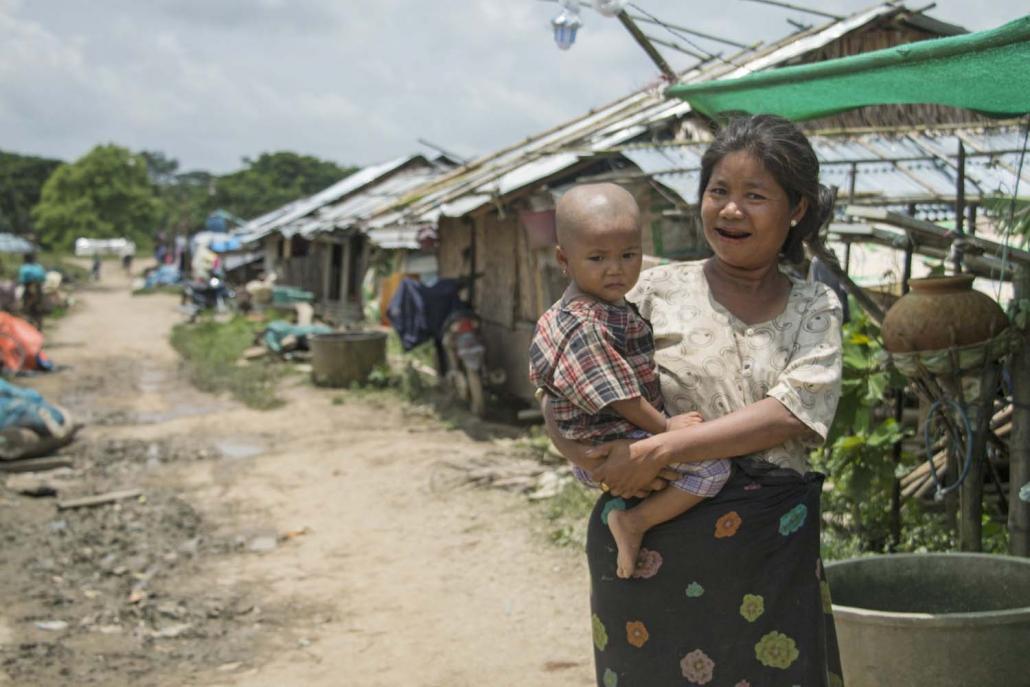 For the residents of Ngapyaw Taw stranded on the dyke, it feels as though there's nowhere left to go. Nilar Win said one of her biggest concerns was the shortage of available land in the area. "If there was a piece of land to just erect a hut," she said, "then I would be happy."
TOP PHOTO: A resident of Ngapyaw Taw stands on a dyke beside the Ayeyarwady River. The riverbank was once 6.5 kilometres (4 miles) away but erosion has brought it steadily closer. (Nyein Su Wai Kyaw Soe | Frontier)