The peace process launched in 2011 has brought only escalating conflict in northern Shan State, where the situation is complicated by the number of ethnic armed groups.
By KYAW LIN HTOON | FRONTIER
Photos THEINT MON SOE AKA J
IN DECEMBER 2016, savage fighting erupted in the Pan Lon village tract in northern Shan State between two ethnic armed groups, forcing hundreds of residents to flee to safety at Lashio, about 48 kilometres (30 miles) to the east.
Among those displaced by the week of clashes between the Ta'ang National Liberation Army and the Shan State Army-South, the armed wing of the Restoration Council of Shan State, was U Yi Lar Tha, 77, and his wife, Daw Swe Mya, 61.
After the fighting subsided, the elderly couple returned to their village. But their hopes of resuming their former lives were shattered in late December of that year, when Yi Lar Tha went with two other farmers to check their land in a nearby field.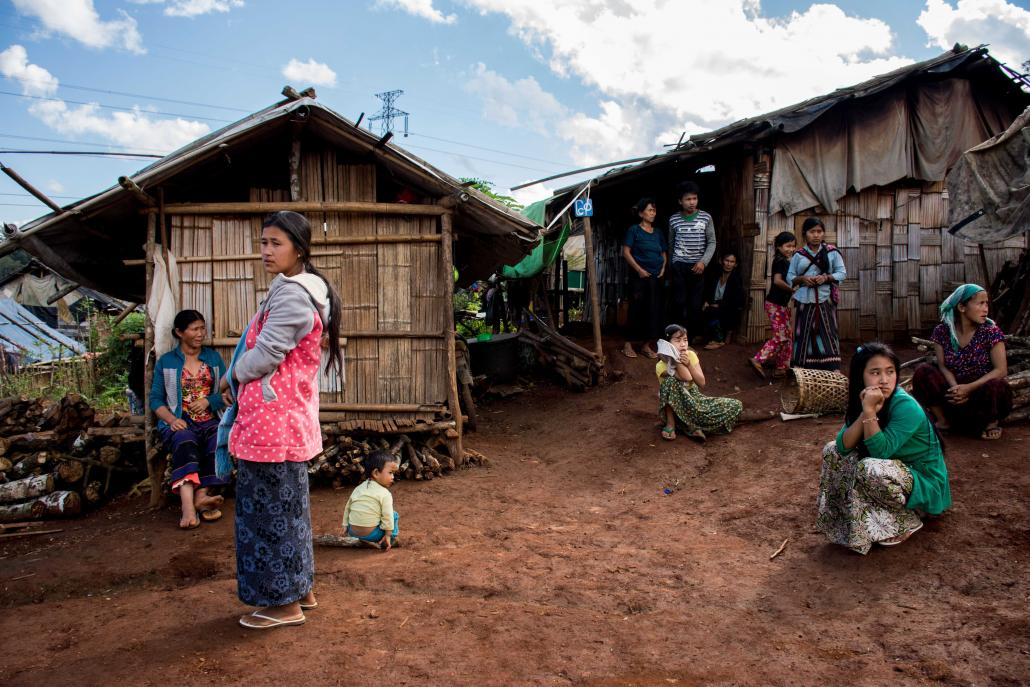 Soon after Yi Lar Tha left home, Swe Mya heard an explosion and rushed outside to investigate. She was greeted by her husband's two friends, bringing the grim news that he had stepped on a landmine, shattering his left leg.
"There was blood everywhere; I could hardly bear to look at him," recalled Swe Mya. Yi Lar Tha was deafened by the explosion, and after spending nearly a year in hospital, including a stint at a military hospital in Yangon, he returned to his home in northern Shan State where he suffers depression from the incident.
Other victims of the skirmishes between the TNLA and the SSA-S included an 18-year-old woman. Witnesses said she was trying with two other civilians to rescue a disabled boy from a house during a firefight when she was killed by a bullet fired by the TNLA.
Pan Lon is one of many village tracts affected by fighting in northern Shan that has escalated since the peace process was re-launched under the Union Solidarity and Development Party government after it took office in 2011.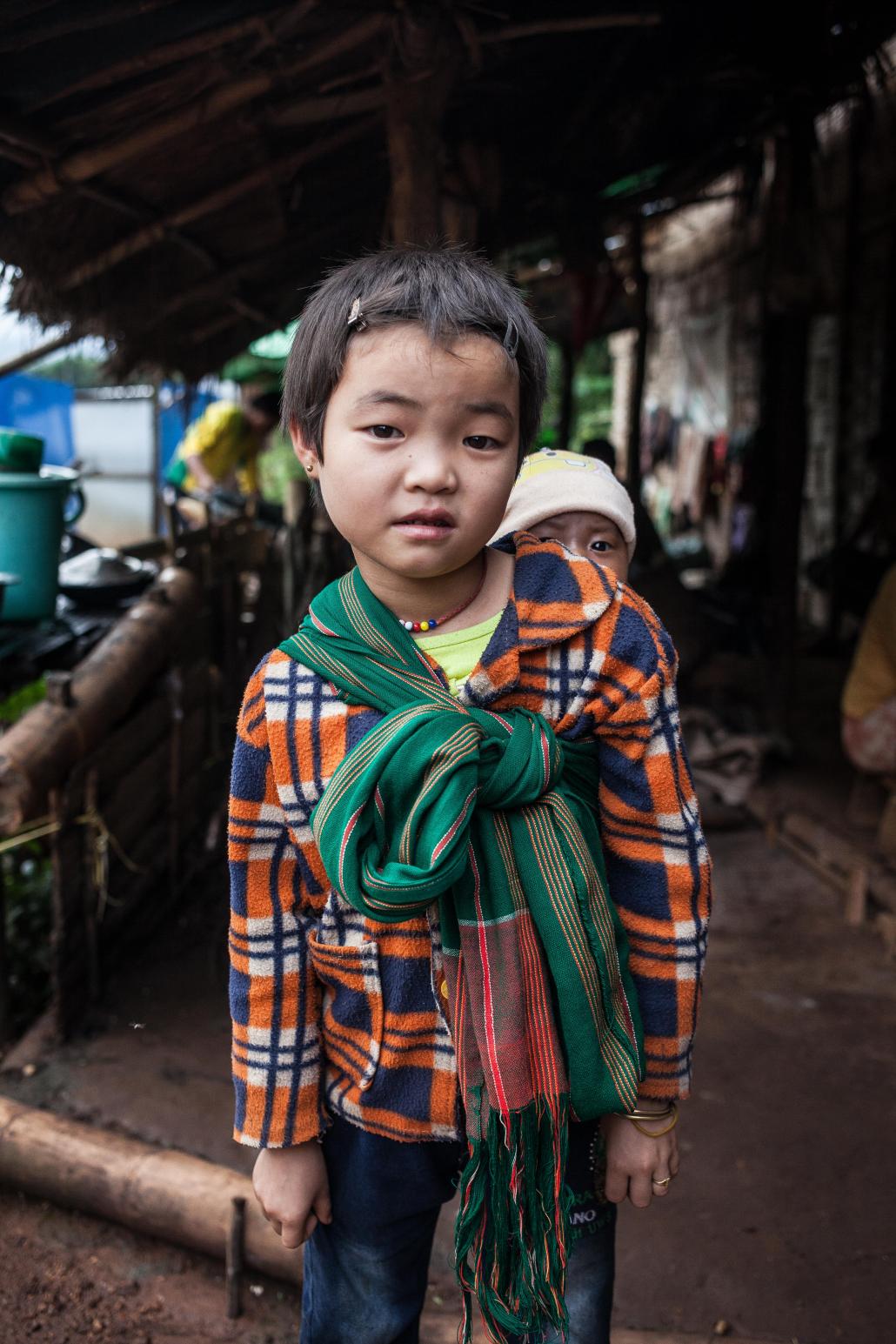 The fighting has created anxiety and hardship for thousands of villagers in territory west of the Mandalay-Muse highway and stretching north to the border with China.
Landmines have long been a scourge of conflict areas in Myanmar and they are continuing to wreak havoc in northern Shan.
In its latest annual Landmine Monitor report released last month, the International Campaign to Ban Landmines said at least 8,605 people were killed or injured by the devices throughout the world in 2016, up from 6,967 casualties the previous year.
The report said Afghanistan, Libya, Myanmar, Ukraine and Yemen accounted for 85 percent of the increase in casualties over 2015.
Halo Trust, a Britain-based NGO that focuses on mine-risk education and de-mining in 26 countries, says the threat of death or injury from landmines is higher in northern Shan than anywhere else in Myanmar.
Of the 155 landmine incidents reported throughout the country in 2015 and 2016, half were in Shan, according to Halo Trust data.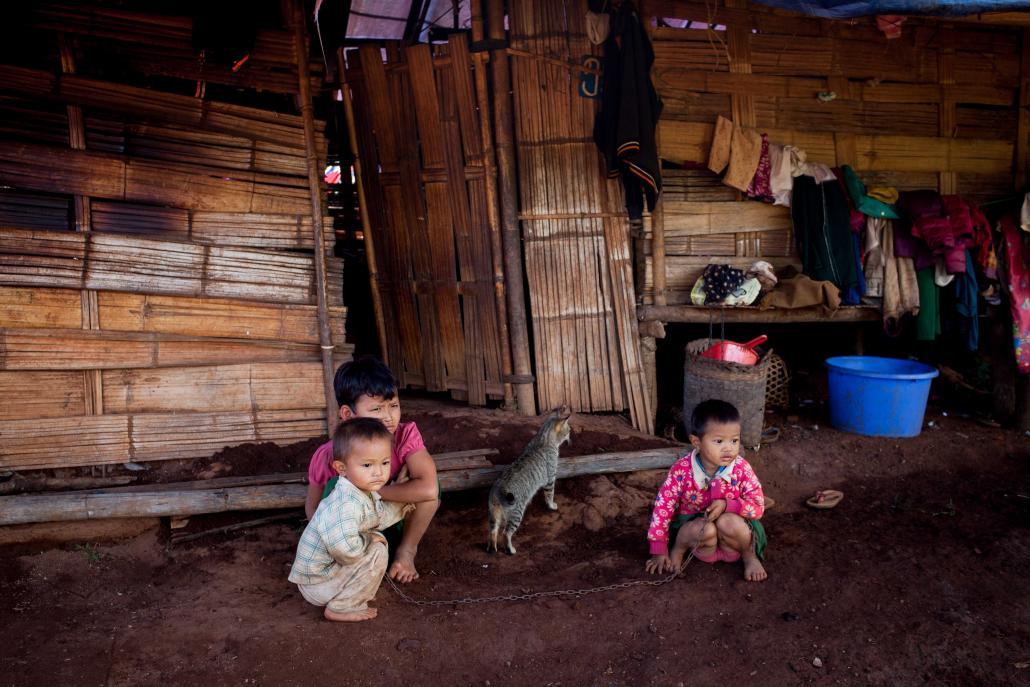 In 2017, 56 people were killed in 80 reported landmine blasts in Shan, most of which occurred in the state's northern conflict areas.
"Although the world has aimed to be free of landmines in 2025, that could not be possible for Myanmar," said Lway Ai Aww, manager of Halo Trust's office in Lashio. "Halo started de-mining operations in Cambodia more than two decades ago and the work there is yet to be completed; in our country, we have not yet been able to launch de-mining operations nationwide," she told Frontier.
Difficulties accessing conflict areas create challenges for Halo Trust's mine-risk awareness activities. Villagers are sometimes wary of attending Mine Risk Education events and those who want to attend can face issues, sometimes being scared off by the presence of ethnic armed groups or the Tatmadaw.
In a bid to improve access to restricted areas, in 2016 Halo Trust signed a Memorandum of Understanding with the Ministry of Social Welfare, Relief and Resettlement under which it submits monthly plans so that it can avoid holding meetings in areas where Tatmadaw troops are present.
Lway Ai Aww said MRE, victim assistance and de-mining were Halo Trust's main responsibilities.
"In Kayin State, as a result of signing the Nationwide Ceasefire Agreement [by the Karen National Union and seven other ethnic armed groups in 2015], we can begin surveying to draw the landmine maps that are the foundation task of de-mining," she said.
The situation in northern Shan is complicated by the number of ethnic armed groups operating in the area, of which three – the TNLA, the ethnic Kokang Myanmar National Democratic Alliance Army and the Arakan Army – have all come under pressure from the Tatmadaw over their refusal to sign the NCA.
The situation has also been affected by some unexpected developments. Tensions are reported to have eased between the TNLA and the SSA-S, an NCA signatory that had been able to redeploy troops from eastern Shan to the state's north soon after signing the ceasefire. There are reports that relations between the SSA-S and the Tatmadaw have become strained over the stalled peace process.
"The Tatmadaw is fiercely opposed to groups such as the TNLA, MNDAA and AA participating in the peace process. However, these groups are among the most active in northern Shan and that is the reason for the continuing unrest there," said political analyst U Than Soe Naing.
In a dramatic move, the so-called Northern Alliance of the KIA, TNLA, MNDAA and AA in November 2016 launched a series of surprise attacks on security posts in northern Shan that temporary shut the main land trade route to China.
The years of fighting in northern Shan have left thousands of people languishing in camps for the displaced. Figures released by the United Nations Office for Coordinating Humanitarian Affairs in October showed that there were 9,408 IDPs in camps in northern Shan, and another 89,267 in neighbouring Kachin State.
Pan Tha Pyay village, about 16km from Namtu, has hosted an IDP camp for more than two years. The camp's 90 residents include 20 children born there since it opened.
U Ai La, 34, a Palaung, is the father of twins born in the camp. He farmed corn at his village in Mongton Township before fighting forced him to flee.
"I will never go back to my village while the fighting continues," Ai La told Frontier, adding that he would continue to work and survive as an IDP camp resident.
The IDPs say they have received assistance from donor groups but government officials have never visited the camp.
U Thi La, a monk at a monastery near the camp complained about a shortage of water.
"We are forced to draw water for washing from ponds that have been contaminated by buffalos and causes skin complaints," he said, adding that they get their drinking water from a nearby stream but that the supply is inconsistent.
Northern Shan remains a major opium growing area, and U San Lwin, chairman of Namtu Township Development Committee, acknowledges efforts by the TNLA to combat drug abuse and poppy cultivation, but said that its focus on rural areas has led to many users and dealers moving to the town.
"As they are clearing the remote villages, the dealers and users have moved into the township where the rule of law remains a fairy tale," he said.
San Lwin said he had been proud of the township because it had fewer addicts than other communities and its young people had wholesome pursuits, including playing sport.
"Now, you can see drug users everywhere; and the drugs are easy to buy," he said.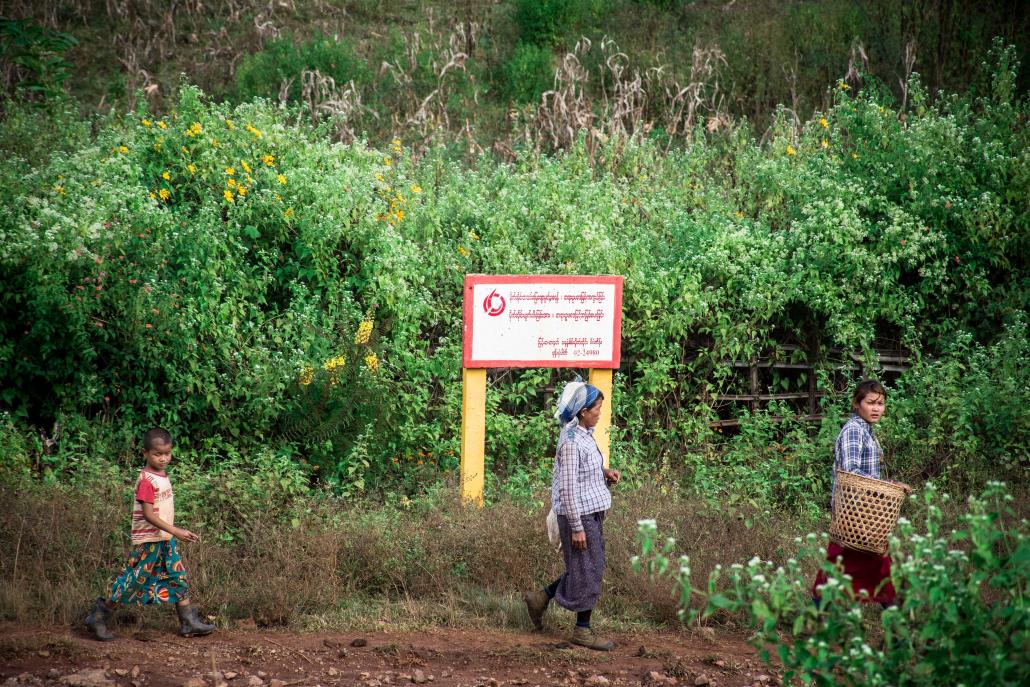 Sai Myo, 24, who was born into a poor family at a village near Namtu, said he began using opium when he was 16. Within three years he was addicted.
To support his habit and ensure constant supply, Sai Myo has become a part-time dealer.
In 2017, Sai Myo sought help for his addiction at a clinic in Namtu run by the Substance Abuse Research Association, a domestic NGO, and was placed on methadone substitution therapy, but he has since relapsed.
It's common knowledge in Namtu that dealers and users gather either at a location known as Thae Kwin (the "sand field") or beside the cemetery.
Victims of war
At Kyu Sot village between Namtu and Bawdwin is a camp that has been sheltering 271 IDPs from seven villages in Mongton Township since July 2016. In Namtu Township there are four IDP camps, including one in Lisu village housing 123 people and another run by the Kachin Baptist Convention that has 164 residents.
Rebuilding the lives of IDPs and tackling narcotics abuse will be just two of the challenges facing the troubled region when peace finally comes.
In a report released on December 1, UNOCHA said a total of about 15,000 people had been displaced by conflict in northern Shan since 2011 and were living in camps or camp-like settings. About 78 percent of the IDPs in northern Shan are women and children.
Displacement in Shan is often temporary, with many of the displaced returning home after fairly short periods, said the report, UNOCHA's 2018 Interim Humanitarian Response Plan for Myanmar.
It noted that attacks early last March by the MNDAA at Laukkai in the Kokang Self-Administered Zone had temporarily displaced an estimated 30,000 people. Fighting last May between the Tatmadaw and TNLA in northern Shan had caused further displacement, as has clashes the same month in Namtu, Kyaukme and Mawkmai townships.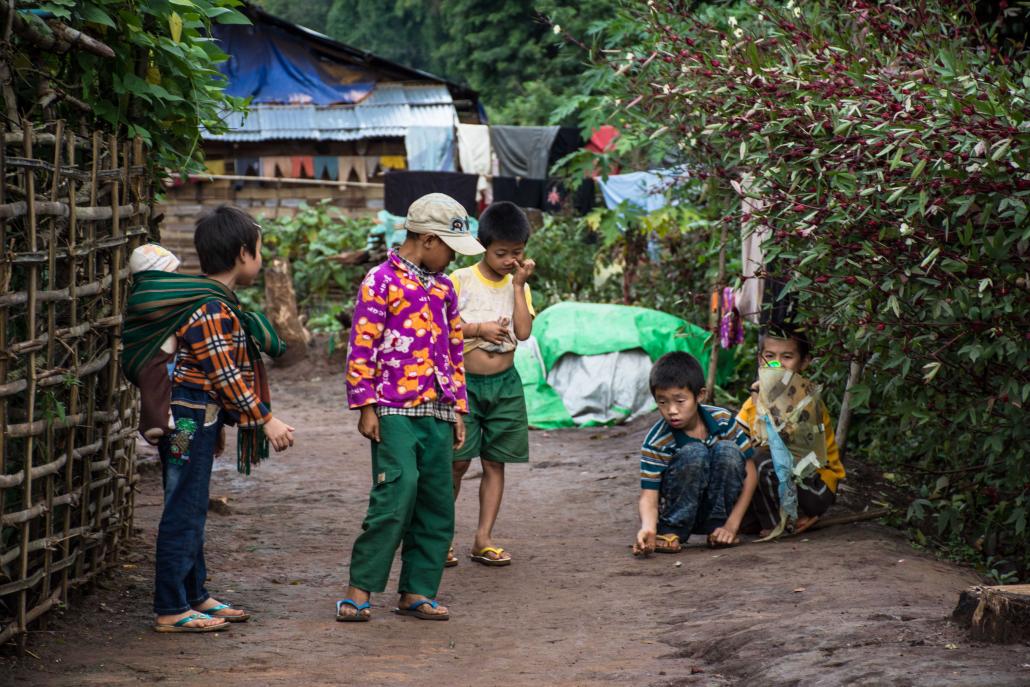 Lway Ai Aww said landmines pose one of the biggest threats to rebuilding the lives of those who have been displaced or otherwise affected by conflict.
"A person armed with a weapon may consider with his own heart, but a landmine has no mercy if you are a child or an elder," she said.
There has also been a surge in fighting between the Tatmadaw and KIA in Kachin State in recent weeks.
Peace process
A difference between MPs from conflict areas and those from townships blessed by peace can be a determination to forcefully raise issues affecting constituents. One such MP in northern Shan is Nang Kham Aye, who represents Namtu in the Pyithu Hluttaw for the Shan Nationalities League for Democracy.
Kham Aye claims her forthright style has offended some high-ranking officers in the Tatmadaw and Myanmar Police Force.
"They don't like me and some leaders of the CSSU also may not like me because I always put my constituents' interests first," she said, referring to the Committee for Shan State Unity.
The committee was formed in 2013 with representatives from Shan ethnic armed groups, the SNLD, Shan Nationalities Democratic Party, and other state-based political parties and civil society groups to hold community consultations for the national-level political dialogues taking place as part of the peace process.
However, an attempt to hold one of the events at Panglong in southern Shan on December 17 was blocked by the arrival of about 60 Tatmadaw troops. Kham Aye says she plans to raise the incident in the hluttaw.
The national-level political dialogues are a mandatory step under the NCA. They enable stakeholders to propose suggestions and recommendations at public meetings, which are then shared by delegates at the 21st Century Panglong Union Peace Conferences.
According to the NCA, there are three types of NDs, focusing on the economy, social issues or land and the environment. NDs have so far been held in the areas of the eight NCA signatories, except for Shan and Rakhine states.
Kham Aye despairs at the lack of progress in the peace process, as well as the plight of IDPs in northern Shan.
"The peace process is deadlocked and going nowhere, and the government does not seem to care for the IDPs," she told Frontier in an interview at her Namtu home in late November.
"On behalf of the IDPs I want to express my sadness that successive governments have never apologised to them for their suffering," she said.