Celebrities and influencers who were slow to respond to the February 1 coup on social media – and to condemn it – have drawn contempt from netizens, but some who spoke out have attracted millions of new followers.
With more than nine million followers, singer Sai Sai Kham Leng is considered the most popular Myanmar celebrity on Facebook. Nearly every day he posts something to his fans, whether it's a promotion for a company or photos from his latest show.
But for most of February 1 his page was silent – even after the newly installed junta had finished locking up National League for Democracy leaders and turned mobile internet back on.
It didn't take long for netizens to react to Sai Sai's initial silence over the Tatmadaw's power grab.
On January 31, the day before the Tatmadaw seized power, he had 9,137,718 followers. By the end of February 1, he had lost over 19,000 followers. But perhaps more damaging were the angry messages in the comment sections of his old posts.
"Now you see? Celebrities are the weakest of all," a social media user wrote in the comments section of a photoshoot that the singer had posted shortly before the coup. "They're the parasites of society. They'll do anything to avoid a normal life. They just want to live in a silver platter with minimum effort."
On the night of February 1, a chastened Sai Sai Kham Leng had changed his profile image to a red square, the colour of the NLD, and posted that he hoped everyone was "safe and sound". It wasn't enough for some; by February 2, he had lost another 3,300 followers.
With much of the growing resistance to the new military regime finding expression online, social media influencers like Sai Sai Kham Leng are attracting the ire of netizens for not adequately condemning the coup.
Influencers from military families, such as Nay Chi Oo, have faced an even stronger backlash. A beauty blogger, Nay Chi Oo, 28, is the daughter of U Myo Myint Sein, a former high-ranking Tatmadaw officer.
Before the coup, she had 1,395,836 followers, but has since lost about 63,000. Like Sai Sai Kham Leng, she was slow to respond to the coup, posting nothing until the evening of February 1. As her silence continued, her followers turned on her. "Guys, please unfollow these military-backed degenerates," wrote one.
Nay Chi Oo's response that evening was somewhat ambiguous. Rather than explicitly condemn the coup, she urged people to be "peaceful", to support the "real and fair government system", and to listen only to "news media publishing real information". Pressure on her continued to grow until she eventually expressed support for the civil disobedience movement. "I grew up in a military family," she posted on February 3, "however, I condemn anyone involved in the military coup that ignores the will of the people." Since then, she has been pictured participating in the mass protests, surrounded by bodyguards, but her follower count hasn't recovered.
Meanwhile, influencers on the other side of the political spectrum are being inundated with new followers. A week after the Tatmadaw's seizure of power, actress Yadanar Phyu Phyu Aung's account has grown the most of any celebrity in Myanmar, adding over 2.27 million followers as she posts persistently in opposition to the military coup, and in support of Aung San Suu Kyi and the civil disobedience movement. On January 31 she had just 640,000 followers; now she has nearly 3 million.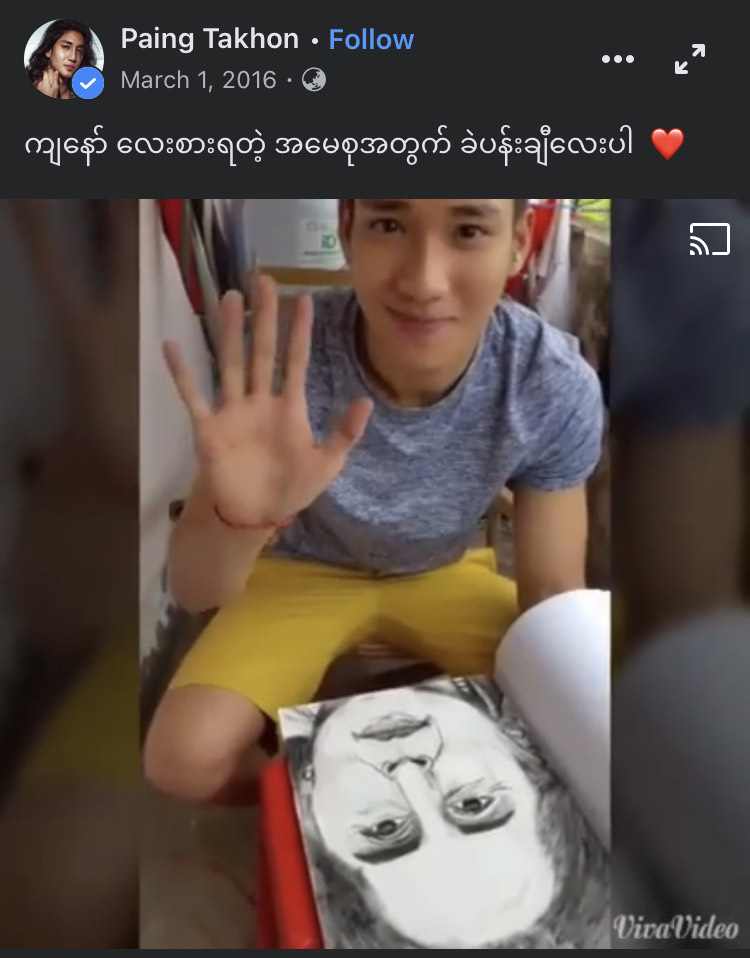 Actor Paing Takhon was one of the first celebrities to condemn the coup. On the afternoon of February 1, he posted that "the military has detained our democratic government", and appealed for help from the international community. By February 11 he had gained over 340,000 followers, up from around 900,000, and was continuing to speak out against the military government. Singer R Zarni, who has also been outspoken in his criticism of the coup, has attracted nearly 100,000 new followers, going from 411,000 before the coup to 502,000 today.
Aung La Nsang, the Myanmar-American mixed martial artist known as the Burmese Python who lives in the United States, also initially appeared to have avoided significant backlash, despite his silence on the coup.
However, on February 3, as his count began to take a hit as well, he posted an image on Instagram and Facebook with a caption offering prayers but made no explicit political comment. "You're such a joke," said the top comment on the Instagram post, which had more than 400 likes. "Myanmar citizens support you all the way, but you never help with the situation when your fans need [it]."
Aung La Nsang made the mistake of responding in the comments section, saying among other things that, "Myanmar as long as it's a nation, will have the military".
His response was not well received. Over the next two days, he lost another 7,000 followers on Facebook. On February 5, he posted a statement to both platforms.
"I know a lot of you are sad, frustrated, fearful and even angry. I am too. I am completely saddened by the events of recent days. If you know who I am and who my family is, you know my heart is with the people. I am ethnic Kachin and I know your struggles."
He said he is "passionate and proud of my country", adding that, "My platform is athletics, not politics, and this is all much bigger than me". He wanted "the best for Myanmar", he said.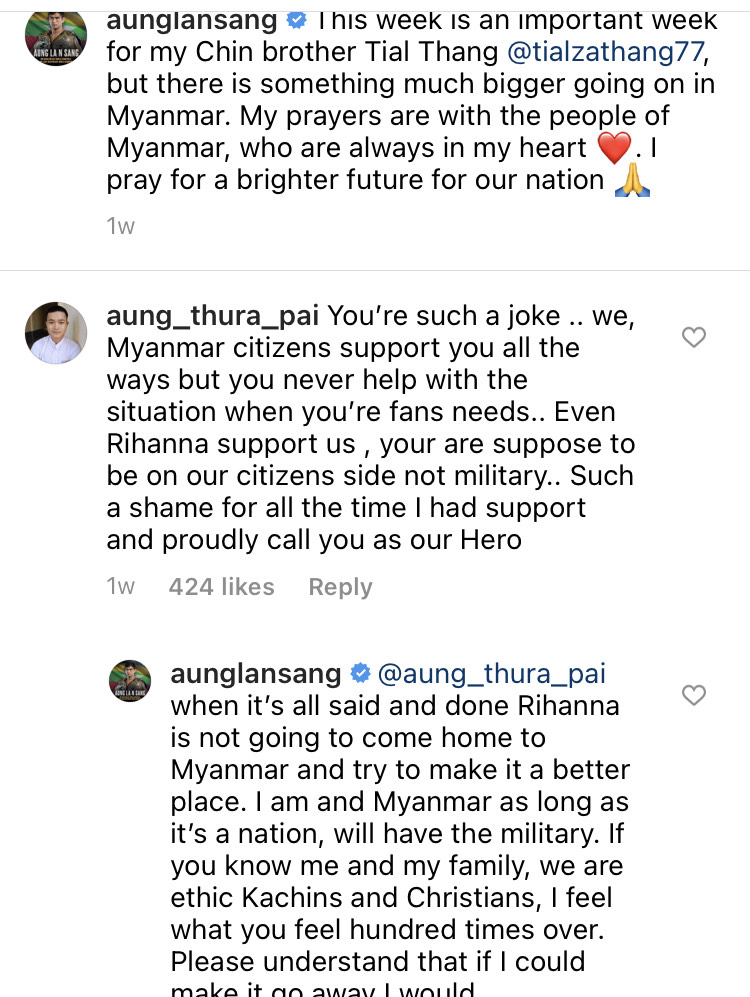 Some saw the statement as a cop out. "We are asking you to speak out against injustice," one Facebook user said. "If you ignore this right now, I will ignore your competitions."
However, Aung La Nsang's comments appear to have resonated with others, because they were followed by an improvement in his follower count. Since then, he has become even more outspoken, posting on February 8 that he's "not good at public speaking" but will "stand with the people of Myanmar".
He explicitly called for "Aunty Su" to be released, in reference to Aung San Suu Kyi, and for the results of the election to be honoured. As of February 11, he was back up to 2.82 million followers – 1,100 more than he had before the coup, and nearly 7,000 more than at his February 4 nadir.
Activist Ko Thet Swe Win was among the users who urged Aung La Nsang to directly criticise the coup, reminding him that in the 1988 national uprising there were "many artists and celebrities who stood with the masses".
Thet Swe Win told Frontier he commented under Aung La Nsang's post "because I think he needs to say something. He is known internationally as an athlete. He is also popular all over Myanmar."
Thet Swe Win said he understood why some ethnic nationalities might be less enthusiastic about defending the NLD, given its mixed record on promoting the rights of minorities. "Both the Burmese army and the NLD government have failed to improve the lives of ethnic nationalities," he said.
Thet Swe Win also noted that Aung La Nsang had once received an award from Senior General Min Aung Hlaing, and wondered whether that had been a factor in how the mixed martial artist responded.
"Perhaps he does not want to show his solidarity with the people for fear the military dictators will not allow him to return to Myanmar," he said, but added, "The people will not accept those who do not stand with them … the people will not want to see the face of those who stand with the military. They will be punished by the people."