Foreign visitor arrivals are up sharply and are expected to reach "at least 3.5 million", up from 2.9 million last year, but there's concern about the longer-term impacts of the crisis in Rakhine State.
By KYAW YE LYNN | FRONTIER
FOREIGN VISITOR arrivals rose by more than 20 percent in the first eight months this year, and the government has predicted a big jump in figures for the entire year.
Ministry of Hotels and Tourism deputy director-general, U Myint Htwe, told Frontier on October 17 he expected "at least" 3.5 million foreigners to visit this year, up sharply from last year's 2.9 million visitors.
Figures for the entire year will be closely watched to see if there was a marked downturn in arrivals in the aftermath of the military's security operation in northern Rakhine following the attacks by Muslim extremists on August 25.
A total of nearly 2.8 million foreigners visited Myanmar between January and the end of August, an increase of 22 percent over the same period in 2016, U Myo Win Nyunt, a director at the Ministry of Hotels and Tourism, told Frontier in a phone interview on October 17.
He said this year's figure includes 1.42 million people who crossed into Myanmar at border posts with Thailand and China and were issued with passes or permits allowing them to stay for up to 14 days.
"We don't have data on how long they stay, so we don't know if they are day-trippers," Myo Win Nyunt said.
Airport arrivals up slightly
The figure also includes 830,000 visitors who entered the country on tourist visas at Yangon, Mandalay and Nay Pyi Taw international airports, Myo Win Nyunt said.
The figures are for all categories of arrivals, including independent travellers, package tour groups and those issued with business or social visas.
Foreign arrivals at the three airports are up about 10 percent on last year, Myint Htwe said.
More detailed figures for Yangon International Airport show there were 757,701 foreign arrivals to the end of August, up nearly 14 percent on the same period last year.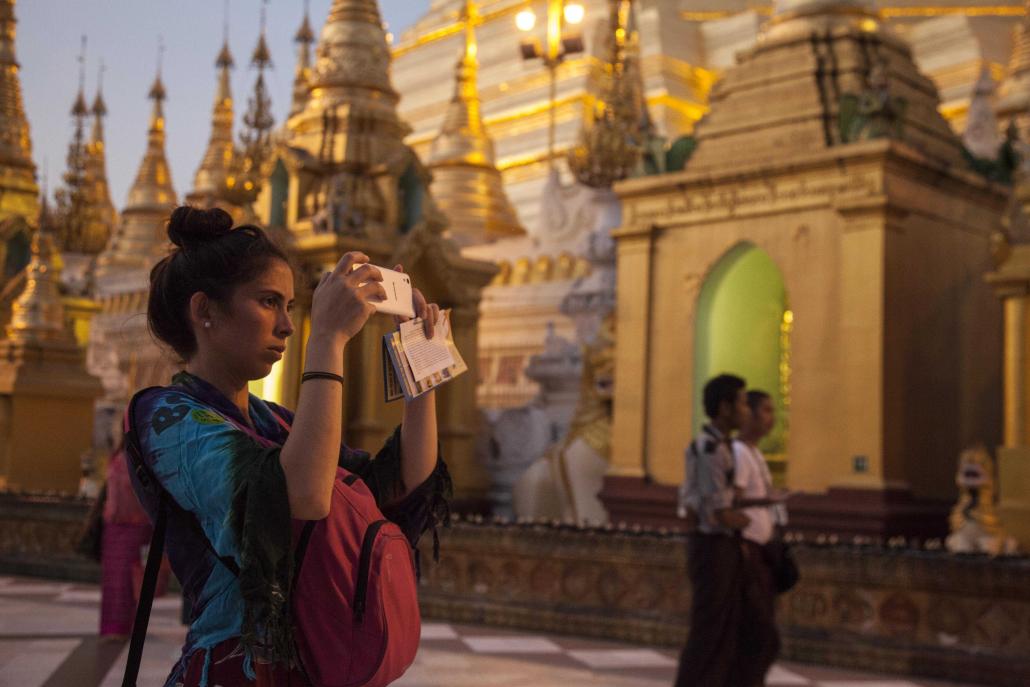 The increase was mostly the result of a 31.8 percent rise in arrivals in the "other" category, which is not clearly defined.
While package tourists were up 16.4 percent, independent travellers were down 1.4 percent, and those entering on business and social visas fell 7.3 percent and 9.6 percent, respectively.
The increase in arrivals is reflected in figures for two of the country's most popular tourist destinations. The Shwedagon Pagoda attracted 445,682 foreign visitors from January to the end of September, up about nine percent on the same period last year. Bagan recorded 191,549 tourists to the end of August, up an encouraging 17 percent over the first eight months of 2016.
Rakhine impact fears
However, there's concern about the impact of the crisis in Rakhine on the tourism industry.
Tourist operators and hotels began reporting some cancellations after August 25 as worsening violence in northern Rakhine and the exodus of Muslims to Bangladesh dominated global headlines.
However, the crisis is likely to have a larger effect on next year's peak season if potential visitors decide to stay away. As most packages for this year have already been paid for, tourists will be reluctant to cancel, industry sources said.
Dr Andrea Valentin of Tourism Transparency, a German-registered non-government organisation that campaigns for an open and accountable tourism industry in Myanmar, said there had been "some cancellations" but any impact would become more evident in the coming months,
"We can't see the big tourism impact of Rakhine yet, not clearly," she told Frontier on October 17. "[But] tour operators we spoke with worry about a downturn of between 30 percent and 40 percent for next year."
Mr Edwin Briels, managing director of Khiri Travel Myanmar, said just two percent of his company's bookings had been cancelled.
"The problem is there is not much new bookings," he told Frontier on October 17.
U Khin Aung Tun, the vice-chairman of the Myanmar Tourism Federation, expressed hope that the situation in Rakhine would be resolved soon.
There had been some cancelled bookings, Khin Aung Tun said.
"If the situation in Rakhine State continues to make headlines, there will be a big impact next season," he said.
Myint Htwe said the situation in Rakhine had not had much affect on the tourism industry generally.
"The tourist destinations in Rakhine State are Thandwe, Mrauk-U and Sittwe and they are far from the conflict-hit area," he said.
Valentin said she hoped tourists would not avoid Myanmar, as staying away would not be "helpful" for the country.
"Think about this; who benefits from tourists staying away?" Valentin said. "It's certainly not the community-based tourism projects established around the country; all those awesome trekking routes and ethnic villages.
"It's a personal moral choice and Myanmar people have to accept that some people are so horrified about what's happening here that they don't want to visit right now. It's their choice; please accept it."
Valentin expressed concern that if the situation in Rakhine did not improve soon there could be drastic consequences for the travel industry.
A broader boycott "would be pretty bad", she said, adding that the tourism industry had created hundreds of thousands of jobs.
"Tourism is a hopeful sector and a good alternative to other, environmentally more destructive, development proposals," Valentin said. "Just always think about who benefits."
This article was first featured in the Discover Myanmar special edition of Frontier published in October 2017.