Locals in Ayeyarwady Region have welcomed compensation offers for property damaged during a big military training exercise, but are worried that not all the projectiles that missed targets have been found and defused.
By KYAW YE LYNN | FRONTIER
RESIDENTS OF villages on Ayeyarwady Region's west coast near where the Tatmadaw conducted a big training exercise earlier this month are concerned about unexploded bombs and artillery shells that missed targets.
The land-sea-air exercise, held a few kilometres north of Shwe Thaung Yan Beach between February 2 and 4, was reported to be the biggest conducted by the Tatmadaw in more than 20 years. The exercise was named "Hsinbyushin", after the Konbaung dynasty monarch, who fought successful wars against China and Siam during his reign from 1763 to 1776.
More than 8,000 troops were reported to have taken part in the exercise, which involved warships firing missiles at targets that were then attacked by jet fighters and helicopters before being "captured" by infantry after a beach landing.
On February 4, Tatmadaw Commander-in-Chief Senior General Min Aung Hlaing praised the troops for their performance and the successful conclusion of the exercise.
However, he raised concern about missed targets during the exercise, reported Myanmar Times.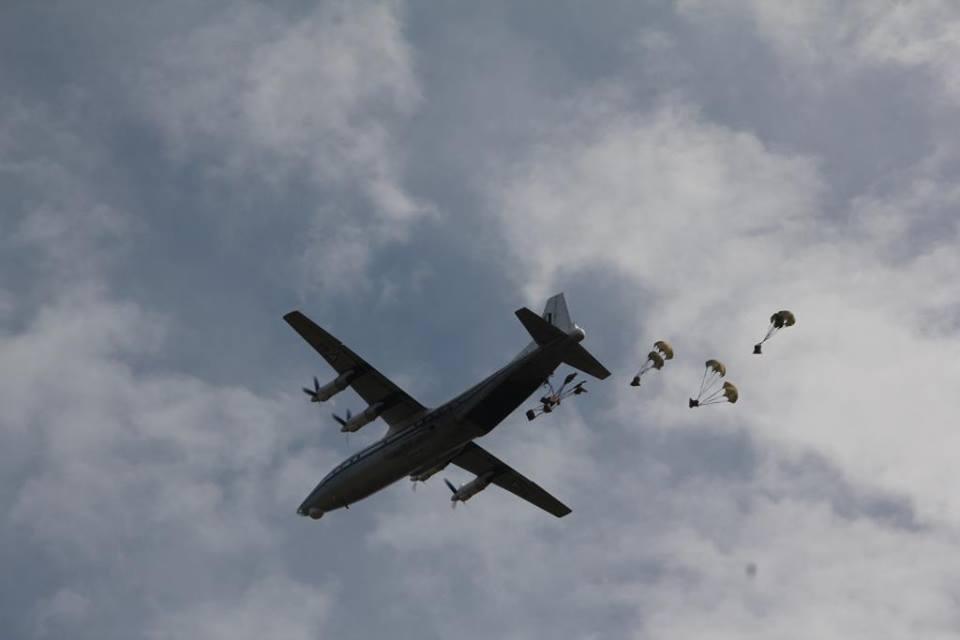 The Tatmadaw needed to find out whether targets were missed because of technological reasons or human error, Min Aung Hlaing was quoted as saying.
"We need to practise more," he said, adding that a review of the exercise was necessary to raise combat skills.
A journalist who covered the exercise told Frontier by telephone on February 8 that it was obvious a number of projectiles had missed targets. 
"Although we all noticed the misses, they were initially denied by a military officer," said the journalist, who asked not to be identified.
Residents' land
A total of 500,000 acres (202,342 hectares) of government-owned reserve forest was designated for the exercise, according to the media reports.
However, residents of Wetthay – a Karen-majority community on a peninsula north of Shwe Thaung Yan beach, which sheltered about 20 tanks during the exercise – said their village is not in a reserve forest and has been owned by locals for generations.
Land owned by some villages was used as target practice during the exercise, while a house in the village was damaged by a bomb that missed its target on a nearby hill, said Saw Hal Htoo, administrator of the Thae Gone village tract, which includes Wetthay.
"The Tatmadaw promised to rebuild the home; we are repairing it although we haven't heard anything further about compensation," Hal Htoo said, adding the property is owned by a man who lives in Pathein, the regional capital, where the Tatmadaw's Southwest Region Command is based.
Hal Htoo said the hill used for target practice covers about 1.2 acres and is owned by a woman named Naw Alze Ta. Another target area is owned by a man named Kale Ko. Neither were in a reserve forest area.
He has made a list of the houses and other property damaged or destroyed by shells and bombs during the exercise.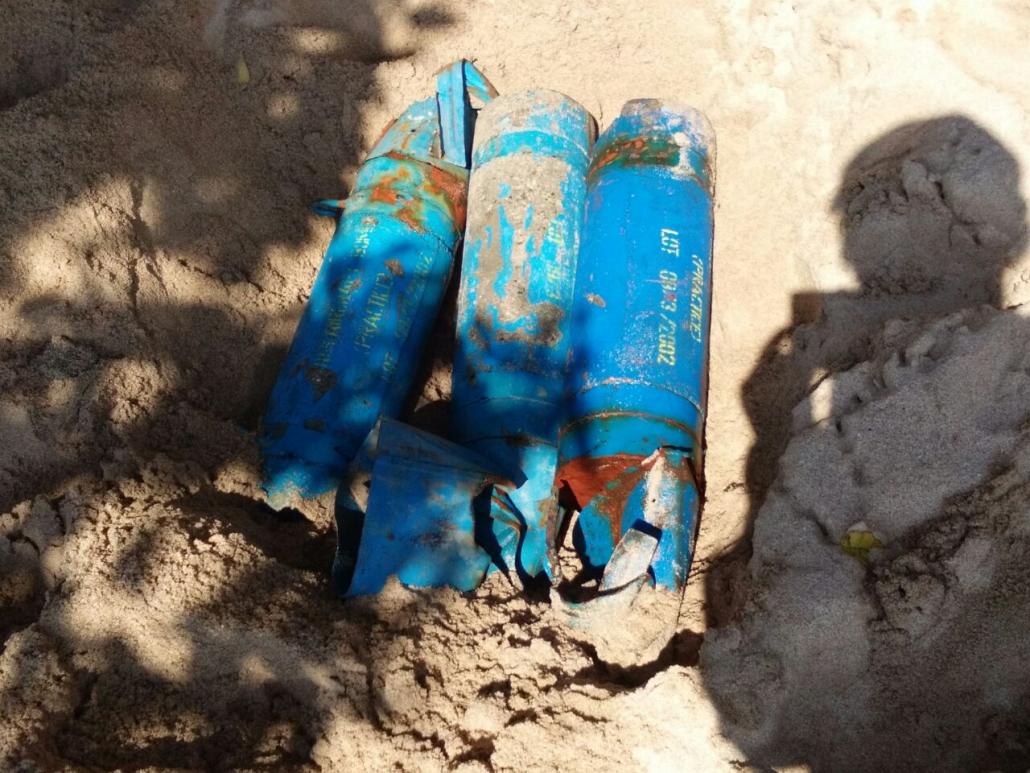 "The Tatmadaw asked me to record all damage, so I know it well. For example, one coconut tree and about 200 rubber plants on Naw Alze Ta's land were destroyed," Hal Htoo said.
The list was given to the Shwe Thaung Yan sub-township administrative office and the No 36 Light Infantry Battalion, which is based on the peninsula, soon after the exercise.
Officials from the General Administration Department and LIB 36 "said the Tatmadaw will compensate villagers based on the list, but we haven't heard back from them", Hal Htoo said.
"We are hoping the villagers will receive compensation to cover the damage," he said.
The last such military exercise in the area was more than 20 years ago, some villagers recalled, saying they were forced to move to other villages as a safety precaution. The junta that was in power at the time showed little concern for the disruption the exercise caused to locals, residents said.
"We had to move to Ohne Chaung village with all of our belongings, including cows and dogs, and stay there for up to 10 days," said a 52-year-old resident at Kyu Taw village, about two miles south of Wetthay, who asked not to be identified.
"Wetthay villagers also had to move to Ohne Chaung," he told Frontier by phone on February 8. "Some things were even stolen from our house during the exercise."
This time though residents had few complaints about the Tatmadaw's conduct. During the Hsinbyushin exercises it wasn't necessary for Kyu Taw village residents to move elsewhere, while people at Wetthay were required by the Tatmadaw to shift outside the exercise area 14 times since December but only during daylight hours.
"We had to leave the village early in the morning and come back late in the evening," said Saw Kay Ray Show, a Baptist pastor in Wetthay. "They provided military vehicles for us to move and dry rations on those days."
While they were gone, the Military Police guarded the villagers' property, he said.
"It seems the Tatmadaw is changing its attitude to the people; they treated us very well."
However, villagers are still worried about unexploded ordnance.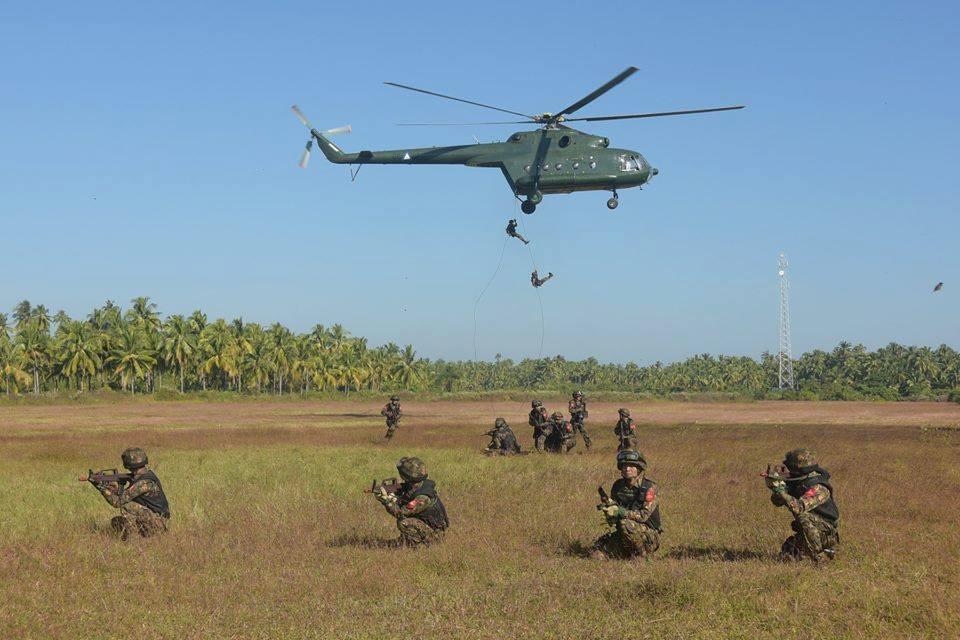 A Wetthay resident who asked not to be named said villagers had informed the Tatmadaw after finding about 11 unexploded bombs and shells in a nearby forest and they had been defused.
"Please don't mention my name in the story as I am afraid that Tatmadaw officials will be unhappy with me," he told Frontier by phone.
"But I told you because we also want them to understand our concerns," he said, adding that villagers were worried about finding more unexploded ordnance.
It was difficult to see unexploded bombs and shells in the dense forest, he said. "It would be great if Tatmadaw clears them."
General Nyi Nyi Tun, director general of the Tatmadaw's True News Information Team, said residents had "no need to worry" about the ordinance.
"We recorded how many projectiles were used in the exercise and registered how many unexploded," he told Frontier by phone on February 11. He however refused to give further information on the number of projectiles that missed the targets during the exercise.
"We are going to find and remove or destroy all unexploded ones systematically after the exercise," he said. "The best thing the villagers can do is to report to the local military base if they find something that looks like a weapon, or shells or bombs."