NAY PYI TAW — The new term of Myanmar's Upper House of parliament convened for the first time on Wednesday morning, selecting a Kayin speaker and a Rakhine deputy speaker for the chamber.
The selection of two members of the country's ethnic minorities could signal that Aung San Suu Kyi's National League for Democracy (NLD) is giving greater consideration to including long-repressed minorities in the political process.
On Wednesday, Zung Hlei Thang, an ethnic Chin MP from the NLD, oversaw the swearing in of Mahn Win Khaing Than, an ethnic Kayin NLD MP, as Upper House Speaker and Aye Thar Aung, a senior leader of the Rakhine National Party, as deputy speaker. 
Mahn Win Khaing Than is the grandson of Mann Ba Khaing, a national hero who was assassinated together with Aung San, the founding father of modern Myanmar and the father of Suu Kyi, shortly after independence in 1947.
Aye Thar Aung is a longtime political ally of Suu Kyi and a former political prisoner. He is believed to be less focused on nationalist Rakhine issues than his party leader Aye Maung.
The new Upper House Speaker briefly addressed the lawmakers in a speech.
"Myanmar is a resource-rich country, unrivalled by any other country in the world in that regard. Ours is a country which should be a developed and rich nation. But in reality, that has not been the case," Mahn Win Khaing Than said.
"In striving towards a wealthy and developed federal democratic state, it is paramount that we gain the peace, rule of law and national reconciliation. We need laws that contribute to peace, rule of law and national reconciliation."
The opening of the Upper House, dominated by new NLD representatives, was a more subdued event than Monday's Lower House opening. Win Myint, a NLD MP close to Suu Kyi, was made Lower House Speaker and T. Khun Myat, a Union Solidarity and Development (USDP) MP and a Kachin who ran a pro-government militia, was made his deputy.
The Upper House opening is a continuation of the transfer of legislative power from a military-dominated Parliament to a popularly-elected one following the NLD's Nov. 8 election victory. The polls saw the NLD crush the USDP and rout ethnic minority parties, with the latter development raising concerns among some ethnic leaders over a lack of political representation.
The military retains control over a quarter of all seats of both houses of Parliament.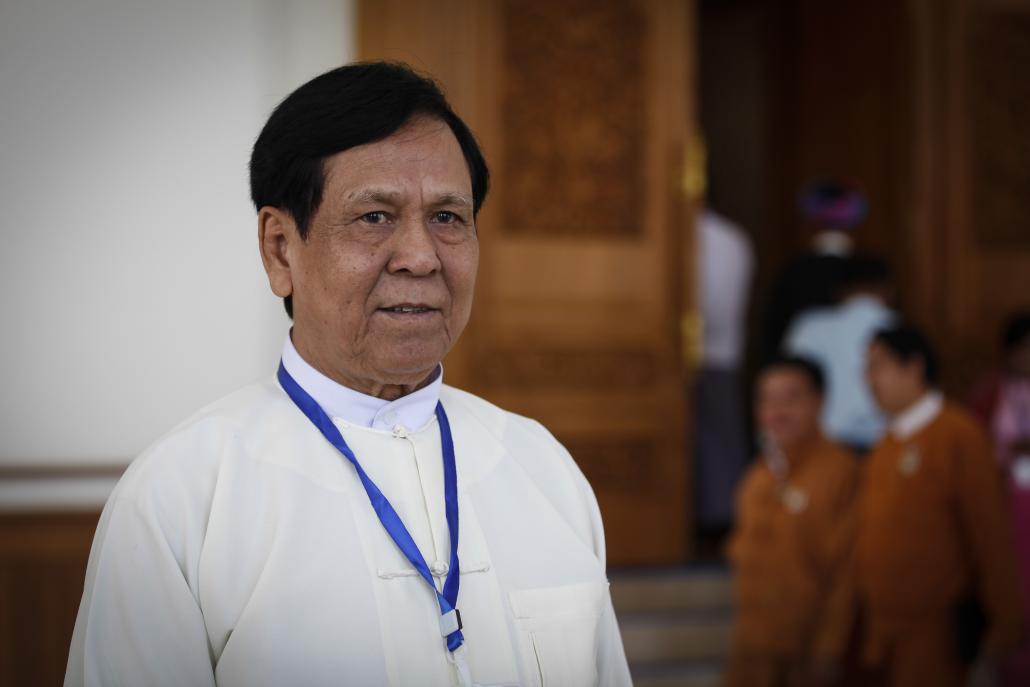 The new Upper House MPs in Nay Pyi Taw said they were excited to be among Myanmar's first democratically elected Parliament and thrilled about the prospect of legislating on behalf of voters.
"Now that we are going to have a Parliament and a government representative of the people, everyone of us will put our best efforts for the country. So I am very excited," said Khin Maung Myint, an NLD Upper House MP from Kachin State.
Saw Yah Phaung Awar, a Kayin NLD MP, said he was proud of the fact that a Kayin had become Upper House Speaker. "I'm more pleased than I can say. But it's not just about Kayin, we should try to get people from all ethnic groups to become involved, not just in lawmaking but also in the other pillars (of government) – the executive and the judiciary."
"The new government would be a democratic political force, not a dictatorship government. That's why, we hope that the new government will be able to do its best for the democratisation," said Sai Wan Hlaing Kham, an ethnic Shan NLD MP.
Myanmar's bicameral Parliament sessions are presided over by the Union Parliament Speaker, a position that rotates between the speakers of the two chambers. Mahn Win Khaing Than, as Speaker of the Upper House, will preside over bicameral sessions for the first half of the five-year term.
A version of this article originally appeared at Myanmar Now.