Pandemic restrictions have moved campaigns mostly online, but that hasn't stopped parties from doling out "charity" to the residents of a north Yangon suburb where the NLD remains king.
This article is part of Frontier's Tale of Five Elections series. We're following the election through five townships across the country, capturing events and local voices through the campaign, voting and declaration of winners. Scroll to the bottom for the first article on Mayangone.
By KAUNG HSET NAING | FRONTIER
Jewellery magnate Daw Thet Thet Khine's People's Pioneer Party made its presence known in Yangon's northern suburban Mayangone Township early this election season, passing out rice and cooking oil to the needy even before campaigning officially began on September 8. The party was formed just last year, and the early effort has helped raise its local profile – visibility being the biggest challenge for smaller and newer parties hobbled by COVID-19 restrictions.
Thet Thet Khine is the PPP Pyithu Hluttaw candidate for the relatively affluent enclave just south of Yangon International Airport. She insists the party's early efforts were not a form of campaigning, which would make it illegal. They were just her and her party "helping the needy", she told Frontier. Perhaps, but she and her colleagues sported all-blue party uniforms while conducting this charitable giving.
During the last week of September the PPP sold rice at reduced prices to residents of the cramped, low-income pockets of the township that are interspersed between the golf courses and gated mansions. Other parties distributed masks and boxes of prepared food.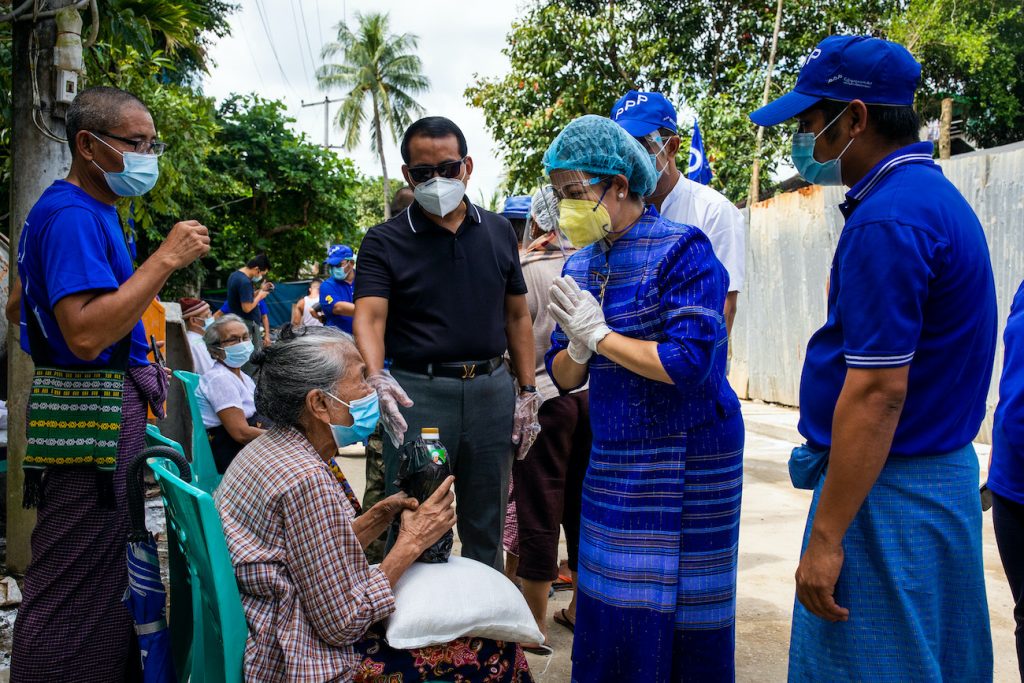 Pandemic restrictions have inhibited campaigns across the country, but perhaps nowhere more dramatically than in Yangon, where city-wide stay-at-home orders have been in place since September 21. But residents in Mayangone, where clusters were reported even earlier, have been under stay-at-home orders since September 9.
"It is so different from 2015," said Daw Than Than Maw, a resident of Mayangone's third ward and a National League for Democracy member. "At this point [in the 2015 campaign] we were going around town making speeches. This year we cannot."
In Mayangone, a total of 23 candidates from seven parties are competing in the township for four seats – one in the Pyithu Hluttaw and two in the Yangon Region government, as well as the Amyotha Hluttaw seat of Yangon-11, which includes several other townships. However, the only one with even the slightest chance of unseating the NLD is the PPP. And while the PPP has significantly raised its profile in the township, NLD chair Daw Aung San Suu Kyi still retains mammoth support. The NLD swept the township in the previous general election in 2015, with candidate Dr May Win Myint winning 78 percent of the vote in the lower house contest. May Win Myint was the incumbent in that race, having won it for the NLD in the 2012 by-elections.
This means all four NLD candidates running this year have the advantage of incumbency, on top of the appeal of their party leader. It has also allowed them to lead COVID-19 prevention measures and hand out relief under the badge of the NLD government early on in the pandemic, and as the election approaches. May Win Myint, who is running to keep her Pyithu Hluttaw seat, has been campaigning on her performance as an MP fighting the pandemic specifically.
Starting in early October, May Win Myint alongside Daw Moe Moe Su Kyi and U Yan Shin, who are the NLD candidates for the Mayangone-2 and Mayangone-1 regional assembly seats respectively, have been passing out NLD-branded umbrellas to trishaw drivers in the township.
Yan Shin told Frontier on October 14 he's also been distributing rice and food to people stuck at home because of stay-at-home orders, and to quarantine centres that have been established in the township.
Asked what platforms and policies they will pursue if elected, several NLD candidates said, somewhat counter-intuitively, that the party forbids them from making campaign pledges before the election. Both Yan Shin and May Win Myint said they would not comment until after the election on November 8, but referred people to their party's manifesto and official statements made on Facebook.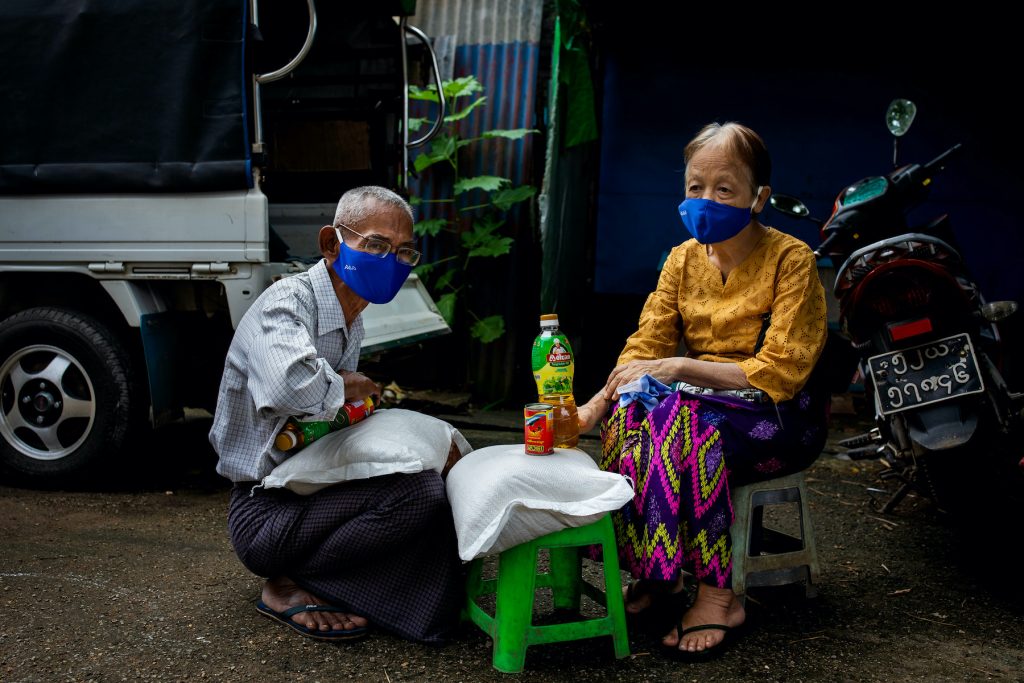 The military-backed opposition Union Solidarity and Development Party has also been passing out masks and party literature. Daw Khin Aye, 50, a fourth ward resident, said the party also distributed hand soap in her ward during the second week of October. But, she said, USDP handouts pale in comparison to those of the NLD and PPP.
Oddly, every party and candidate Frontier spoke to was insistent that these handouts were not part of their campaigns but were instead just charitable giving, despite their sporting party apparel while doing it. Not all voters are convinced.
"If it isn't campaigning, why are they wearing party shirts and waving party flags," asked Ko Kan Thar Thar Hein, 29, a resident of the third ward. "They mix philanthropy with campaigning, like when offering rice donations."
Despite his scepticism, he still welcomes the donations. "It's helpful for people struggling financially through the COVID-19 pandemic," he added.
Even online the NLD and PPP seem to be the most active parties in Mayangone, which the USDP seems to have written off as a lost cause. Thet Thet Khine, the party's primary challenger in the township, is herself a former NLD member, kicked out of the party in 2018 for publicly criticising it.
She and the four NLD candidates have been aggressively posting pictures of themselves passing out donations to locked-down residents and quarantine centres on Facebook. The PPP also held a Zoom meeting with residents on October 14 and broadcast it live on Facebook. Thet Thet Khine told Frontier she will host another online meeting with residents before election day.
In her broadcast, Thet Thet Khine urged voters to reflect on what their elected leaders had done for them in the past five years, and if they're unhappy, to vote them out. But in reality, there seems to be little to distinguish the policy goals of the two parties. The PPP in their online meeting pledged to push for "democracy" and "federal policy", while May Win Myint, who is favoured to keep her Pyithu Hluttaw seat, said the party pledges to work toward a "true democratic federal union", and for "peace" and "security" for the country.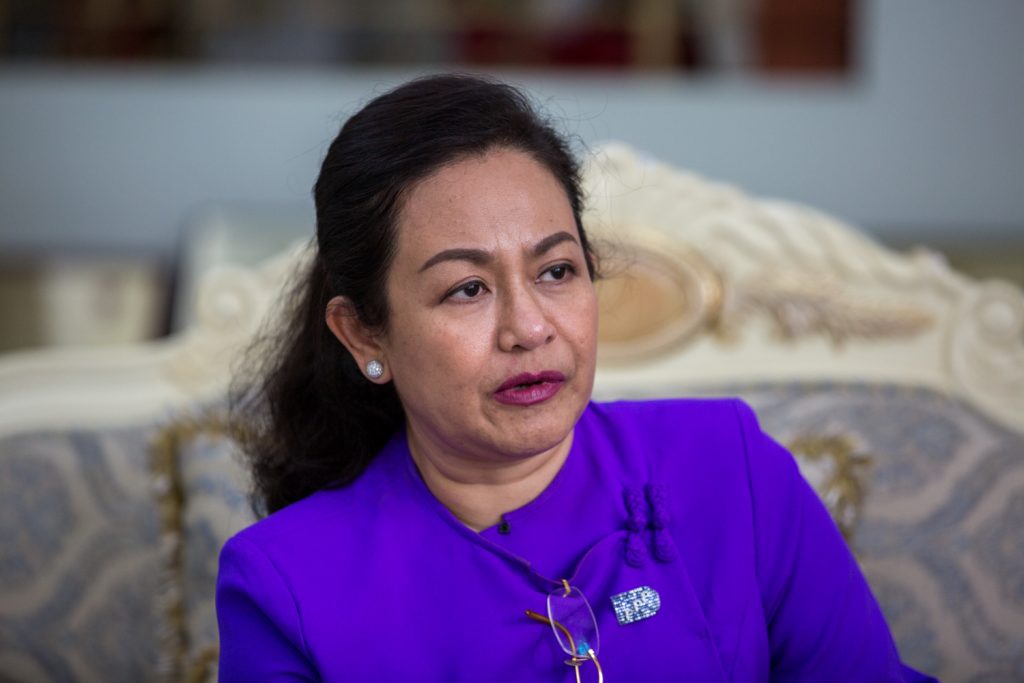 Meanwhile, election sub commissions at every level are struggling to safely arrange polling amid the pandemic. Mayangone's Basic Education High School No. 1, which usually houses six polling stations, has been turned into a quarantine centre. The stations will instead be in the nearby Paw Taw Mu Pagoda.
Of the township's 121 designated polling stations, 18 are being moved to alternative locations according to the Western District election sub commission. Half of them are now serving as quarantine centres. The other half were previously located on the second floors of their buildings and are being moved to first-floor locations to comply with new regulations to accommodate voters with disabilities.
Election workers are also scrambling to finalise lists of voters aged over 60, who will be able to cast advance votes from home.
The election commission had announced on October 10 that some voters over 60 – who are most vulnerable to the coronavirus – will be allowed to vote in advance between October 25 and November 5. The measure is limited to 29 townships in Yangon and five in Mandalay that are under stay-at-home orders and have a population density of at least 5,000 people per square kilometre.
"We don't even have enough staff to type up these voter lists, so we've had to hire a typist with our own money," said U Kyaw Kyaw Win, chairman of the Mayangone Township election sub commission.
To comply with anti-crowding measures devised by the Ministry of Health and Sports, voters assigned to polling stations in densely-populated wards will be split into two groups, who will be asked to vote in shifts. Polling stations will also require temperature checks, hand washing at basins set up by the local sub-commission, and face masks, which poll workers will distribute.
As of October 25, Mayangone had 1,460 confirmed cases of COVID-19, according to the health ministry.
"We cannot lose a single life. We're doing this in accordance with health ministry rules and guidelines," Kyaw Kyaw Win said. "I think we will be okay."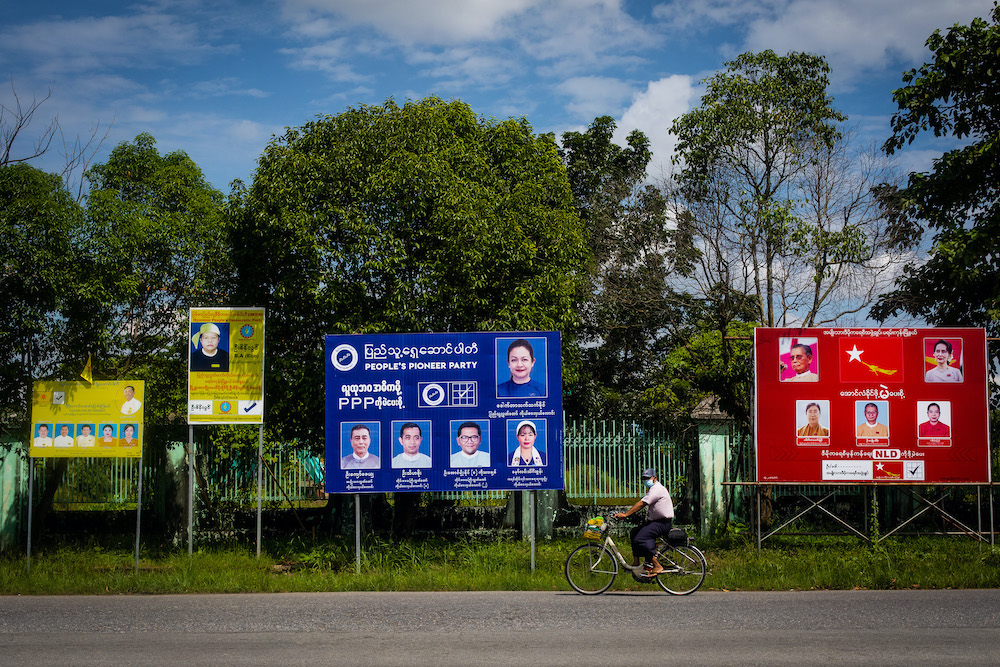 Voters told Frontier they are worried about the pandemic but not enough to keep them from voting. Ma Aye Aye San, a 40-year-old who lives on Shwe Nyaung Bin Street in ward three, said an elderly man and a child died from COVID-19 in a house five minutes walking distance from her own in mid-October. Still, she's adamant about voting.
"We can become infected in many other ways" she said, suggesting that voting would not pose an especially grave risk so long as health guidelines are followed.
She will proudly cast her vote for the NLD, as she did five years ago.
"If we don't vote in this election, I'm afraid we'll go back to military rule," she said.