Poor planning and communication from sub-commissions and a byzantine election bureaucracy left hundreds of quarantined and COVID-19-infected voters in Yangon Region unable to cast their ballots.
By FRONTIER
Ko Aung Aung had been planning to vote for Daw Aung San Suu Kyi's National League for Democracy since the beginning of the year. He had expected to cast his ballot in person on election day, and had been strictly adhering to Ministry of Health and Sports guidelines to protect himself from the coronavirus. But things did not work out that way.
On October 31, just eight days before the election, Aung Aung tested positive for COVID-19. The Yankin Township resident was sent to the Inya COVID-19 Treatment Centre, in Mayangone Township, where he remained until November 11.
"Mother Suu had warned the public to take care of their health so that every citizen could vote on election day," he told Frontier on the day he was discharged, with sorrow in his voice.
Still, Aung Aung should have been able to vote. In October, the Ministry of Health and Sports announced measures to enable COVID-19 positive patients and people in quarantine to cast advance votes. But Aung Aung's ballot never arrived at Inya.
He is not alone. More than 280 eligible voters at the Mayangone facility were unable to cast ballots because they simply never arrived.
Most had been admitted in the week before the election. On November 6 centre staff collected paperwork from about 300 patients for advance votes; by election day, just 15 ballots had arrived.
As the polls closed, Dr Aung Thein Htay, the centre's manager, posted an announcement on the centre's notice board apologising to those patients.
"We tried our best to make sure COVID-19-positive patients could vote," it read. "Unfortunately, most did not receive their ballots."
Frontier has discovered at least 765 eligible voters who were unable to cast ballots in Yangon because they were in treatment or quarantine. While some ballots never arrived at their facilities in time, as in Aung Aung's case, others faced a different problem: their eligibility had been transferred to the township their treatment or quarantine centre was in, but they were released early and found on election day that they could no longer vote at a polling station in their township of residence.
Their ballots would not have made a difference to the outcome, given the strong NLD win. But analysts and observers say the inability to ensure all patients were able to vote highlights the cumbersome processes, inefficient systems, poor communication and byzantine bureaucracy of the Union Election Commission and its sub-commissions.
"We tried to get the ballots to these patients as best we could," said U Kyaw Kyaw Win, chair of the Mayangone Township election sub-commission. "Our main challenge was a lack of time."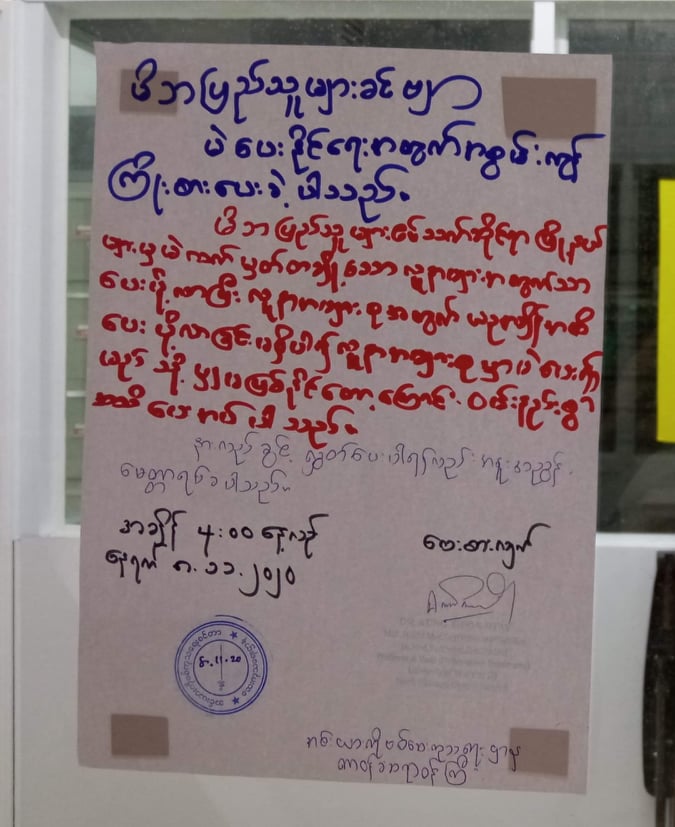 But Aung Aung said that when it became clear on election day there was a problem, the Mayangone sub-commission failed to help out.
"We were waiting for my paper ballot to arrive, and when the centre was notified that ballots still hadn't arrived by 3pm [on election day], they tried to contact the Mayangone election sub-commission," Aung Aung told Frontier. "They didn't respond in time, and I lost my right to vote."
Time crunch
Prior to the election, the UEC specified that COVID-19-positive patients undergoing treatment and those in quarantine would be eligible to cast advance votes, and allowed them to do so at treatment and quarantine facilities from October 25.
To register for an advance vote, patients had to get an application form known as Form 15 from staff and officials at their facility. Those officials then had to collect the completed Form 15s from all patients who wished to vote and send them to the township election sub-commission in which the facility was located.
That township sub-commission then had to send each Form 15 to the sub-commission in the township where each patient was registered to vote. The patients' home sub-commissions then had to send a list of its registered advance voters back to the township sub-commissions whose jurisdiction the facilities were in. Once the patient's name was on the list, the sub-commission administering the vote in the township of their treatment or quarantine facility then sent their ballot to the facility.
The township sub-commission then dispatched a polling station chief and two witnesses in PPE to the facility to accept votes from the registered patients. The patient indicated which candidate or party they wanted to vote for, and a volunteer in PPE would then stamp the ballot accordingly. The process was supposed to take no more than six or seven minutes, limiting the risk of infection to "near zero", health ministry spokesperson Dr Than Naing Soe said.
Once the ballot was stamped and sealed, facility staff sent it back to the local sub-commission, which then had to send it back to the sub-commission of the patients' home township with enough time for it to arrive before polls closed at 4pm on election day.
The process is lengthy and labour intensive, and riddled with opportunities for error, analysts and observers say, and the closer it came to November 8, the more difficult it became.
"The earlier we are able to collect and send the lists for advance voting, the more time these voters have to make sure their ballots are sent in," Dr Kyaw Soe Win, chairman of Yangon's Eastern District election sub-commission, told Frontier on November 6. "People that live outside of Yangon Region [but are being treated in Yangon] and wound up needing an advance ballot after November 1 ­– well, it was probably not possible for us to do it in time. But we did the best we could, given the situation."
Patients in intensive care were not able to cast advance ballots at all, said U Khin Maung Win, chairman of Yangon's Western District election sub-commission.
Elsewhere in Yangon, some 80 ballots intended for patients at the Phaunggyi treatment centre in Hlegu township, 350 at the Yoma Yeik Thar treatment centre in Dagon Seikkan Township, 10 at the Happy treatment centre in Thaketa Township and 60 at the AYA [TK1] treatment centre in Thingangyun Township never arrived, according to data collected by Frontier from patients and staff at treatment centres and sub-commissions.
It is unclear how many of these ballots were sent too late versus how many Form 15s had never been processed, but the 80 eligible voters from Phaunggyi were discharged before their ballots arrived yet after their registrations had been transferred to Hlegu, according to Dr Ko Ko Naing, the facility's manager. He said he sent the ballots back to the former patients' home township sub-commissions but was unable to verify whether they were ultimately able to vote.
Addressing the issue on national television a day after the election, State Counsellor Daw Aung San Suu Kyi said she was "really sorry to hear" that some had missed out on the chance to vote, but insisted that "travel restrictions made it impossible".
"We could not make arrangements for people under quarantine to vote, or for those who were taken to hospitals just a day or two ahead of the election," she said.
Aung Aung sees it differently. "I think [the UEC's] poor management can be blamed for this," he said. "They didn't communicate."
He also acknowledged the commission's limited resources. "They need better technology," he added.
U Aye Kyaw, executive director of the Open Myanmar Initiative, a right-to-information advocacy group, believes election officials were so focused on successfully facilitating advance voting for those aged 60 and over that they overlooked COVID-19 patients and quarantined voters.
"Hospital superintendents and quarantine centre officials were very busy, and there may have been some gaps and flaws in the process," he said.
Like Aung Aung, many of the disenfranchised voters that Frontier spoke to were strong supporters of Aung San Suu Kyi and the NLD. They can take solace in the party's sweeping wins in Yangon and across the country, and the fact it is set to form the next government. While the party ultimately did not need their votes, they have still been deprived of their right to take part in the country's fragile democratic transition.
"It pains me that I couldn't vote," Aung Aung said. "I'm more upset that I lost my right as a citizen than I am about my inability to vote for the NLD."