Mr Stephen O'Brien, the United Nations Under-Secretary-General for Humanitarian Affairs and Emergency Relief Coordinator, was in Myanmar last month on a visit that included trips to Kachin and Rakhine states. Oliver Slow spoke to the head of the UN Office for the Coordination of Humanitarian Affairs on October 14.
Why are you visiting Myanmar?
I've had the opportunity to come to Myanmar, to see the humanitarian needs of the people and to understand the greater opportunities as a result of the transition.
I've been very encouraged by the conversations I have had, above all with the State Counsellor [Daw Aung San Suu Kyi], but also with other members of the government. This has identified how much we need to put into a new effort on preparedness on how to meet natural disasters – which will happen in Myanmar, it is not a question of if, but when.
Also to recognise the humanitarian needs of minorities, to build on access and improve our ability to address their needs.
You travelled to Nay Pyi Taw, and Kachin and Rakhine states. What were some of your key findings in Kachin?
In Kachin, we were very pleased that we could get to displacement camps both in government areas as well as non-government areas to meet the IDPs [internally displaced persons] there.
I was very struck by the number of elderly women in particular, who have important humanitarian needs both in terms of food and shelter, as well as protection.
Are those needs being met?
Certainly some aid has been getting through. It has been more difficult recently but the fact that we were given access itself was very positive.
There had been some suggestion about there being a need for the IDPs there to cross the line [the front line between the Tatmadaw and the Kachin Independence Army] to get the necessary food and other commodities that they need to survive.
But my being able to get into the IDP camp there shows that's not necessarily the case.
There have been reports that aid is not reaching some IDPs in parts of Kachin.
I have heard reports that there have been access restrictions, and that's why it is important that I took the opportunity to go to areas beyond government control.
I cannot speak for the places I didn't go to. It's absolutely vital that we maintain the supply lines for wherever the need arises. Our only test is to identify where there are humanitarian needs and try to meet those needs – and for that we need resources of course, but we also need access.
What did you discuss at your meeting with Aung San Suu Kyi?
It was a very wide-ranging and comprehensive meeting and we looked at all the humanitarian issues. In particular we looked at the question of access, because that is important to the work the United Nations and its partners are doing.
There was also a recognition from the government that peace is a number one priority. It is important that by providing things like shelter, and ensuring that children and women and girls, people with disabilities and those who are chronically ill, have protection. That is a major contribution towards delivering peace.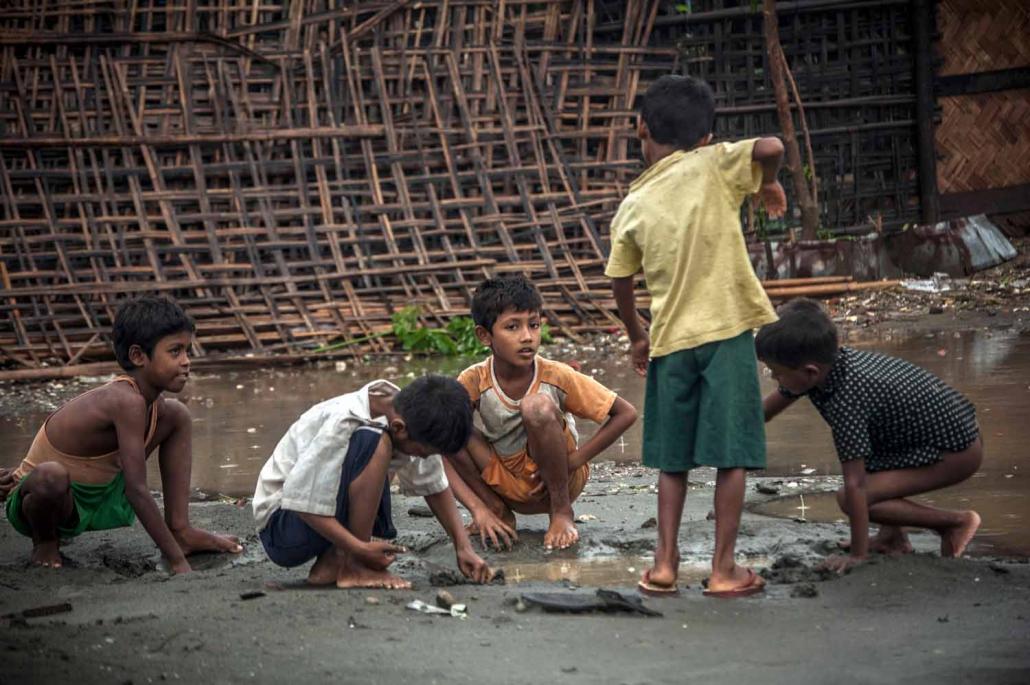 We touched on the need to ensure there was maximum disaster preparedness and making sure that capacity was understood, including civil-military cooperation.
And we talked about the importance of designing humanitarian, and development, responses around women and girls – because if you get it right for women and girls, you get it right full stop.
Where did you go and what were some of your key findings in Rakhine?
Around Sittwe. First of all I went to the Muslim IDP camp at Thekyapin. The desperation, particularly for young people, was there to see, because young people want jobs, they want the opportunity to go to tertiary education.
It was clear that the way for humanitarian needs to be met very quickly is if there is freedom of movement. We need to ensure that those who need immediate health interventions are able to get to the nearest hospital.
Similarly with education. We need to look at making sure that can be available, and primarily look at access to mainstream schools.
I also went to a Rakhine resettlement site and saw how another community also has humanitarian needs. Notably, we met with some Rakhine women who had arrived there in the last 24 hours, straight from the north and forced to flee because of their fear from violence.  
So that was a particular set of IDPs who do need some assistance, but clearly they have different needs because they have freedom of movement.
Some say there's been a disproportionality in the way aid is reaching people. What's clear is that the needs are the overriding test. Wherever they arise, that's where they need to be met.
Given that there are more needs in one community at any given time, compared to another, that will be the reason for any kind of differentiation in the percentages of what we're doing. There was absolutely no evidence of any preferential treatment or partiality.
You mentioned the lack of access to healthcare and education in the Muslim camps in Rakhine. Did you discuss that with Aung San Suu Kyi? What was her response?
There was an absolute commitment to the humanitarian principles and the need to meet humanitarian needs from the government, and of course these things have to be taken according to the capacity of any government to do this.
We discussed the government working closely with the United Nations as the key multilateral in support of the government. I received assurance that that was an ambition.
Another major issue in Rakhine is unregistered IDPs, many of whom say they are not receiving food rations. What's your response?
The main thing is that when people are presented with humanitarian needs that we find a way to meet those needs, but the question about registration or not, in my view is not whether or not you have a piece of paper. What matters is that if you have needs we find a way of having those needs met.
There have been reports in recent months about food rations to some IDPs in Rakhine being cut. Could you elaborate on the rationale behind that?
I have heard about this and it is part of what I understand to be what always happens in every food crisis. As the facts and dynamics change, so you would expect the amount of food to change.
I'm assured that's the case here. It's not a case of denying an entitlement, it's adjusting according to what is the assessed need. But we're always keeping it under very close review, because it absolutely matters that we use the food we have available to the very best effect, which means we have to find people with the most needs to make sure their needs are addressed.
[Editor's note: Since the interview was conducted, food rations were reinstated, and immediately blocked by security forces, because of the situation in Rakhine.]
Former Portuguese prime minister Mr Antonio Guterres was recently named as the new UN Secretary-General. What can we expect from him?
All I would say is that Antonio Guterres is someone who I am pleased to have had the chance to work with. He is a wonderful humanitarian and I'm very confident he will be an outstanding Secretary-General.
I'm also well aware that the current Secretary-General intends to work absolutely flat out until December 31. So I will continue to work with the current Secretary-General and I look forward to working with the new Secretary-General as of January 1.
This interview has been edited for brevity. Top photo: Nyein Su Wai Kyaw Soe / Frontier