By YE MON | FRONTIER
YANGON — About 150 Buddhist ultranationalists marched in Yangon on Thursday to show support for the monk and nationalist firebrand U Wirathu, who has been charged with sedition and remains at large, despite a warrant being issued for his arrest.
The group of about 25 monks and 120 laity gathered outside the Kyae Thon pagoda at about 2pm on May 30 and later marched the short distance to the Shwedagon Pagoda where they prayed for Wirathu's safety.
Yangon Western District Court on May 28 issued a warrant for Wirathu to be arrested under section 124(a) of the Penal Code, under which anyone trying to bring the government into hatred or contempt is liable to a maximum penalty of 20 years' imprisonment and a fine.
The arrest warrant follows a complaint filed by Yangon Western District deputy administrator U San Min over the Mandalay-based monk's verbal attacks on State Counsellor Daw Aung San Suu Kyi and criticism of the National League for Democracy government for moving to amend the military-drafted 2008 Constitution.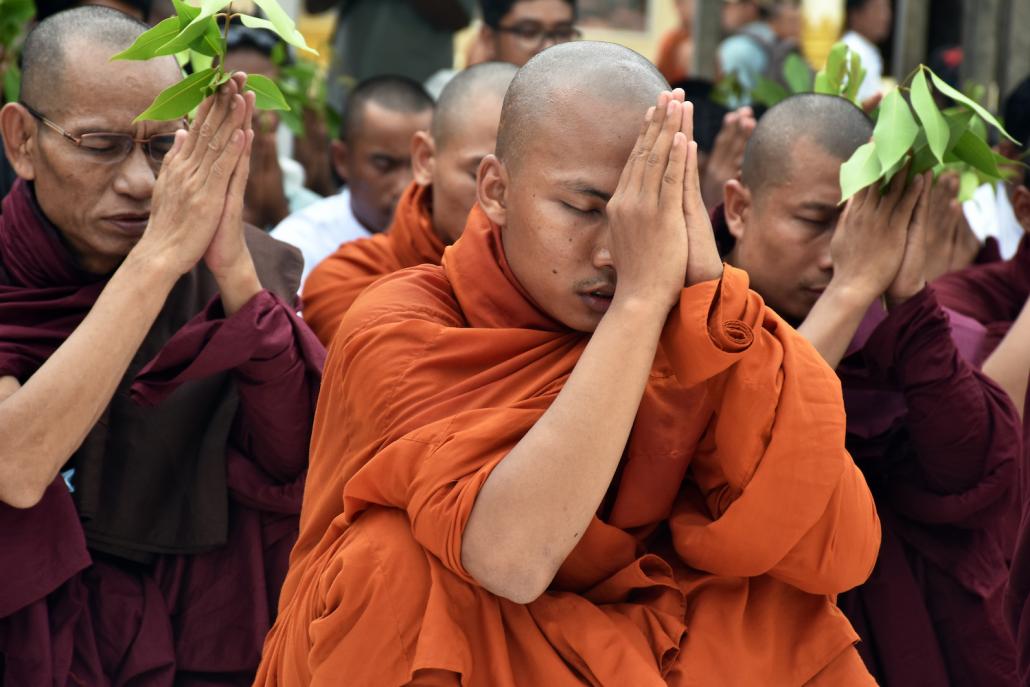 The Yangon Region Sangha Maha Nayaka Committee, which oversees monks in Yangon, had summoned Wirathu to a meeting at 2pm on May 30 to warn him against becoming involved in secular affairs. In a statement released on the afternoon of May 29, the Ministry of Religious Affairs and Culture said the meeting had been postponed due to "present circumstances".
Wirathu told the Voice of Myanmar online media outlet on May 30 that he was in Yangon and intended to go to the committee's office in Bahan Township at 2pm because it had failed to officially inform him that the meeting had been postponed. However, by the end of the day he had reportedly not attended the office.
The protesters at the Shwedagon Pagoda were addressed by nationalist monk U Badanta Ziwata, also known as the Taikkyi Sayadaw. He said Wirathu was not a coward and would accept the charge if the case was fair, which he said was not the case.
However, he added that Wirathu would not go into hiding, calling him a "hero".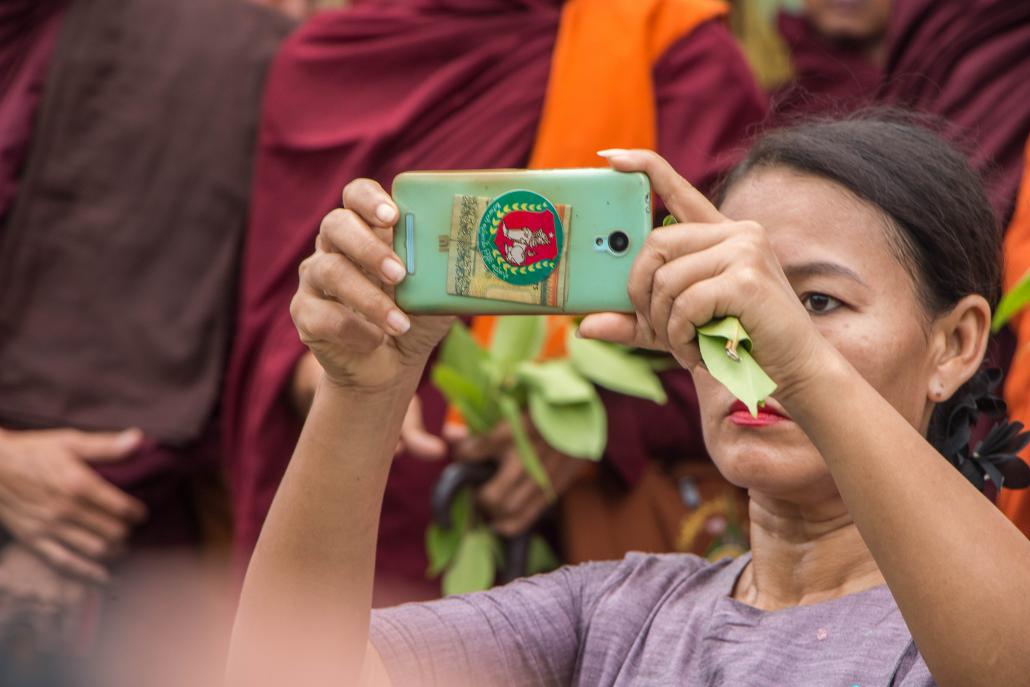 The event was also attended by high-profile ultranationalist Ko Win Ko Ko Latt, who told Frontier that the charge brought against Wirathu was unfair and could affect freedom of expression in Myanmar.
Win Ko Ko Latt said ultranationalists planned to "do something" for Wirathu, without saying what. However, he said he had not been in contact with the monk since the arrest warrant was issued.