Tourism has seen substantial growth in Myanmar, but industry insiders argue that a lack of an industry training standard is proving a hindrance to service quality.
By KATRIN SCHREGENBERGER | FRONTIER
IT MIGHT have seen slow growth in recent months, but Myanmar's tourism industry remains one of the major bright spots of the economic reforms that began in 2011.
New hotels and restaurants have opened, and previously off-limits destinations have emerged. The sudden growth has created thousands of job opportunities in hotels, tourism and hospitality.  But in industries that service is such an important element, business owners say they are struggling to attract staff that are of a high enough standard.
"There should be more effective training schools who provide vocational training," said U Naing Win, head of the hotels and tourism directorate of the Yangon Region government. "We also need to develop a reliable standard certificate."
There has been a growth in vocational schools in Myanmar in recent years, too. They range from private institutes to those supported by non-government organisations and international donors that offer their programmes free of charge.  
In 2014, Daw Aung San Suu Kyi, who was then an opposition MP for the National League for Democracy, opened the Hospitality and Catering Training Academy in her constituency in Kawmhu Township, Yangon Region. The academy – opened as part of the Daw Khin Kyi Foundation, which is named after Aung San Suu Kyi's mother – provides a free-of-charge, six-month vocational training programme, which includes a two-month internship at the in-house restaurant and guesthouse or at a partner hotel or restaurant.
HCTA attracts about 600 applicants a year, said principal U Thaw Zin Maung Maung. Of that number, the academy accepts 260 spread over two semesters. About  half of applicants come from Kawhmu and the rest from elsewhere in Myanmar.
The centre offers foundation and advanced programmes in hospitality and cookery.
"It is my dream to become a chef," said Ma Myat Phoo Phoo San, 23, who is from Yangon's North Okkalapa Township. She started training at HCTA in January after it was recommended to her by a friend.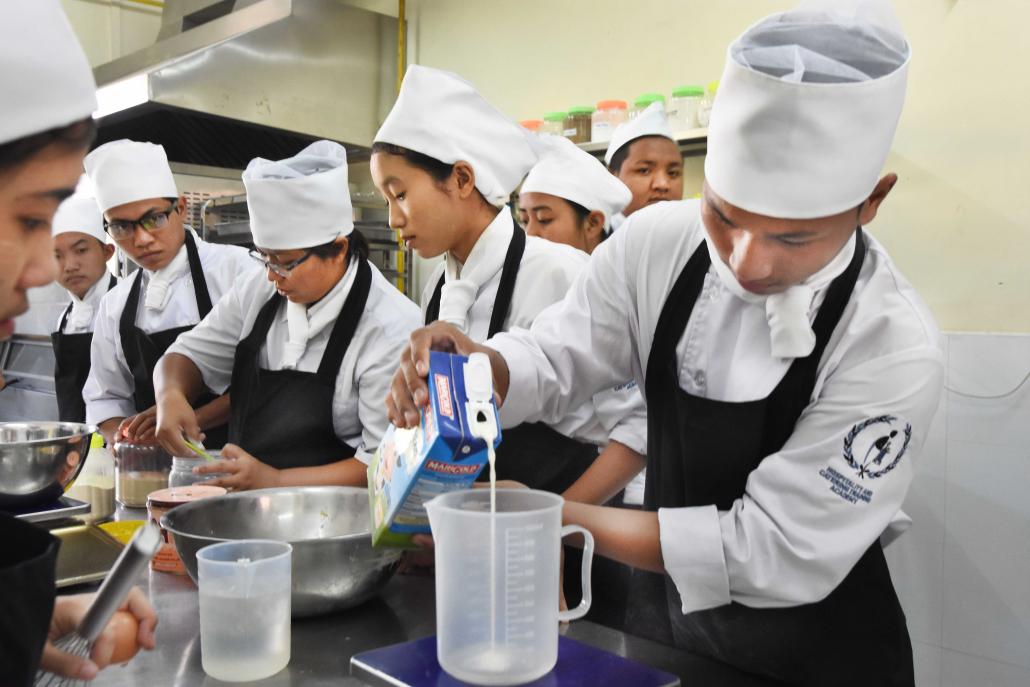 Fellow student Ko Tharr Htet Shan, 18, who is also from Yangon, said he regards HCTA as one of the best vocational schools in Myanmar and that he hoped his training would help him to get a good job in the future.
"This will change our generation," he told Frontier during a visit to the academy on February 1.
Thaw Zin Maung Maung told Frontier that the school contacts alumni six months after they have graduated, and that on average 90 percent of former students are still in work in the tourism or hospitality sectors.
"Daw Aung san Suu Kyi wants to know how the students do afterwards," he said. "We report the numbers to her."
For those operating vocational schools, there are challenges however. The concept of vocational training is new in Myanmar and many employers don't fully understand the process.
"The employers' expectations are too high," said U Aung San Kyaing, 49, a trainer at the Tourism and Hospitality Training Centre in downtown Yangon, which is operated by the Ministry of Hotels and Tourism and supported by the Luxembourg Agency for Development Cooperation.
"They don't check what the certificate stands for, and if the graduate fails at a certain task, [the employers] say that the certificate is not good," said Aung San Kyaing. "They should make sure in the beginning that they have the right person with the skills they need."  
He called on stakeholders in the hospitality and tourism industries to conduct a needs analysis so that schools could adjust their curriculum accordingly.
THTC provides a four-week training programme that costs K30,000, and has recently introduced a six-month course, which includes a three-month work placement and costs K105,000.
The Luxembourg agency has also established vocational centres offering six-month placements free of charge in Pathein, Ayeyarwady Region, and Pakokku, Magway Region, in partnership with the tourism ministry and the Ministry of Border Affairs.
In 2013, local NGO Inle Heritage Foundation established the Inle Heritage Hospitality Vocational Training Centre, at the popular tourism destination of Inle Lake in Shan State. Each year the centre sponsors about 40 young people and trains them for jobs in the hospitality industry, one of the main employers around the lake. About 70 percent of all graduates remain in the industry, according to the centre's vice principal U Aung Phyoe Min.
Aung Phyoe Min told Frontier that many people from the areas around Inle Lake cannot afford to travel to Yangon or Mandalay to attend training programmes.
"It's very expensive for people from Inle," he said.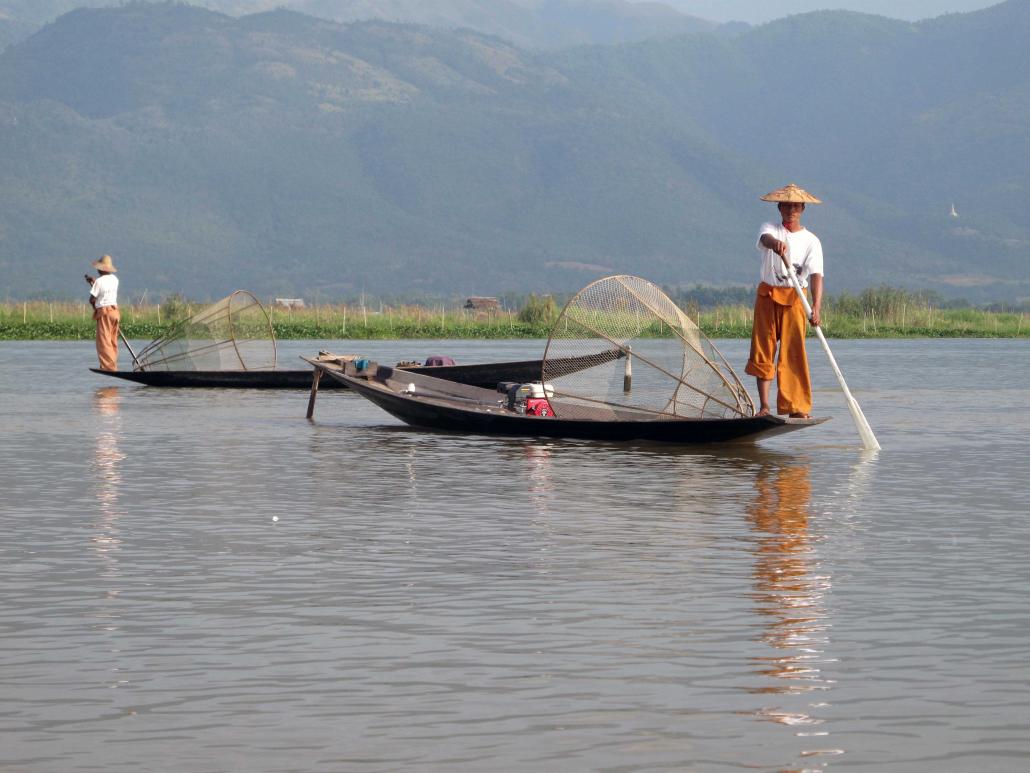 The centre provides free training programmes that take 10 months to complete, including a one-month work placement in hotels in Inle Lake, Yangon, Bagan and other tourist sites around the country. During the programme, the students work in the centre's popular restaurant.
"The demand of the workforce in the tourism and hospitality industry is growing in Inle and beyond, and yet a guarantee of qualities in human resources development is still missing," said Aung Phyoe Min, adding that a key challenge is the fact that many young people travel abroad in search of work.
Another issue, said Aung Phyoe Min, is a lack of programmes supporting those who have dropped out of high school.
"Most people think manual or service work is a low standard, and if you are a [school] dropout then the judgements are often severe," he said. One aim of the Inle foundation is to try and encourage people, and parents in particular, to think positively about a career in the hospitality and tourism sectors, he added.
Few vocational training centres in Myanmar offer programmes of more than one year. An exception is the Center for Vocational Training in Yangon, which offers three year-courses. CVT provides a "dual form" training programme, inspired by Switzerland, a country well-known for the quality of its hospitality sector.
Most students at CVT are sponsored by their company, said Daw Khin Myat Sandar, the centre's chief executive officer. Although some of the programme consists of classroom-based learning, the bulk of the training is in the form of a "hands on" apprenticeship with partner hotels, of which CVT has about 50 in Yangon. It is also in negotiations with a hotel at the beach resort of Chaung Tha, Ayeyarwady Region.
Khin Sandar said that many business owners were reluctant to send their staff to training, partly because they are worried it might result in them having to pay higher salaries. This is one of the main reasons for the high turnover of staff in Myanmar's hospitality sector, she said.
"If you don't train young people, if you don't increase their salaries because of time served and experience, and if you don't give them opportunities for their career, they will leave," she said.
She urged companies to recognise their social responsibilities and create opportunities that would help their staffs' careers to flourish. In 2015, CVT established a trainer-to-trainer programme aimed at improving the quality of internships.
Another issue, she said, was the fact that there is no widely known and accepted certification.
"There is the National Standard Skills Authority, but the institution is weak and only a small percentage of companies and hotels know it," she said, referring to a programme established in 2007 by the Ministry of Labour, Immigration and Population.
Khin Sandar joined the calls for a centralised accreditation system to be established for the industry.
"We opened our doors to the outside world … but there is no strong national certified standard," she said. "But if you want to work to an international standard, this is the least you need."
TOP PHOTO: A cooking instructor with a class in the kitchen of the Hospitality and Catering Training Academy in Kawmhu. (Steve Tickner | Frontier)