Myanmar has enjoyed rapid tourism growth since reforms began in 2011 but despite the industry's importance to the economy it fails to rate a mention in the government's economic policy.
By KYAW PHONE KYAW | FRONTIER
IT IS common to hear Myanmar described as the world's last frontier market; that the country has a lot of catching up to do is obvious in so many sectors. One industry that appears to have boomed since the previous quasi-civilian government launched economic and political reforms in 2011 is tourism. Tourist arrival figures show strong increases every year, although it is questionable if the data reflects the situation on the ground.
Tourism is an attractive industry for any country that wants to develop without selling its natural resources. The sector tends to be labour-intensive, so can bring enormous benefits to the people directly, and play an important role in reducing poverty. In Myanmar, the tourism sector creates more than 820,000 jobs, the Ministry of Hotels and Tourism said early last year. That represents 6.5 percent of the total workforce.
Ministry figures show visitor arrivals soared from 1.6 million in 2012 to 4.6 million in 2015, with 5.5 million forecast this year. By 2019, Myanmar hopes to welcome 7.5 million visitors a year, a ministry official said last week, as reported elsewhere in this issue. However, almost two-thirds of these arrivals were day-trippers from neighbouring countries, who would not be counted as tourists according to most international standards.
But growth is already showing signs of flatlining: When business, social and other travellers are removed, the figures show tourist visitors actually dropped last year.
Prominent members of the tourist industry say changes are needed to ensure that Myanmar can maintain recent its growth.
Promotion
The strong tourism growth over the past five years was largely due to political reforms. Under military rule, the sector had been held back by a combination of mismanagement and internal strife. The National League for Democracy's call in the 1990s for a tourism boycott had kept many tourists away out of principle.
When the political shackles lifted, curious visitors came in droves to witness a country going through a historic transition.
"When the country started to open, tourists wanted to see a country that had just escaped from dictatorship," said Ma Tin Nwe Aye, a tour guide with 20 years' experience.
Now that the country has become "normal", it needs to highlight other reasons for tourists to visit, she said.
But little is being done to promote the country as a tourism destination, industry leaders told Frontier.
"Myanmar needs destination promotion," said U Phyo Wai Yar Zar, chairman of Myanmar Tourism Marketing. "The government says it does not have the budget to promote the country as a tourist destination and this affects the contributions that the industry can make towards tourism promotion. It is a vicious circle."
U Naung Naung Han, an executive member of the Union of Myanmar Travel Association, agreed that more must be done on the promotion front.
"The top tourist destinations in the region all promote themselves. If Thailand, Malaysia and Singapore can do it, why can't our country do it?" he said.
U Myint Htwe, the ministry's director, told Frontier it planned to seek an allocation from the government for tourism promotion but could not reveal the amount.
"We can't spend a lot of money and we cannot spend as much as Thailand but we will be promoting the country as a destination," he said.
Phyo Wai Yar Zar said Myanmar should promote itself as a destination for visitors who spend more than the average tourist. "The country should favour quality tourists rather than quantity, because the more tourists there are the greater the social and environmental impact. If the government focuses on higher-spending tourists it will be better. We can learn about it from neighbouring countries," he said.
Challenges
Phyo Wai Yar Zar said one of the industry's biggest challenges was tourism products development.
"To attract tourists, we need to have creative, uniquely Myanmar products. If we have the tourism products that do not exist in Thailand or Singapore, we will be a more attractive destination," he said.
Tin Nwe Aye said Myanmar was an expensive destination compared with most other countries in the region.
"For the cost of staying in Myanmar for a week a tourist can stay in Thailand for more than 10 days," she told Frontier. "When the country started opening, it attracted tourists because it was a new and unusual destination. But tourists have realised that Myanmar is expensive and the news has spread."
Ministry figures show that average spending by tourists in 2015 was US$171 (about K202,000) a day, up just a dollar a day from the previous year. Total income from tourism was estimated at US$2.2 billion.
One factor that inflates the cost of travel is price discrimination, where businesses charge foreigners more for hotels and domestic airfares than Myanmar citizens. Airlines routinely charge double the local price – in effect using foreigners to subsidise local travellers, and harming the long-term growth of the tourism industry.
"It is a sort of double standard that has to be regulated by the government and only the government can do it," said Phyo Wai Yar Zar.
Myint Htwe said the government had no immediate plan to tackle double pricing. "We might do it later," he said.
Naung Naung Han said that while Myanmar's transition had mostly been a boon for the tourism sector, it had also brought some setbacks. Outbreaks of communal violence since 2012 had badly damaged the country's reputation, he said, adding that it was essential for the government to maintain law and order.
Another challenge for the industry, as incomes rise amid strong economic growth, is catering for a rise in domestic tourism.
A report by the World Travel and Tourism Council on Myanmar's travel sector in 2015 found that domestic travellers accounted for 49.9 of direct travel and tourism revenue, compared with 50.1 percent for foreigners. The report predicted that domestic travel spending in the decade to 2025 would rise from K1.222 trillion to K2.198 trillion.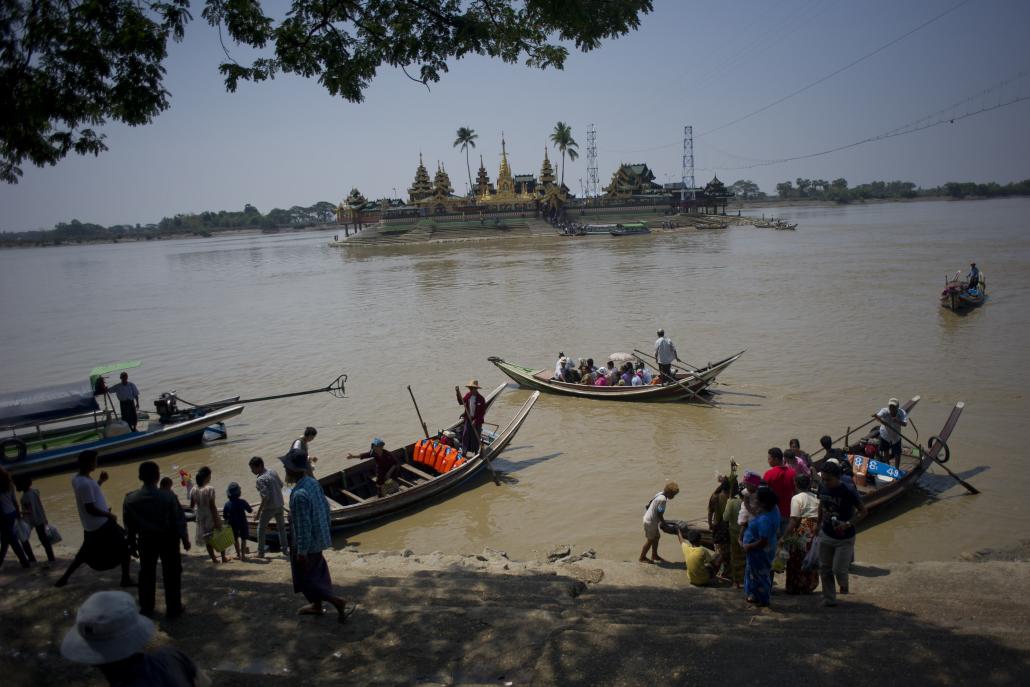 More Myanmar are also travelling abroad, with many heading to Thailand, where tourism officials expect 345,000 visitors from Myanmar this year, up 26 percent on 2015.
Yangon resident Ko Thit Lwin, 28, said he travelled to Thailand this year for his holidays because it was cheaper than domestic destinations. "The cost of a visit to Ngwe Saung or Ngapali is more expensive than a trip to Bangkok or Pattaya," he said.
Phyo Wai Yar Zar said a sharp increase was likely in the number of Myanmar travelling abroad in the next three to five years.
Meanwhile, Myanmar and some regional neighbours stand to gain from a "four countries, one destination" program. The program, that promotes travel within the CLMV countries – Cambodia, Laos, Myanmar and Vietnam – was launched in July.
Tin Nwe Aye has reservations about the CLMV campaign. "It might lead to an increase in tourists from the other countries but they might only stay in Myanmar for a few days and policy makers should prepare for this situation," she said.
More support needed
Another complaint from the industry is that a lack of official statistics makes it hard to detect market trends.
"The government only issues figures about the number of tourists, their country of origin and where they entered the country," said Phyo Wai Yar Zar. "But information is lacking about where they stayed, if it was a three-star hotel for example, their destinations and the tourism products they preferred," he said.
"Without this information it's difficult to invest in the tourist industry. Small and medium enterprises play a significant role in the industry but there is not enough information about them and the government should provide it," he said.
The WTTC report said tourism contributed 4.8 percent to GDP in 2015. Travel and tourism made a direct contribution of $3.1 billion to GDP in 2014, it said. In a world ranking of the relative importance of travel and tourism's total contribution to GDP, the report ranked Myanmar 99th out of 184 countries and territories.
Surprisingly, despite the importance of tourism to the economy, there is no mention of the tourism industry or the services sector in the 12-point economic policy released recently by the National League for Democracy government. The three-page policy says priority will be given to labour-intensive industries, such as agriculture and industry.
"I am not satisfied by the failure of the NLD's economic policy to mention tourism and the services sector," said Naung Naung Han. "The country can only be developed when the services sector is developed; we are still hoping for an appendix to be released to the policy that addresses the services sector," he said.
Myint Htwe said the government might not have mentioned tourism in the economic policy because it wanted to focus on other important sectors.
He said the government's favourable attitude towards tourism was shown in its decision to retain the ministry intact when it reduced the number of ministries from 36 to 21 before assuming office earlier this year.
Myint Htwe said the government supported the concept of community-based tourism and vocational schools to provide training in tourism skills had been opened at Yangon, Nyaung Shwe, on Inle Lake in Shan State, and at Bagan. The ministry, through its offices around the country and with the assistance of state and regional governments, would also cooperate with domestic and foreign non-government organisations to promote respective regions, he said.
Myint Htwe says a successful outcome of the Panglong 21st Century Peace Conference due later this month will be a boon for tourism.
"If the second Panglong peace conference is successful, tourism will reach a new peak because they will be able to be travel to every single destination throughout the country," he said.
Top photo: People take in the sunset at Nay Pyi Taw in February. (Ye Aung Thu / AFP)