On the river bank at Dala, across from downtown Yangon, teams of men known as "gravediggers" toil at hard, dangerous work to salvage timber from old fishing boats.
Words and photos by KHUN YAM | FRONTIER
IT'S BACK-BREAKING work for the teams of men on the bank of the Yangon River at Dala who make a living tearing up old fishing boats to salvage their timber.
The final resting place of the old boats is known as the "graveyard" and the men who toil to dismantle them are nicknamed "gravediggers".
There are about 20 of them, ranging in age from 14 to 69, and they include U Soe Aung, 48, who has worked at the "graveyard" for 34 years.
It takes about 20 days to dismantle a boat and the workers have to take care not to damage the timber or the vessels' metal frames and plates. They even salvage the bolts, using big iron sledgehammers.
The average weight of the iron plates removed from the boats after they have been cut up using oxyacetylene torches is between about 30 kilogrammes and 50kg. They have to be carried about 50 metres to a storage area through thick mud, in which pieces of scrap metal are a hazard for bare feet. Some of the foremen wear boots and gloves but none of the workers have protective clothing.
"The boss doesn't give us any protective gear," said Soe Aung, adding, "If you injure yourself, you have to treat yourself."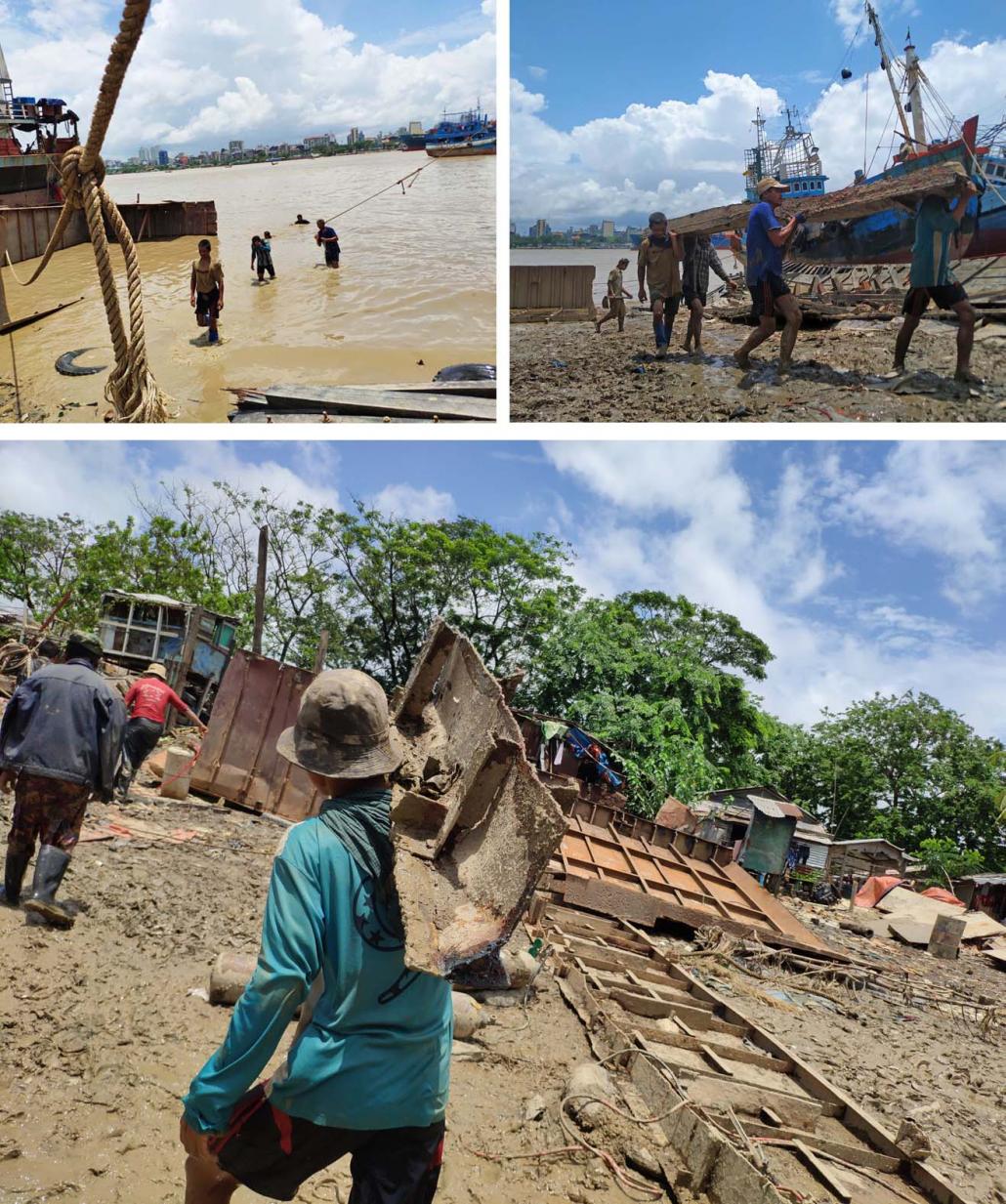 The constant handling of heavy loads means that the workers suffer from chronic aches and pains and many have weekly injections of painkillers to keep them going. Stopping work is rarely an option, however.
"I have no other work and I have to do this for a living," said Soe Aung. "I have to have pain-killing injections sometimes to be able to keep working."
Nearly every worker at the "graveyard" has suffered an injury.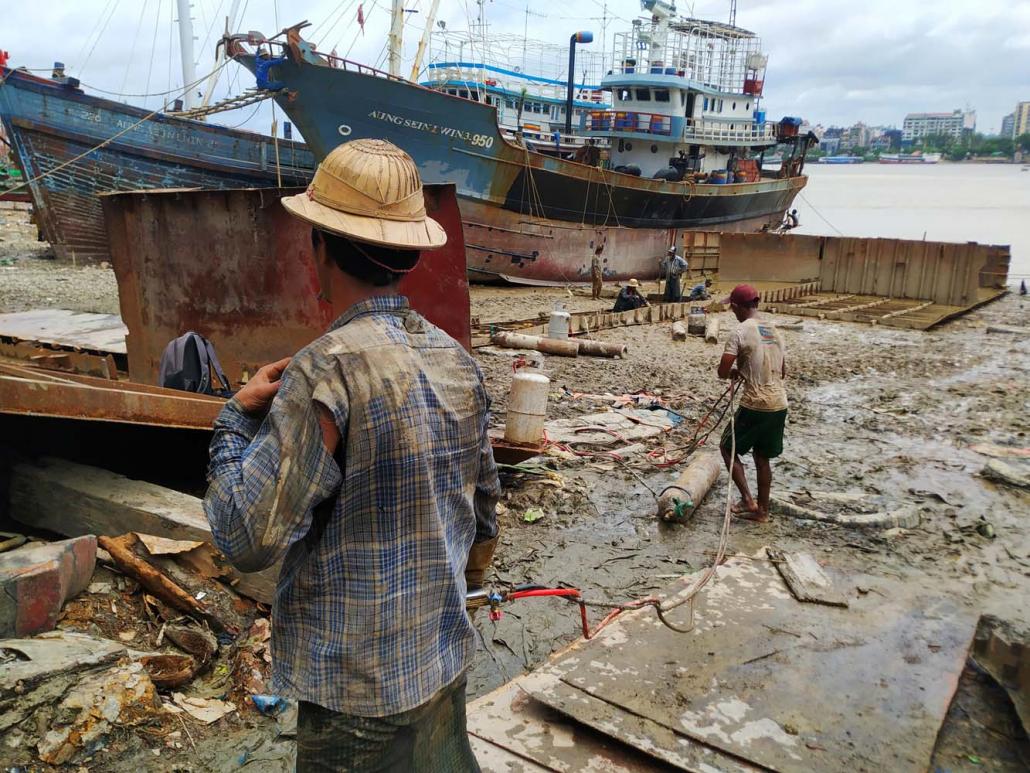 U Phoe Ni, a worker at the yard, dropped a four-stroke engine on his feet while heaving it from the carcass of a boat and one of his big toes had to be amputated.
Soe Aung saw the accident but it did not deter him from the dangerous work.
"If I take a day off, I won't be paid for that day. I have a family, and children, to feed. So I dare not take any rest," he told Frontier.
With the permission of his boss, Soe Aung and his family live in a compound where salvaged timber is stored.
Timber from dismantled boats sells for K900,000 a tonne. The workers are paid K8,000 a day, and their team leader is paid K10,000. They work from 7am to 5pm, with a one-hour lunch break, and receive no money for days they don't work.
While the larger of the "dead" boats are usually delivered for dismantling, smaller vessels found abandoned on the Yangon River are towed to the yard.
The timber from an old trawler bought for K10 million can be sold for between K12.5 million and K15 million.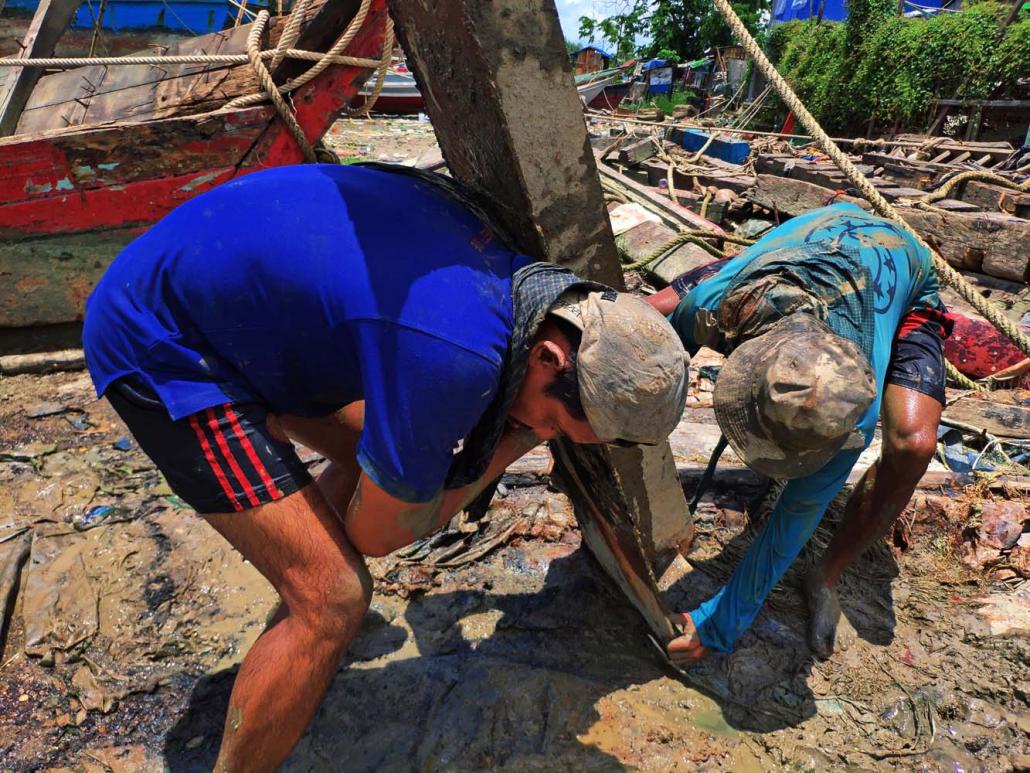 When a boat is delivered to the graveyard, the paired strips of red and white cloth that are commonly tied to a boat's bow are transferred to the branch of a tree in the yard – an offering to the guardian spirit of the Yangon River.
"Do you want to leave this job?" Frontier asked Soe Aung
"If I had an easier job to do, I would. But to have food for tomorrow, I must work today," he said.
TOP PHOTO: Khun Yam | Frontier