Late last year, the military regime began seizing the homes of its political opponents as part of an intimidation strategy that has inflicted hardship on hundreds of families.
By FRONTIER
Ma Honey Nway Oo, 23, was a rising star before the military seized power in February 2021, with one film and numerous commercials to her name. But after the coup, the actress and model gave up her dreams of the silver screen to join mass protests against the junta.
Honey Nway Oo's activism made her a target for arrest and in mid-2021 she fled Yangon, joining a resistance group known as the Student Armed Force. They are based in territory under the control of an ethnic armed organisation, which she prefers not to disclose.
"Before the coup, I never thought I would join an armed group and shoot a gun. I never thought I would be armed, but I chose to fight against injustice by doing what I could," she said.
But Honey Nway Oo's stand against dictatorship came at a cost to her family.
On July 3 at around 3pm, soldiers and police arrived at her family's home on the lower block of 15th Street in Yangon's downtown Lanmadaw Township and posted a notice declaring that it had been confiscated by the junta. Family friends later contacted her to tell her what had happened.
"There were about 20 soldiers and police. First they closed the road. Then they locked the house and posted the notice of confiscation," she said.
Honey Nway Oo's parents lived in the three-storey building, which had been owned by the family for generations.
"My parents have lost the house they lived in all their lives. I feel very sad about that," she said. "It's completely unfair. I feel really sorry for my parents that this happened."
Honey Nway Oo's anguish and the plight of her parents has been shared by hundreds of people throughout the country since late 2021, when the regime council began seizing the homes and valuables of protesters and their families, as well as members of the National League for Democracy including those who won seats in the 2020 polls. The NLD won that an election in a landslide, which the military refused to recognise, blaming the victory on unsubstantiated allegations of voter fraud.
As of the end of August, 760 properties had been seized since the coup, according to figures compiled by the Assistance Association for Political Prisoners, a monitoring group.
The Institute for Strategy and Policy – Myanmar, a think tank, reported that 147 of the properties seized as of May 20 were owned by lawmakers, 66 by other members of the NLD, and 373 owned by ordinary civilians, including activists.
"This is robbery. The military stole our property," said Ko Yan Aung Myo, an MP who represented Sinbaungwe 1 in the Magway Region parliament for the NLD.
On March 7, 2021, the junta issued a warrant for Yan Aung Myo's arrest for incitement under section 505A of the Penal Code, a political offence for which the maximum penalty is three years' imprisonment.
About eight months later, in November, soldiers and the village head arrived at Yan Aung Myo's home in Sinbaungwe Township and announced the confiscation of two houses owned by his family.
The two wooden houses had been built by the family with their hard-earned savings from their small farm.
"My family worked hard and saved money for years to be able to build these houses and now they just took our homes," he said.
The sudden eviction created many difficulties for the family.
"At that time, my parents, sister, and brother and his wife lived in the family homes. Having to move out suddenly was difficult," he recalled.
"After being forced out, my family hid in a forest for a week because they were afraid of being arrested. Then they were able to move somewhere safe. Now my family faces many difficulties because they don't have their own home," Yan Aung Myo said.
Ma Thant Wai Kyaw endured a similar plight. In the 2020 vote, she was re-elected to Kalay-2 in the Sagaing Region parliament for the NLD. On January 20 this year, the regime seized her three properties in Kalay town, including her parents' home.
"They confiscated the three properties in a week – my parent's house, the hostel we ran as a business, and a home being built for me and my husband," she said.
"My husband and I were building that house because we wanted to start a new life," said Thant Wai Kyaw. "We are still paying off the cost of the land for that new home."
She said the total value of the three properties was more than K600 million (US$286,000 at official exchange rates).
"We gave our blood and sweat to own these houses. Now we have nothing," said Thant Wai Kyaw. "I feel really sad for our parents, who had nothing to do with politics."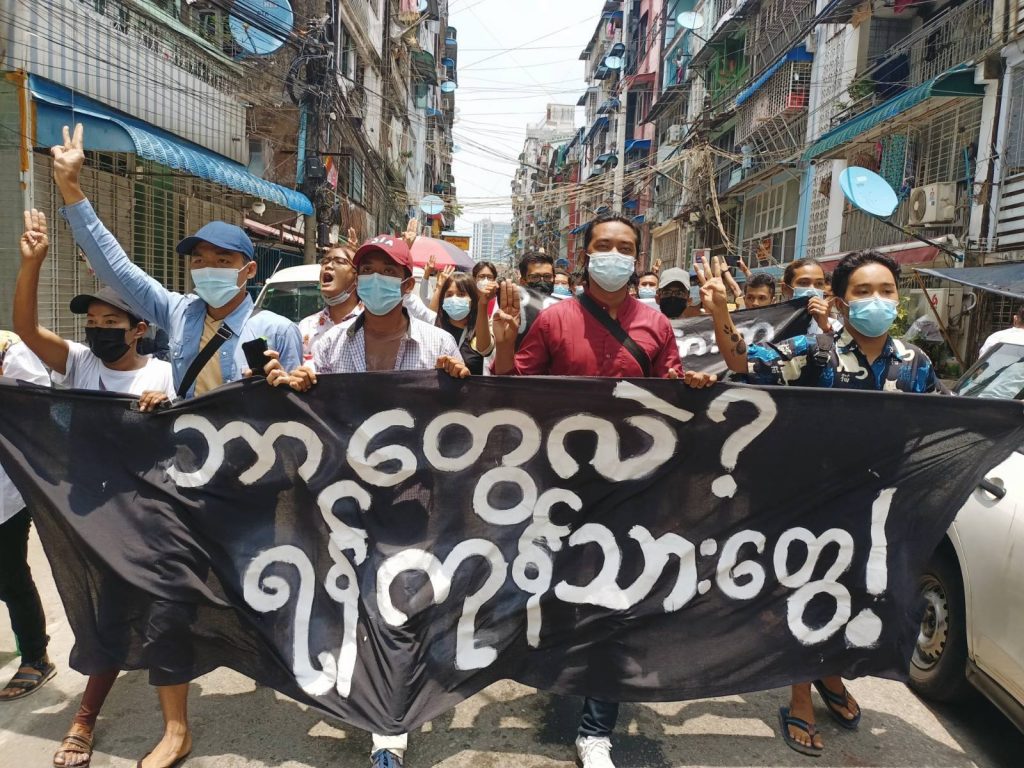 'If you oppose the military, your family will suffer'
The parents of Ko Min Han Htet, president of the Dagon University Student Union, also had their home and swimming pool business seized by the junta in June last year.
"My parents have been on the run ever since their house was confiscated. I don't know where they are living," he told Frontier on September 1.
As a participant in the anti-coup movement, Min Han Htet expected that his parents' home would be raided and searched, but he never thought it would be confiscated. He said the three-storey home in Yangon's outer northern Mingaladon Township cost more than K150 million ($76,000) to build.
Min Han Htet said he believed the regime had begun seizing the property of activists as part of a strategy of intimidation to discourage participation in the Spring Revolution, as the anti-military uprising is known.
"The army arrested activists and imprisoned them, but the anti-coup movement continued. Because of that [the regime] began targeting the activists' families. If you oppose the military, your family will suffer and you will lose everything," he said.
"They want people to be too afraid to join the revolution. They are trying to control us with intense fear. Something similar is happening in Sagaing Region; if you accept the People's Defence Force in your village, the military will burn it down," he added.
PDFs are armed resistance groups formed in opposition to the coup, with Sagaing emerging as one of their strongholds.
Thant Wai Kyaw said the military was increasingly confiscating homes in areas where it had lost control, an observation borne out by the number of seizures in Sagaing Region. The military has seized 159 houses in Sagaing, the most of any region or state, followed by 122 in Yangon Region, according to the ISP-Myanmar report.
"Sagaing is a stronghold of the resistance and the People's Defence Forces. The military cannot control Sagaing, that's why the most properties have been confiscated there," said Thant Wai Kyaw. "They are trying to use any means possible to scare the people, but it is not working."
Parents disown their children
In November 2021, notices began appearing in newspapers announcing that parents had disowned sons, daughters, nieces, nephews and grandchildren who had publicly opposed the coup. The notices followed a warning by the junta that it would seize the properties of anti-coup activists.
Many activists who have been publicly disowned by their parents have expressed understanding, or even encouraged the move.
"If their homes are confiscated, my family will have nowhere to go. I didn't want anything to happen to my parents, so I asked them to disown me," said Ko Thaw Zin*, a member of the General Strike Committee.
Thaw Zin said his parents were initially reluctant to disown him, but after he explained the situation, they placed a notice the military-run newspaper, Myawady Daily, last November.
"My mother cried every day for more than a month. She told me I was no longer her son by law. I cried for a long time, too," Thaw Zin said. "Even now when I think about it, it hurts me to death. But this is the best way for me to continue my involvement in the revolution."
Honey Nway Oo also urged her parents to disown her.
"My parents flatly refused. There was no way we could negotiate. They said they couldn't denounce me because they did not believe I had done anything wrong," she said, adding that the situation made her sad.
Thaw Zin said that even if parents publicly disowned their children, the military could still seize family properties.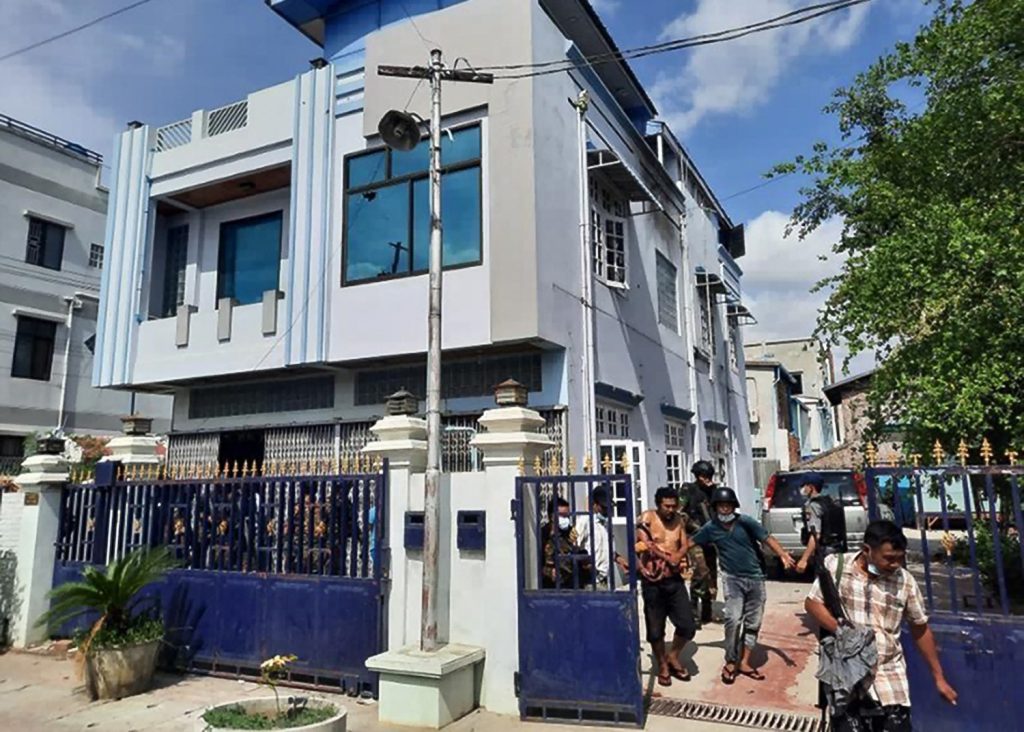 The impact on property rentals
The fear instilled by the junta's property seizure blitz also extends to properties where activists have lived, which they don't even own. This is now having implications for the rental market.
Ma Thin Thin*, a real estate agent for more than 10 years in Yangon's Sanchaung Township, said most landlords were reluctant to rent to young people because they feared that their property might be seized by the military.
"Landlords are afraid of having their property confiscated. If four or five young people want to rent a property, the landlord will not accept them," she said.
In September of last year, the regime warned that it would seize property from landlords if their renters were found to have used the property to stage attacks.
"Seizing property because of tenants is cruel; how can the landlord know if a tenant is a member of a People's Defence Force or not?" Thin Thin added.
As protection, most landlords offer leases that require tenants to agree to observe mandatory guest registration regulations and to avoid any activities that violate the law.
The caution of landlords has made it difficult even for peaceful activists to find safe houses in Yangon.
"It's becoming difficult to find accommodation for comrades who want to hold flash mob protests. In the future, it might be even worse," said Min Han Htet from the Dagon University Student Union.
The arrest of activists and the difficulty they face arranging accommodation seems to be an attempt to squeeze out guerrilla attacks and flash protests in order to crush resistance in the cities.
"The revolution has been able to continue so far because of the participation of the public. So, it is important for the people to keep participating in various ways, in the long run," said Min Han Htet.
Thant Wai Kyaw in Kalay believes the confiscation of homes and other property will motivate the people to fight harder to bring down the military dictatorship.
"This is a revolution, so there will be losses. The military's actions will make the people fight with all their might to overthrow the junta. This army must fall," she said.
When that happens, Thant Wai Kyaw expects to reclaim her property.
"I truly believe that our family will have the right to return to our home in the near future. The dictatorship will fall because the people will keep fighting; that is what I always keep in my mind," she said.
*Denotes use of pseudonym upon request for safety reasons