A Frontier reporter takes a long-awaited holiday for Thingyan but his hopes of a few relaxing days at the beach are dashed by the arrival of the first cyclone of the season.
By KYAW PHONE KYAW | FRONTIER
I HOPE you were able to enjoy a refreshing holiday during the long break for the Thingyan traditional new year festival. My wife and I travelled to one of Myanmar's most beautiful beaches, at Ngapali in southern Rakhine State. We were looking forward to relaxing for a few days but what we got was the unforgettable drama of experiencing a direct hit from a tropical cyclone.
Yangon residents love taking a holiday during Thingyan because it is the longest break of the year. Because of heavy demand, planning ahead is essential and I booked our bus tickets and four nights' accommodation at Ngapali more than a month in advance.
We travelled overnight from Yangon and arrived at Ngapali on April 13. It's a long, attractive, white sand beach that gently curves around a bay and is partly protected by an offshore island.
The first day at the beach was wonderful. I swam, sun-bathed and enjoyed jogging along the beach. On April 14 we started hearing about a depression forming in the Bay of Bengal. I wasn't too concerned because I thought the depression might dissipate.
But then a day later I started to worry. To the south the sky became darker as the depression continued to develop. My wife suggested we might need to cut our holiday short and return to Yangon. That wasn't possible because seats were not available until after Thingyan. We were stuck in Ngapali. It started to rain.
On April 16, my wife's face was darker than the sky and she insisted we move to accommodation away from the beach. The depression had by then been upgraded to a cyclone named "Maarutha", the first of the season in the Bay of Bengal. The rain was getting heavier, the wind speed was rising and the sea was becoming a cauldron.
A barrage of warnings about the approach of Maaruthu towards the Rakhine coast appeared on social media. Cyclones have made Myanmar people especially anxious since Nargis roared out of the Bay of Bengal on May 2, 2008, and devastated Ayeyarwady Region before battering Yangon. It killed nearly 140,000 people and affected the lives of more than two million. It was the worst cyclone in Asia since 1991, when 143,000 people died in Bangladesh.
I vividly recalled the memory of Nargis pounding Yangon and it chilled my spine.
I was monitoring the reports tracking Maarutha and although it was some comfort that it was generating wind speeds far lower than those of Nargis, we did not want to take any chances. As a precaution we moved from our hotel near the beach to a guest house in a nearby village. It was a 10-minute walk from the beach and we felt safer there, but I was wishing that the wind speed would ease.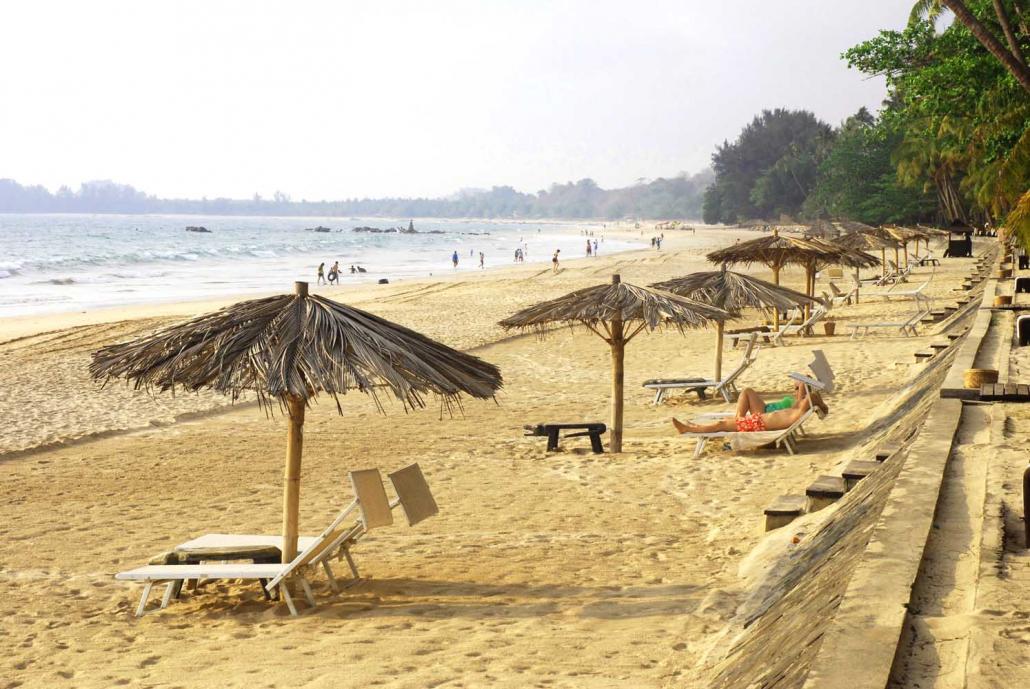 Earlier, I had called one of the emergency hotlines listed on the personal Facebook page of the Minister of Social Welfare, Relief and Resettlement, Dr Win Myat Aye, to seek advice on sheltering from the cyclone. The hotline officer was unable to provide the information. I expressed my disappointment in a Facebook post and it went viral, attracting 2,100 likes and more than 800 shares.
The ministry's rescue department sent an apology and advised that it had responded to my complaint by trying to be more informative. It seems to me that there needs to be better cooperation between the ministry and local authorities to ensure that citizens can better prepare for the natural disasters to which Myanmar is prone.
Maarutha may have been weakening when it made landfall at Ngapali about 6pm on April 16 but it was still a frightening experience. Accompanied by torrential rain, the cyclone generated winds of more than 60 kilometres an hour (37mph) that lashed the coconut palms and rattled the roof of the guest house, in which my wife and I and some friends had gathered in one room. We were unable to sleep until about 3am because of the noise of the wind and rain.
After a tense few hours, Maarutha left us and headed inland, bringing heavy rain to Pyay as it continued to weaken.
It was a relief to learn that the cyclone had not caused any casualties or serious damage at Ngapali, though it blew the roofs off about 80 houses at nearby Thandwe, damaged scores of buildings further north along the Rakhine coast and was blamed for three deaths in Ayeyarwady Region.
On our last day I took a walk along the beach. The sea greeted me with big waves, the wind was steady and the shore was lined with dozens of dead jelly fish.
We had escaped from noisy, congested Yangon for what we had hoped would be an uneventful holiday but after the cyclone it was relief to be heading back to the commercial capital.
But how many people can say they've been on holiday with a cyclone?