Frontier looks back over key events during the term of President U Thein Sein, an unassuming former general whose reforms laid the foundation for a transformed Myanmar.
On March 30, the five-year tenure of President U Thein Sein came to an end. When he took office after the flawed 2010 general election, few expected the diminutive former general who had served as the junta's prime minister to bring much change to a country that had been under the military's harsh grip for almost five decades. However, the political, economic and social reforms that he introduced surprised even the most optimistic observers.
Thein Sein's term was not without controversy, though, and as he handed power to U Htin Kyaw, political prisoners still languish in jail, ethnic conflict persists in parts of the country and a genuinely national ceasefire remains elusive.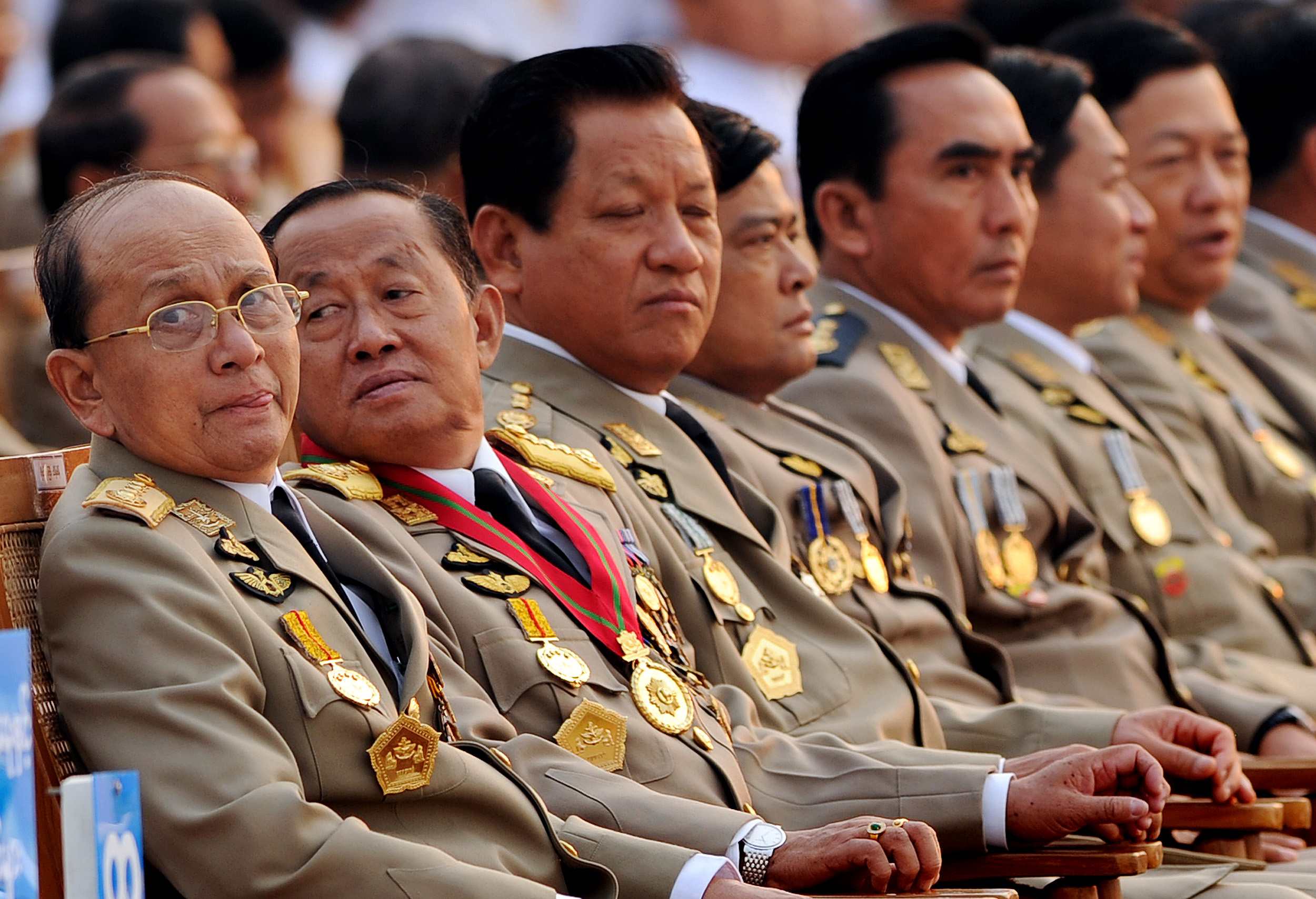 March 30, 2011 – THEIN SEIN SWORN IN
Thein Sein is sworn in as president, replacing Senior General Than Shwe who was previously chairman of the State Peace and Development Council, which was disbanded. Although the military claims that Thein Sein is Myanmar's first democratically-elected president in 50 years, few international observers are convinced. On the same day, General Min Aung Hlaing becomes Commander-in-Chief of the Tatmadaw. At the time, the BBC reports that Than Shwe has announced his retirement but that no one "seriously believes he would voluntarily bow out altogether".
May 17, 2011 – FIRST PRESIDENTIAL AMNESTY
The first of a series of presidential amnesties under Thein Sein's watch takes place. A total of 14,600 prisoners are reported to have been released, of whom more than 2,000 are believed to have been jailed for political reasons. Despite many amnesties throughout his term, a 2013 promise by Thein Sein that there would be no political prisoners left at the end of that year was never fulfilled. At the end of his term about 100 political prisoners remained in jail and more than 400 were awaiting trial, rights groups said.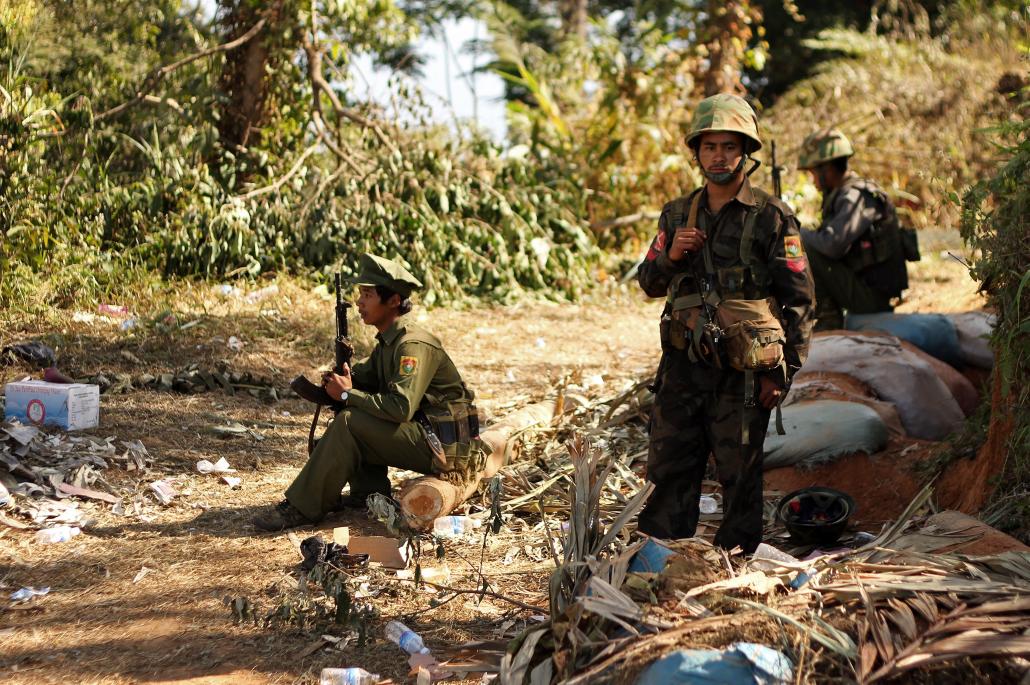 June 9, 2011 – FIGHTING ERUPTS IN KACHIN STATE
Heavy fighting breaks out between the Tatmadaw and the Kachin Independence Army, ending a 17-year truce. Fighting has continued between the two forces throughout Thein Sein's term, and the KIA was one of the most high-profile ethnic armed groups not to sign the national ceasefire agreement with the government in October 2015.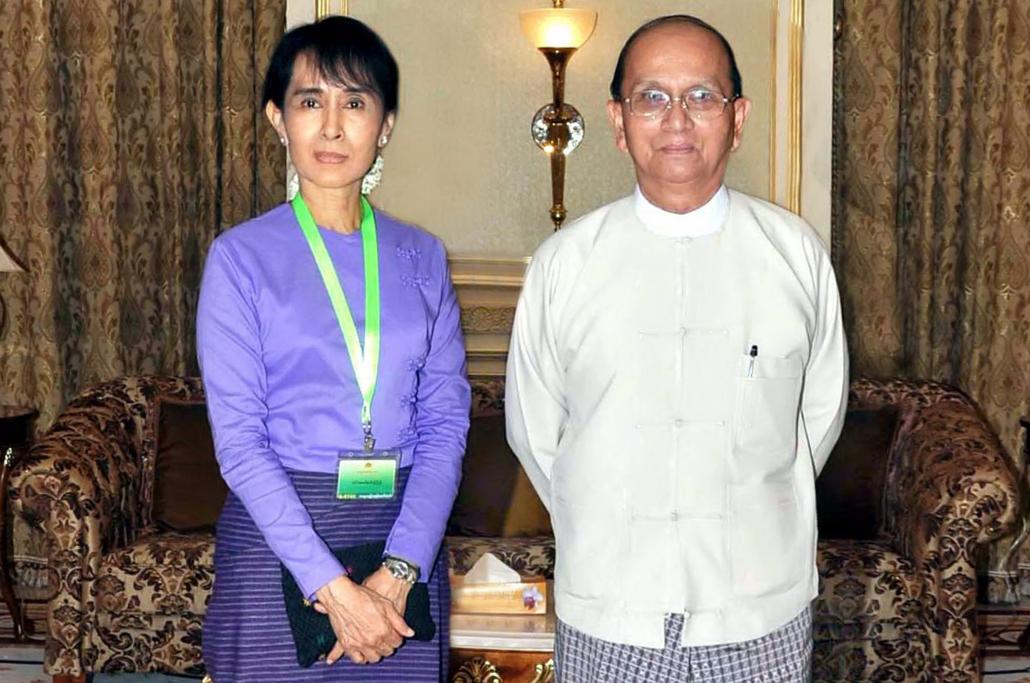 August 19, 2011 – THEIN SEIN MEETS AUNG SAN SUU KYI
Thein Sein hosts a meeting in Nay Pyi Taw with Suu Kyi, who the military had kept under house arrest for decades. Few details emerge about what was discussed at the meeting, which is regarded as an indication that the military may be willing to reform.
September 30, 2011 – MYITSONE DAM SUSPENDED
In a surprise decision greeted by popular acclaim, Thein Sein announces that the controversial China-backed Myitsone Dam in Kachin State will be suspended for the duration of his term. The announcement is a shock for those who viewed the military as being overly reliant on Beijing. A decision over the future of the multi-billion dollar project is one of the big challenges facing the new government.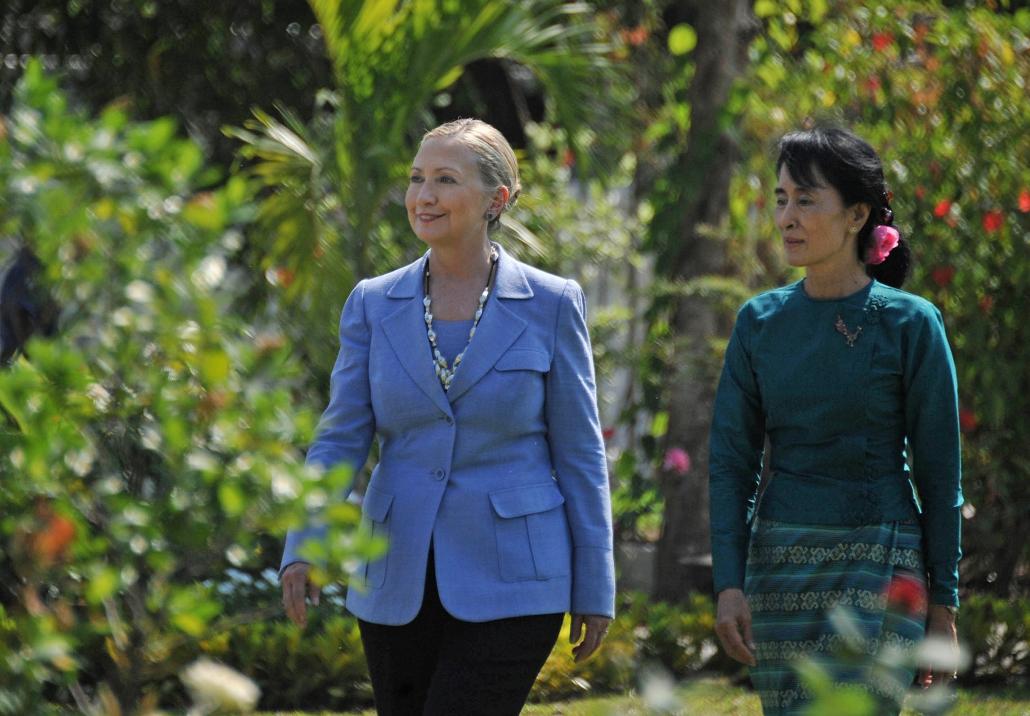 November 30, 2011 – CLINTON VISITS
Hillary Clinton becomes the first US Secretary of State to visit Myanmar in more than 50 years. During her visit, she meets Thein Sein and Suu Kyi and makes clear that the US is not yet ready to consider lifting sanctions.
December 23, 2011 – NLD OFFICIALLY REGISTERS AS A PARTY
The National League for Democracy re-registers as a political party ahead of the by-elections due the following April. The party was de-registered by the junta after it boycotted the 2010 election.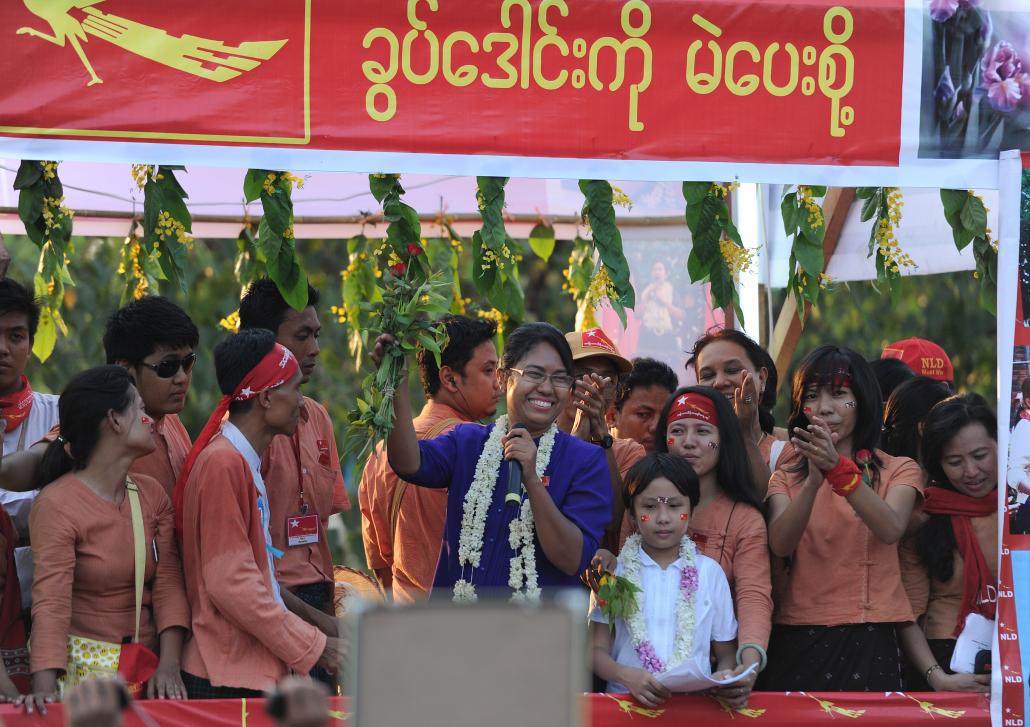 April 1, 2012 – NLD WINS LANDSLIDE IN BY-ELECTION
By-elections are held in 45 electorates and the NLD wins 43 of the 44 seats it contests. Suu Kyi is elected to parliament 22 years after the NLD's stolen victory in the 1990 election, winning the seat of Kawhmu, southwest of Yangon, where an exuberant crowd celebrates.
June, 2012 – RAKHINE STATE VIOLENCE
Ethnic tensions in one of the nation's least developed regions burst into violence between Buddhists and Rohingya Muslims in the first of a series of outbreaks over several months. Scores of people are killed and tens of thousands displaced, most of them Rohingya confined to grim camps with limited access to healthcare, jobs or education.
The continuing persecution of the Rohingya is one of the biggest black marks of Thein Sein's tenure. The government officially refers to the Rohingya as "Bengalis" because it believes they are illegal migrants from Bangladesh, though many have lived in Rakhine for generations. A state of emergency imposed in Rakhine in 2012 was lifted days before the end of Thein Sein's term.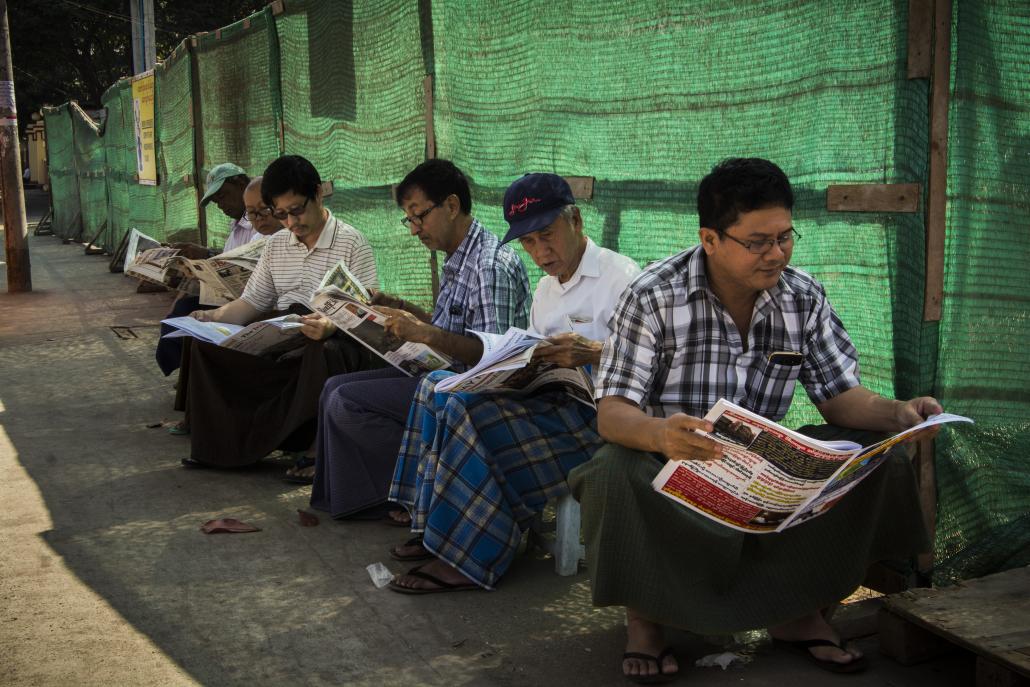 August 20, 2012 – PRE-PUBLICATION CENSORSHIP ABOLISHED
The government abolishes pre-publication censorship after almost 50 years. Before the decision, weekly newspapers and other publications had to send all stories in advance to the Ministry of Information's Press Scrutiny and Registration Division. Stories would be approved, cut or rejected.
The move marked the start of a series of media sector reforms and paved the way for the first privately-owned daily newspapers, although few have survived in a highly saturated market.
November 19, 2012 – OBAMA VISITS
Barack Obama becomes the first sitting US president to visit Myanmar. During his visit, he meets Thein Sein and Suu Kyi and largely praises the reforms taking place. He also expresses concern about continued human rights violations.
March 20, 2013 – MEIKTILA VIOLENCE
The central Myanmar trading town of Meiktila is convulsed by violence between its Buddhist and Muslim communities after an argument in a gold shop descends into bloodshed. More than 40 people die and arson attacks leave thousands homeless. Residents accuse outsiders of inflaming the violence that ends after Thein Sein declares a state of emergency. Communal violence also erupts in Lashio in May 2013 and Mandalay in July 2014.
May 20, 2013 – THEIN SEIN VISITS THE US
Thein Sein becomes the first Myanmar head of state to visit the United States since Ne Win in 1966. In a symbolic gesture, Obama refers to the country as Myanmar for the first time.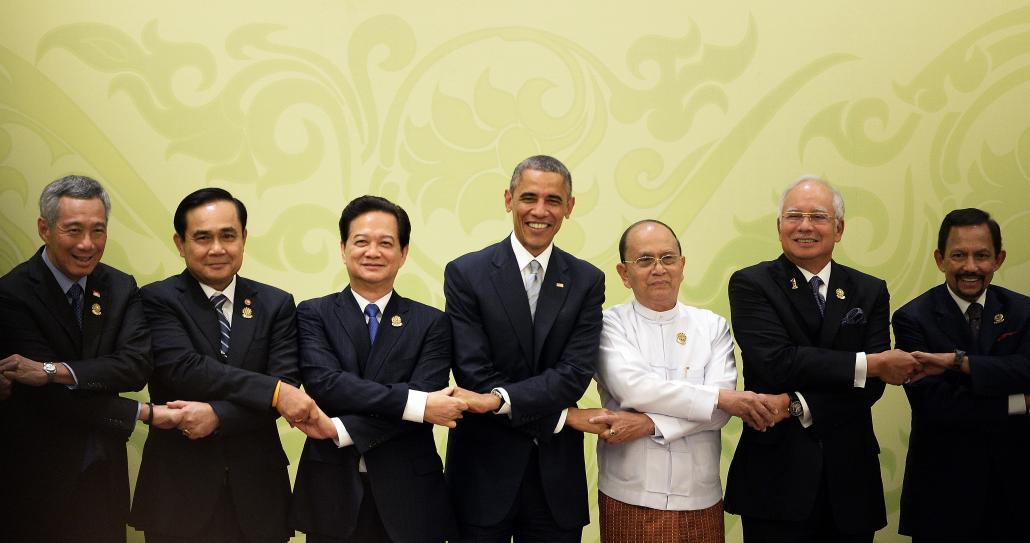 May 11, 2014 – MYANMAR HOSTS FIRST ASEAN SUMMIT
Thein Sein opens the 24th summit of the Association of Southeast Asian Nations, the first such event to be hosted by Myanmar since it was admitted to the regional grouping in 1997.
July 10, 2014 – UNITY FIVE SENTENCED
Four journalists and the chief executive of the now-defunct Unity Journal are sentenced to 10 years in jail with hard labour for breaching the 1923 Official Secrets Act. The sentence, reduced on appeal to seven years' jail, follows a report alleging that the Tatmadaw was making chemical weapons at a factory in Magway Region, a claim it denied.
November 12, 2014 – OBAMA RETURNS
President Obama returns to Myanmar and meets Thein Sein and Suu Kyi. The mood is noticeably cooler than Obama's previous visit, because of setbacks in the reform process. In an historic speech at Yangon University's Convocation Hall, Obama tells his audience there will be challenges ahead, and those who resist change, but that "something is happening in this country that cannot be reversed".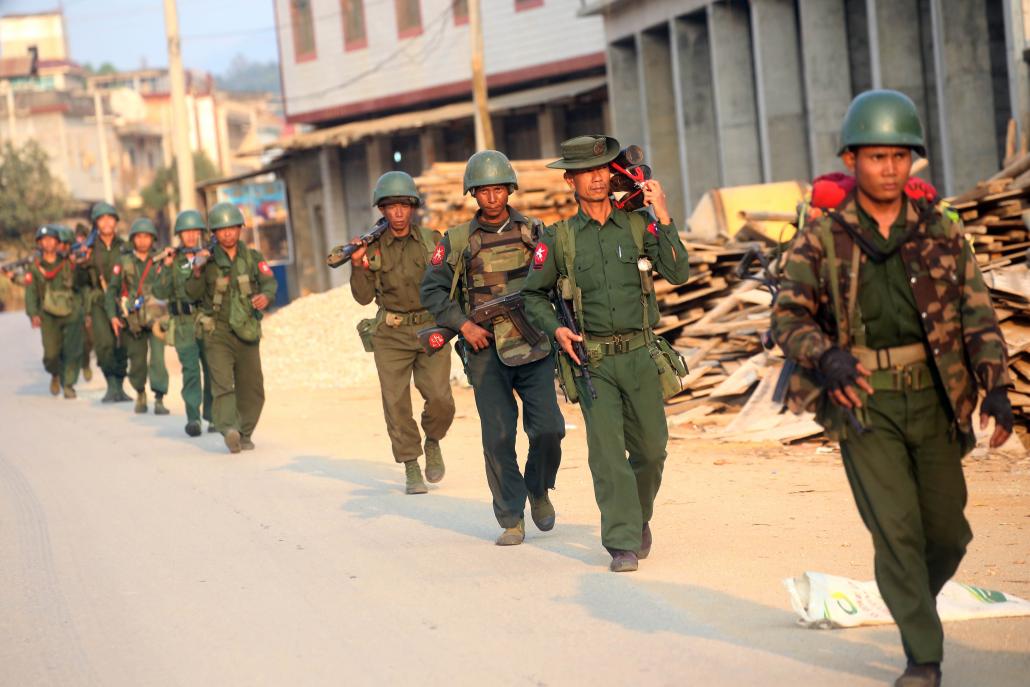 February 9, 2015 – KOKANG CONFLICT
Heavy fighting occurs between the Tatmadaw and the ethnic-Chinese Myanmar National Democratic Alliance Army after it launches an offensive aimed at seizing control of the regional capital, Laukkai. Thousands are displaced and martial law is declared on February 17. It is lifted nine months later, on November 17.
March 10, 2015 – LETPADAN CRACKDOWN
Student protestors halted by the authorities at Letpadan in Bago Region during a protest march from Mandalay to Yangon are violently dispersed by police in scenes that bring international condemnation. More than 100 people are arrested, many of whom remain on trial in drawn-own legal proceedings.
June 25, 2015 – MILITARY VOTES AGAINST CONSTITUTIONAL CHANGE
A move by the NLD to lower the threshold for amending the 2008 Constitution is lost in parliament despite attracting the support of a majority of MPs. The military MPs who hold 25 percent of the seats in parliament have an effective veto over charter change because it requires more than 75 percent support. A vote in the 664-member Pyidaungsu Hluttaw to lower the threshold to 70 percent is defeated, despite being supported by 388 MPs, or 66.55 percent of the 583 MPs at the joint sitting.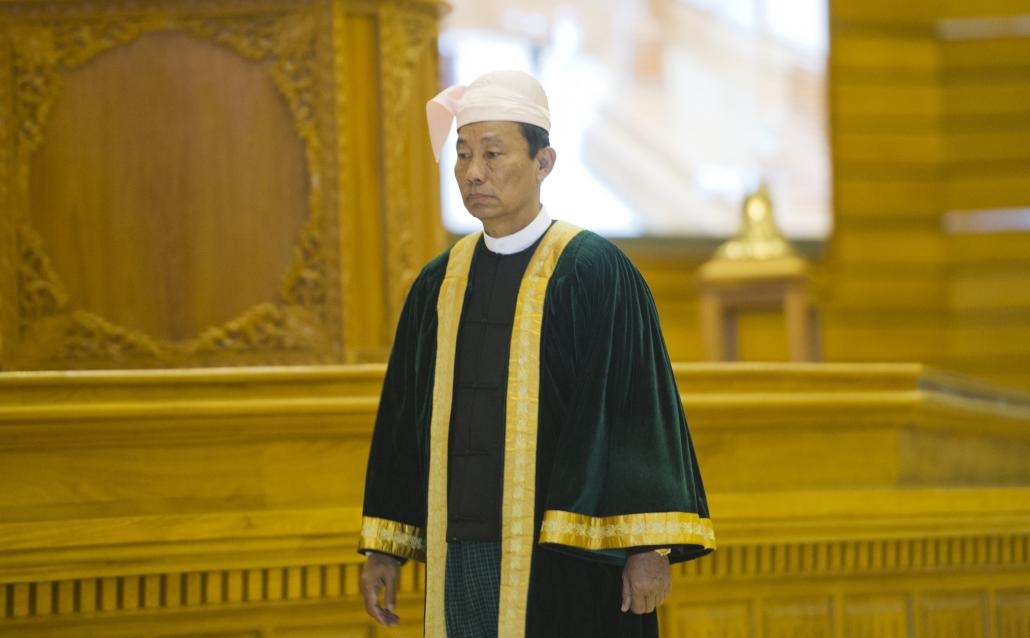 August 12, 2015 – SHWE MANN OUSTED FROM USDP
Pyithu Hluttaw Speaker Thura U Shwe Mann is dramatically ousted as chairman of the Union Solidarity and Development Party at a midnight meeting in Nay Pyi Taw. The move follows tensions between Thein Sein and Shwe Mann, whose factional allies are also purged from the party.
Shwe Mann had enraged USDP hardliners by allowing parliament to debate NLD proposals to amend the constitution.
October 15, 2015 – PEACE AGREEMENT SIGNED
A "National Ceasefire Agreement" is signed by the government and eight armed ethnic groups. About 15 groups were involved in peace talks with the government and the so-called "national" agreement is criticised by the NLD and others for not being more inclusive. Groups that do not sign the truce include the Kachin Independence Army and the Shan State Army-North.
One of the biggest disappointments of Thein Sein's administration was its failure to produce a peace agreement that included all of the country's main armed ethnic groups.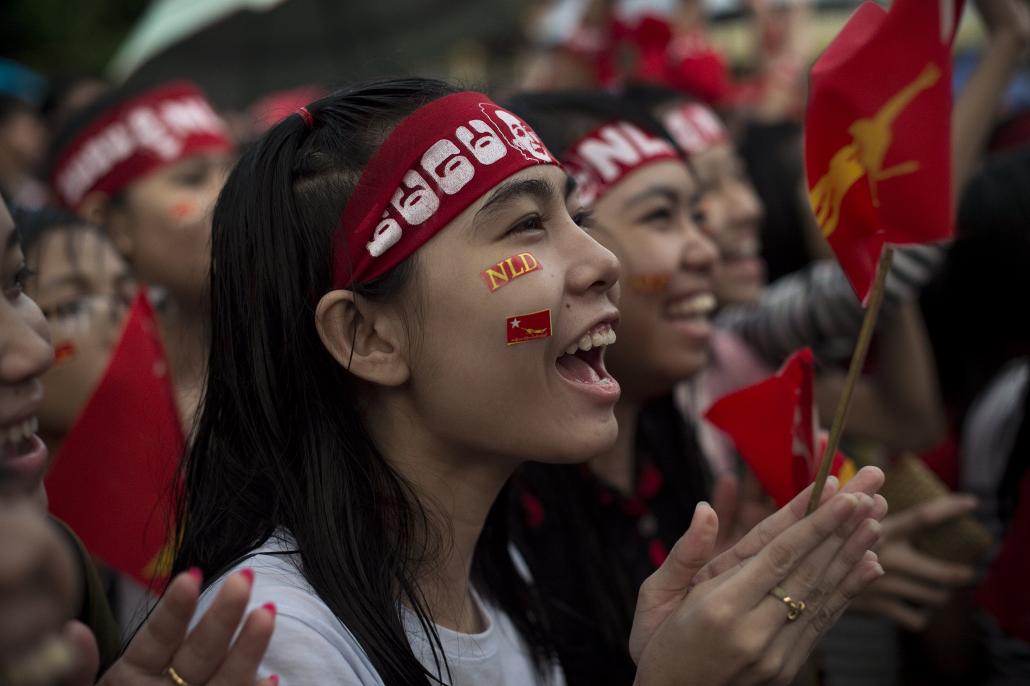 November 8, 2015 – ELECTION HELD
The NLD wins by a landslide in historic general elections, taking nearly 80 percent of the vote. A long political transition begins that includes a surprise meeting between Suu Kyi and former dictator U Than Shwe, and high-level negotiations between the NLD and the Tatmadaw. The best performing ethnic parties in the election are the Arakan National Party and the Shan Nationalities League for Democracy.
March 15, 2016 – HTIN KYAW NAMED PRESIDENTIAL NOMINEE
The NLD announces that little-known party stalwart U Htin Kyaw, 69, will be its candidate for president, ending months of speculation. The NLD chooses Chin MP Pa Henry Van Thio as its vice-presidential nominee. The Tatmadaw names former Yangon Region Chief Minister U Myint Swe as its vice-presidential candidate.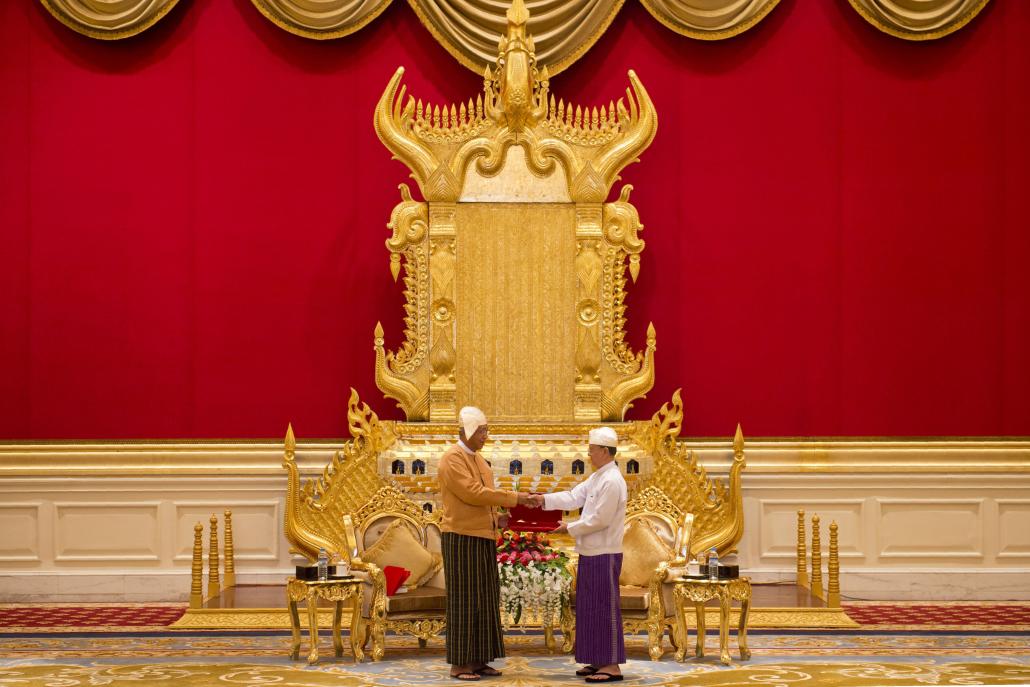 March 30, 2016 – THE HANDOVER
In a fairly low-key ceremony, Thein Sein hands the reins of power to Htin Kyaw.