A group of young people, some with first-hand experience of harsh prison conditions, face persecution while providing vital support to political prisoners and their families.
By FRONTIER
On the night of April 17 last year, soldiers snatched Daw San San Aye's four sons while they were guarding their Yangon neighbourhood against military raids.
Seven others in the ward in South Dagon Township, including a 23-year-old woman and two boys aged 16 and 17, were arrested that same night – but none, according to San San Aye, had any history of association with each other. The soldiers told the 48-year-old restaurant owner they were questioning the group about the murder of an alleged military informant in the area.
At first, San San Aye was able to control her fears. Her neighbours reassured her, saying that none of the arrested had known the victim, and that, like many other ad hoc night watches that had formed across the city, they had been unarmed while patrolling.
However, things quickly took a turn for the worse. In May of that year, nine of the group, including San San Aye's four sons and the young woman, were charged with murder.
Figures from monitoring group the Assistance Association for Political Prisoners show that, as of early December, 16,520 people have been arrested since the coup, of whom 13,048 remain in prison or some form of custody.
Since their sons' imprisonment, San San Aye and her husband, U Zeyar Min Maung, say they have been consumed with anxiety, and have incurred considerable expenses delivering care packages and travelling to see them at separate prisons across Myanmar.
"My sons are having all kinds of trouble in prison. They have to pay the guards to get a space for a good sleep, and for anything else they ask for," San San Aye said.
Lightening a heavy burden
Shortly after the arrest of her sons, San San Aye was contacted by the Burmese Spring Political Prisoners Support Team, a group of young people who had come together to help improve the conditions of those imprisoned for protesting the coup.
Since its formation, the support group has sent food, medicines and other necessities to hundreds of political prisoners. It began operations with five committee members and 12 casual volunteers and, as word spread about its work, the group started to attract donors, especially from within the Myanmar diaspora overseas.
Some of the activists responsible for the group's founding had been released from prison in an amnesty in April last year and were therefore keenly aware of the challenges faced by detainees. They teamed up with other student activists to establish the organisation, whose Burmese name, Htaung Win Sar Po Kya Meh, directly translates to "let's send parcels into the prisons".
The group says it prioritises sending care packages to prisoners who lack alternate sources of support. For example, some political prisoners choose not to inform their families to protect their feelings, while others are serving sentences in prisons far from the reach of loved ones.
Before the group began sending parcels it had to learn about existing restrictions and procedures from prison guards. The first parcels were sent to about 50 political prisoners around the country in June last year. Committee members also visited Yangon's Insein Prison and others notorious for harsh conditions, such as Thayawady in Bago Region, with a list of priority political prisoners drawn up by lawyers.
Soon, however, the committee members were forced underground as security forces deepened surveillance, and its activities were taken over by the volunteers.
The groups says it currently provides support to about 500 political prisoners, including over 200 in Insein Prison, more than 50 in Mandalay's Obo Prison, 30 in Taungoo Prison in Bago Region, and smaller numbers in prisons in Magway and Pakokku townships in Magway Region.
Founding member Ma Angela*, who comes from Taungoo District, is also a member of the nationwide University Students' Union Alumni Force. She participated in anti-junta protests after the coup and in May last year fled home to avoid arrest. Authorities charged her in absentia under the Counter-Terrorism Law in August of that year for allegedly fundraising for resistance groups, although she maintains she was only supporting political prisoners.
Although never arrested or imprisoned, she has learned from other student activists and friends about conditions in prisons, where besides physical abuse, inmates are often denied healthcare and basic nutrition.
"The prisons don't provide necessities such as medicine and meals are poor. [Inmates] have to eat stale rice at times [and] have care packages withheld," Angela told Frontier.
For worried and anxious parents such as San San Aye and Zeyar Min Maung, the support is a huge relief.
Aye Aye San said that, before being contacted by the support group, she provided her sons, who were initially held in Insein Prison, with fortnightly care packages that included toothpaste, soap, fried fish paste and snacks. She would also give each son K50,000 (US$16) a month to buy provisions from the prison commissary.
She said the support group's assistance had halved her financial burden.
However, the cost of providing the care packages increased in September last year after her sons were transferred from Insein to four prisons in different parts of the country.
Ko Khaing Myae, 24, was sent to Taungoo Prison and Ko Aung Aung, 22, to Mon State's Kyaikmayaw Prison, while Ko Naing Naing, 21 and Ko Aung Myo Lynn, 21, were transferred to Mandalay Region's Obo and Myingyan prisons, respectively.
It is common for Myanmar's prison authorities to separate political prisoners of the same family, increasing the difficulty of visits. The transfers meant that San San Aye and Zeyar Min Maung were only able to visit their sons once every three months.
The support group twice sent the sons supplies after they had been transferred, but from April, San San Aye said she was no longer able to contact the group. Unknown to her, two of its members had been arrested while delivering packages to prisoners.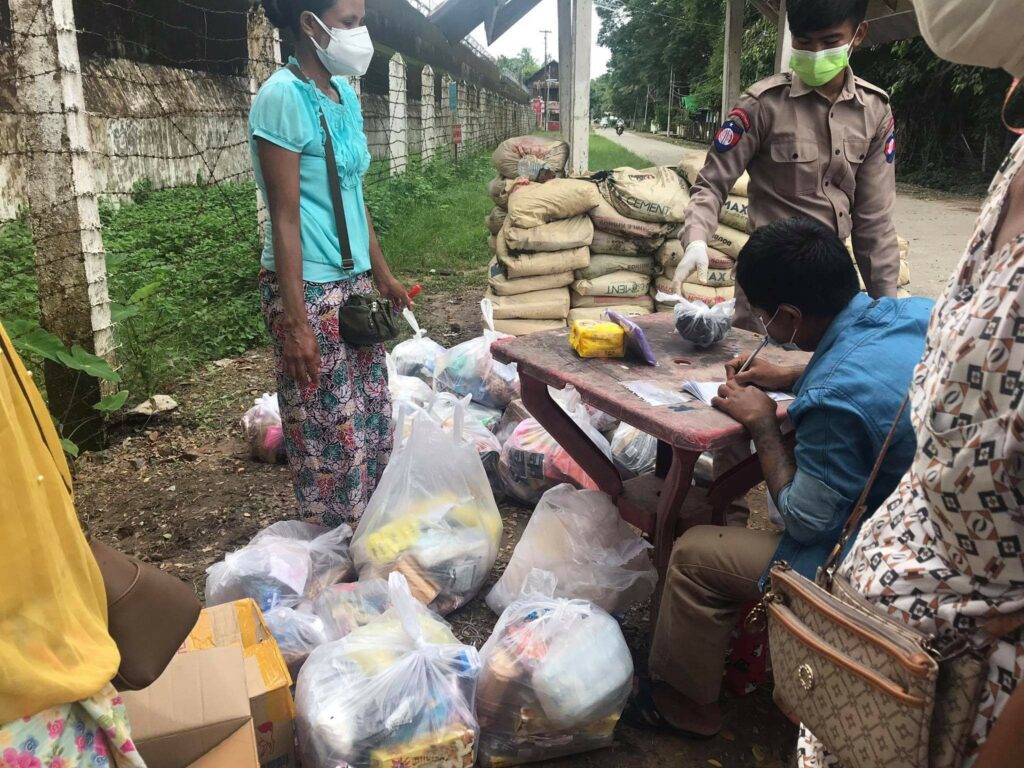 'I don't want to cry anymore'
After her sons were dispersed to prisons across the country, San San Aye lacked the free time to make the long journeys to visit them. The trips were instead made by their father, although his mobility was long ago limited by a stroke.
During the trips, he was accompanied by Ma Yin Yin Nwe, 26, whose husband, Ko Ye Kyaw, 24, was among the 11 arrested alongside the couple's sons.
Yin Yin Nwe does not know how to tell her four-year-old daughter that Ye Kyaw, who has since been relocated from Insein to Obo Prison in Mandalay, is incarcerated and has instead told her he is working abroad.
"The group started helping me in May last year. They provided food and medicine and K30,000 [around $10] and also gave parcels with clothing and other items," Yin Yin Nwe said.
The last time she visited Obo Prison was in June. Although unable to regularly meet with Ye Kyaw, she said she felt great relief in being able to pass on a parcel and a letter for her husband with the help of the support group.
She had planned another visit in September that she had abandoned due to the prohibitively high costs of travel and basic provisions.
"I just want him to be freed very soon – I don't want to cry anymore. My daughter is asking for her father every day," Yin Yin Nwe told Frontier in tears.
Restrictions tighten after prison bombing
A deadly parcel bombing by a resistance group at Insein Prison on October 19 caused authorities to tighten restrictions on care packages, which had implications for the support group's operations. The attack, which killed five relatives of political prisoners along with three prison staff, was widely condemned as reckless by other pro-democracy forces.
In the immediate aftermath of the incident, the regime placed an outright ban on the delivery of care packages to inmates at most of the nation's 90 detention facilities. The ban was lifted on November 1, but other restrictions remained in place.
"Before this incident, we could send any kind of food to prisoners, and we could also send packets of instant coffee. But now we can no longer send instant coffee or dried tea leaves; we can only send snacks," said the relative of a political prisoner in Insein Prison.
Authorities also ruled that vital medicines may only be delivered through, and prescribed by, prison doctors.
Families who previously could send supplies once a week can now only do so once a fortnight and senders must provide documentary evidence, such as a household registration list, to prove they are related to inmates. Relatives of prisoners are also required to present recommendation letters from police and ward administrators to prove that they do not have a criminal record.
Support group spokesperson Ko Jack* said the restrictions could exacerbate the trauma experienced by prisoners.
"As everyone knows, the rice and meals in the prison are never good. Our comrades are political prisoners, they aren't criminals and they have never previously experienced prison life. Living, eating, drinking and everything else is hard for them and all of them rely on relief parcels sent by their families," he told Frontier.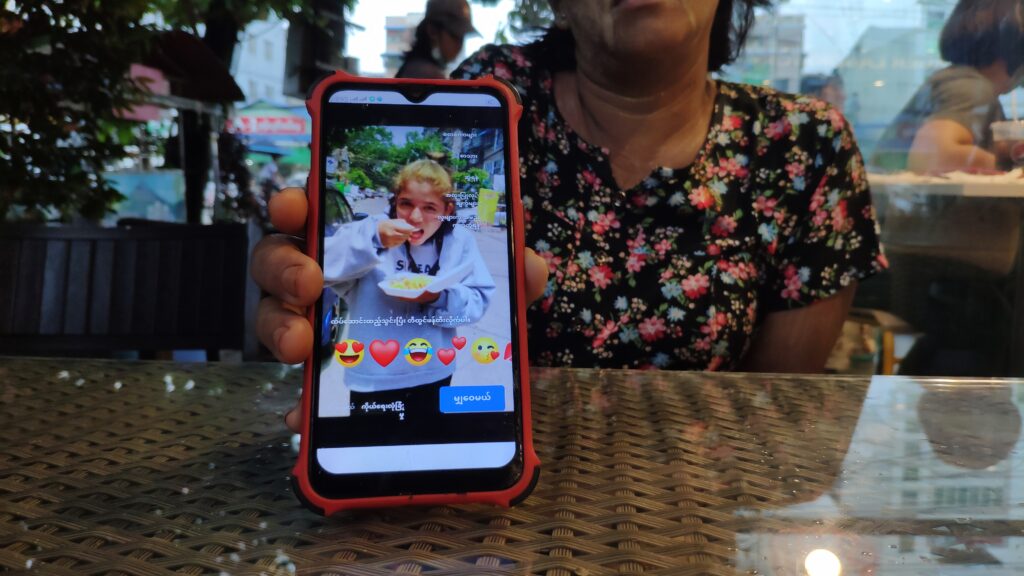 Driven underground
Group co-founder Ma Angela said she and her colleagues were being hunted by the regime because it falsely believes the group is using donations to support the armed revolution.
Her personal Wave Money account, which she was using to manage donations and payments for political prisoners, was frozen in August last year. Other Wave Money, KBZPay, CB Bank and AYA Bank accounts that the group relied on to fund its work were frozen three months later, in November.
Since seizing power, the junta has passed laws and issued ordinances that increase its ability to surveil bank transactions and freeze the accounts of people it believes are funding pro-democracy groups.
"All the donations we receive go to political prisoners and their families. We have never funded the armed resistance or any other cause," Angela insisted.
In March this year, soldiers and police raided her family home. Her parents presented a legal document declaring that they had disowned their daughter after she left home in May last year. Many families have signed similar declarations to protect themselves from retribution but, as in this case, it doesn't always work.
"My parents' home was seized by regime forces and they had to move out," Angela said.
Frontier could not confirm the details of the arrest in April of two of the group's male members. However, junta officials have told family members that the men were being held incommunicado, and have been charged under the Counter-Terrorism Law, despite only being found with care packages for prisoners.
The arrests forced the group to go underground and suspend its activities until September.
The suspension worried those reliant on the group, like Daw Lwin Lwin Moe in Yangon's Thingangyun Township, who was unaware of what happened. Her 20-year-old daughter was arrested at a protest in Tarmwe Township in April last year and after a year in custody was sentenced to three years' imprisonment for incitement.
"When I was unable to contact them for months, I was so worried. I became depressed and it was a very difficult time," she said.
Zeyar Min Maung, whose four sons remain in four different prisons, told Frontier that the past 20 months had been a struggle. It was a strain to visit them even one every three months.
"I'm so sad about my sons' imprisonment and hope I can keep supporting them," he said.
However, he believed their release may have to await broader political change. "I don't expect my sons to be released while so many others remain behind bars," he said, adding that he was also praying for the release of jailed state counsellor Daw Aung San Suu Kyi. "I want Mother Suu to be freed as soon as possible," he said. "I want the country to recover."
* The real names of sources have been withheld due to the risk of repercussions