After years of waiting, foreign insurers have been given the go-ahead to enter the domestic market, to the chagrin of their Myanmar competitors.
By KYAW YE LYNN and THOMAS KEAN | FRONTIER
AFTER WAITING years to enter the Myanmar market, foreign insurance companies have been told they can expect to be granted operating licences within months.
The licences will be issued under an industry liberalisation plan that was delayed for more than a year – a hold-up that the regulator, the Insurance Business Regulatory Board, has defended as being necessary to strengthen the transparency of the process.
The licensing decision was announced by the Ministry of Planning and Finance in early January. It said up to three foreign life insurance companies would be allowed to operate as 100 percent wholly owned subsidiaries and the rest would be required to establish joint ventures with domestic insurers to offer life and other forms of cover.
The ministry's Financial Regulatory Department has since issued a request for proposals (RFP) for those interested in one of the three foreign life insurance licences, and for expressions of interest (EOI) for life and non-life joint ventures.
Foreign JV partners must have had a local representative office as of December 31, 2018, to be eligible, but there is no representative office requirement for the foreign life insurance licences. Foreign insurers can hold only up to 35 percent in a JV.
Documents for the EOI must be submitted by April 26, while the RFP for the life insurance licences closes on March 1.
The process would be completed within months, said U Zaw Naing, secretary of the IBRB, which was established in 2016 by the ministry.
"The whole process, including granting licences, will be finished this year," he told Frontier, referring to the fiscal year ending on September 30.
"We also hope the foreign firms start operations this year; this is a milestone for liberalising the insurance sector."
Long wait for green light
After the transition to democracy began in 2011, state-owned Myanma Insurance relinquished its monopoly when it granted licences to 11 private firms that entered the market in 2013.
In 2017, three Japanese companies were granted permission to provide insurance to businesses at the Thilawa Special Economic Zone on Yangon Region's southeastern outskirts.
Foreign insurance companies had been expecting to hear by September 2017 if they could operate in Myanmar more broadly, but the month passed without result.
The key question has been whether foreign companies will be allowed to offer life insurance through 100 percent foreign-owned subsidiaries, or instead be forced to partner with local insurers.
At an insurance summit in Yangon in February 2018, Myanma Insurance managing director Daw Sandar Oo confirmed that the liberalisation plan has been approved. A selection committee had been created to set the criteria for the granting of licences to "the best and most qualified" foreign companies.
She also noted that there "is much opportunity for the foreign insurance companies because the market potential for life insurance is very significant … Only 0.01 percent of the population has life insurance so that means 99.99 percent is for our foreign insurers."
However, no announcement was forthcoming in the following months, frustrating foreign firms that had opened representative offices in Yangon since 2013 in anticipation of liberalisation. Presently 32 foreign insurance companies and insurance brokers have representative offices in Myanmar.
Regarding the delay, Zaw Naing said the IBRB had initially worked with a foreign consultancy that was hired without going through a tender process.
The IBRB had since invited tenders from foreign consultancies for the task of helping it to select foreign insurance providers, he said.
He said the selection of a successful bidder, which he declined to name, meant that the IBRB could "start the liberalisation plan with transparency again".
Mr Tom Renny, chief representative for foreign insurer AIA, said the selection of a consultant to oversee the licensing process was one of a number of factors that had delayed the liberalisation process.
He welcomed the tight deadline for those companies seeking one of the three 100 percent foreign life insurance licences to submit their proposals.
"It's not like in the past where they're saying, it's going to happen, it's going to happen," he said. "Now if you want to play in the ballpark it's clear what you've got to do."
He said the decision to open the request for proposals for the three life insurance licences to companies that don't have a representative office would ensure the process was competitive: "It's not like there are three licences and only three companies are going to apply … [they are] giving other companies an opportunity if they feel they can meet the criteria."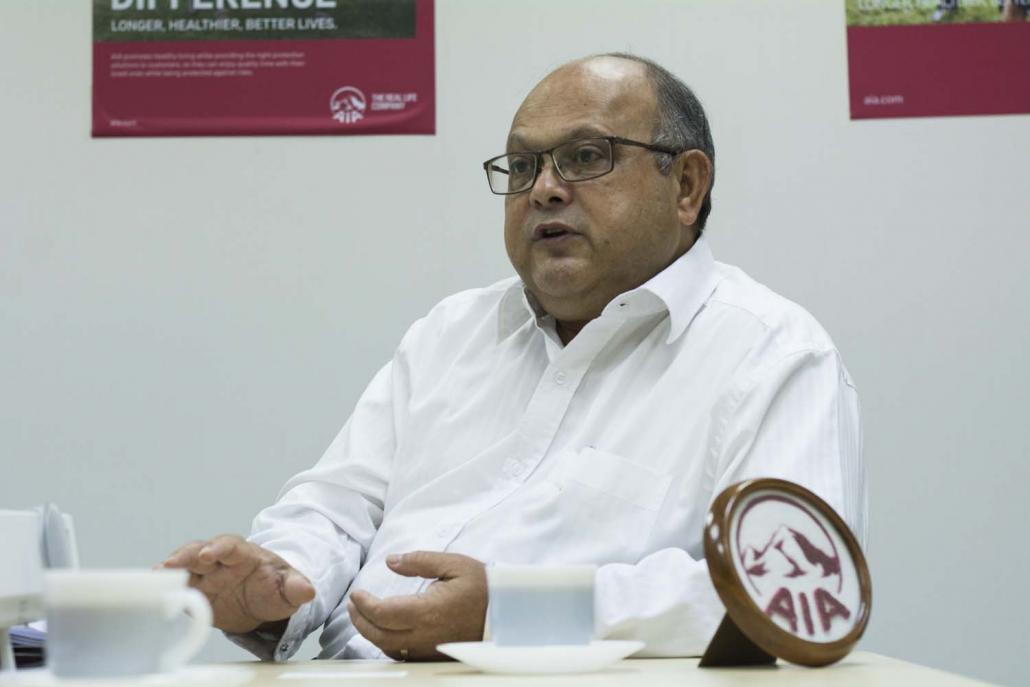 Local opposition
The government's decision to open the sector to foreign competition has been criticised by the Myanmar Insurance Association, which was formed in early 2017 by the local companies that hold licences.
"Our association has already told the government that 100 percent foreign-owned firms should not be allowed," said MIA joint secretary U Myo Min Thu, managing director of AYA Myanmar Insurance.
"Our industry is only five years old and it will be hard to compete against foreign firms," he said.
Further, the growth of domestic insurers had been constrained between 2013 and 2016 because of restrictions on products and the cost of premiums, he said.
Myo Min Thu said the MIA preferred joint ventures. "If you look at Thailand, foreign firms are allowed to own only 49 percent of JVs; they are not even allowed to have a majority share [in joint ventures]," he said, adding that it was "too early" for 100 percent foreign-owned competitors in Myanmar.
However, Myo Min Thu acknowledged that there would be better service for consumers when foreign insurers begin operating, due to more competition. He also conceded that, "directly or indirectly, it will create more job opportunities".
Ko Ye Kyaw Htay, a Yangon-based freelance insurance agent, said he expected that the licensing of foreign firms would lead to increased sales of insurance products, including life cover.
The top selling products were fire and vehicle insurance, he said.
"Life insurance is very hard to sell," Ye Kyaw Htay told Frontier on January 12. There is resistance to buying life insurance because some regard it as inauspicious and others believe it is a waste of money, he said. "I have only managed to sell life insurance to family members and some relatives."
Building the bond market
Advocates of insurance market liberalisation say one of the most significant benefits will be the creation of a market for long-term bonds that could provide much-needed funds for the government to invest in infrastructure, health and education.
A major fiscal policy of the National League for Democracy government has been to reduce dependence on the Central Bank for financing the deficit by increasing bond sales to the private sector. The government has gradually been issuing bonds of a longer maturity – most of these are sold to domestic banks – but there's presently little demand for 20-year or 30-year bonds.
That could soon change. When life insurers issue policies to customers, they need to match them with secure, long-term assets in the same currency. Government bonds are a particular favourite of insurers; in Thailand, for example, insurers hold 90 percent of government-issued bonds.
"It's almost a perfect match," said Mr Sean Turnell, a special economic consultant to State Counsellor Daw Aung San Suu Kyi and director of research at the Myanmar Development Institute. "There's no such thing as a free lunch, but this is as close as it gets."
Before they can sell policies on a large scale, though, Renny from AIA said the insurers that receive a licence would need to embark on a "huge" market awareness and education programme to explain the benefits of life insurance to consumers. They will also need to develop products that match the requirements of customers and build the distribution channels to sell them easily, and in a way that customers can understand.
"If there's any mis-selling [of insurance] then you'll quickly lose the impetus for growing the market," he cautioned.
TOP PHOTO: Myanmar Insurance Association joint secretary U Myo Min Thu, who is also managing director of AYA Myanmar Insurance, says local insurers opposed the granting of life insurance licences to foreign companies on a wholly owned basis. (Teza Hlaing | Frontier)