Illegal, aggressive advertising tactics are turning nursing mothers into victims of baby formula companies and jeopardising infant health, warn nutritionists.
By KYAW LIN HTOON | FRONTIER
MA ZAR CHI, 36, is an accountant at a construction firm and the mother of a 20-month-old daughter, who is given baby formula as well as being breastfed.
"The doctor says I do not have enough breast milk for my baby, but I wanted to give her the nutrition she needs. That's why I decided to feed her formula since soon after she was born," Zar Chi said.
Baby health specialists, including nutritionists, say that although the amount of breast milk produced by mothers in the days after they have given birth can be small, it is enough for the child.
Misinformation about breastfeeding is common and can be exploited by baby formula companies. Although most mothers in Myanmar are aware that breastfeeding is good for their child, social and other barriers mean that not enough infants are breastfed. The barriers include illegal behaviour by baby formula companies to promote their products.
"Most baby formula companies are breaching laws about labelling and advertising and it seems that the government is unable to control them," said U Soe Nyi Nyi, a nutrition advocacy adviser with the secretariat of SUN CSA Myanmar, which is part of a global movement active in countries with high numbers of children aged under five who are moderately or severely stunted. SUN stands for Scaling Up Nutrition and CSA for Civil Society Alliance, and in Myanmar the group has 64 member organisations.
Nutrition specialists say misleading and aggressive advertising is one of the reasons why nursing mothers are choosing baby formula over breast milk, which is better for their children because it provides them with the antibodies that help to protect them from disease.
In 2014, the Ministry of Health's Food and Drug Administration issued an order concerning the marketing and labelling of formulated food for infants, defined as those under six months, and young children, those under two years of age. The order bans a range of advertising and promotional activities, including point-of-sale advertising, competitions, product displays, enticement or any form of promotion aimed at inducing direct or indirect retail sales. The order bans the companies from providing incentives to consumers and paying bonuses or commissions to marketing employees based on sales volume.
The comprehensive order also bans the companies from sponsoring events or contests, providing telephone counselling, or supporting any activities related to reproductive health, pregnancy and maternal nutrition, childbirth, or feeding infants and children.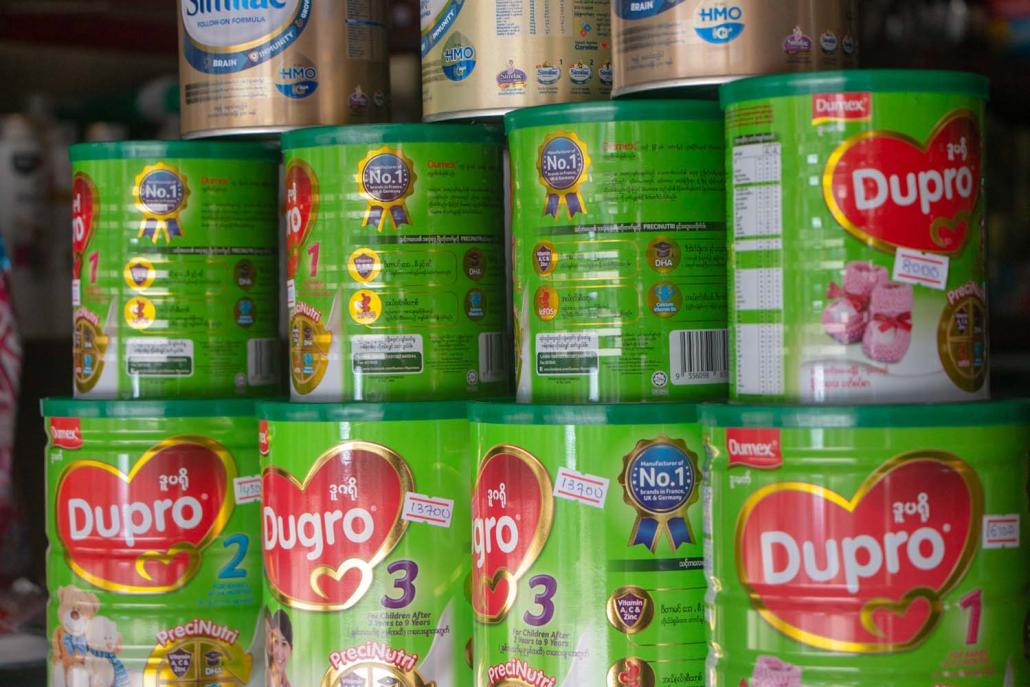 Sponsorship and promotion
Despite the FDA's order, it is not uncommon for baby formula companies to sponsor meetings of healthcare professionals. A nutrition specialist who requested anonymity told Frontier she was a speaker at the annual meeting of the Myanmar Nurse and Midwife Association in March 2018.
"There were more than 600 nursing students at the meeting, and it was sponsored by Dumex and Similac," the specialist said, referring to two of the biggest baby formula brands.
Examples abound of healthcare professionals working with baby formula companies to promote breastfeeding milk substitutes and formulated foods for infants and children, either directly or indirectly.
On February 12, Dumex sponsored a "Kids' Day" at Yangon's Victoria Hospital and the event included a free consultation with a well known nutritionist, who has a Facebook page with more than 400,000 followers. The same nutritionist also gave a talk on children's nutrition at an event in Mawlamyine, the capital of Mon State, that was sponsored by Nestlé, the Swiss multinational that is one of the world's biggest manufacturers of baby formula. Frontier has not named the nutritionist because they could not be reached for comment.
Such activities appear to contravene the 2014 order, which states that the companies "shall not communicate with either health care providers or the general public; and shall not organize information and education program either inside or outside the health care system".
Frontier sought comment from the companies, as well as other baby formula brands, but most refused to be interviewed or did not reply.
However, Mr Anirban Basu, a spokesperson for Danone, the French multinational that distributes Dumex, Dupro and Dugro brand products in Myanmar, said the company respects and strictly complies with local laws and regulations in all marketing and labelling processes, and also follows global standards. "We fully support the Myanmar FDA in their efforts to ensure full compliance with laws by all industry players," he said.
He said the company was "in the process" of implementing changes to its labels to meet new FDA requirements. "Such label changes can also take time to fully implement, since our products are produced abroad and then imported into Myanmar."
But he declined to comment on apparent cases in which Danone brands had been involved in marketing activities that appeared to contravene either the 2014 order or the World Health Organization's International Code of Marketing of Breast-milk Substitutes, which is considered the global standard.
Lack of enforcement
A lack of political will and legal clarity around enforcement isn't helping matters. Dr Htin Lin, deputy director general of the Food and Drug Administration, said the Ministry of Health and Sports had granted baby formula companies a grace period after the order was issued to give them time to comply. However, some companies refused to comply with the order after this period expired, and it was repeatedly extended. Finally, the FDA conducted a survey and announced which companies were violating labelling rules. It set a December 31, 2018 deadline for companies to comply, but enforcement has been delayed once again.
"We planned to take action from the first day of 2019, and we have compiled a [new] general labelling order, but this has yet to be approved and so we have not been able to take action yet," Htin Lin told Frontier on March 29.
As well as requiring that all information be in Burmese, the 2014 order forbids certain claims on product labels, for instance that formula is "best for your baby" or "best for a baby's brain". Rather, "Breast milk is the best food for babies" should be stated. A ban also applies to images on packaging of pregnant women, breastfeeding mothers and infants.
Htin Lin said that formula companies were currently breaching almost all the provisions in the section of the order concerning advertising.
While the FDA can issue orders, Htin Lin said the agency could only take action in regard to product quality and labelling. He said it was unclear who should take responsibility for marketing and sponsorship activities that violate the order. Weak inter-departmental cooperation has been an obstacle. The FDA, for example, has sometimes provided evidence of serious breaches to police, but the police appear not to have taken any action, Htin Lin said.
The 2014 order was signed by the then health minister, Dr Pe Thet Khin, who served concurrently as head of the FDA. Since leaving office, he has resumed practising medicine at the private Parami Hospital in Yangon.
Pe Thet Khin initially agreed to be interviewed, but when Frontier managed to meet him at his office in the hospital he declined to discuss the 2014 order, instead asking that a letter with questions be sent.
On the same floor of the hospital was a large promotional poster for milk substitute brand Dugro, and milk substitute products were available in the pharmacy down the corridor from his office.
The 2014 order forbids "marketing and related practices within the health care system".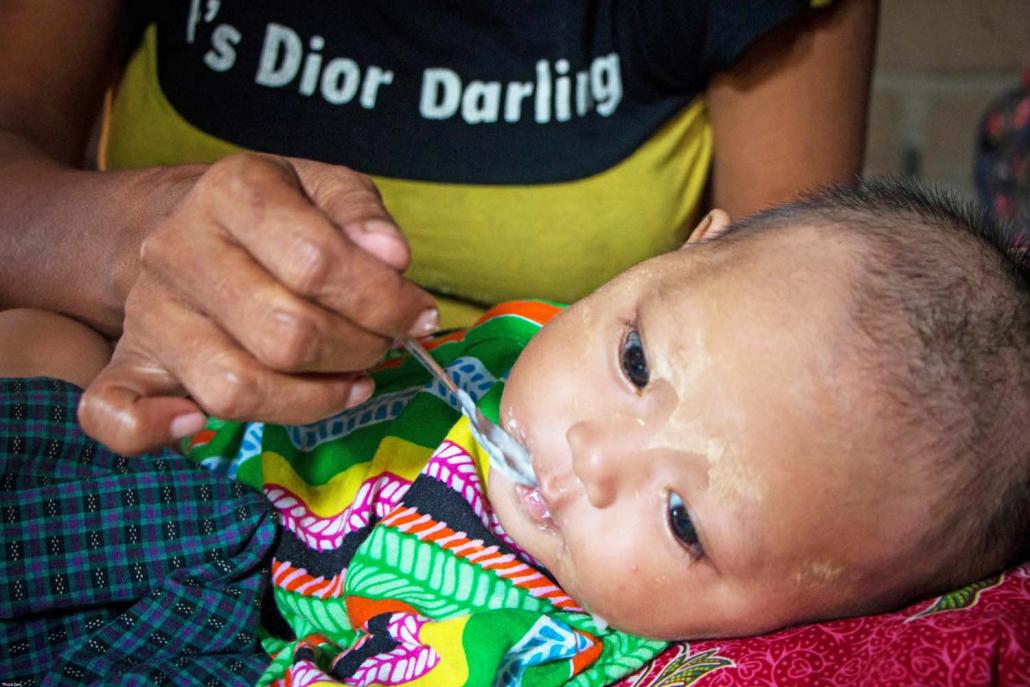 Saving lives and income
Surveys conducted in 2016 by the then-Ministry of National Planning and Economic Development and the Ministry of Health and Sports found that 51.2 percent of infants aged less than six months were fed exclusively on breast milk. This means that only about one out of every two children aged under six months in Myanmar is gaining the health and nutrition advantages of being breastfed.
The United Nations Children's Fund, UNICEF, says that if all babies in Myanmar were breastfed in their first six months, it would save the lives of more than 1,600 infants a year and help to reduce the death rate of children aged under five.
In 2015, it estimated that optimal breastfeeding practices would save US$3.38 million in health system expenditures a year, while families would save up to 32.5 percent of their monthly earnings by not having to purchase formula.
Zar Chi says she is spending more than K200,000 a month on formula and other formulated supplementary food for her daughter. It's more than half her monthly income but she can afford the cost because her husband earns twice her salary.
"I accept that mother's breast milk is the best for my daughter," she said. "But I cannot feed her sufficiently with my own milk, and now I'm working and I have to leave her at home with my parents, so I have no choice. I have to rely on [formula]."
Nutritionists such as Soe Nyi Nyi say many of the barriers that are stopping mothers from breastfeeding remain to be demolished.
"When we talk about how to improve the breastfeeding culture, the key things we all need to do together are promoting the positive aspects of breastfeeding and giving nursing mothers the support they need to feed their babies," he said.
"We also need to prevent nursing mothers from becoming victims of unethical, law-breaking baby formula companies."
TOP PHOTO: Theint Mon Soe aka J | Frontier