Persecution, violence and abuse are part of the daily lives of transgender sex workers, but some are hoping for better times under a new government.
By JOSHUA CARROLL | FRONTIER
Ma Khine Zayar*, a transgender sex worker, was standing in the dark beside a road on Yangon's industrial outskirts when a group of men approached and demanded she follow them.
Someone in the transgender community had allegedly stolen a phone and a group of vigilantes was hunting for the thief. When she refused to follow, one of the men punched her on the mouth and she was dragged to a nearby car, where an accomplice was waiting with a sword.
"Tell us who took the phone or we'll kill you," he said as he pressed the blade against Ma Khine Zayar's neck. She told them she had no idea.
Eventually the police arrived, not to save her from her tormentors but to help them. An officer tried to handcuff her, but she pleaded with him and insisted she wasn't the thief. "Don't talk," the officer responded, before cracking her on the head with his truncheon so hard that she was knocked out. She regained consciousness at the police station.
The transgender community at Hlaing Tharyar, a township on Yangon's northwestern outskirts notorious for its high crime rate, faces the constant threat of violence, extortion and sexual abuse. The community is caught between gangs of homophobic thugs and a corrupt, violent police force, say those interviewed by Frontier.
Myanmar's reform process has given some in the Lesbian, Gay, Bisexual and Transgender (LGBT) community greater space to express themselves, but for transgender women such as Ma Khine Zayar, hatred and persecution remain a part of everyday life.
"Things like this happen at least twice a week, sometimes every day," said U Thaw, a paralegal who works with the LGBT rights group, Colors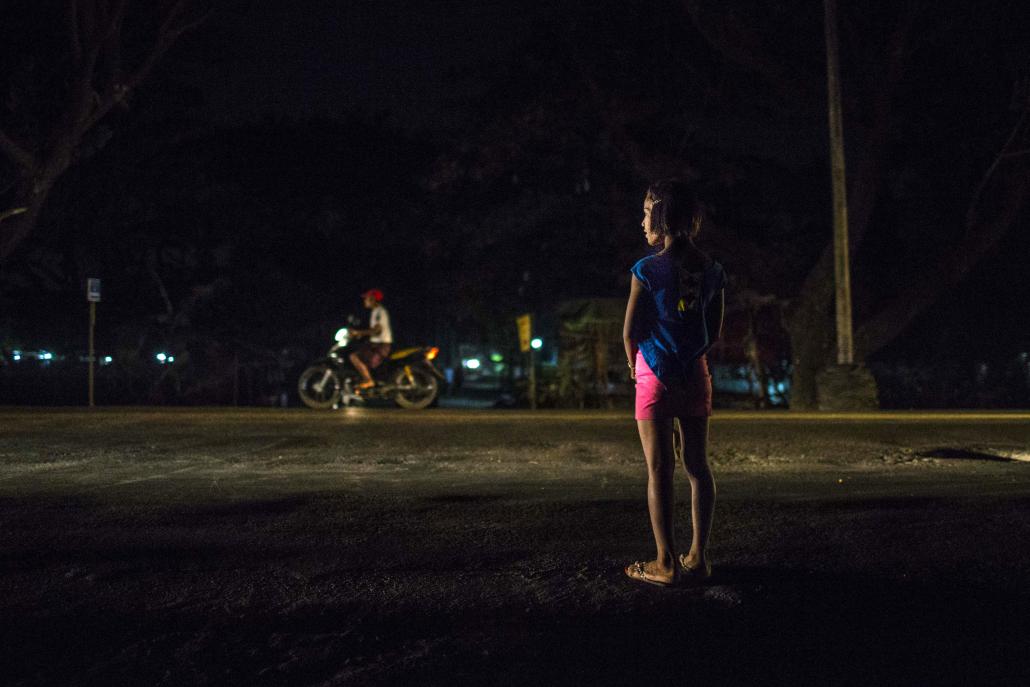 Responding to a question in the Mandalay regional assembly in August, the minister responsible for security described the existence of transgender people as "unacceptable". This was why "the gays" were constantly being detained by the police, he added.
Rainbow, representing transgender sex workers in Hlaing Tharyar. Wrongful arrests, unprovoked beatings and sex attacks are common, he added.
Hlaing Tharyar's population of nearly 700,000 is blighted by burglaries, rapes, beatings and murders, and served by a police force woefully underequipped to deal with the problem.
"You shouldn't come here at night again, it's dangerous!" a taxi driver told a translator working with Frontier as he cruised the township's unlit, bumpy streets.
For vulnerable communities such as sex workers, lawlessness means a precarious existence. Transgender sex workers and those who advocate for them say the risks they face are compounded by widespread homophobia and hostility from the pimps of woman prostitutes.
When Ma Khine Zayar regained consciousness at the police station, she endured more beatings and a tirade of homophobic abuse.
"You are a male, why are you doing this job?" barked one of the policemen as he kicked her thighs. "You don't fool us," he said, and told her that having to investigate men who dressed as women made the police feel ashamed.
If it's not the police meting out abuse it is the street thugs who enjoy apparent impunity. "It might be the police's duty to protect the people but they don't protect us," said Ma Kyaw Su, another transgender sex worker, as she sat in a beauty salon in a dusty Hlaing Tharyar backstreet, flicking long, brown hair away from her eyes.
She was recently released from a month in prison after being arrested under Myanmar's infamous "darkness law". The law is a relic of the colonial-era Police Act that allows officers to arrest anyone acting "suspiciously" between sunset and sunrise.
It is the law most commonly used against transgender people, said U Thaw, because although homosexual acts are illegal, they are difficult to prove. "The darkness law is the only law they can use to arrest gays," he said.
In late October, not long after her release from Yangon's Insein prison, Ma Kyaw Su was approached again by policemen. The two officers were accompanied by a plainclothes informant. "They asked me to f… them free of charge," Ma Kyaw Su told Frontier.
She tried to run, but they caught and handcuffed her before leading her behind a parked truck. "They made me kneel down in front of them" and forced her to give each of them oral sex, she said.
Another transgender sex worker described being subjected to a similar ordeal. Two police officers, accompanied by a plainclothes informant, handcuffed her and took her beneath a bridge before forcing her to give them oral sex. 
Police Captain Chit Ko Ko from Hlaing Tharyar's Taunggyi police station told Frontier that the allegations made against the township's officers were "huge lies".
"We've been arresting more sex workers in accordance with the law," he said. "That's why they accuse us of abuse … we are good public servants."
Sex workers do not dispute that arrests have been increasing. The November 8 election, which many applauded as a milestone on Myanmar's journey towards a freer society, has meant more trouble for the transgender community.
U Thaw said that the election prompted a crackdown. At the start of the year, he said, there were no more than 16 transgender inmates in Insein prison. Shortly before polling day there were about 50, he said, using figures he compiled by talking to released prisoners.
"They regard them all as criminals," said U Thaw. "Whenever there's a big event they round them up and put them in prison."
Stories of abuse go beyond Hlaing Tharyar or even Yangon. In 2013, 12 sex workers were detained in Mandalay and taken to cells where they allege they were humiliated and beaten. They alleged that officers fondled their breasts and forced them to strip naked and do frog jumps.
Responding to a question in the Mandalay regional assembly in August, the minister responsible for security described the existence of transgender people as "unacceptable". This was why "the gays" were constantly being detained by the police, he added.
U Thaw's clients face threats not just from police, but also from the pimps in charge of other sex workers, the "real" women who consider their transgender rivals a nuisance because they compete for clients. Pimps posing as clients were known to have approached transgender sex workers only to attack them when they reached the cover of bushes and warned them to stay away, he said.
One of the pimps' main grievances is that the transgender sex workers are undercutting them. "If the females charge, say, K10,000 a time, then we're charging about K5,000," said Ma Kyaw Su. "Also, we give better blowjobs."
While life remains menacing for transgender people at Hlaing Tharyar and elsewhere, the recent landslide victory of the National League for Democracy has raised their hopes that the law might soon be used to protect rather than criminalise them.
"I think something will change," said Ma Khine Zayar. "Daw Suu is friends with Obama. The law allows gays and transgender people in America doesn't it?"
Names have been changed at the request of the sex workers, who fear reprisals for talking to the media. Title photo: Andre Malerba / Frontier