From taxi-hailing apps to curated content, tech-savvy local firms are striving to meet consumer needs in a market that's growing rapidly but still largely bereft of competition.
By TIFFANY TENG | FRONTIER
YANGON'S version of Silicon Valley is a niche community of local entrepreneurs who are passionate about creating products and services specifically for the country. In a country that has just opened to foreign investors, these young startup founders approach a market ripe with potential.
Unfortunately, the developing nature of the market also means technology must be developed from scratch – and the lack of basic infrastructure makes growth much more difficult.
Ko Ye Myat Min's fascination with computers began at age 12, when he first learned how to code. While attending the Practising High School (formerly known as the Teachers' Training College), he would read books and write down coding language, but he had nowhere to test it. "We weren't allowed inside the computer lab at school. It collected a thick layer of dust – this sacred place no one really touches," he said.
While studying business in Singapore, he began building websites for international firms. This was his springboard for launching Nex Labs. Ye Myat Min then had the good fortune to meet an angel investor. In 2013, the investor gave him the seed capital to found Nex. The same day, he dropped out of Singapore Management University.
Like many Myanmar nationals studying abroad, he heard about the reforms happening at home and wanted to launch something that would cater to the under-served local market. The 24-year-old CEO, who was included on Forbes Asia's 30 Under 30 list this year, considers Nex Labs less of an agency and more of a startup whose goal is "inserting innovation and creativity into anything we do".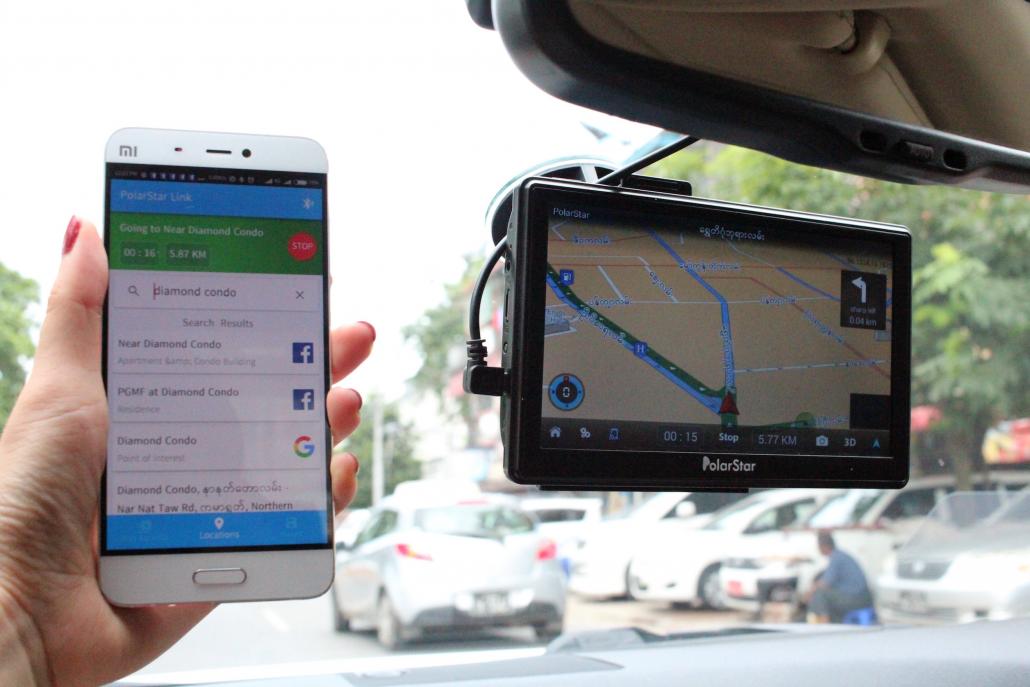 He said Myanmar's digital revolution reflects broader changes occurring in the business community. "We're also seeing a generational change. Big businesses in Myanmar [that] have been around for 20-30 years are now being taken over by sons and daughters. The striking thing is, the thought process and the expectations that they bring in are much more international."
Ko Htoo Myint Naung, 28, of Technomation has been working with mobile applications for more than seven years. In 2009, he created Myanmar's first mobile app, called MySM – a messaging platform for basic 12-key phones that is now obsolete due to the introduction of smartphones. After creating an app store for Myanmar-based apps, he combined his two loves –mobile technology and cars – and began developing GPS systems. "It started out as a requirement for ourselves. My friends and I had just graduated, we started driving cars and would get horribly lost," he said.
To make the product, his team essentially mapped out Myanmar in its entirety. This alone took over a year. Four years later, he has sold more than 10,000 GPS systems. The 10th (and latest) model, PolarStar X, even features a built-in camera.
In part, he has the former government's decision to build the new capital, Nay Pyi Taw, to thank for setting him on the path to tech success. "I got over my fear of launching [the GPS] because Nay Pyi Taw was built – and there was a huge need for GPS systems, particularly for foreigners renting cars."
Starting from scratch
Perhaps you've wondered why Uber or Lyft doesn't exist in Yangon. Why is Momolay considered the "Buzzfeed of Myanmar", instead of just having a Buzzfeed Myanmar?
In part, it's because of the rapid rise of the internet in Myanmar. Until a few years ago, the market was so small that it was off the radar for most foreign companies, and when it began to grow they couldn't necessarily respond fast enough. That Myanmar was itself only beginning to really open up to foreign investment was another factor. Foreign firms entering the market face a range of significant challenges, from an evolving regulatory environment to a lack of available human resources.
Yangon's tech entrepreneurs have quickly stepped in to fill the gaps in the market. U Nay Aung, a former Google manager who returned to Myanmar and founded travel booking site Oway in 2011, said they benefit from local knowledge.
While global players seek attractive markets like China and India for their products, local players devise optimal solutions for the market. "Take Alibaba and eBay, for example. eBay replicated their model in China to make money. Alibaba was there to serve the local customer," he said.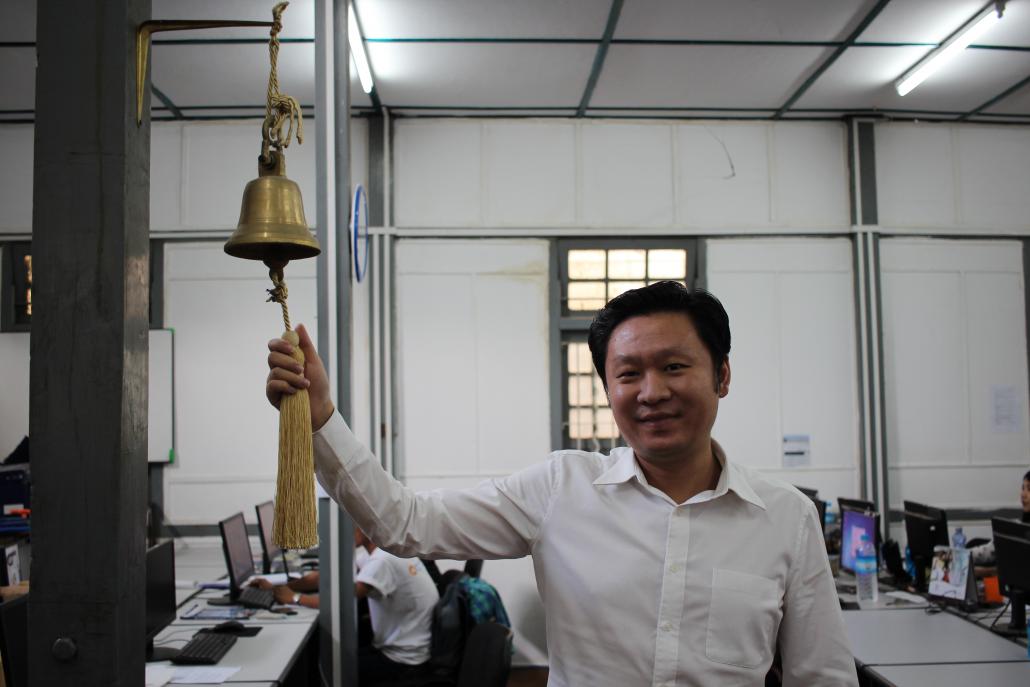 Ko Soe Lin Myat, who founded Momolay in February 2015, said the "unfiltered" nature of Facebook convinced him that many users would instead prefer a curated experience. The numbers suggest he may be right: Momolay draws in 100,000 continuous Android users a month, while its Facebook page has been liked nearly 2.6 million times.
"I wanted to create an online space with content for digital natives … polls, quizzes, videos and GIFs, all on one page," said Soe Lin Myat. "We package news in a different way, we make it digestible on a smartphone. After people use [Momolay], we want them to feel happy."
He said Momolay evolved organically, through trial and error, based on the needs and desires of Myanmar internet users. "The focus is always on the product and the customer. We're still trying to figure out the best business model to generate revenue," he said.
For Ko Myint Kyaw Thu of game developer MyPlay, starting from scratch literally meant using scratch-off cards to generate revenue. He has more than a decade in the industry, having founded Total Gameplay Studio with his brother in 2005. MyPlay's games, which include Pawthoot and Shan Koe Mee, require players to buy the cards to unlock "gems", the in-game money. The scratch cards can be found at many mobile shops, or they can be ordered from established players, who act as reseller agents for MyPlay.
In one year, MyPlay has achieved laudable game fame. At any time it has 2,500 concurrent users, or people playing at the same time. It also boasts 25,000 daily active users, and revenue has grown steadily at 20 to 25 percent since the games launched, Myint Kyaw Thu said.
Although apps such as Momolay and MyPlay are struggling with revenue and payment, their popularity is still a powerful demonstration of the market potential for entrepreneurs in the entertainment field.
Transport solutions
Technology startups are also tackling more "serious" issues, such as transportation, education and healthcare. Startups tend to begin as an idea aimed at serving a need in the community.
Traffic in Yangon tends to be a source of immense frustration. While an app is not going to make the traffic jam disappear, it can make the commute easier. At first glance an Uber-style service seems unnecessary, though. Taxis are easy to find and cheap. So why do some think such a service can work?
First, there's the lack of meters: Bargaining with taxi drivers for a fair rate can be difficult and time consuming. Companies calculating their employees' transport expenses also prefer a receipt for accounting purposes – something your average taxi driver is not going to provide.
But taxis are not always as plentiful as they appear. They can be hard to find in quieter, suburban Yangon neighbourhoods, and almost impossible outside the city. At peak times, drivers are often reluctant to make longer trips.
Companies like Hello Cabs, one of the first app-based taxi services, also offer safety, Wi-Fi, water, and air-conditioning in their vehicles. Hello Cabs launched its mobile app on August 1 to complement its existing on-call taxi service.
"We started with a call centre because [Myanmar] wasn't familiar with using apps," said co-founder Martin Nanda.
The strategic decision to grow slowly, with a focus on training its drivers, setting a fair meter rate and building brand awareness by word-of-mouth, provided ample time to remove potential glitches from the app version, he said.
Oway is another firm with an Uber-style mobile app. The firm – which won a Rice Bowl Award in June for Myanmar's top travel commerce site – launched Oway Ride in February.
"We are not the innovator," said Nay Aung. "We are solving everyday problems."
U Thein Aye has been a taxi driver since 1997. He joined the Oway network earlier this year, shortly after its launch. He doesn't work exclusively for Oway, but generally receives two orders a day.
"The main problem I face is customers finding another taxi and not waiting for me to arrive," he said. Another issue is that GPS systems are not always accurate, and taking detours due to heavy traffic can escalate fares.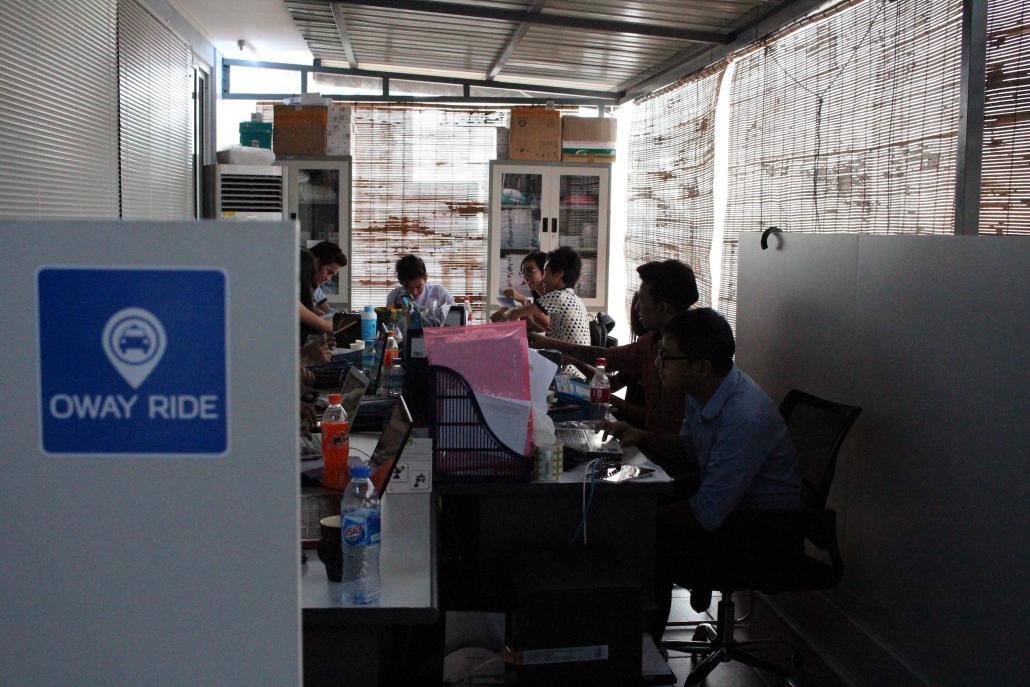 For Ko Wai Phyo Kyaw, COO of classified site CarsDB, the moment of inspiration came when the government relaxed its car import policy in late 2011, making cars more affordable. Armed with a software engineering degree from Singapore Polytechnic, he and his co-founders whittled away on a common interest: cars.
What began as a side project had evolved into a thriving database of over 60,000 new and used cars for sale by 2015. Wai Phyo Kyaw has had much success, although it's been concentrated in Yangon. He said it's just the "tip of the iceberg". Why? Out of a 50 million population, only 1 percent currently has a car.
Bus travel is economical, but it's not necessarily simple. When Daw Thet Mon Aye had a friend come to visit, they spent hours Google-searching furiously for bus tickets to Bagan. That was when she decided to use her skills to build an efficient ticketing management system.
Her venture, Starticket.com.mm, is a cloud-based distribution system that connects the customer to the express buses by using convenience stores as ticket agents.  Convincing the bus lines that her service was worthwhile was difficult, but she has built a network of over 400 agents and 20 bus companies across 12 cities. "Two years ago, every bus company rejected me. I approached Mandalar Min 20 times before they said yes – and that was only to get rid of me," Thet Mon Aye said.
The struggles of a Myanmar startup
While all entrepreneurs face similar struggles when starting a business, technology entrepreneurs in Myanmar face a particularly difficult ecosystem.
The number one struggle is infrastructure, particularly banking and telecommunications. Games, apps and mobile platforms require mobile payment methods. While e-wallets are gaining traction, most people still use cash – 85 percent of CarsDB payments are in cash, for example.
Companies are still reluctant to advertise online, making it hard for gaming apps and sites like Momolay to monetise content. Nex Labs has had difficulty convincing companies to invest in innovative branding strategies because they consider it too risky. However, there is reason to believe the rise of mobile will push traditional companies toward digital innovation.
Attracting and maintain talent remains a challenge. "It is hard to find good developers, especially with foreign companies paying higher wages," said Thet Mon Aye.
Like many companies in Myanmar, they also lack financing. However, that's slowly beginning to change, said U Nay Min Thu, founder of iMyanmarHouse. A venture capitalist, he's invested in a range of local startups, including Hello Cabs, MyPlay, Bagan Trade (like Alibaba), GroupBuyy (like Groupon), 365Myanmar (like Amazon), and Food2U (like Seamless).
A couple of years ago, he said, most financing came from "friends, family and fools who would like to believe in first-time entrepreneurs", Nay Min Thu said. (Htoo Myint Naung added another category into the mix: "loan sharks".) But today foreign investors from Singapore, Malaysia, Thailand, Japan and even Silicon Valley are seeking to buy in to local tech companies.
Htoo Myint Naung said no Myanmar startup has "made it" yet, although some have received several rounds of seed capital and series-A funding. He hopes for the day when a Myanmar success story achieves international acclaim.
"It's only the beginning of the story for startups getting funded, though they may face long but exciting challenges along the way," he said. "We have yet to see a complete story where the startup becomes a billion-dollar company or a founder exits successfully. I am excited for that day to come."
Through the struggles, there is a great deal of optimism. With a thriving community of tech entrepreneurs driving solutions to the country's challenges, this is only the beginning.
This article originally appeared as part of Frontier's Digital Myanmar 2016 special edition. Top photo: Ko Ye Myat Min dropped out of university in Singapore to found Nex Labs. (Tiffany Teng / Frontier)