The digital payments sector has boomed in Myanmar over the past six months as consumers have sought to minimise contact with others to curb the spread of COVID-19, and new investment and plans for interoperability could soon deliver a much bigger boost.
By HTIN LYNN AUNG | FRONTIER
Every month, grocery store owner Daw Saw Myint earns a little extra cash by arranging to pay the power bills of other residents in her Dawbon Township apartment building.
She charges them K500 each – that is, all of them except Daw Ah May, 65, who lives on the sixth floor. Seven months ago, Ah May's 30-year-old daughter, Ma Theingi Phone, started paying the bill using a mobile application.
Theingi Phone, who works for a construction company, told Frontier that she only started using mobile money apps in March. COVID-19 was emerging as a threat and she wanted to avoid crowded places, like banks and government offices.
"I decided to give mobile money a try," she said on August 20. "I realised straight away that it's more convenient than having to go somewhere in person."
In addition to paying electricity bills and doing her banking, she's using mobile payment apps for online shopping, topping up her phone credit and renewing her satellite TV subscription.
"We all need to avoid crowded places," she said. "So mobile money applications are a great help because we don't need to go to a bank or pay a utility bill in person."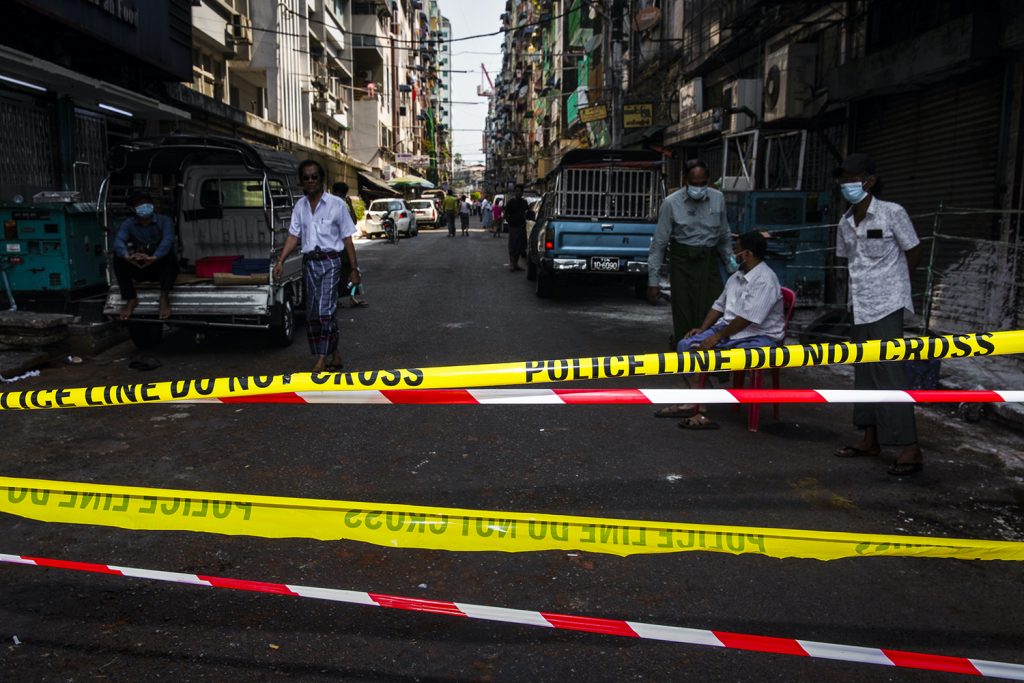 The COVID bump
Although COVID-19 has caused widespread disruption to Myanmar's economy, a few sectors have actually benefited. One of these is mobile money.
The sector was already growing strongly before the pandemic, helped along by the rapid uptake of smartphones and a wide range of products in the market.
Consumers have been spoiled for choice, including five mobile money services licensed by the Central Bank – of which Wave Money is a clear market leader – as well as mobile wallets linked to private banks, including KBZPay, CB Pay and AYA Pay.
All of these work in a similar way: they are a mobile wallet with which you can deposit or withdraw money, and pay for some goods and services. You can also send or receive cash, but only with users of the same wallet.
Despite its promise, mobile money is still far from reaching its full potential in Myanmar. The lack of interoperability between wallets has been a major factor; as a result, mobile money applications are rarely used for retail purchases, and limited mostly to paying bills and transferring money.
For some potential customers, the perceived benefits of a mobile wallet weren't significant enough to justify learning how to use them. Due to COVID-19, that equation has now changed for people like Theingi Phone and countless others.
Social distancing, restrictions designed to prevent the spread of COVID-19 and the broader economic impact of the pandemic have accelerated a shift towards online payments, whether out of necessity, safety or convenience.
"In a way, the COVID-19 crisis has kind of forced digitisation onto society," said Daw Pwint Phyu Htun, a fellow at the Harvard University Kennedy School of Government who helped draft the Central Bank's Mobile Financial Services regulation enacted in March 2016. "It is encouraging all the things we've been telling the Myanmar government and people to do, which is to digitise, digitise, digitise – whether you're talking about education, e-commerce or payments. The minute you digitise something, it just moves at the speed of light. It doesn't depend on roads or the electricity grid anymore."
Grocery store owner Daw Aye Aye Htwe has seen the shift. The number of people coming to her shop in Yangon's inner eastern Thaketa Township to transfer money had increased on a near-daily basis, she said.
This was particularly evident among low-income families who had migrated to Yangon, Aye Aye Htwe said. After the first COVID-19 cases were confirmed in March, many returned to their hometowns, leaving only an adult – usually the husband – in Yangon to continue working. "The husbands have stayed in Yangon and are sending money back to their families – just a small amount each day," she said.
During Myanmar's first wave of the pandemic, Aye Aye Htwe said some parents in rural areas were also using mobile money to support children in Yangon who had been temporarily laid off from their jobs. "They were just sitting in their hostels with no job; they couldn't return to their parents in their hometowns because of travel restrictions. The parents were sending several thousand kyat a day to their children," she said.
In just one example from the e-commerce sector, COVID-19 has encouraged a surge in business for food delivery services such GrabFood and foodpanda. After the government ordered restaurants in Yangon and many other areas of the country to only serve take-away food, customers began flocking to food delivery services – and many restaurants found that signing up was the only way to avoid going out of business.
Mr Sean Turnell, an economic adviser to State Counsellor Daw Aung San Suu Kyi, said the sector had already been "right at the cusp of profound change" when COVID-19 emerged. The pandemic has been "an accelerant, but the trends are bigger than that … the growth has been spectacular."
An important development, he said, has been private banks starting to see mobile money as more of an opportunity than a threat.
"They were very resistant at the start, but now the banks have been quite innovative," he said. "Of course, it's probably still a case that it's defensive more than anything else … but the young people at the banks who are leading the way on mobile wallets, they're all talking interoperability, talking about competition and innovation, and they're doing so in ways that are more than just lip service."
He said Ant Group's proposed purchase of 33 percent of Wave Money was also a "big story" for the industry. A subsidiary of Alibaba Group, Ant is valued in the hundreds of billions of dollars and is seeking to soon raise US$35 billion in what would be the world's largest initial public offering. Turnell said its payment platform AliPay began like Wave Money as a payment platform but has transformed into "a supermarket of financial services", and would likely seek to take Wave Money in the same direction in Myanmar.
"They built a platform, a payment system, exactly like Wave has. But from there, a whole range of financial services have been bolted on – AliPay provides the platform, but others can come in too," he said.
"This is a much more profound revolution. What you're doing is building an entire financial ecosystem with a payment system at the core."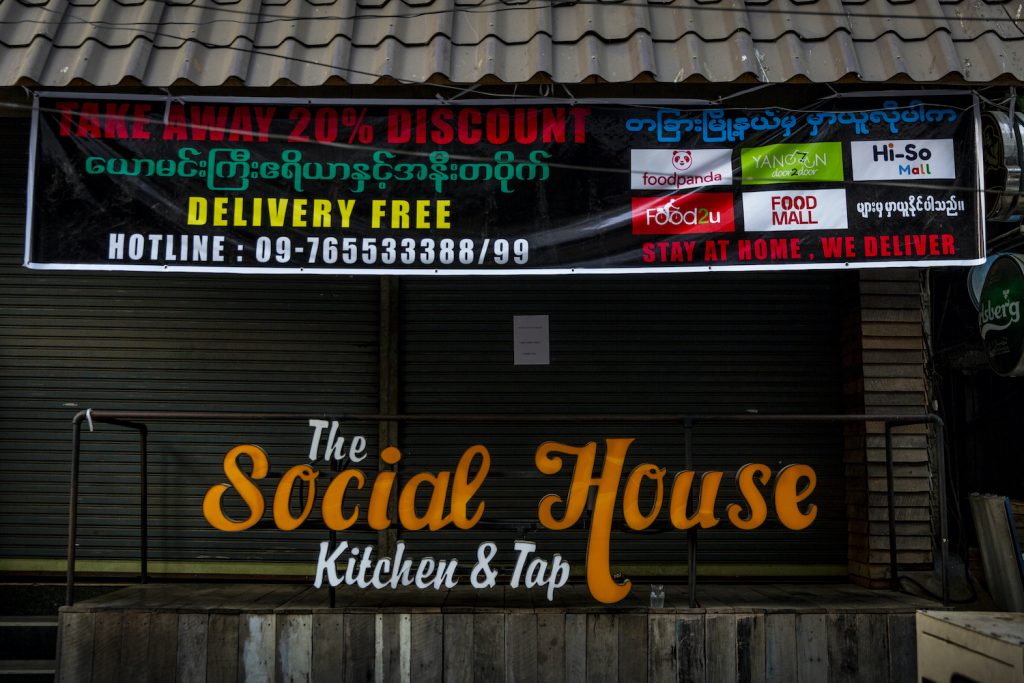 'Going gangbusters'
The shift to digital payments is borne out in figures provided by the leading mobile money platforms.
Mr Brad Jones, chief executive officer of Wave Money, said the pandemic had generated a huge increase in use of the company's WavePay application, a mobile wallet that enables customers to transfer money to other WavePay accounts for free, and pay for goods and services online. "It's going gangbusters, really. If I look at the same period in 2019 to now, transactions are up 800pc," he told Frontier.
On the other hand, over-the-counter transfers, which enable people to send cash through Wave agents without needing an account, have declined in frequency, he said, although recent increases to transaction limits have meant the volume of money being sent is still growing.
But the decline in OTC cash transfers is good news for Wave Money, Jones said, because many former OTC customers appear to have shifted to WavePay.
"That's our business plan, that Myanmar will move to digital and COVID-19 has just accelerated that," he said.
"What's happened is that people have tried digital payments for the first time and are sticking with it," he said. "They are using it to settle food deliveries, to buy groceries, to pay bills … we're seeing it becoming more widespread as a payment mechanism."
Tech specialists agree that COVID-19 has provided momentum for developing a culture of using mobile banking services and cashless payments in general
U Tun Thura Thet, founder of software company Myanmar Information Technology, said it was difficult to provide exact figures about digital transactions, but he estimated that the number of transactions had increased by up to 30pc due to COVID-19.
CB Bank tech manager U Zayar Aung said that the number of transactions on its mobile banking platform had doubled because of the pandemic.
Zayar Aung said up to 600,000 customers were using the bank's CB Pay mobile app and it also had up to one million prepaid card users.
Meanwhile, KBZ Bank, the nation's biggest private bank by branch network and assets, said in a report on August 18 that transactions totalling K4.9 trillion were made on KBZPay this year to August 13, up 75pc on the figure for all of 2019.
But it's not just mobile money that's benefiting – so are other banking services that eliminate the need to handle cash, such as debit cards issued by Myanmar Payment Union, a collaboration of more than 20 private and government banks.
MPU chief executive U Zaw Linn Htut said the number of MPU cards in circulation – around 12 million – had not greatly increased, but the number of transactions had risen threefold.
With Yangon sliding back into lockdown, after state-wide stay-at-home orders were issued for Rakhine State on August 26, these trends appear set to continue.
But Zaw Linn Htut said that while the leap forward in digital payments had been significant, "it's not like we have made a five-year journey in five months".
"Although COVID-19 has accelerated our progress, there are many things that we need to do to develop the digital payments ecosystem," said U Zaw Linn Htut.
But the growth of digital payments has also highlighted the lack of digital literacy in a country that has only recently connected to the internet. As Frontier reported in July, scammers are managing to hijack mobile money accounts by soliciting users' phone numbers through Facebook, or even just by cold-calling them. In other cases, they are promising to send large amounts of money to mobile money customers if they first send a smaller amount – the equivalent of a few hundred dollars.
Pwint Phyu Htun, who is working on digital literacy projects in rural areas through Mobilizing Myanmar, an initiative focused on digital and financial inclusion, said the problem risked getting out of control and companies needed to take a stronger stand.
"The companies should be doing a lot more education, a lot more outreach … The buck has to stop somewhere. If there is no accountability, then no one will stop it."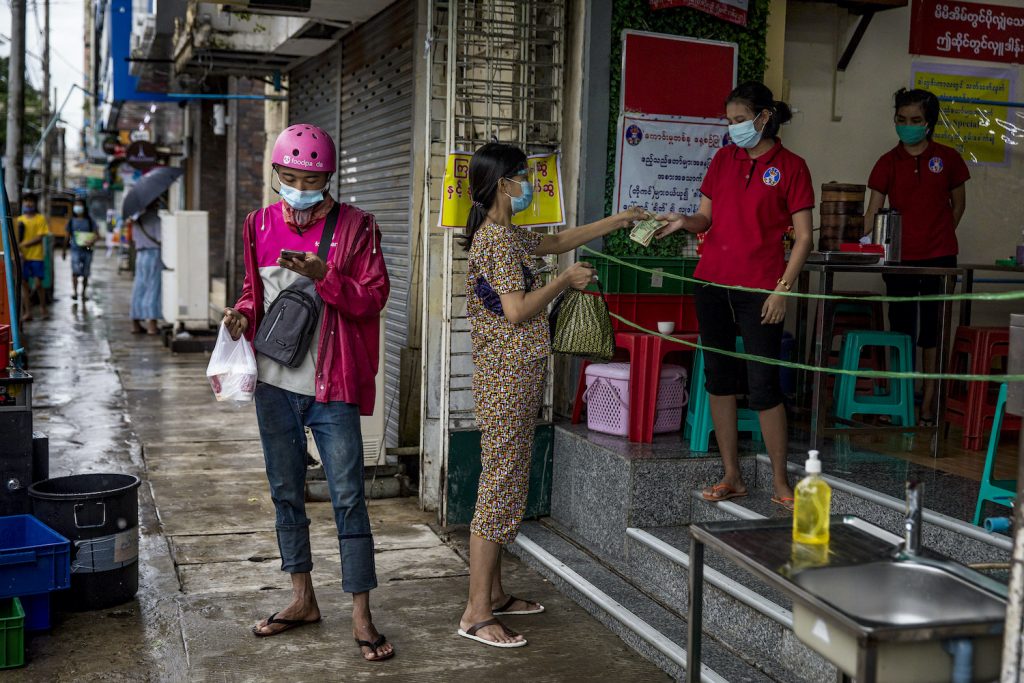 Cash still king?
Despite COVID-19, cash continues to hold on in some quarters, particularly retail transactions and government payments.
The COVID-19 Economic Relief Plan released by the government on April 27 sought to encourage mobile payment services "whenever it is feasible", and to ensure that e-commerce and social-commerce sales are conducted using electronic payments.
Even before COVID-19 the government was making steady progress in moving payments online but the pandemic has provided further impetus, Zayar Aung from CB Bank said.
Paying electricity bills is just one example. Company registrations, paying taxes and enrolling in government universities can all be done using mobile wallets operated by banks and other licensed providers. Most recently, Yangon City Development Committee shifted building permit applications – including payments – online. Payments to pregnant women and new mothers under a Maternal and Child Cash Transfer programme are also moving online.
But some say that the decision to distribute COVID-19 relief payments to more than 5 million low-income households in cash rather than the mobile transfers promised in CERP was a missed opportunity to encourage the uptake of mobile money.
In July and August, the government distributed K40,000 to low-income households and is reportedly planning another distribution of K20,000 soon.
U Kyaw Thet Htoo, who heads the Dawbon Township General Administration Department, said he had heard that the government had initially planned to distribute the relief funds by digital payments. "We didn't do it because the government instructed us to give the money as cash instead," he said.
Pwint Phyu Htun said the decision to go with cash transfers for COVID-19 transfers reflected a broader failure to digitise government payments. "Right now, they are moving bags of money – for example, when farmers get loans from Myanmar Agricultural Development Bank. It's so inefficient," she said. "They could also start digitising the salaries of government employees – at the moment even Central Bank employees get paid in cash."
She pushed back against the suggestion that people were "not ready" for digital payments.
"I have a lot of friends in the blind community, and all these blind people have opened their own mobile money wallets. If blind people in rural areas can do it, then it shows that anybody can."
Meanwhile, Tun Thura Thet said that while e-commerce had grown significantly – particularly purchases over Facebook – relatively few people pay for goods using digital payments.
Transactions are still mostly in cash, with payment made upon delivery, which Tun Thura Thet said was due to limited digital payments infrastructure.
"Myanmar still needs to develop the infrastructure for digital payments," he said. "In particular, the lack of interoperability is holding us back."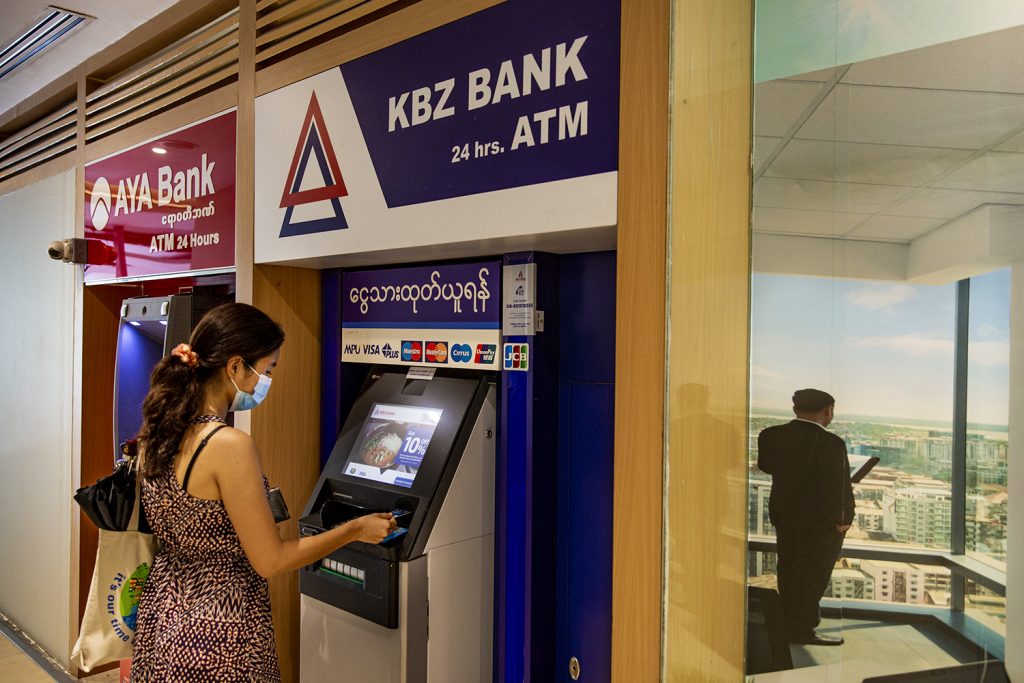 The 'holy grail'
Interoperability refers to the ability of the different mobile money applications to work together. At the moment, they are like silos: a Wave Money user can't transfer to a KBZPay user, and so on.
Daw Thinsa Moe Moe, 40, owner of the Mon Myat Thar cotton and silk wholesale centre in Thaketa Township, said wholesale traders who use digital payments currently have to offer a range of platforms and split their money between accounts.
"We have to accept the money sent through various payment systems, such as Wave Money, KBZPay, and CB Pay; if they pay by mobile bank apps the money goes straight into our accounts, but if they use a mobile payment system such as Wave Money, we have one more task to perform before the payment is finalised," she said.
Theingi Phone, meanwhile, uses a combination of CB Pay, AYA Pay and KBZPay for her mobile banking needs.
The lack of interoperability thus creates unnecessary friction in transactions and limits the potentially transformative benefits of digitalising transactions. It also reduces the incentive for people to adopt mobile money in the first place, because without interoperability there are still many things they are unable to do with it.
Since at least 2018, the Central Bank of Myanmar – and Deputy Governor U Bo Bo Nge in particular – has been working to create interoperability between mobile money providers.
For the front end the Central Bank is developing a national QR code system, so that those paying for goods and services only need to scan a QR code with their phone to transfer money. At the back end will be a national switch to move payments between the different providers, both those linked to banks and those linked to mobile operators.
Turnell describes this as the "holy grail" – one that can truly unleash the benefits of mobile money. "You'll have far greater reach into rural areas and you'll also see a dramatic increase in competitors," he said. "We can start to think about digital banks, the delivery of insurance and savings products, microfinance … It's really exciting, and the great thing is that it's an environment for many players. Through a mixture of competition and collaboration, they can all make money."
Jones from Wave Money is also enthusiastic, but said it would be important to get the commercial terms of interoperability right, so that it made economic sense for everyone to participate.
The Central Bank of Myanmar could not be reached for comment.
Frontier understands interoperability remains some way off – possibly even years. In the meantime, mobile money platforms – helped along by the COVID-19 pandemic – are gradually winning more and more customers like Theingi Phone, who are keen to leave cash behind."Even when COVID-19 is over and our lives have returned to normal," she told Frontier, "I'd like to continue using mobile bank apps whenever possible."