Amid fresh calls for a boycott of Myanmar's gems industry, a jewellery store offering Mogok rubies sourced from independent mines is luring conscientious buyers.
By JOSHUA CARROLL | FRONTIER
BEFORE SHE arrived in Mogok, Ms Amber Cernov was wary of the horror stories she'd heard about the secretive ruby mining region.
Foreigners are usually denied access to the town in northern Mandalay Region and she had pictured a grim landscape ravaged by military-owned companies, hidden from the world. But when she finally stepped foot in the resource-rich valley she was pleasantly surprised.
"You think it's going to be Mordor and it's not," said Cernov as she sat behind the counter at her small but sleek store in downtown Yangon.
"Mogok is actually a very beautiful town," she adds. "Yes, you can see the scars from mining… so I'm not saying there's no negative environmental impact, but I was quite surprised at how much better it looked than my expectations."
Cernov, an Australian who worked in development before entering the gems trade, argues that Myanmar's world-renowned rubies have been unfairly stigmatised. Her jewellery store, Mia Ruby, aims to show that the blood-red gems can be traded in a "responsible" way.
That involves avoiding military-run mines and ensuring that all the gemstones are cut, polished and made into finished jewellery inside Myanmar. These policies answer the industry's critics by keeping money out of the pockets of the generals, ensuring tax is paid and creating jobs locally. In contrast, the majority of Myanmar's gemstones are exported uncut on the black market.
Mia Ruby's supply chain is 100 percent local but because the industry remains opaque it is harder to be so certain about the company's claim that it avoids all military-owned mines.
While Cernov has made the policy clear to her supplier, she is unable to independently verify that the gems are untainted by military connections. "As with everything in the gems trade, it is really about trusting the commitments made by the family that we buy off," she said.
"I continually re-check every order that our gems have been sourced from non-military controlled mines," she added. "In some instances that means that we cannot source the gems that we need, as the family will say they can only find that size, quality or quantity from military-linked sources."
Cernov says that conditions for workers in the mines, especially health and safety standards, "are also an issue that I regularly raise with our supplier, which they are open to".
But again, a lack of transparency in the industry is a barrier to progress here. Cernov says she cannot be certain that conditions in the mines she sources from comply with local labour laws. Health and safety "is not something that we have the capacity as a small new business to police ourselves", she says.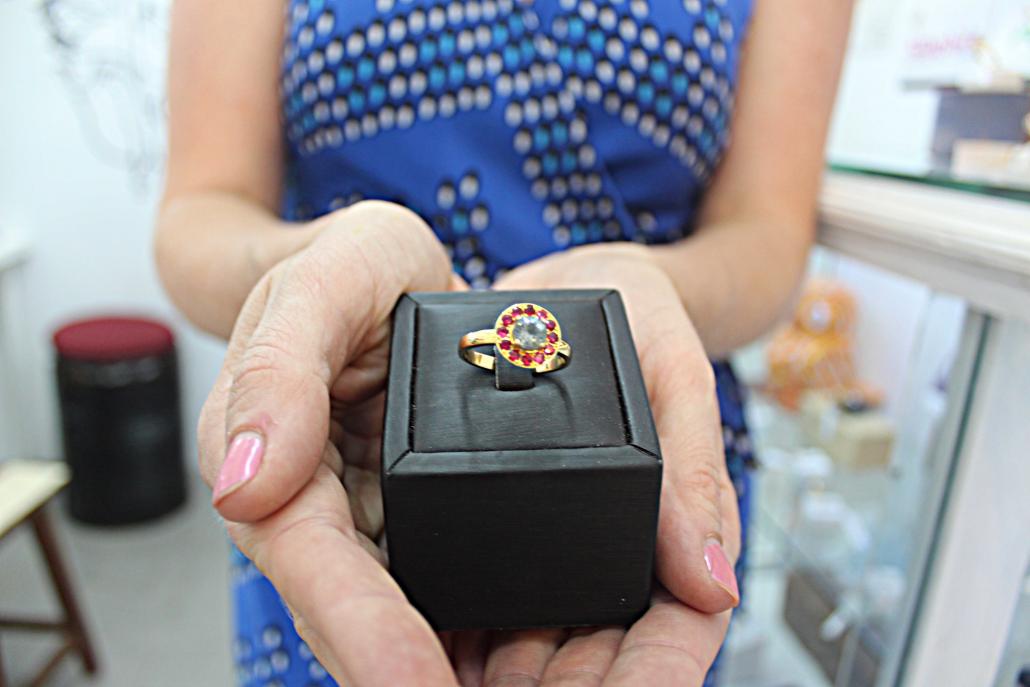 Because of these obstacles, Cernov says she has been cautious not to overstate her company's practices. "I don't say we're ethical, I say we're responsible in that we're trying to operate the best we can within the [constraints] of the current environment."
Mia Ruby opened a few months after the US lifted sanctions on Myanmar jade and rubies in late 2016, a move that raised hopes the industry might be able to shed its pariah status. But since the military began its vicious crackdown against the Muslim Rohingya community in northern Rakhine State last August, Myanmar's fabled gems have again become the focal point of international activists. 
The US-based International Campaign for the Rohingya has branded the country's precious stones "genocide gems" and has convinced luxury jeweller Cartier to cut ties with Myanmar. It is now targeting the Italian jeweller Bulgari.  
Nonetheless, the end of sanctions appears to have made people feel "more comfortable and legitimate in buying Myanmar gems in general", said Cernov, who argues it is unfair that sanctions also punished mines that have no links to the military.
Her store's messaging has helped lure more conscientious buyers who may have otherwise avoided Myanmar's rubies because of their reputation. 
Ms Caroline Ricard, a French tourist who visited Mia Ruby to browse the silver jewellery, said the store's emphasis on responsible sourcing was important to her. "I don't want to get too political," she said, "but we love the concept, we love the idea."  
While the non-military sourcing draws some customers, Cernov says most "are far more attracted by the fact that our jewellery is all made locally in Myanmar".
The consumers may be convinced, but natural resource watchdog Global Witness says that unless foreign investors can thoroughly vet their supply chains, they should reconsider their presence in the industry. 
"Foreign investors in Myanmar must be able show what steps they have taken to ensure that they are not contributing to harms in the country by conducting checks on their supply chains and making this public," said Mr Paul Donowitz, the group's campaigns leader for Myanmar. 
"If they consider they can't or won't do this, it raises serious questions about whether they should be entering the ruby market."