Democracy activists who protest for peace risk a beating and time in jail but it's a different story when hardline nationalists gather to express their views.
By SU MYAT MON | FRONTIER
DEMONSTRATIONS have become common in Myanmar since junta rule ended in 2011, but democracy and human rights activists are increasingly concerned that some groups are receiving preferential treatment by the authorities.
Many of the protests in the years since 2011 have involved issues that were suppressed or ignored under junta rule, such as land and labour rights and educational reform, and had the support of those who champion democracy, human rights and freedom of expression.
In recent years, there has been a rise in the number of gatherings held by those on the other side of the political spectrum, such as events organised by hardline Buddhist nationalists to show support for the Tatmadaw.
There have been a series of such events since the Tatmadaw came under international criticism over the operation it launched in Rakhine State in August 2017 that sent more than 700,000 Rohingya Muslims fleeing to safety in neighbouring Bangladesh.
One such event in downtown Yangon's Maha Bandoola Park last October was attended by hundreds of military veterans, nationalist youth, monks and USDP members and addressed by the firebrand monk U Wirathu.
It was the first time Wirathu had spoken in public since he was banned in March 2017 from delivering sermons for a year. The ban was imposed by the supreme body representing the monkhood in Myanmar, the State Sangha Maha Nayaka Committee, which said Wirathu had "repeatedly delivered hate speech against religions to cause communal strife". 
However, democracy activists say allowing the demonstration was an example of preferential treatment.
That's because the Yangon Region Minister for Security and Border Affairs Colonel Aung Soe Moe banned protests in 11 townships in Yangon Region's downtown and inner suburbs ahead of a visit by Pope Francis in November 2017, citing a desire to avoid public inconvenience. Instead, demonstrators would be directed to use a single location in Tarmwe Township.
Despite this, police allowed the pro-military march to take place through several townships on the ban list at the same time as they prohibited peace activists from holding their events.
The ban remains in force and "there is no new order since then", a spokesperson for Dagon Township police station told Frontier on March 20.
The demonstration is one of more than a dozen pro-military demonstrations that have taken place over the past six months, at the same time as activists have been prosecuted across the country for their participation in protests, or had their demonstrations blocked by the authorities.
Frontier found reports of pro-military rallies having been held since October 2018 in all states and regions except Kayin and Chin states. In recent months these demonstrations have targeted the NLD's attempts to amend the constitution.
In Myitkyina, three activists who organised a demonstration in April 2018 calling on the authorities to help people displaced by conflict were sentenced to six months' imprisonment for defaming the military.
Dozens of demonstrators have been arrested in Kayah State, where police fired rubber bullets at a crowd protesting against a statue of Bogyoke Aung San.
Under the amended Right to Peaceful Assembly and Procession Law, demonstrators are only required to notify the GAD in advance of a demonstration. U Aung Phyo Khine, a spokesperson for the Ministry of the Union Government Office, which is responsible for the GAD, declined to comment for this article, as did several township administrators contacted directly by Frontier.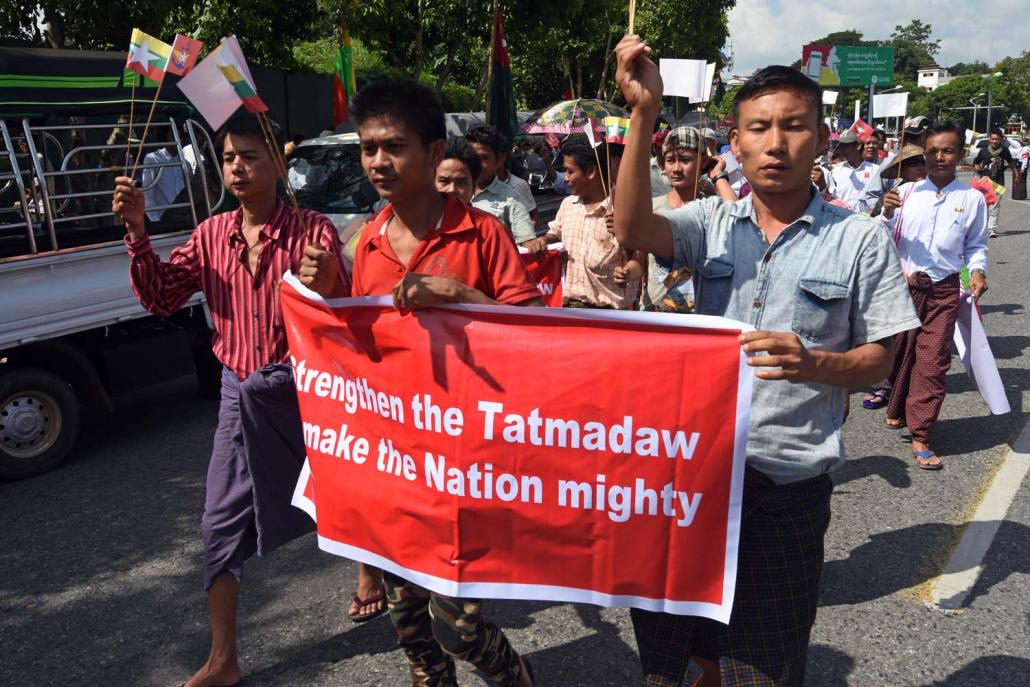 Prosecutions, beatings
Poet and free speech campaigner Maung Saungkha said the ban on demonstrations in central Yangon imposed since the pontiff's visit was being deliberately prolonged, and the GAD was implementing the Right to Peaceful Assembly and Procession Law in a partial manner.
Just a month before the pro-military rally, the GAD ordered activists to call off a planned demonstration urging the release of Reuters reporters Ko Wa Lone and Ko Kyaw Soe Oo, who had been sentenced to seven years' imprisonment for breaching the Official Secrets Act.
Maung Saungkha, who is also founder and executive director of free speech advocacy group Athan ("Voice"), said the protest only went ahead after the Myanmar National Human Rights Commission intervened and told the GAD to negotiate with organisers.
After many meetings, the protest was able to proceed, but they had to significantly reduce the length of the planned march, he said.
"We told them that under the law they cannot cherry-pick who they allow to protest. Only after we constantly rebutted their arguments by citing the law, they gave us permission," he said. "If an event is planned to praise the government they allow it, but if it is to criticise they ban the protest."
When the NLD government took office in 2016 activists were optimistic for change, including progress in the peace process, but when fighting worsened in ethnic nationality areas they could not be silent and wanted to protest, said another free speech campaigner, Ma Thinzar Shunlei Yi.
The violent dispersal of peace protesters in Yangon last May by riot police and plainclothes thugs was particularly disturbing and did not augur well for democracy in Myanmar, said Thinzar Shunlei Yi.
She said it was unfair that some groups were prevented from exercising their right to demonstrate but supporters of the Tatmadaw and opponents of constitutional reform encountered no difficulties.
Both Thinzar Shunlei Yi and Maung Saungkha are being prosecuted under the Right to Peaceful Assembly and Procession Law for their participation in the peace protest last May. Thinzar Shunlei Yi said she has so far attended 30 pre-trial hearings at Bahan Township Court.
According to Athan's research, police last year prosecuted a total of 124 people for their role in demonstrations that allegedly violated the Right to Peaceful Assembly and Procession Law, including those calling for an end to violence and conflict in Kachin and Shan states, respect for media freedom, and the protection of land rights and workers' rights.
"The government of Myanmar is focusing on oppressing and penalising the people who criticise it," said Maung Saungkha.
'They are rebels'
But allegations of unfairness were rejected by some of the organisers of the pro-military demonstrations.
Hardline former Tatmadaw lieutenant-general U Hla Swe said he resented domestic and international criticism of the Tatmadaw and believed it was important for nationalists to show their support for the military's actions.
Asked whether it was fair that the demonstrations he participated in were able to proceed while others were blocked, Hla Swe said he did not believe the rules were being implemented in a partial manner.
"I have never heard of the people who have been jailed or charged for calling for an end to violence. Maybe they [the protesters] overreacted and that's why they are charged," he said. "And, if they are not allowed to protest, they have to accept it [the government's decision] or face being charged."
He said he regarded those who protest in support of an end to violence and civil conflict as "rebels".
"They are definitely rebels, because they support the rebels," he said, referring to ethnic armed groups.
In an indication that the pro-military protests are likely to continue, he said he would be speaking at an event in Mandalay on March 24 to oppose changes to the constitution.
He said the event is being planned by the Association for the Protection of Race and Religion, known by its Myanmar acronym as Ma Ba Tha, of which Wirathu is one of its most prominent members.
Lawyer U Aye Paing, a legal advisor to Ma Ba Tha, who has also accepted an invitation to speak at the Mandalay event, said the Tatmadaw needed the people's support because of its key role in protecting the country.
"Ma Ba Tha will always stand by the military regardless of international pressure," he said.
He said those staging protests that have an "ambition or intention" that is contrary to the constitution should expect to face legal action.
A law in flux
Thousands of farmers, workers, students and others have exercised their right to demonstrate under the Right to Peaceful Assembly and Procession Law since it was enacted by the Union Solidarity and Development Party government in 2011.
The law stipulated the procedure to be followed for holding a demonstration, which included requiring advance permission from the authorities in townships where they were planned. In many cases, the authorities rejected applications on seemingly flimsy grounds – anything from a concern the protest would cause traffic congestion to them deeming that the issue was not relevant to the particular region.
Protest organisers and participants were regularly prosecuted and imprisoned for either staging a protest without permission or violating the terms of their permit, resulting in regular calls for reform.
In October 2016, the NLD government amended the law so that protest organisers only had to notify the General Administration Department 48 hours in advance of a planned assembly or procession. There appeared to be no provision for the authorities to stop protests from going ahead, except in limited circumstances. Another key change was that if protesters were thought to have violated the law, police would have only 15 days to initiate legal action.
In early 2018, the NLD government also sought to amend the law a second time. The four changes it proposed were universally condemned by rights groups, and prompted activists to stage a protest in Yangon.
The first change would give police the right to stop protests that they deem to conflict with laws enacted for "national security, rule of law, public order, or public morals". The second would introduce a potential three-year prison term and unlimited fine for anyone found to have provided financial or other support for protests with the intent to threaten "national security, rule of law, public order or public morals".
The third proposed change would require organisers to provide an estimated budget and source of funds for the protest. A fourth amendment would reverse the 15-day deadline in some circumstances.
The amendments were approved in the Amyotha Hluttaw in March 2018, despite 21 NLD lawmakers breaking ranks and voting with the military and opposition lawmakers against the changes.
More than 60 lawmakers registered to discuss the amendments when the bill was tabled to the Pyithu Hluttaw the same month, but since then the process has stalled.
Pyithu Hluttaw Bill Committee secretary U Kyaw Soe Lin claimed the committee had only received the bill three months ago, and he was unsure when it would be discussed. He said the delay was because the legislature had more important bills to consider.
TOP PHOTO: Steve Tickner | Frontier