For many Myanmar businesses, religious rites and rituals are as standard as signing a lease or putting up a signboard – the benefits, though, are a matter of faith.
By JARED DOWNING | FRONTIER
WHEN DAW Khin Phyu Khaing opened her small tailoring shop, it went without saying that she would invite monks for a blessing ceremony.
A group of monks from her local monastery spent several hours chanting in the shop to acquire good merit for the owners, employees and any invisible ghosts that happened to be hanging around, and to protect it from evil.
The monks left with offerings of food and robes, and over the years their blessings would linger in every new dress and long night at the sewing machines.
Businesses from kerbside curry stalls to towering hotels invite monks to bless their new endeavours with sutras – scriptures in the ancient Pali language that serve as both sermon and prayer.
It benefits the owners, employees and patrons – but not necessarily the business itself.
"We do good deeds with both body and mind, and people do these things because the good deeds count towards them," explained U Sobhita, the sayadaw, or abbot, of the Chanmyay Yeiktha Meditation Centre, who has been blessing businesses for more than 30 years.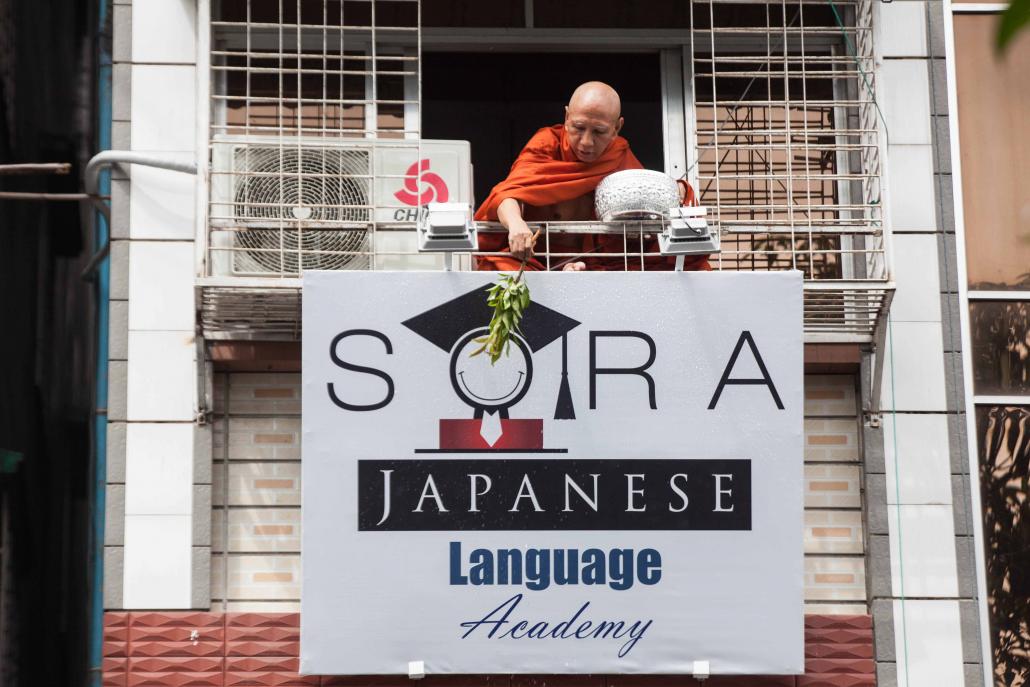 He said the ceremonies are not for good luck and neither will the good deeds of the owners be rewarded with wealth and security. The benefits are for the owners' souls, and they may not even reap them in this life.
Sometimes owners go so far as to allow the monks to choose a name for their business. Trusted with this duty, U Sobhita's go-to names include rattana ("jewel") and aung myin ("successful"), or something specific to the business, such as hla yamin ("beautiful woman") for a beauty salon. But there is nothing especially spiritual or lucky about the names themselves.
"Business is business and donations are donations. If you want success in business, you have to do the right things in business," said U Sai Tun Aye, who manages a lumber firm started by his father.
He recently visited Chanmyay Yeiktha to donate food to help sustain its monks during war dwin, the three-month period during the monsoon season known as Buddhist Lent or the rains retreat, when monks are required to stay at their monasteries.
In other words, when it comes to turning a profit, they have to do that the old fashioned way.
Not everyone is of Sai Tun Aye's disposition. Others seek the aid of astrologers such as Daw Zin Hlaing Hnin, who gives daily consultations from her tiny booth at the north gate of the Shwedagon Pagoda. Her advice (usually drawn from a well-worn pack of Tarot cards) tends to be much more direct than the sutras chanted by monks.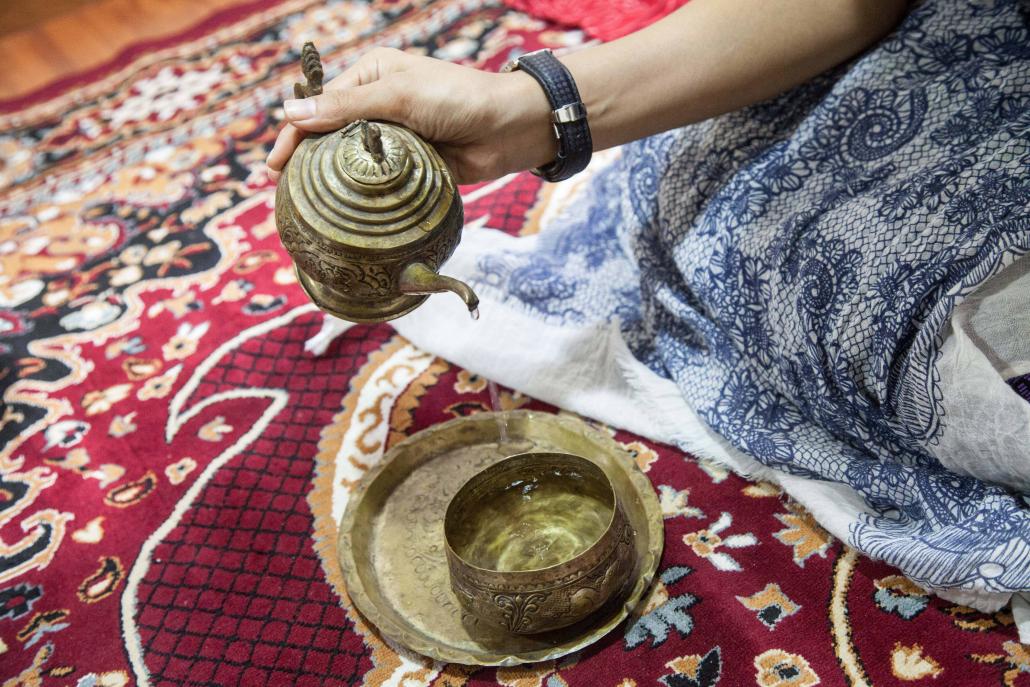 "Sometimes they ask me to perform a ritual to ward off evil; sometimes they ask for a name; sometimes they even ask me to choose the type of businesses they should start," she said.
Where the monks offer spiritual wellbeing, astrology is about results. Zin Hlaing Hnin uses information such as the date and time of birth and the alignments of celestial bodies to choose a course of action most likely to fulfil her clients' wishes.
Astrological consultations are not as common as traditional Buddhist blessings, but Zin Hlaing Hnin has no shortage of clients. Some celebrity astrologers, such as radio personality San Zarni Bo, have become rich and famous from helping people play the celestial odds.
Their clients are not specific to any religion. Buddhists, Hindus and even Muslims and Christians add Zin Hlaing Hnin's readings to their normal regime of prayers and blessings, just to cover their bases.
U Sobhita does not care for this sort of thing at all. He claims professional astrologers are motivated by profit rather than spirituality. It is all too easy to play on people's greed to fuel their own.
"The monks don't hope to get anything from the owner. They simply accept and use what they are given, and don't expect any more than what someone is able to spare," U Sobhita said. "Fortune-telling is totally different."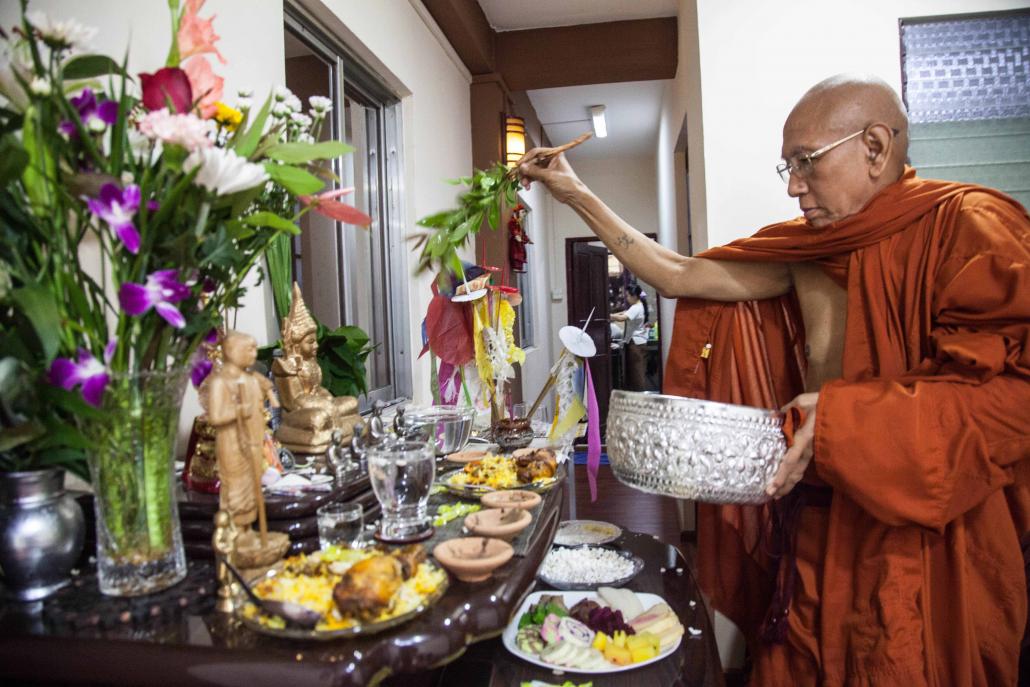 Although she has never been troubled by monks at Shwedagon, Zin Hlaing Hnin is dismissive of criticism of astrologers. "I know what I am doing," she said. "I am doing good deeds and helping people. I don't know what other people are saying; I put it out of my mind."
Sai Tun Aye knows other entrepreneurs who consult astrologers, but he is content with his donations to monasteries. "When you give, you also get back, but you don't know when. But to do good things is our duty."
Several years after the monks first came to her new shop, Khin Phyu Khaing is not worried about the future.
"I don't know how my business will do," she said, "but honouring the monks, paying respect to things higher than myself, makes me at peace."
Top photo: Monks recite the kammavaca, a Pali tract designed to drive away bad spirits at the opening of a language academy in Ahlone Township, Yangon, on September 25. (Theint Mon Soe — J / Frontier)