One of President U Thein Sein's favourite retreats has already taught Nay Pyi Taw locals some valuable lessons. 
By MAUNG THIN TONE | MAWKUN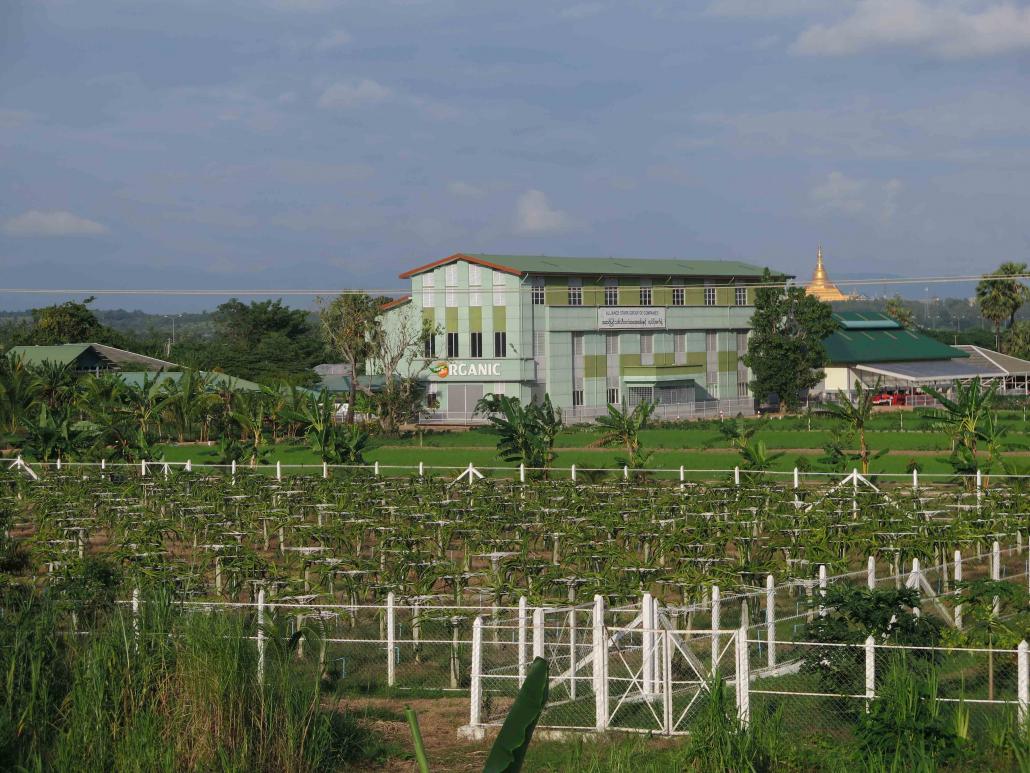 The President's model farm has mechanised equipment, irrigated paddy fields, livestock imported from Thailand, cows that cost K3,000 a day to feed, an agronomist and so many workers there's not a weed in sight. 
U Thein Sein was within weeks of becoming head of state when he bought one of the plots that comprise the President's Farm, a few minutes drive from Nay Pyi Taw's Uppatasanti Pagoda.
The Pobbathiri Township farm was launched in 2011 to be a multi-purpose model farm using mechanisation and modern agricultural methods. 
The farm is a favourite retreat for U Thein Sein. His guests there have ranged from political, ethnic minority and civil society leaders to representatives of media groups and farmers' organisations.
Of the 517 acres that comprise the President's Farm, U Thein Sein owns 38.22 acres, private companies own 31 acres of orchards and gardens. The balance — 447.78 acres — is owned by 165 farmers, said U Khine Zaw Than, the farm's agronomist.
The irrigation canals, drainage system, embankments and road were built at the expense of the President, who will retain ownership of his plot after he retires from public office, said U Khine Zaw Than.
The previous owners of land acquired by U Thein Sein said the president bought their farms in 2011 before he assumed office. Sales documents show that U Thein Sein paid K100,000 per acre more than the market price for the land, which was K1 million per acre at the time.
Not all the farmers wanted to sell, but the seizure of land by the Tatmadaw during the days of direct military rule convinced them that selling was better than having their property confiscated.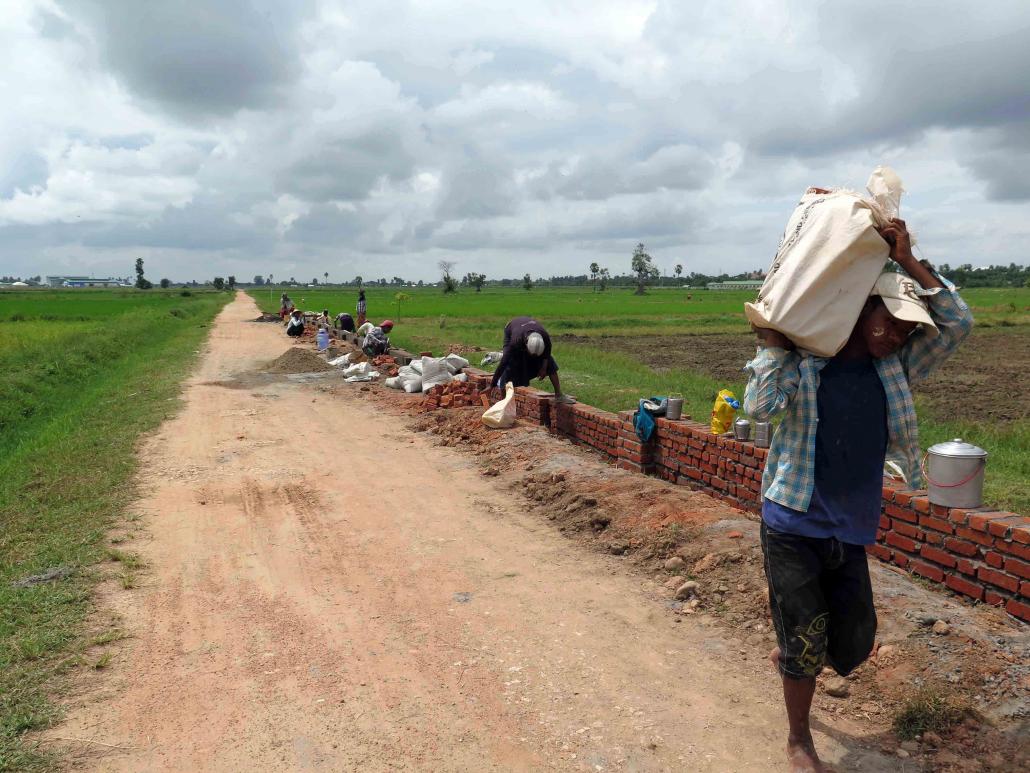 Among those who sold their plots four years ago was U Thein Han of Nyaungbingyi-su village, who now lives opposite the President's Farm. 
"One day in early 2011, five people, including village administrators and army officers, came to my house and said they wanted to buy three acres of my land," U Thein Han said.
"The whole family was shocked," he said.
The officials said he could keep his land if he did not want to sell out, so his family decided not to sell. But one day, when he went to his chick-pea plantation to spray insecticides, he found some people measuring his field with survey instruments. 
"Considering that if my land was seized I would get nothing and knowing that my land would be seized anyway if I decided not to sell, I told them that evening that I would sell my land," he said.
U Thein Han said they came back the next morning to finalise the sale, paying K3.3 million for 2.7 acres. It was all the farmland he had left to call his own. U Thein Han had once farmed 12 acres but most of his land was appropriated when Nay Pyi Taw was built.
After reluctantly selling the 2.7 acres, U Thein Han's life as farmer was over, so he sold his two draught cattle. He lives off interest he earns as a money lender and the rent from a house built on land given to him by the government as compensation for the nine acres it took to build the new capital.
Nyaungbingyi-su village residents said that years before Nay Pyi Taw was built, village administrators were visited at night by land agents.
The village headman later summoned the villagers to a meeting, and asked if they wanted to sell their land. The agents returned to the village once a month. On their third visit, the villagers became worried their land would be seized if they continued to refuse to sell. So they all agreed to sell, the villagers said.
The villagers said the agents never revealed that the land was for a farm project involving the President. They assumed the land was needed for a military project.
They said that after the model farm was established, land prices soared within weeks from about K1 million an acre to K10 million an acre. 
The irrigation system at the President's Farm features concrete canals rather than earthen embankments, which enables the production of three crops a year of paddy, as well as beans and pulses. There are ponds stocked with fish, and the abundant water supply helps support a duck-farming operation. The 18-month-old ducks were imported from Thailand at a cost of K5,000 each for breeding stock, farm workers said. 
The President's Farm also has five cows imported from Thailand that cost K2.5 million each and are fed special grass and supplements. There is also a separate enclosure housing 44 cows owned by the Alliance Star Company Ltd., which cost K3,000 a day to feed.
All ploughing, harvesting and winnowing activities on the farm are mechanised.
The 165 tenant farmers can hire machinery for use on their plots, have access to irrigation water and receive financial support to buy fertiliser and pesticides. 
They are also required to make contracts with companies that have a stake in the project. At harvest time, they are required to sell at least 35 baskets of paddy an acre for K4,500 per basket to the resident companies. The tenant farmers have many advantages over their neighbours outside the farm.
For example, the tenant farmers who grow paddy need to invest about K250,000 per acre in inputs, compared to K280,000 per acre outside the farm.
The tenant farmers also have the advantages of access to a modern irrigation system, and can hire equipment and use the services of an agronomist.
President U Thein Sein's meetings at the farm with guests from a range of backgrounds have enabled it to play an important role in the democratic reform process, President's Office director U Zaw Htay said in a Facebook post.
"While discussing people's affairs and politics at this farm house, there were times when we laughed and times when we felt heavy of heart," U Zaw Htay wrote.
The day after the post appeared it attracted some questions. "Is this 500 acres of land solely owned by U Thein Sein?" said one. "Will it be transferred to the next president?" asked another.
After the questions appeared, U Zaw Htay called this reporter to advise that a scheduled interview about the President's Farm had been postponed until after the election. 
This report is an abridged and translated version of an article in the October 2015 issue of Mawkun.