The surprise decision to fix the rate of the kyat has harmed the competitiveness of Myanmar's rice exports, traders say, and orders from abroad are already beginning to decline.
By FRONTIER
Rice traders are warning that the regime's recent decision to fix the exchange rate could cripple exports, with potentially significant flow-on effects to the country's farmers. The sector was showing strong signs of recovery from a turbulent 2021, but farmers are now fearful of export sales drying up again.
The effects of the February 2021 coup were felt quickly by farmers and exporters, with banks and ports shuttered and transportation affected. Rice exports plummeted in the 2020-21 financial year, down from 2.6 million tonnes to 1.8 million tonnes.
The sector recovered quickly and posted a return to normal amid strong global demand. In the six-month "mini-budget" period from October to March of this year exports rose to 1.3 million tonnes.
As one recent report found, the rice value chain has shown "resilience" despite numerous shocks from Myanmar's political crisis and COVID-19, and has met demand from both domestic and international markets.
In January, exports of rice (including broken rice) hit 260,000 tonnes, according to the Myanmar Rice Federation – the highest monthly total since prior to the coup.
On March 25, the United States government's Foreign Agricultural Service office in Yangon forecast that rice exports would "remain strong" due to high world prices and strong demand from buyers, including African and European countries, China and the Philippines.
But then on April 3 the junta-controlled Central Bank of Myanmar shocked the business community by introducing foreign currency controls, and fixing the exchange rate at K1,850 to the US dollar – below the market rate of K2,000 to the dollar.
Contracts dry up
Under the rules, foreign currency earnings must be converted into kyat within a day at the stipulated rate. Using the new exchange rate, traders have had to revise upwards the US dollar price for Myanmar rice that they quote to foreign buyers.
Traders say this artificial strengthening of the kyat has made exports less competitive at a time when they were already grappling with rising domestic prices due to lower production, and higher shipping costs.
"Because our export price is now high, demand from foreign buyers is falling," said Ko Yazar Myo, secretary of the Myanmar Rice Miller Association. "This began when the US dollar exchange rate was suddenly changed to K1,850. Domestic rice prices have also risen, so these two factors are pushing up the export price and we're no longer competitive."
He cited the example of 5 percent broken rice, which exporters in Pakistan are selling for $350 per metric tonne. Myanmar exporters are offering $370 to $380 a tonne, on almost non-existent profit margins, up from $330 to $335 a tonne at the start of this year.
Depending on the variety, the 'free on board', or export price, of Myanmar rice is now up to $500 a tonne, traders said.
"Rice exports are still going out for now, because we have advanced orders for May and June delivery. We have to fulfil these orders regardless of the price," Yaza Myo said.
Dr Soe Htun, Vice Chair of the Myanmar Rice Federation, said he expected rice exports to decline this year due to the exchange rate revaluation.
"Now the only rice exports are for advance purchase contracts," he said. "Because the exchange rate has been fixed at K1,850, it's difficult to sell our rice so no new export deals are being made. We can hardly expect the local price to decline either because the price of agricultural inputs that farmers use is also rising, so I expect rice exports will fall."
Sai Kyaw, a rice exporter based in Mandalay, confirmed that Myanmar's rice exports were struggling to maintain their competitiveness due to rising domestic prices and the new foreign exchange rules.
But he said another factor was that Myanmar exporters face higher shipping costs than some of their competitors.
"It costs us $1,800 to hire a container for rice exports, which is much higher than other countries – in Thailand, for example, it's only $700," Sai Kyaw said.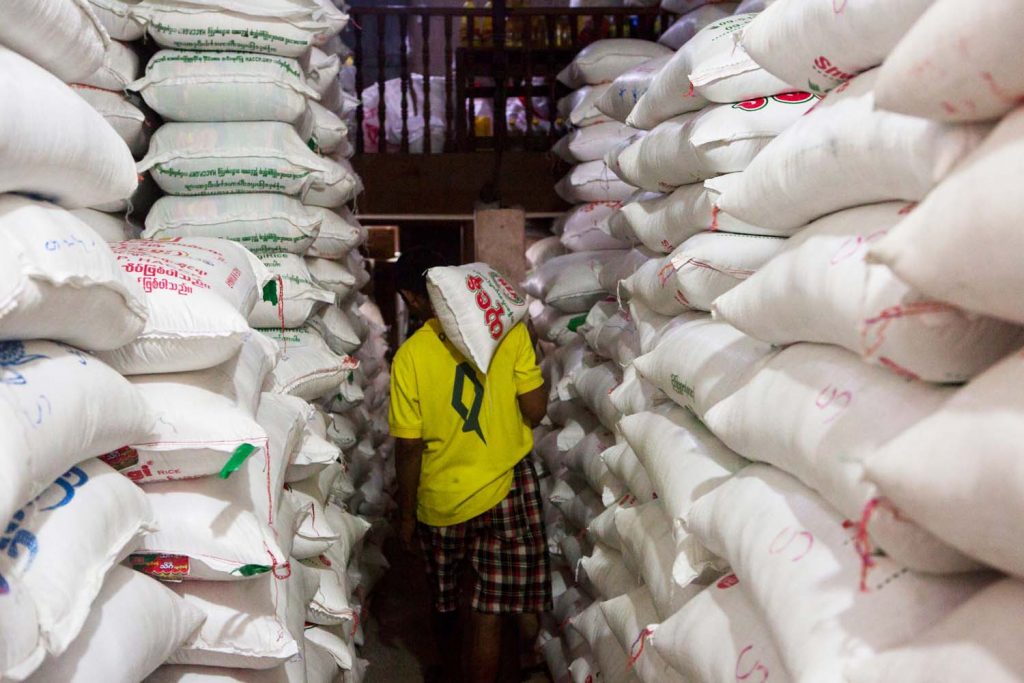 Rising prices
There were already some warning signs for rice exports – and production more broadly – prior to the Central Bank's April 3 announcement on foreign currency controls. After hitting a high of 260,000 tonnes in January, exports fell to 210,000 tonnes in February and then just 130,000 tonnes in March, due to rising local prices and reduced supply, traders told Frontier.
Rice is produced from paddy, which is trading at K700,000 to K1 million for 100 baskets (a basket is equal to 46 pounds, or 20.87 kilograms), depending on the variety. This is up from K500,000 to K900,000 at the same time last year.
Farmers and industry experts say the higher paddy prices are due mainly to lower production during the recent summer paddy season.
Production is down because the sharp decline in the value of the kyat since the coup has made imported agricultural inputs, including fertilizer, more expensive, while credit has also become more difficult to access. As a result, many farmers have responded by cultivating fewer acres, reducing fertilizer use, or both.
Meanwhile, Yaza Myo from the millers' association said frequent power outages meant that mills were not able to run at full capacity, and this was also reducing rice supply into the market.
Rice prices have so far risen only modestly: depending on the variety, the staple is selling for K30,000 to K80,000 a bag (one bag contains 24 pyi, around 50 kilograms), an increase of around K2,000 to K4,000 higher per bag based on late 2021 prices.
The World Food Programme's Market Price Update for March found that prices were up an average of 14pc year-on-year, but the increase was skewed somewhat by significant rises in some conflict-affected areas, such as Kayah and Chin states.
Most states and regions experienced a significant rise during March, including Yangon, where prices were up 9pc, the report said.
Daw Hlaing, a rice merchant from Pyinmana Township in the capital Nay Pyi Taw, said many customers were opting for cheaper varieties of rice.
But exporters don't have that luxury, Yaza Myo said. They have contracts to meet, and they have to buy the variety stipulated in the contract regardless of the price.
"Before I could buy 750 or 1,000 tonnes with a day's notice, but now it's harder because there is less rice available," he said. "Exporters are having to pay handsome prices to get the amount of rice they need."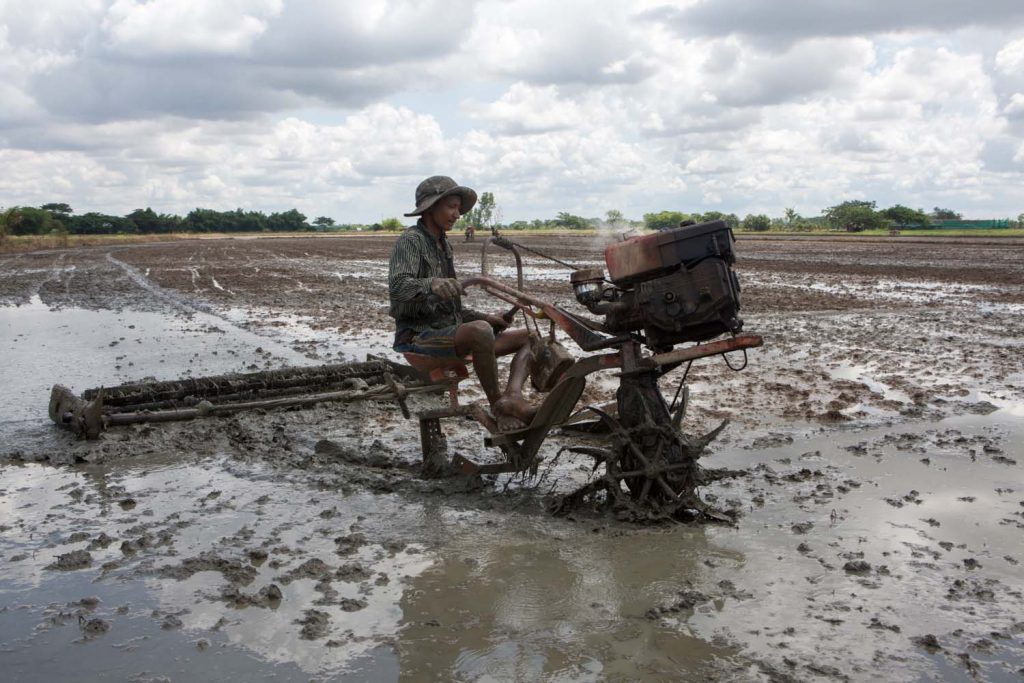 Struggling farmers
Higher paddy prices would normally be good news for farmers, but this year they have little to celebrate. Higher production costs mean they are making less profit than in previous years.
U Ko Ko Naing, who cultivates 15 acres in Mandalay Region's Patheingyi Township, said cultivation costs had risen from about K300,000 an acre last year to about K400,000 this year.

A bag of chemical fertiliser that cost K60,000 last year has risen to almost K100,000, while the rental fee for a harvester and thresher has risen from K50,000 to K75,000, due to increased fuel prices.
With cultivation costs so high, Ko Ko Naing said that with an average yield of about 70 baskets an acre the paddy price needs to be about K800,000 for 100 baskets for them to make a small profit.
"So while the paddy price this year is good, farmers won't make much money from it," said Ko Ko Naing, who is also a local rice trader.
Because farmers often take out loans to pay for cultivation costs, they also usually have to sell their paddy immediately after harvest, when prices are lowest.
"Only big farmers are able to stock up paddy and sell it later. Most farmers have to sell their paddy straight away to pay off their debts," said U Myint Wai, who farms nearly 100 acres in Ayeyarwady Region's Maubin Township. "Now there are buyers but farmers have nothing to sell."
Most farmers have now brought in their summer paddy and are preparing to grow the monsoon crop, which is harvested towards the end of the year.
There could be more pain ahead for them, however. Rice exports have become an important feature of the market since the 2011 transition, and have generally helped to push up prices.
If export demand dries up due to the exchange rate and other factors, this will put downward pressure on domestic rice prices – but farmers' cultivation costs are set to remain relatively high.
"The rice industry is only in a good condition if the whole supply chain is doing well," said Yazar Myo.
Sai Kyaw agreed.
"Farmers won't make a profit if paddy prices are low, particularly when their input costs are high. But exporters face problems when paddy prices and shipping costs are high because they have to compete with other countries. Either way, it isn't a good situation."