An amateur stargazer is devoting his life, his business and a Facebook page to encouraging greater interest in the science of astronomy.
By ZON PANN PWINT | FRONTIER
DR Thant Htoo Aung has been fascinated by astronomy since he was a teenager.
Astronomy, defined as the scientific study of celestial objects, space and the universe, is an uncommon hobby in Myanmar and it was challenging for Thant Htoo Aung to satisfy his interest when he was young.
There was nowhere in Yangon to buy a telescope and astronomy was not offered as a subject at university.
But there was the British Council library, where Thant Htoo Aung acquired knowledge about astronomy from Horrible Science magazine and other publications.
For the past three years, he has been posting articles on his Facebook page about unusual astronomical phenomena, such as supermoons. They occur when a full or new moon coincides with its closest orbital approach to Earth, an event known as perigee-syzygy. Stargazers in Asia were thrilled by a supermoon on November 14, an event that will not be repeated until November 25, 2034.
In 2015, Thant Htoo Aung, 33, turned his hobby into a business and founded The Space and Universe Company. It stocks telescopes for sale to amateur astronomers and supplies science and mathematics teaching materials for students at state and private schools.
"I have always been interested in education, science and astronauts since I was in the ninth grade," Thant Htoo Aung told Frontier in the garage beside his house in Yangon's Mayangone Township that serves as his company's office. Articles about the universe that he read in Horrible Science and Newsweek magazines in the British Council library inspired him to study astronomy, as well as human anatomy.
"I used to imagine the appearances of constellations from the books I read when I didn't have a telescope; I used to watch stars like Sirius that I could see with the naked eye," he said.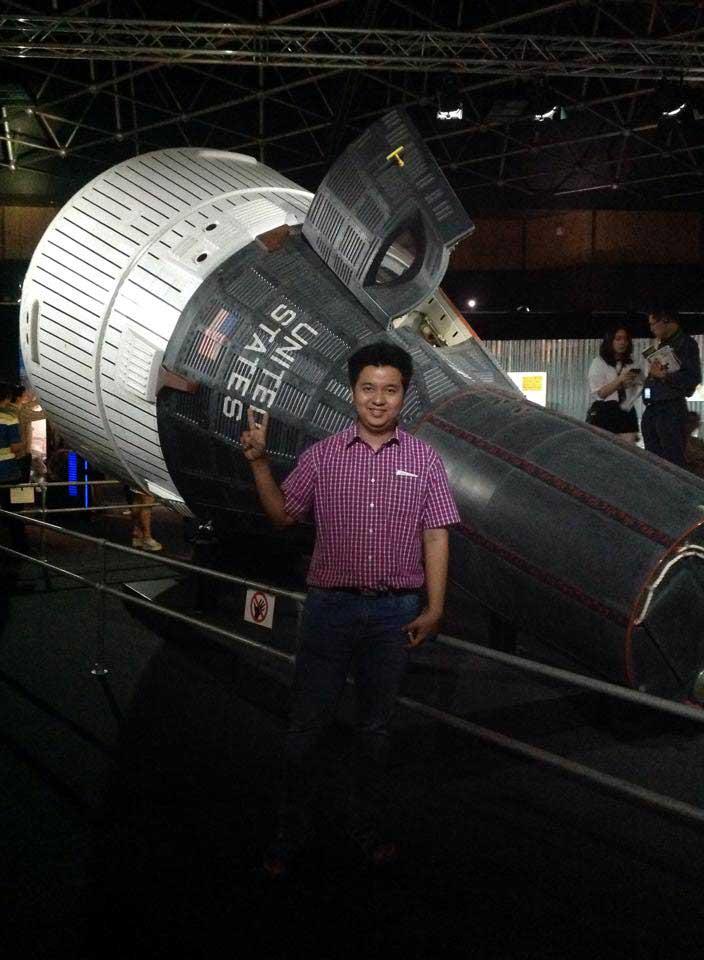 His interest in astronomy was unlimited and he was always learning, from books and the internet.
There are a few books on astronomy by Myanmar authors and Thant Htoo Aung's favourites include Swe Pandorama's A Tine Ma Thi Setkyarwalar (Infinite Universe) and Min Thu Wun's Moe Paw Ka Kyal Ta Lone (A Star in the Sky).
A passion for science motivated Thant Htoo Aung to become a doctor and he graduated from the University of Medicine-1 in Yangon in 2008. He undertook post-graduate studies in Thailand, obtaining a Master's degree in Public Health from Mahidol University in 2013, the year he bought a telescope in Bangkok to observe remote stars.
Myanmar has produced some outstanding professional and amateur astronomers but they are scattered throughout the world, he said.
Among them is Dr Padetha Tin, a physicist who is a project scientist in the United States at the National Aeronautics and Space Administration's Glenn Research Center, at Cleveland, Ohio.
Thant Htoo Aung said those who deserve greater recognition in Myanmar for their achievements include Ko Myo Hlaing, who lives in Wundwin Township, Mandalay Region, and is also passionate about astronomy.
"He has good pictures of celestial bodies and events," Thant Htoo Aung said, adding that Myo Hlaing had made findings about astronomy that deserved international recognition.
"His findings are unable to reach other countries because there is no strong body in Myanmar to promote such talent," he said.
Thant Htoo Aung said Myanmar is ideal for stargazing, especially the middle part of the country. He'd like to see an observatory established on Mt Popa, an extinct volcano that rises 1,518 metres (4,980 feet) above a plain about 48 kilometres (30 miles) southeast of Bagan.
"We need an observatory on the mountain to study [astronomy] in great depth," he said.
When he began writing articles in 2013 for a Facebook page he called Satkarwatar Hnint Arkartha (Space and the Universe) he addressed theories circulating at the time about the Theravada Buddhist concept of heaven.
"There were rumours about finding Tarwatainthar (Heaven) in the sky, as well as humans living on Mars; I wrote articles to clarify the rumours," he said.
The Facebook page has 520,000 followers. His posts never give a complete picture of the topic he addresses because he wants to stimulate responses. Sometimes they come from followers and the posts become a platform for discussing the chosen topic.
"I read all the comments and I am very encouraged by the knowledge followers are acquiring about astronomy," Thant Htoo Aung said.
"Some questions are quite professional and some reflect a lack of basic knowledge about astronomy, for example questions about the position of the earth in relation to the sun," he said.
The posts cover a broad selection of topics about anything to do with astronomy. If an unusual event is imminent, such as an eclipse or an Ursid meteor shower, he will publicise it two days in advance. Other posts have ranged from a history of NASA's Apollo program to land men on the moon, a feat achieved in 1969, to the late Mr Clyde Tombaugh, an American scientist who discovered Pluto in 1930.
There are some topics that Thant Htoo Aung will not discuss.
"I don't write about things that I don't believe and I can't see," he said, citing as examples unidentified flying objects (UFOs) and extraterrestials, hypothetical beings from outer space.
"If I am asked about them, I don't answer," he said.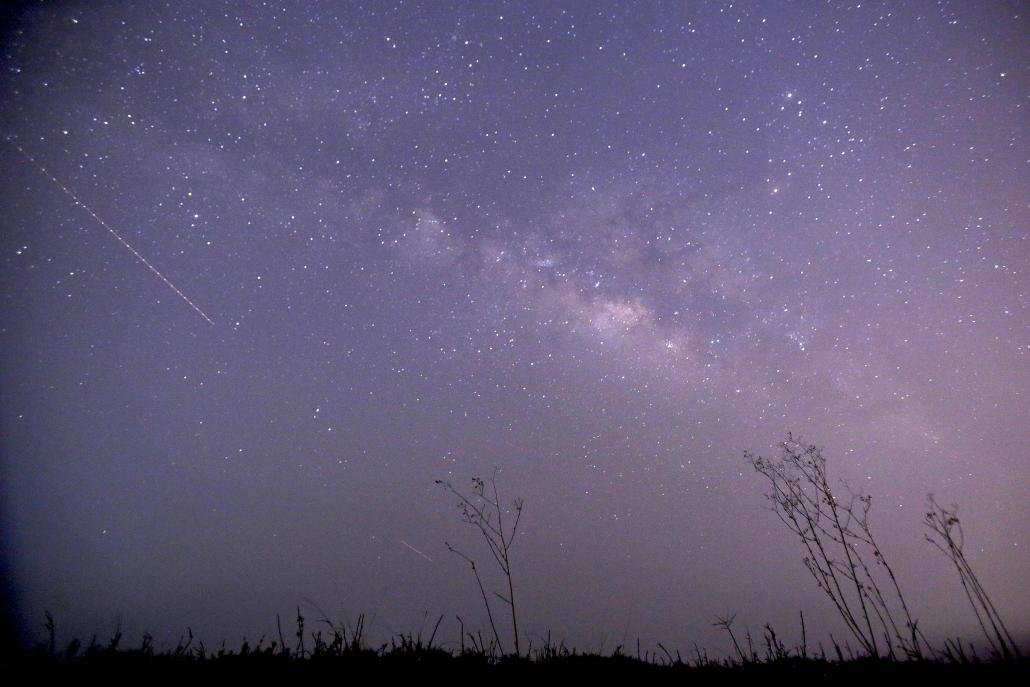 As well as contributing to scientific knowledge through his Facebook page, Thant Htoo Aung has been striving to raise educational standards by making science and mathematical teaching materials available through his company.
"Compared with the past, the country generates fewer scientists. I want to start from the basics for future generations, from atoms and molecules to space," he said.
One of the obstacles he has encountered to supplying modern science teaching materials is a reluctance by some teachers to depart from the curriculum they have been using for years.
"There is a great scarcity of scientists in our generation," he said.
"I have been trying to accomplish these projects with the aim of raising future generations of scientists in our society."
Thant Htoo Aung is pushing for the creation of a national organisation to promote astronomy and says one of its objectives should be to help achieve international recognition for the country's astronomers.
He said it was disappointing that the absence of such an organisation meant that Myanmar astronomers were not invited to attend one of last year's most dramatic astronomical events, a total eclipse of the sun in March that was best observed in Indonesia.
"The ASEAN Society of Astronomy wanted to invite Myanmar astronomers to observe it in Indonesia, but they did not know to whom to send invitations because we don't have such an organisation as an astronomers' society," Thant Htoo Aung said.
"ASEAN has its own astronomy society and it's time that Myanmar had one," he said.