Two craft beer lovers have made beer history by opening the country's first microbrewery, breaking into an industry dominated by the military, foreign corporations and a single, wealthy family. 
By LUKE CORBIN | FRONTIER
A SLOW ripple of anticipation began brewing on social media recently. Rumours and speculation frothed among craft beer fans that a microbrewery was being built somewhere out of the city centre, in an industrial zone by a river. Best of all, it was said to be fully licensed and almost operational.
So, in the name of good beer and good cheer, I saddled my bicycle to hunt for this mysterious establishment, hoping to the Hop Gods that the rumours were indeed true. I was not to be disappointed.
Set beside the Pazundaung Creek in the North Dagon Industrial Zone, Burbrit Brewery is Myanmar's first modern microbrewery and the only brewery here selling real craft beer. The first keg was tapped in late December and the brewery opened its doors to customers on January 20, offering two ales – an India pale ale and a traditional German wheat beer – and a Czech-style pilsner. An English bitter and Irish red ale are also in the works.
I met U Htin Lin and Ko Maung Zaw, the co-founders, at the brewpub's expansive seating area overlooking the creek's silty waters. When I remarked on the size of the space, Htin Lin, who has a background in medical diagnosis, outlined their ambitious plan to introduce craft beer to the country.
"If we can see 3 per cent of the beer market going to craft beer in the next five or so years, we will feel like we have accomplished something," said Htin Lin.
For now though they are starting small and focusing on freshness – that means draught beer only. They have three 500-litre fermenters, which they expect should be able to keep up with demand from distribution at around six Yangon venues.
This includes their own brewpub in North Dagon, where they have seating capacity in the taproom and courtyard for 60 people, and space along the sprawling riverside to accommodate another 200 to 300.
The view is serene and commanding; you would never know you were sitting in the thick of an "industrial zone". Arriving at the brewery, you pass carpenters working by hand on furniture and boats – there's not a smokestack in sight.
It wasn't their first choice of location, though, having previously looked at a high-end residential area in North Dagon and the South Okkalapa Industrial Zone.
To take up a rental lease for brewing purposes, the pair had to get approval from local government officials and representatives from the neighbourhood. Misperceptions about the nature of the business meant they refused to give Burbrit the green light, Htin Lin said.
"Unfortunately they did not understand that a microbrewery is very small – they thought we would be installing something like the Heineken or Carlsberg brewery," he said. "They also didn't understand how organic brewing is – the only chemical we use for cleaning is even milder than soap."
It turned out to be a blessing in disguise. When they found their current location, a former fish processing plant, they discovered it already had a cool room, which made it perfect for brewing in Myanmar's hot temperatures. They got local artists to decorate the plant and play on the industrial vibe.
Htin Lin said they were also better prepared for the meeting with authorities and residents the second time around.
"We showed videos of brewing and did a presentation [and] Q&A [session] for three hours. The best thing was having the same government officials come back this week and try craft beer for the first time – they loved it!"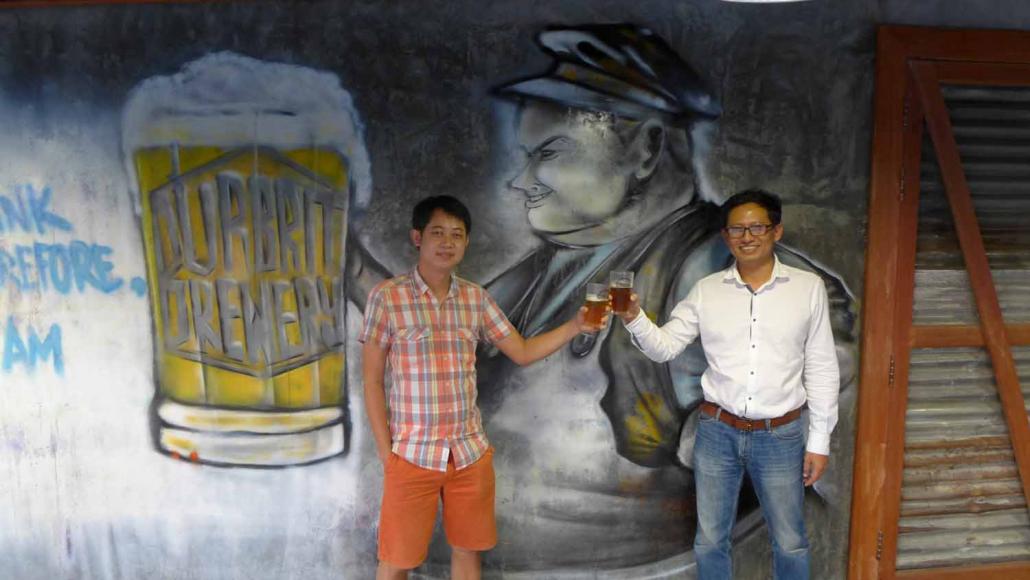 Finding suitable premises was one of several challenges Htin Lin and Maung Zaw have faced in establishing the country's first microbrewery. Their passion for beer meant they never considered giving up.
"We both discovered craft beer when we started travelling outside of Myanmar," said Maung Zaw. He got hooked more than 15 years ago, after trying an IPA in Singapore.
"It was love at first sip for me also," added Htin Lin. "The flavour was so strong and unique. Since then I started thinking more about my retirement project – a beer project!"
Htin Lin and Maung Zaw – firm friends who have also opened a restaurant, Peppercorn in Hlaing Township – actually started work on Burbrit four years ago.
The biggest hurdle was obtaining a brewing licence in Myanmar's notoriously closed beer industry. The beer market is dominated by foreign corporations and military-owned enterprises. The only local, private investment is limited to a single wealthy family: U Thein Tun of Myanmar Gold Star, who has partnered with Carlsberg, and his son-in-law, U Aung Moe Kyaw of International Beverages Trading Company (manufacturer of Grand Royal whisky), who works with Heineken.
It took Htin Lin and Maung Zaw three years to get their licence. At first they were knocked back, like so many others, with "the main reason" for the decision essentially because it was government policy "not to issue new brewing licenses".  However, other communications surrounding the rejection encouraged them to reapply.
After conducting further research and making considerable amendments to their application, they tried again. (They declined to say what changes they made to the application or the size of the proposed investment.)
Just like securing community permission for the brewery location, the pair was more successful the second time that they applied to the Ministry of Home Affairs. In May 2016, shortly after the National League for Democracy-backed government took office, they received the first B1 brewing licence awarded to a non-corporate, non-industrial brewer in modern Myanmar – making beer history in the process.
The arrival of Burbrit comes at an exciting time for the golden beverage in Myanmar. Beer consumption has doubled per capita in the past three years, with further growth predicted as more consumers move to the cities and enter the wage workforce.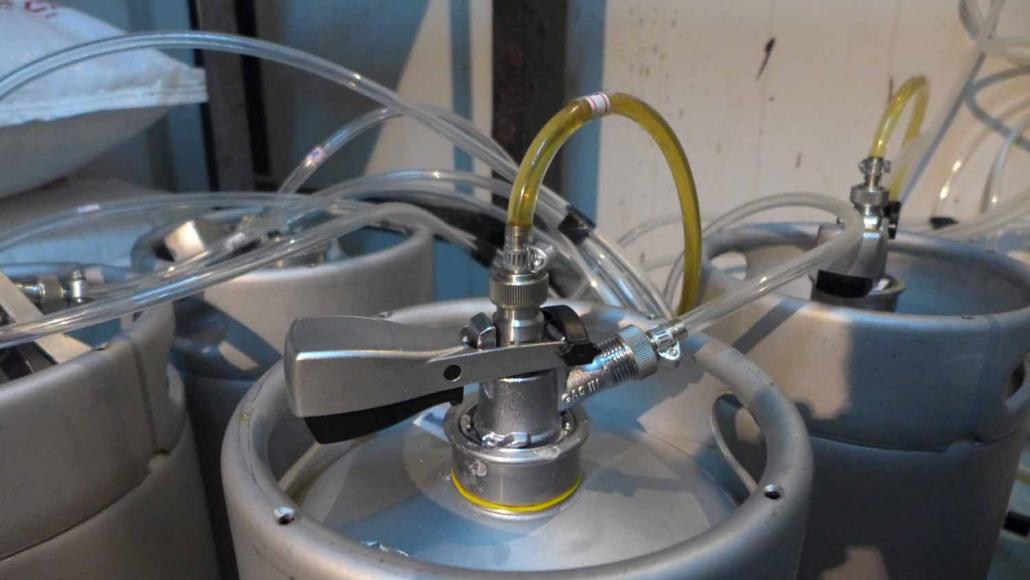 This growth is mirroring the story in other countries around the region, where beer consumption has increased in line with economic growth and rising wages. Vietnam is perhaps the best example of a newly dominant beer drinking culture, with the country now the third largest beer market in Asia, after China and Japan.
However, in Vietnam and the rest of mainland Southeast Asia craft beer production did not begin until industrial beer was much more firmly established as the popular drink.
This is what makes Burbrit such an ambitious venture.
"We are honoured to be the first craft beer makers at this very early stage," said Htin Lin. "There is a lot of responsibility on our shoulders and our main priority is to not give beer, and especially craft beer, a bad name."
Fostering a sense of community among beer fans is also important to Htin Lin and Maung Zaw and they plan to host brewing demonstrations, beer club meetings and open days in the future.
Several well-known venues in Yangon have already expressed interest in carrying kegs of Burbrit's craft beer, and distribution downtown and elsewhere will begin soon. Until then punters can try Burbrit's beers exclusively at the brewery taproom, which also features a Burmese-Chinese fusion food menu designed by Maung Zaw.
"I have an engineering background, I love to cook and I love beer," he said. "So this is the perfect job for me."
The Burbrit Brewery is at No D16, North Dagon Industrial Zone, Ward 34 Extension, North Dagon Township. The nearest landmark, just a few hundred metres away, is well-known bakery Bo Bo Min on U Wisara Road, which most taxi drivers will know. From U Wisara Road, signage points you toward the brewery.