Drivers are long used to being ripped off by government and private fuel stations, but recent changes to investment rules could soon shake up the market.
By HTUN KHAING | FRONTIER
A LINE of around 20 cars, mostly taxis, snakes south along the upper block of Theinbyu Road, in Mingalar Taung Nyunt Township. The drivers are waiting to fill their vehicles at the Max Energy station, yet just a few hundred metres away is a rival operator. The price is virtually the same, but there's no queue.
That's because, according to drivers, the quality and quantity are very different. Max Energy is thought to be the pick of the bunch in Yangon, while outside Yangon Denko is the most popular among drivers.
"Even if you're not an expert, you can see the difference in the quantity," said Ko Win Lwin Oo, a taxi driver of five years' experience who was waiting in line recently. "If you buy the same amount from different stations, you'll soon notice which one is better."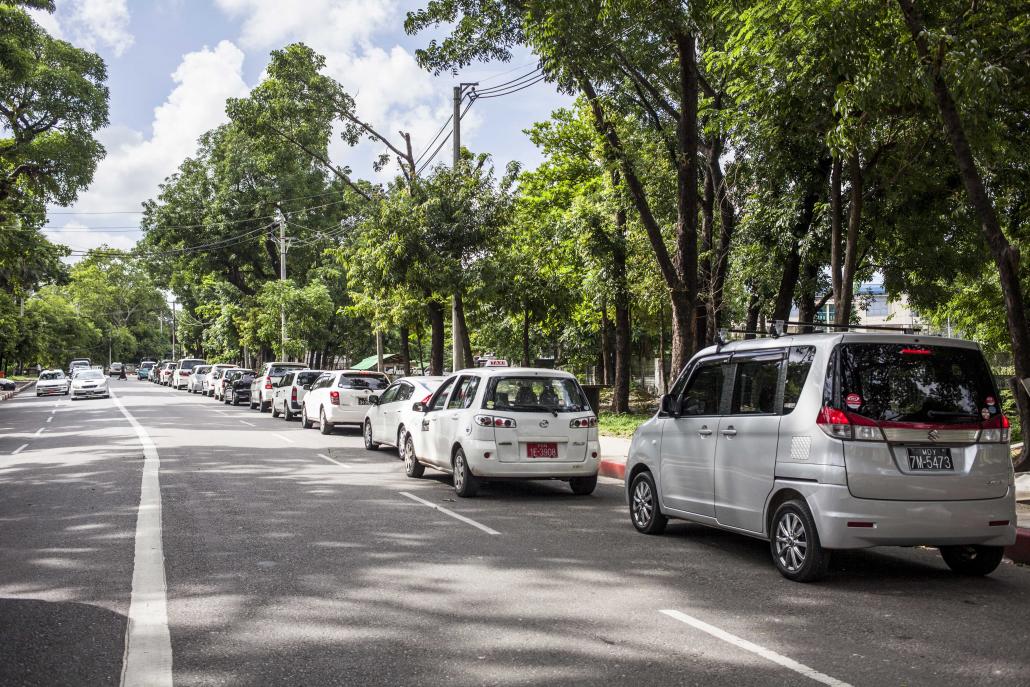 Win Lwin Oo believes that in Myanmar, the fuel quality at most stations is uniformly bad. He contrasts the state of the market with Malaysia, where he used to worked as a mechanic.
"In Malaysia, drivers never worry about those problems [fuel quality and quantity]. It's not their job, it's the job of the retailer and government."
But the long fuel lines at the few private stations with a good reputation could soon be a thing of the past.
In April, the Myanmar Investment Commission lifted a requirement that foreign investors in the sector partner with the Ministry of Energy and Electricity. Under notification 15, issued on April 10, it instead required only that they receive approval from the ministry for their investment.
Already Singapore-based Puma Energy, through its subsidiary, Puma Energy Asia Sun, has received approval to import, distribute and sell petroleum products, breaking the local stranglehold on the sector.
A decades-old problem
The issue of petrol stations shortchanging consumers has been around for decades, and is a legacy of the financial mismanagement of the socialist and junta eras.
Until 2010, fuel retailing was a state monopoly. Vehicle owners were given a daily fuel ration. For many, this was an important source of income; buy at the official price, sell on to the black market for double or triple the price.
But often they didn't receive their full quota. Staff at the stations siphoned a small amount off the top of every sale, making it one of the more lucrative civil servant positions. Even lowly workers could earn millions of kyat a month, and when the ministry announced vacancies there were often long lines of applicants.
However, this corruption was largely brought to an end in 2010, when the government privatized 216 state-owned fuel stations. The tender lacked transparency and most stations were sold to crony companies in cut-price deals.
The major beneficiaries included the Union Solidarity and Development Association – which would soon become the Union Solidarity and Development Party – the military-run Union of Myanmar Economic Holdings Limited, U Tay Za's Htoo Group, U Kyaw Win's Shwe Than Lwin Company, U Htay Myint's Yuzana Company, U Zaw Zaw's Max Myanmar and U Chit Khine's Eden Group.
The sector has grown rapidly over the past seven years. As of September 2015 there were more than 1,000 licensed stations, according to government figures. In March, Minister for Electricity and Energy U Pe Zin Tun was quoted in state media as saying that during the first year of the National League for Democracy government it received 256 applications from companies seeking to operate fuel stations.
Consumption has grown at a similarly rapid pace. According to government figures, consumption of petrol increased 160 percent – from 155 million gallons to 403 million gallons –between 2010-11 and 2015-16. Over the same period, diesel consumption rose from 465 million to nearly 808 million, an increase of 74 percent.
Same old complaints
But the arrival of private fuel stations has not fixed all of the problems for consumers. They are still regularly accused of cheating customers by selling sub-standard fuel or not giving the proper quantity.
Occasionally action is taken. Between September 2012 and April 2013, the government surveyed 131 stations in Yangon and Bago regions and found that 58 stations, or 44 percent, were not giving consumers the correct amount of fuel.
When they checked a second time, the government team found four stations were still cheating their customers.
A first offence results in a month-long closure, while those caught a second time are shut down for three months.
Ko Kyaw, owner of vehicle repair centre KKK in South Okkalapa Township, said that car owners were also increasingly paying attention to fuel quality.
Prior to President U Thein Sein's partial liberalisation of the car market in late 2011, most cars on the road were at least 10 years old. Many were much older and in poor condition, so the effect of poor quality fuel on performance was less noticeable.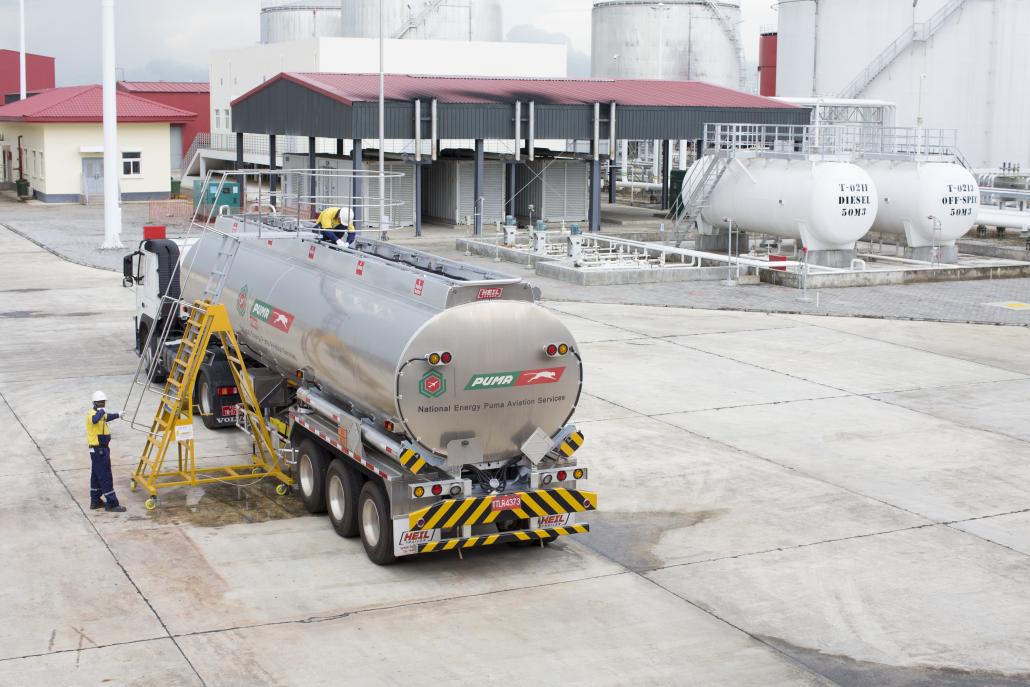 Ko Kyaw said that when owners bring in cars that are not performing well, it's common to find water in the fuel tank. This is normally the result of adulterated – in this case, watered-down – fuel, and can be highly damaging for the engine if not remedied.
"When you get poor quality fuel, the vehicle performance really suffers. Fuel consumption increases and parts have to be changed more regularly," Ko Kyaw said.
It appears that the government has run out of patience with the local companies running the fuel business, too.
Prior to issuing notification 15, the government had been indicating for some time that it planned to open up the sector. In one speech, Minister for Planning and Finance U Kyaw Win justified the decision by saying that the lack of genuine competition was resulting in relatively high prices.
"Energy stations [in Myanmar] never decrease the price; they increase the price even the world oil price is decreasing," he said at a meeting on March 18 between the MIC and foreign investors in Yangon. "They give many reasons for the increasing price. When competition arrives, people will get a suitable price, as well as improved quality and service."
Opening the door
The speed with which the government is moving has taken many by surprise. In a note to clients on April 24, legal advisory firm VDB Loi said that it did "not seem logical for the previously heavily regulated petroleum sector to be thrown open entirely overnight, and to go from years of a [joint venture] requirement with the government itself, straight to allowing 100 percent foreign ownership".
But in May, the Myanmar Investment Commission approved an application from Puma Energy Asia Sun, which is 80 percent held by Puma Energy, to expand its existing investment permit from fuel storage to also include import, distribution and retail.
Country manager Mr David Holden said this would enable Puma to ensure quality across the entire supply chain, from when the fuel arrives at its jetty in Thilawa to when it is sold to a customer at a Puma-branded fuel station.
This would be a big change from the existing supply chain, which Holden described as "complex".
"At the moment there are a lot of people in the chain. The question always is: Are you getting international price movements transparently reflected in pump pricing? The honest answer is, the more competition you have the more chance you have of that being a reality," he said.
"I think that there's always a focus on price but actually the bigger focus should be on the quality and quantity and the facility that you're buying your fuel at itself."
Mr Jeremy Mullins, research director at Myanmar Energy Monitor, said he believed that consumer frustration had been "one of the biggest factors" in the government's decision to liberalise the market.
"Consumers are frustrated with taking a gamble every time they fill up their car. It's not an accident that there are often long lines of cars waiting outside stations with the best reputations, for example Max Energy on Thein Byu Road," he said.
With the sector now seemingly open to investment, he said there was likely to be strong interest from other foreign energy firms.
"A number of heavyweights are definitely here looking for opportunities. I expect a few to make investments over the next year or so," he said.
"Local companies are also attempting to find foreign or local partners, in an effort to grow larger and compete."
'We need protection'
While fuel stations often bear the brunt of consumers' frustrations, industry sources say there are issues right through the supply chain, from the importers to the distributors to the retailers.
Even if retailers sell the correct amount to consumers, the fuel that stations receive from distributors has often been adulterated and so is of poor quality. Retailers themselves are often being short-sold by distributors. These problems are compounded by poor infrastructure, including storage tanks and tankers.
The Myanmar Petroleum Trade Association, an industry body that unofficially sets prices and has been accused of controlling imports, particularly of petrol, is often the target of public criticism, with some describing it as a "cartel".
Unsurprisingly, it's an allegation that association secretary Dr Win Myint is quick to reject.
"Some people say that a group of people are monopolising this business, but the truth is that it can be done by anyone," said Win Myint, whose company, Myat Myittar Mon, is a major petrol importer and distributor, and runs fuel stations under the MMTM brand.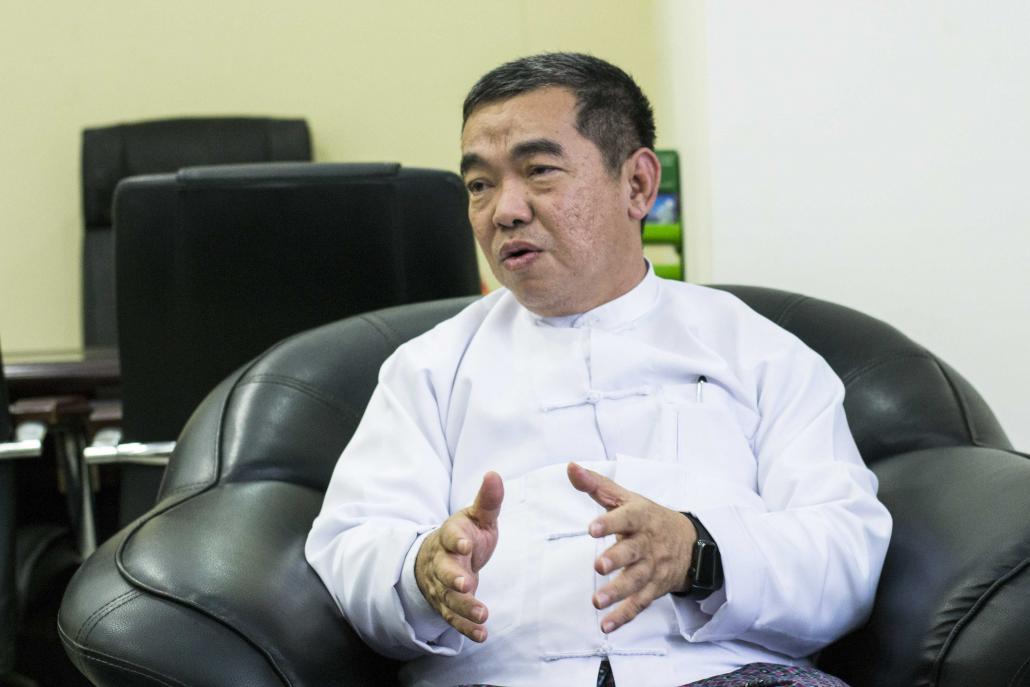 He said fuel traders wanted the government to protect local businesses from investors, and warned that opening up the market could put at risk up to 67,000 jobs.
He acknowledged that some traders were damaging the reputation of the industry by selling poor quality fuel but said the association was working with the government to take action against them. More competition was not the answer, he added.
"The lack of progress is not because of a lack of competition – it's because of a lack of technology and knowledge. And these are issues that can be rectified," he said.
To support his call for protection, Win Myint – a Pyithu Hluttaw lawmaker for the Union Solidarity and Development Party from 2011-16 – cited the example of Thailand banning chicken imports in an effort to support domestic producers.
"This means that domestic businesses can operate and local people will be employed, even though it is cheaper to import chicken from abroad," he said.
He also railed against the government's decision to allow foreign mobile operators into the country, a move that has brought affordable and reliable phone connections to almost every corner of the country and seen billions invested in infrastructure. The result though is that "hundred of millions of dollars is flowing out of the country", he said. "If Myanmar businessmen had been granted permission instead of [foreign companies], it would stop the outflow of money," he said.
Mullins said there was "not much of a case" for sticking with the status quo.
"These kind of changes always create some losers, in this case some local companies, but other local companies will use this as an opportunity grow and improve.
"I expect that the end result of allowing in foreign firms is that we will have fewer companies in the market, but the survivors will be bigger, and will be offering fuel that's better quality and fairly priced."
Given the current frustrations with fuel retailers, the protection argument seems unlikely to find support among consumers, either.
In May, the Consumer Protection Association issued a statement objecting to what it said were artificially inflated prices for fuel. It said that the high prices were a violation of consumer rights and welcomed the decision to allow foreign investment.
Ko Tayoke Lay, a businessman who runs a bus line in Yangon, said consumers lacked confidence in many local fuel stations. "When I'm out of gas, I only go to a station that I trust," he said. "We should just be focusing on consumers needs. Whether local or foreign owned, that's the most important thing. Who would want to use an expensive, poor quality fuel station just because it's locally owned?"
This article originally appeared in Frontier's special report on Myanmar's energy sector. TOP PHOTO: Theint Mon Soe aka J | Frontier