There's only one road to the capital of the remote Naga Self-Administered Zone, where transport costs impose a heavy burden on residents of one of the country's poorest and least-developed areas.
By NAN TIN HTWE | FRONTIER
A DESPAIRING Ko Thant Zin Oo, 33, watched as the faded yellow bulldozer slowly pushed more of the dirt piled on the road into the fast-flowing stream. The work seemed never-ending because a bigger bulldozer higher on the slope kept adding to the pile.
The bulldozers were upgrading a section of road about 15 kilometres into the hills from Sinte, a small village across the Chindwin River from Khamti, in far northern Sagaing Region. The road is a lifeline for remote Lahe, the capital of the Naga Self-Administered Zone, and nearby townships. But it's often blocked for maintenance or by landslides – that is, when it isn't closed for the rainy season.
"If the road isn't blocked, it's better for us," said Thant Zin Oo as he waited for the road to be cleared one morning in late September. Originally from Mandalay, he drives a Toyota four-wheel-drive pick-up transporting passengers and goods between Sinte and Lahe, a rugged journey through jungle-clad mountains.
Waiting with Thant Zin Oo were dozens of other four-wheel-drives and motorcycles, with drivers mostly in their late teens and early 20s. Almost all were carrying goods to Lahe. As the sun climbed and it became increasingly hot, the drivers became more disappointed.
"I should be in Lahe by now," sighed a motorcycle driver in his early 20s.
Thant Zin Oo and the other drivers waited nearly three hours, until noon, before they could resume their journey. They provide an essential service. The Naga Self-Administered Zone, which borders India, relies on the road for all of its supplies of food, household goods and building supplies.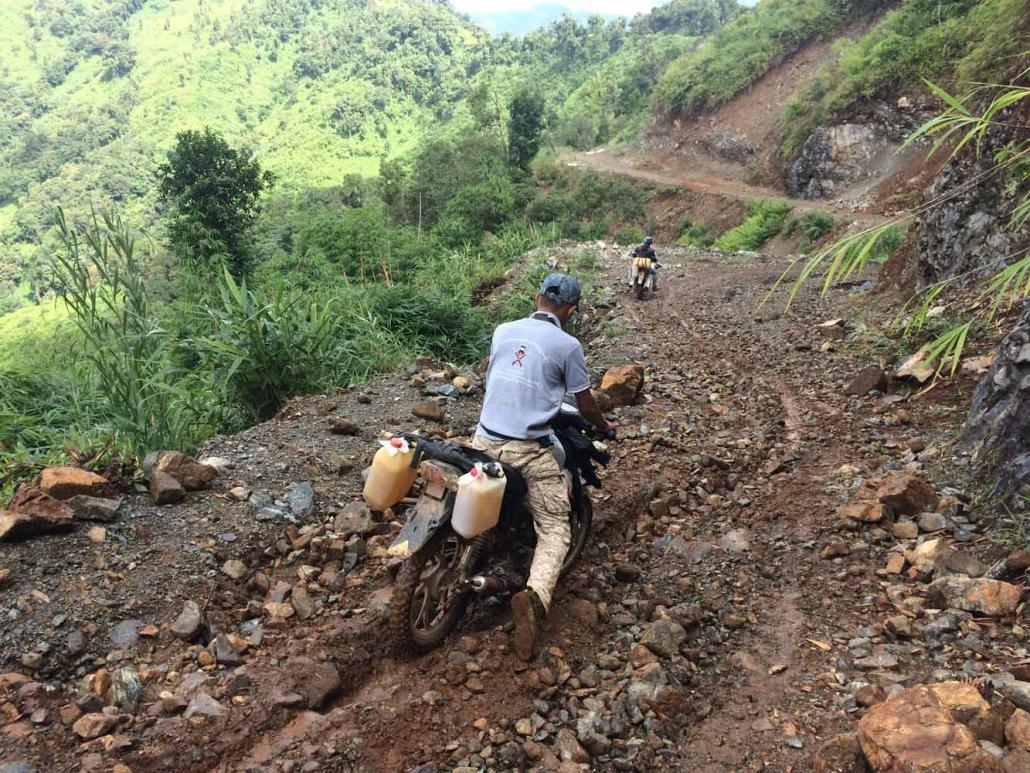 In previous years the road from Sinte to Lahe was closed to traffic during the rainy season, usually from June to September. This year it opened to traffic in September, but because of lingering wet weather was easier for the motorcycles, known locally as "carries", to negotiate. They do most of the carrying on the road. The roads are hard going for the four-wheel-drive pick-ups, which mainly operate in the dry season.
The cost of transport to the Naga SAZ makes consumer goods in the area much more expensive than elsewhere in Sagaing Region, and perhaps the priciest anywhere in Myanmar. The goods delivered to Lahe must first be transported to Khamti, which is about 650km by road from Mandalay.
"It's difficult for us; a sack of cement costs less than K5,000 in Monywa and here it's K20,000," said U Thein Zaw, director of the Naga SAZ administrative office in Lahe.
He said the high transport costs affect state construction projects, such as schools, hospitals and roads, in the SAZ, which comprises the townships of Lahe, Leshi and Nanyun, and has a total population of nearly 64,000.
"All the goods come from Khamti; there's nothing we can get here," said Thein Zaw. Behind him on the wall was a golden-framed image of President U Htin Kyaw, the country's first civilian head-of-state in decades, resplendent in a gold-coloured gaungbaung and golden sash.
The trip from bustling Yangon to Lahe, at the head of a vast valley where mist hangs low in the mornings, takes about a day if it involves air travel. It includes two flights, from Yangon to Khamti via Mandalay, a 10-minute boat ferry across the Chindwin and three-hours on the back of a motorcycle.
In the early evening, a dim light bulb illuminates rice, green tea, flashlights, clothes and other products on sale in Daw Pwar Sein's shop in Lahe. In years past, the 57-year-old had to walk to Sinte village and back when her shop needed re-stocking. The trip would take four days and three nights.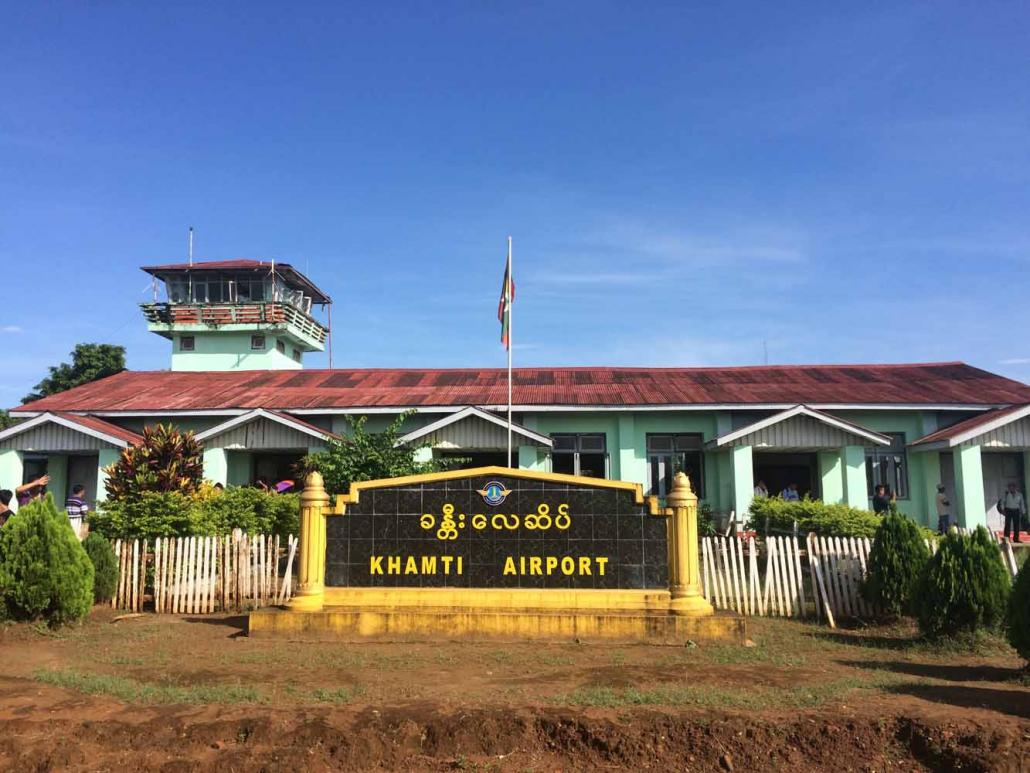 She would hire porters in Sinte to carry her goods in baskets and walk with them, sleeping at night at the army camps along the way. There were no "carries" then, much less four-wheel drive pick-ups.
"It was very tiring," recalled Pwar Sein, an ethnic Shan originally from Homalin, a town on the Chindwin about 150km downstream from Khamti. She opened the shop in Lahe because there was no competition, she said; the success of her business meant she never left.
Transport costs are an onerous burden for traders and consumers in the SAZ, despite the availability of motorcycles and pick-ups to ferry goods from Sinte.
"In the dry season the cost of transporting a tin of cooking oil [20 litres] from Sinte is K2,000, but when it's raining like this, it's K3,000," Pwar Sein told Frontier in late September.
High transport costs are hurting her business. "Profit is low in the rainy season; when we sell, we can't raise the price. There are shortages then, too," she said.
A United Nations Development Programme report published in February 2015, "The State of Local Governance: Trends in Sagaing", highlighted Lahe's lack of development compared to less remote areas of Sagaing Region. The report surveyed residents of Lahe, Kalewa, Kantbalu and Monywa in 2014, and found that while 40 to 42 percent of residents of the three other townships believed their income had increased over the past three years, just 18 percent in Lahe agreed.
The town of Lahe is far less remote than most areas of the Naga SAZ, though. The UNDP report said that parts of the three townships in the SAZ were among "the poorest, most isolated and least developed in Myanmar".
The zone's remote location has healthcare implications during emergency situations. A measles epidemic that began in June claimed more than 80 lives before it was brought under control by early August. Communications difficulties delayed news of the outbreak reaching Lahe and transport problems hampered the medical response.
"When something happens, it is not easy to send people to hospital. In some situations, we couldn't hospitalise people who needed hospital care," said U Thant Zin Oo, an assistant health officer in Lahe. He was one of the first health officials to reach Htan Thaw Lama village after the epidemic claimed an early victim in June.
The village is about 80km from Lahe and reaching it involves an overnight motorbike trip or a walk that takes three days. By early August the epidemic had claimed 26 lives in Htan Thaw Lama, of whom 18 were children aged under five.
High on a mountain three-and-a-half hours by motorbike from Lahe is Khan Ma Lar village, where the view of the surrounding valleys is obscured in the mornings by thick cloud. Ma May Thu Zaw and another nurse in their 20s staff a clinic in the village.
Originally from Mogok in Mandalay Region, May Thu Zar answered a call from the Ministry of Health and Sports for volunteers to work in the SAZ in early September. On September 15 she arrived in Lan Tine Nauk Kon village, a gruelling seven hours by motorbike from Lahe. From her post at Lan Tine Nauk Kon, she also provides healthcare to residents of Khan Ma Lar.
"Sometimes we walked, sometimes I had to help push the motorbike though mud," May Thu Zaw said. "I was bitten by leeches when we had to walk through the jungle and I cried. It's all because the roads are so bad. If the roads were better, it would be better for everyone."
The only government high school in Lahe has more than 1,300 students in a township with a population of more than 43,000. Its headmaster, U Khin Maung Oo, previously worked in Hakha, the capital of Chin State, one of the poorest states in Myanmar. He laments the poor transport connections to Lahe. "In Hakha, it is better," Khin Maung Oo said.
Thein Zaw agrees. "Better transport is essential to help the Naga SAZ develop."