For Myanmar medical professionals, it's not just about money – better facilities and a more professional workplace culture are among the main reasons why so many decide to work abroad.
By MAY THANDAR WIN | FRONTIER
DAW SAN San has been tormented by "what if" questions since her brother died last year at one of Yangon's biggest public hospitals.
Ko Than Zaw Moe, 41, waited at the hospital in great pain for one-and-a-half days before he was correctly diagnosed. "But it was too late and he died two days later,  after prolonged suffering," San San said.
"What if my brother had not been wrongly diagnosed by a GP from the nearby clinic in the first place?" she told Frontier. "What if my brother had received the right diagnosis and treatment as soon as he was admitted to hospital? There are so many 'what ifs'. I still feel sorry for my brother. His loss has caused terrible anguish to our family."
Than Zaw Moe suffered from a kidney ailment but because he regularly drank alcohol, the local GP diagnosed liver disease. When Than Zaw Moe's condition deteriorated after taking liver medicine for two days, his family took him to hospital, where medical officers recorded his condition and paid him no further attention.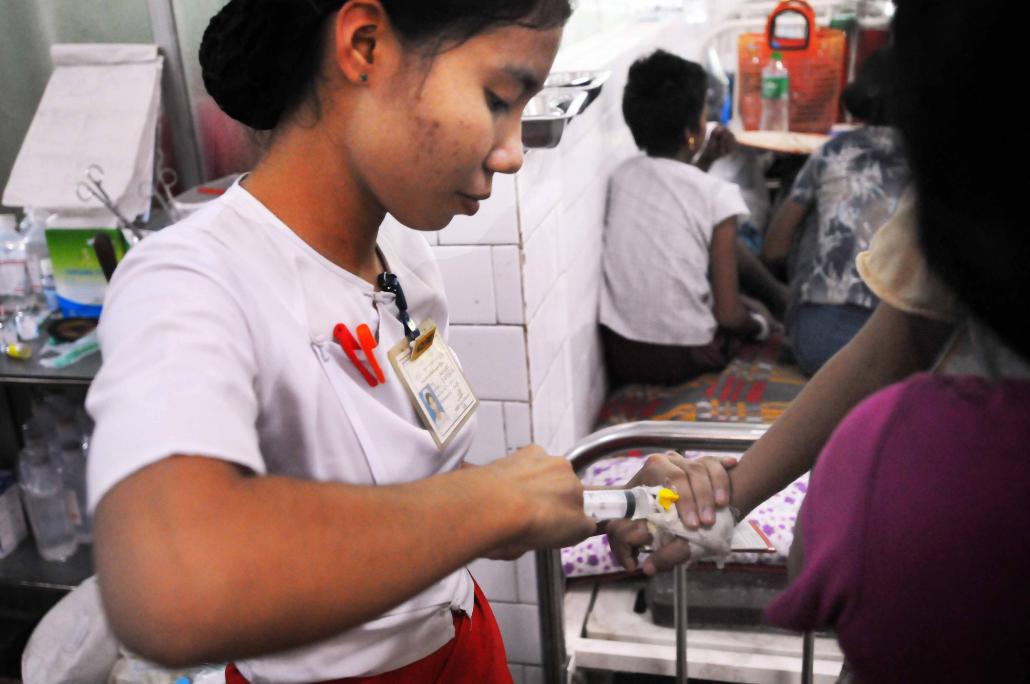 It was only the next morning that a senior doctor doing his rounds detected the misdiagnosis and Than Zaw Moe was transferred to the kidney department at noon. It was too late.
"It is very hard for us to lose someone who was only sick for seven days," said San San.
Misdiagnosed ailments, over-worked hospital staff lacking the time to properly evaluate patients, a paucity of specialists and delays in treatment are familiar complaints about Myanmar's health sector.
When the World Health Organization conducted a comprehensive survey of public health systems throughout the world in 2000, the last time such a ranking was conducted, Myanmar was ranked 190th out of 190 countries and territories. Health spending increased dramatically under the former government – from 0.19 percent of gross domestic product in 2011-12 to 1.03 percent in 2015-16, according to the Ministry of Finance – but the task of raising the standard of care is daunting.
The United Nations Population Fund says there are 1.3 healthcare workers for every 1,000 people in Myanmar. The WHO's standard for a basic level of care is 2.3 workers for every 1,000 people.
Providing a better standard of care inevitably comes down to money, but also to priorities and putting in place the policies and inducements to meet those priorities.  Qualified healthcare professionals have to want to work and remain in the country. This has as much to do with the working environment and professional culture in which they are asked to operate as how much they are paid.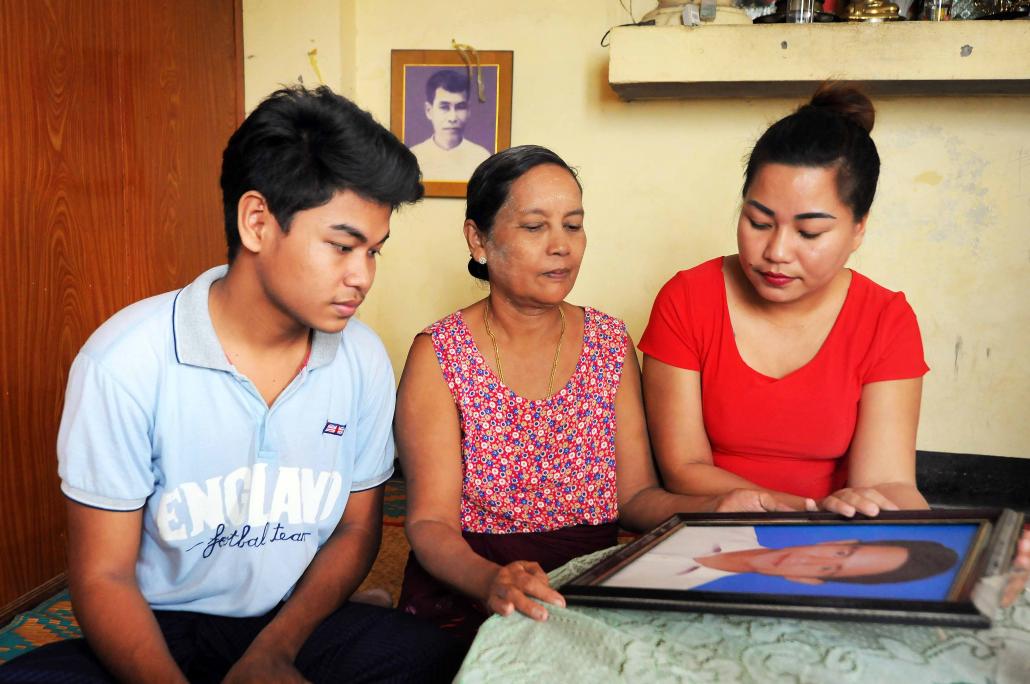 The problem is not only a failure to encourage more young people to consider a career in healthcare. The latest figures from the Ministry of Health and Sports show that 11,264 doctors and 5,878 nurses, including those awarded diplomas or degrees, qualified in 2014. The continuing shortage of qualified staff is due to a failure to retain their skills in Myanmar after they graduate as well as to inspire them to study medicine or nursing in the first place.
The reasons for Myanmar's great medical brain drain are easy to find. Ma Sanda graduated from the University of Nursing in 2002, but for the last 10 years she has been working as a nurse at a big private hospital in Singapore. Although she misses her home and family, she has no plan to return to Myanmar.
"In 2006 I earned eight times more in Singapore even as a nursing aide compared to what I could have earned in a private hospital in Myanmar," Ma Sanda told Frontier.
But the prospect of a higher salary was not the main reason she left Myanmar.
"The working environment is also part of the reason that I moved to Singapore," she said. "The senior doctors [in Myanmar] think that we are their help not only in clinical work, but also for personal errands, such as asking us to make their coffee, bring their bag, or open the car door for them. It happens in both public and private hospitals. We are not recognised as professionals in the workplace."
In Singapore, said Ma Sanda, the working culture nurtures a sense of self-esteem and personal fulfillment that she finds satisfying.
Ma Sanda's experience is typical and a reason why many Myanmar healthcare professionals have sought work abroad. The Singapore Nursing Board's annual report for 2014 said the number of Myanmar nurses working in the island republic had risen by 14 percent since 2012, to 1,104.
Dr Khine Zin Oo, a forensic psychiatrist at the Park Centre for Mental Health in Brisbane, Australia, agreed that higher salaries were not the main reason why medical professionals decided to work abroad. "Some do not come back as there is no place for them or their specialty is not popular or not developed in Myanmar yet," she said.
Khine Zin Oo, a graduate of the University of Medicine 1 in Yangon, left Myanmar nine years ago for further study in Australia and decided to work there rather than return home. "I wanted to work at a workplace where doctors' rights and patients' rights are protected," she said.
She estimates that of the 600 students in her final year at the University of Medicine 1, about 100 went to work at government hospitals, up to 200 changed careers or went into business, and the rest either worked in private hospitals, ran their own clinics or wanted a medical degree "as a trophy" but id not practice medicine.
Dr Kaung Phyo Wai, who graduated last year from the University of Medicine 1 and is planning further study in Australia, said medical professionals needed to constantly update their knowledge to stay abreast of the latest advances in medicine, diagnosis and treatment.
"At the same time, we also need to be able to support ourselves and we need to work. All three factors – work, income and learning – have to balance each other. But in Myanmar we cannot achieve that balance because of the vicious circle that has existed in the medical sector for so many decades," he told Frontier.
The vicious circle drives medical professionals to either work abroad or leave the healthcare sector. "We do not have enough healthcare workers, proper infrastructure and facilities, and there's no insurance, so we have to make do with what we've got but things get messed up, patients get frustrated, doctors get frustrated and everyone gets frustrated. And on top of all that, we do not earn that much money," Kaung Phyo Wai said.
Health insurance is in its infancy in Myanmar. A year-long trial was launched in July last year by state-owned Myanma Insurance and 11 private Myanmar companies offering identical policies. Choice and expansion are for the future. Most patients at private hospitals are still expected to pay the full cost of treatment. Even at public hospitals, patients can expect to pay some charges.
Some private hospitals have had to adjust their charges to what patients can afford and this affects how much they can pay their doctors, nurses and other medical professionals. A consultation with a specialist in Myanmar is about K7,000 (US$5.8). Specialists elsewhere in the region charge as much as $100 for a consultation.
Ko Kyaw Soe Thein, a medical student at the University of Medicine 1, said doctors would return to Myanmar if they could work in an environment that recognised and valued their skills and paid medical professionals as well as other professionals.
Kaung Phyo Wai said a junior doctor working fulltime at a private hospital could expect to earn between K400,000 to K500,000 (about $330 to $414) a month. Some can earn up to K750,000 a month tutoring medical students in their limited spare time.
Recent increases in the Ministry of Health budget have yet to make a transformative difference to the earning potential of doctors and nurses. Enticing medical professionals to return to Myanmar will also require considerable reform to workplace environments and outdated practices. The domestic private healthcare sector has a long way go before it can meet the expectations that prevail in some other Southeast Asian nations.
One potential accelerator in standards and investment may come from regional healthcare providers interested in expanding to Myanmar.
The welcome mat that was laid out for one such healthcare provider was quickly whipped away. In January 2016, a joint venture headed by Singapore-based Parkway Pantai, a subsidiary of big Malaysian healthcare provider, IHH Healthcare, broke ground at a downtown Yangon site for a $70 million, 250-bed hospital.
The Parkway Yangon Hospital project had been granted a 50-year lease, with a possibility of two 10-year extensions, over a 4.3 acre plot owned by the Health Ministry at the corner of Bogyoke Aung San and Pyay roads, near Yangon General Hospital.
A build-operate-transfer agreement approved by the previous Yangon Region government provided for the facility to become a public hospital when ownership was transferred to the Ministry of Health after the lease expired. Controversy erupted after medical professionals criticised the use of public land for a private hospital and the Pyithu Hluttaw voted in May to suspend the project.
However, the National League for Democracy government does not seem to be opposed to foreign investment in the healthcare sector.
"The Private Health Care Services Law was only enacted in 2007 and there is much that needs to be done to develop the industry," said Dr Than Win, deputy director of the ministry's Public Health Department. "However, I totally support the development of the private healthcare sector as part of the mix in finding solutions to tempt medical professionals working abroad to return to Myanmar."
His support for private investment in healthcare is widely shared. Encouraging private healthcare and other non-taxpayer-funded providers is one of the 15 points in the ministry's national health plan.
There's hope that the expansion of private healthcare providers will help to attract medical professionals to return home. Ma Sanda would certainly be interested.
"Even if was offered [a bit less than] I earn in Singapore, I would really like to return home if I had a chance to work in a proper working environment where there is international standard clinical practice and we can do our job professionally," she said.
Reversing the medical brain drain will require a significant investment in public and private healthcare. For the time being, some of the country's brightest and best medical professionals will continue to take their expertise abroad. In the land they left behind, their peers struggle under the weight of ever-mounting pressures and expectations. And patients wait for competent attention, sometimes until it is too late.
Top photo: Nurses at Yangon Children's Hospital treat a young patient. (Steve Tickner / Frontier)