Poverty, poor infrastructure and a lack of journalists: the barriers to success for a Chin-language newspaper are considerable.
By RUN BIK | FRONTIER
CHIN STATE is the poorest of Myanmar's 14 states and regions, so it's no surprise that poverty and a lack of development have inhibited the development of Chin language newspapers.
Other reasons include the number of Chin dialects, isolation and atrocious roads that are in such state of disrepair that journeys of just a few kilometres can take several hours.
The main reason for poverty in Chin is 50 years of misrule by military governments. There are few job opportunities within the state, and many Chin people are forced to move away from their hometown in search of work, either to other states and regions in Myanmar or abroad.
One lingering effect of the poverty is that most of the state's resident – those who have remained – cannot afford the K1,500 monthly subscription for a newspaper.
Another challenge is that many Chin cannot read their own language, because the teaching of ethnic languages was banned for decades under military rule.
Some Chin are able to read their mother tongue because churches have taken the initiative to teach it during the summer holidays. Christians comprise about 85 percent of the population in Chin – it's the only state or region with a Christian majority – and the classes enable them to read the Bible in their own language.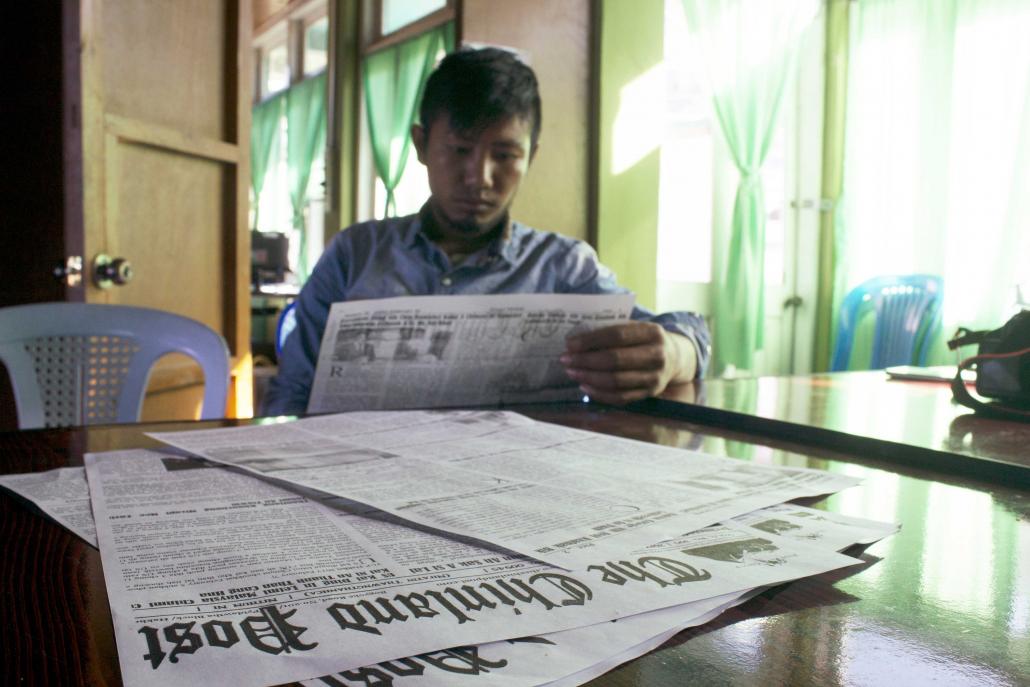 The lack of a common Chin language is also a barrier to a successful newspaper in the state. Chin's population of nearly 480,000 is divided into at least six language groups.
The Falam Chin dialect is spoken by about 110,000 people, most of whom live in the state's Falam Township and neighbouring Kalay Township in Sagaing Region.
It would be quite an achievement for a Falam Chin newspaper to achieve a circulation of 2,000 in a population of about 110,000. I once read that a newspaper in Alaska had a circulation of 60,000 in a state with a population of 600,000, or 10 copies for every 100 people. In the area where Falam Chin is spoken, the ratio would be 1.5 for every 100 potential readers.
Other big barriers to newspaper success in Chin are hilly terrain and poor roads, which create difficulties for distribution and the collection of subscriptions. In big villages there are no post offices to facilitate distribution and subscription payments. The roads can be a challenge for motorcycles, even in the dry season.
Newspapers and TV stations survive and prosper by attracting advertising, but that's difficult in Chin. Because of low circulations there are no advertisements from local people and advertisers in the nearest big towns to the state, such as Monywa and Mandalay, are not interested in Chin papers.
Newspapers provide a crucial service to a population, as they are the easiest way to get knowledge in one's mother tongue. A newspaper provides a service by delivering key information about subjects including business, education, health, science and agriculture. Providing this information to the local population would contribute to development in the state.
Despite all of these difficulties, I think it's possible to have successful Chin language newspapers, but they will struggle.
Existing newspapers in Chin include the Lairawn Post, which was founded in January and is published three times a week in Falam, and the Chinland Post, which is published three times a week in the Hakha dialect.]
At least two competent, dedicated journalists are needed to start a newspaper and they must be willing for work for little pay for years.
Foreign embassies and INGOs must be willing to provide financial support to ethnic newspapers to help them to prosper.
As the transition to democracy continues and as Myanmar slowly develops, there will come a time when we see that the Chin media is also developing and serving its audience professionally and profitably.