It's the wedding season again and services being offered by two companies are aimed at overcoming the problem of duplicated gifts and easing the expense of lavish celebrations.
By KYAW YE LYNN | FRONTIER
Photos THEINT MON SOE aka J
PEOPLE THROUGHOUT the world share a common joy in celebrating a wedding, regardless of their culture, religion or nationality. All couples want their marriage to be special, partly because it is the ritual that joins them together in the eyes of their community.
Myanmar's long wedding "season" begins at the end of the Thadingyut festival of light, which this year concluded on October 5. Thandingyut, which starts in July, marks the end of Buddhist Lent. Marrying during Lent is taboo for people of all religions in Myanmar.
The taboo is ancient and it emerged because it was more convenient to celebrate weddings and other events outside Buddhist Lent, which coincides with the rainy season when villagers need to be busy in their fields and monks are confined to their monasteries for what is known as the "rains retreat". Moving house during Buddhist Lent is also considered inauspicious.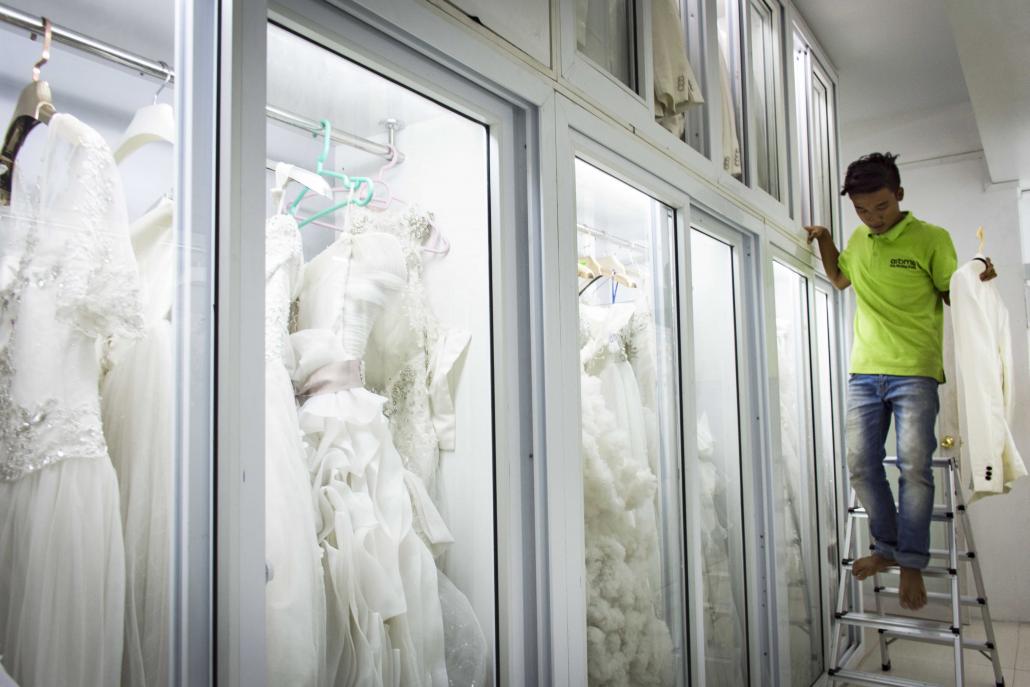 A traditional wedding can be quite simple, with the bride and groom announcing their marriage by paying homage to elders in the presence of neighbours as witnesses. Such weddings are legal and many couples marry this way, mainly in rural areas. In urban areas, couples usually register their marriage at a court.
For couples who can afford it, the marriage is also celebrated by a traditional civil wedding ceremony, which can be lavish but costly events that require much preparation.
The friends and relatives who attend big wedding ceremonies shower the happy couple with gifts – often small household appliances – to ease the cost of starting their journey through life together. It is a supportive and practical custom (see our Wedding 101).  
Giving a gift of cash remains uncommon in Myanmar, which can make choosing a wedding present a challenge. Most guests make a guess about the things the couple might need in their wedded life and such a guess can result in the accumulation of the same item.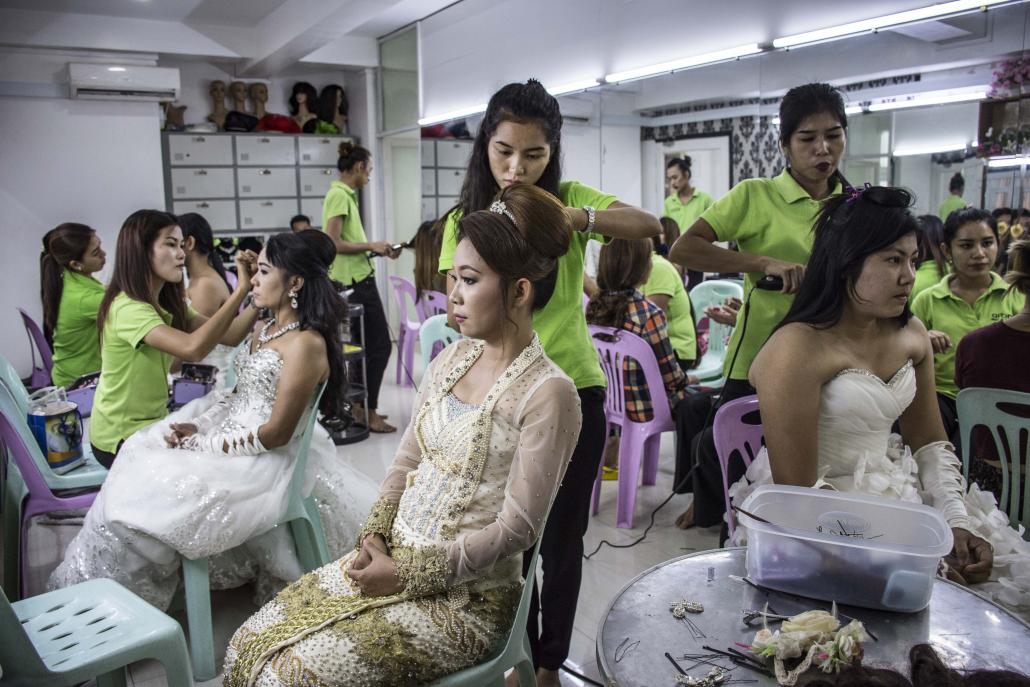 When Ma Khine Phyo wed in early 2014, she and her husband received dozens of appliances.
"We got 17 rice cookers and 11 irons. It's ridiculous; how can we use them?" she told Frontier on October 3. "We were unable to stop laughing at what we got on the honeymoon night," said Khine Phyo, adding that some gifts were still in their boxes.
Khine Phyo, a senior staff member at a Yangon construction company and mother of an 11-month-old daughter, said she and her husband had initially considered selling their surplus gifts, but changed their minds. 
"We decided to keep them and give them as gifts at friends' weddings; we don't need to buy gifts," she said, laughing.
A service launched in August by Mingalar Let Phwet Co is aimed at ensuring that no gifts at wedding celebrations are the same.
"I went to so many weddings of my Burmese friends and they told me after the wedding they received the same gifts and don't know what to do with them. That's why we started this business here," said Mr Charles-Patrick Rowan, Mingalar Let Phwet's chief executive officer.
"Our services can solve this problem," Rowan, a Frenchman who has lived in Myanmar for nearly five years, told Frontier on October 4.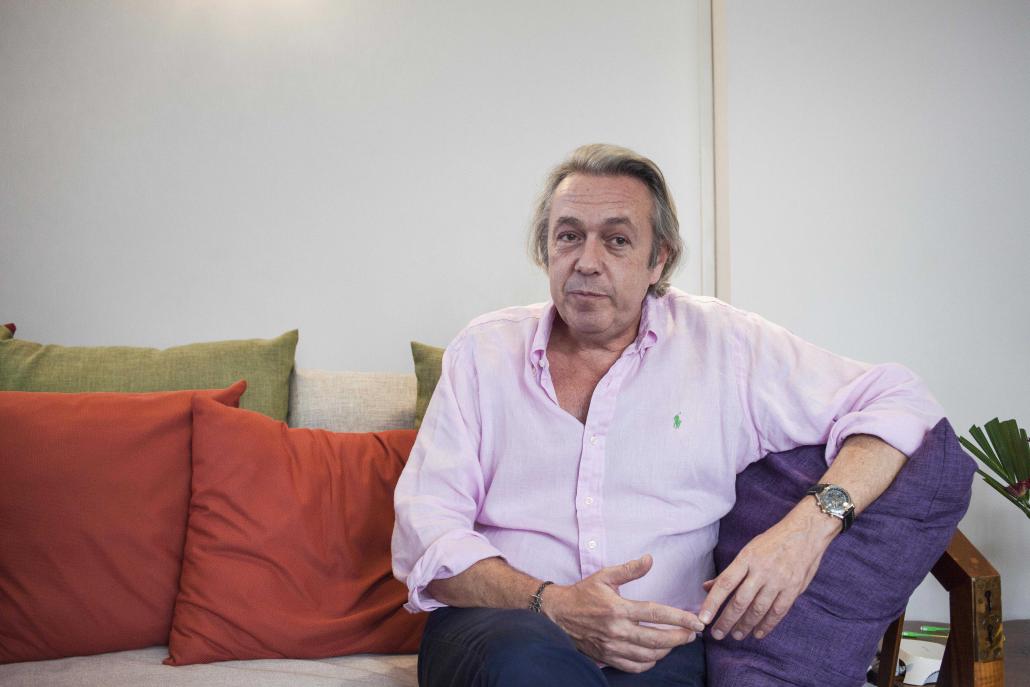 The online wedding gift list service is the first of its kind in Myanmar, said Rowan, though such services have long been popular in many overseas countries.
After a couple has registered at mingalarletphwet.com, they are allocated a mini-website on which they can post pre-wedding photos, information about the date, time and venue of the wedding, and a list of the gifts they would like to receive. The couple can refer guests to the website by including it on wedding invitation cards and also in their social media messages and emails.
As well as eliminating the possibility of duplicated gifts, the service also has the advantage of making it easier for guests to choose presents, because the website includes a list of products from designated suppliers. 
"Payment is also easy," said Rowan. "People can pay for the gifts either online or by cash" he said. The gifts are delivered to the newlyweds' home during the week after the wedding, he said, adding that a couple can make changes to the list before delivery, as long as the price for the products is the same.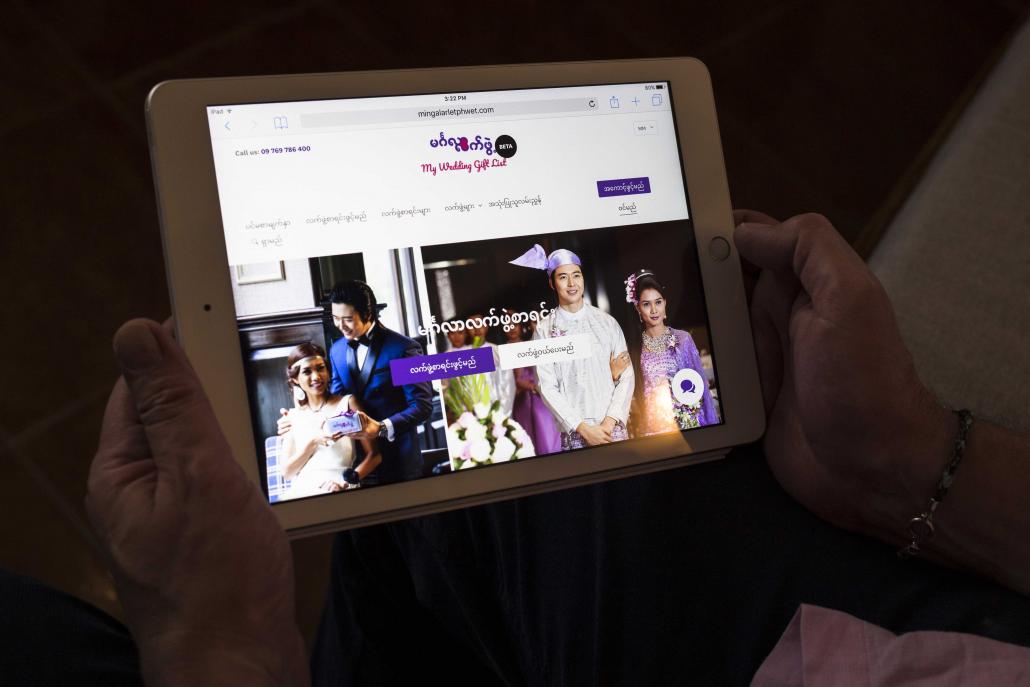 Rowan said it took six months preparing to launch the gift list registration service, which included finding suppliers in Yangon, Mandalay and Nay Pyi Taw. The company also offers honeymoon packages in Myanmar, as well as in Singapore, Thailand, Vietnam and the Maldives.
Rowan said the company had received hundreds of enquiries since the website launched in August and it would be providing the service to its first customer later this month.
A wedding is a once in a lifetime occasion and weeks and months can go into planning an event to make it grand and unforgettable.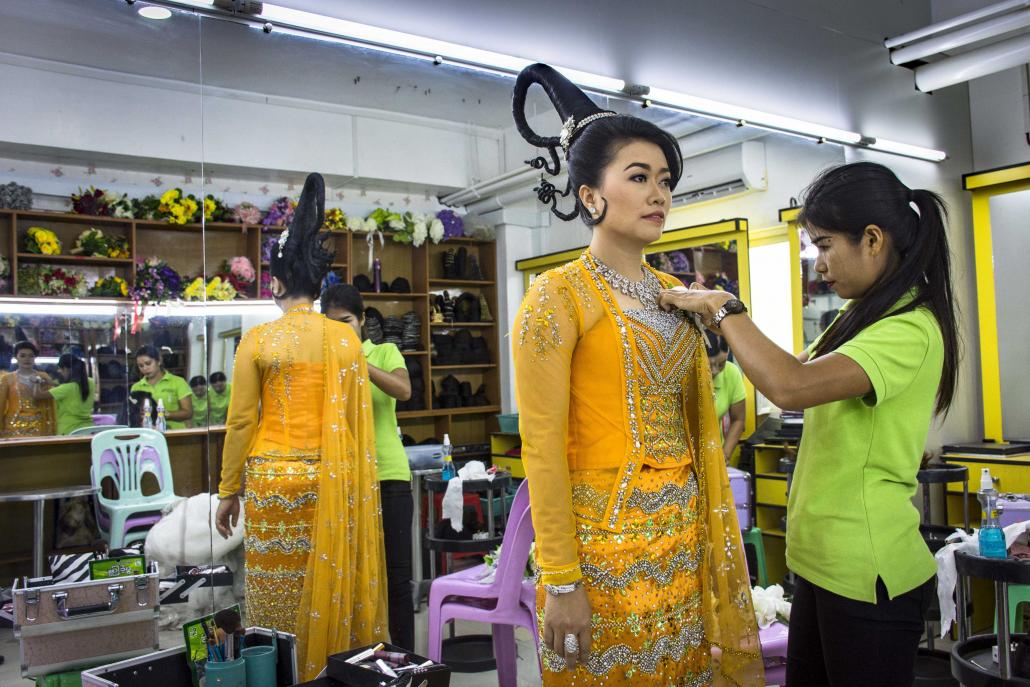 A barrier to big weddings is their expense but the Aroma (Zulu Studio) bridal gown and wedding planning service at North Okkalapa Township launched a service last year that allows couples to pay for their special day in installments.
"I have had many clients who had to delay their weddings in the six years since I started the wedding planning service and I know that for most of them, it was because of the cost," said Aroma's founder, Ko Aung Myat Thu.
Last year, Aung Myat Thu approached CB Bank and reached an agreement under which Aroma offers loans for wedding packages priced at between K400,000 to K6 million.
"It's a kind of bank loan. They need to present valid documents to the bank and I am their guarantor to the bank," he said.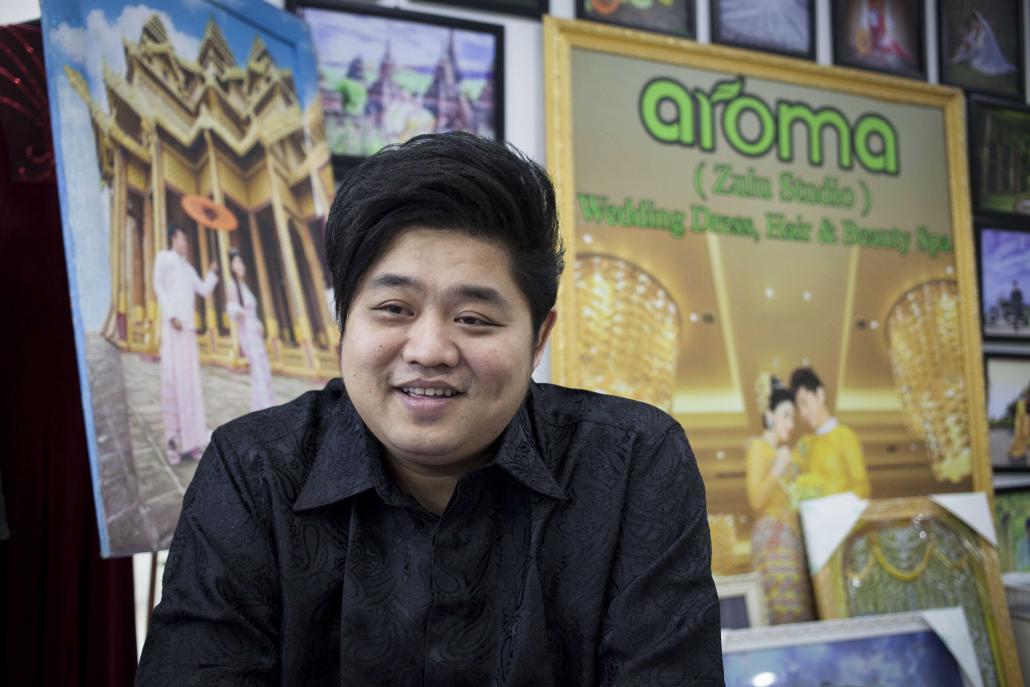 The wedding package loans are popular.
Aung Myat Thu said he had guaranteed about 800 of the loans last wedding season and there had been no problem with repayments.
"Over a hundred couples have joined our program," Aung Myat Thu said.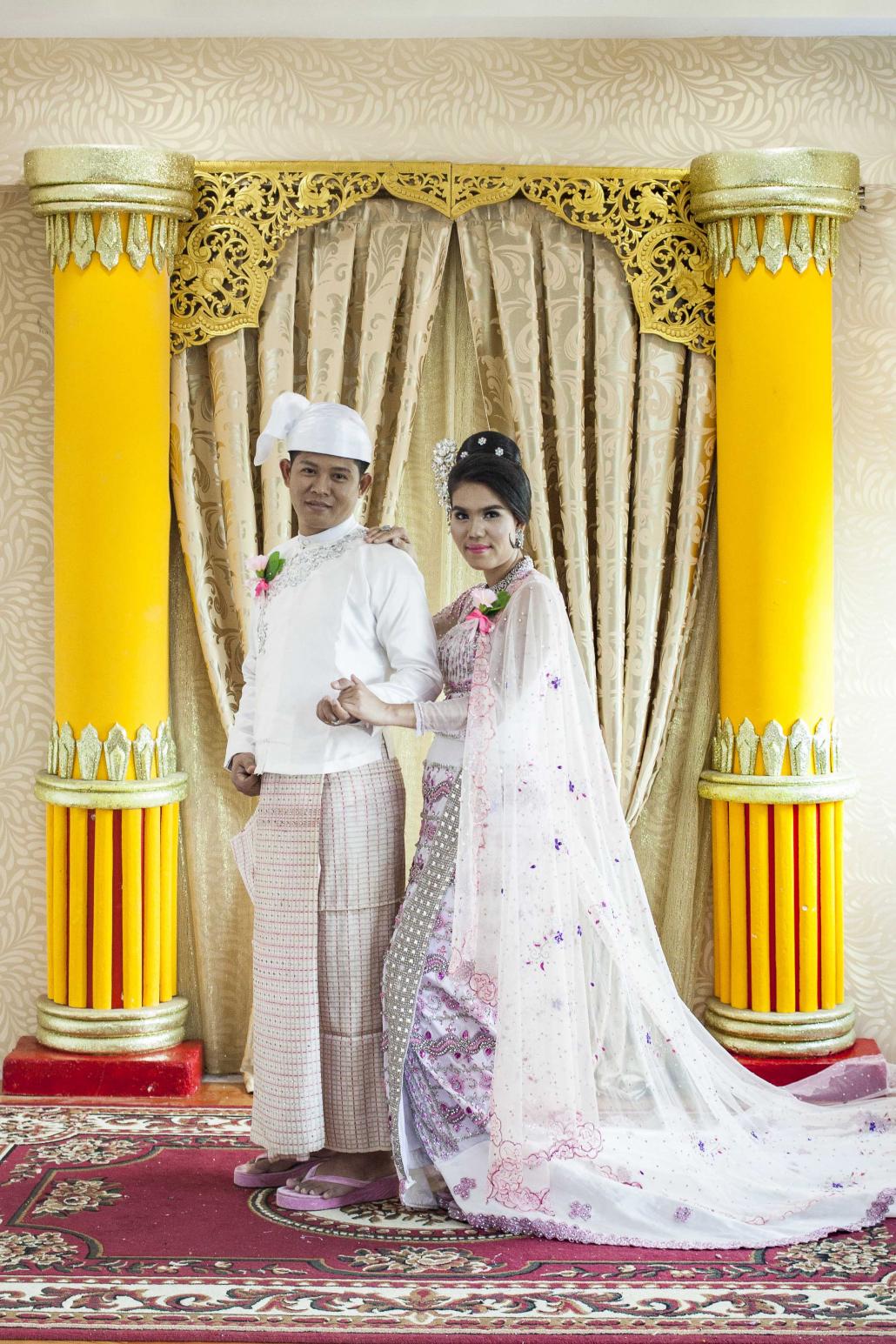 The wedding industry also offers lucrative returns for the venues.
Ma Thin Zar Lwin, senior executive for Novotel Yangon Max, told Frontier that the hotel has three rooms that can host weddings, the Pathein room, which has a maximum capacity of 180 guests, the Pyay room that can host 280 guests and the Yangon room, with a maximum capacity of 800 guests. Their packages start at US$17 per person she said, while the most expensive is $19 per person.
"Speaking generally, wedding events are commercially and prestigiously important for us," she said.