Nationalist writer Shwe U Daung adapted Sir Arthur Conan Doyle's famous literary creation and transported him to Rangoon in the 1930s to espouse his political views.
By OLIVER SLOW | FRONTIER
It was London in the late 19th century and Dr Watson, the sidekick of famed detective Sherlock Holmes, was sitting at home by a fire, smoking a pipe and reading a novel.
Shortly before midnight, an excited Holmes arrived, asking for Watson's help in "one of the strangest cases which ever perplexed a man's brain". He asked Watson to accompany him the next morning to Aldershot, a town on the outskirts of London.
Some decades later, and more than 5,000 miles away in Rangoon, Thein Maung was, like Watson, sitting at home reading when there was a knock at the door. A man entered and asked Thein Maung for his help in a case similar to that in which Holmes had sought Watson's assistance. The next day they would travel together, not to Aldershot, but across the Bago River to Thanlyin (then Syriam).
The man at Thein Maung's door was San Shar, a character based on Holmes who was created by the famous and prolific writer of crime fiction, Shwe U Daung.
Sherlock Holmes was the creation of Sir Arthur Conan Doyle and his fireside interruption of Watson occurs at the start of A Crooked Man, in which the detective investigates the death of Colonel James Barclay. The police believe he was murdered by his wife, Nancy, but Holmes, using his famous deduction skills, establishes that Barclay died from shock at the sight of a former rival in love, Henry Wood, whom he thought he had ordered killed when they served together in the British Army in India.
Shwe U Daung's version of the novel, A Strange Murder Case, is almost identical to Doyle's story, except that it is set in Syriam and Rangoon in the 1930s. In the story, San Shar establishes that former military officer U Tin Pe died from shock at the sight of U Chit Maung. Tin Pe thought Chit Maung had died after he sent him on patrol when they served together at Myitkyina. Like Nancy Barclay, Tin Pe's wife, Daw Mya Hnit, is cleared as a murder suspect when San Shar solves the case.
Doyle wrote four novels and 56 short stories about his most famous character, with most set in London between 1880 and 1914.
Shwe U Daung wrote nearly 170 novels between 1917 and 1961. "Many of them are adaptions of Doyle's Sherlock Holmes stories, although some are not," said Ms Yuri Takahashi, a Japanese academic who lives in Sydney.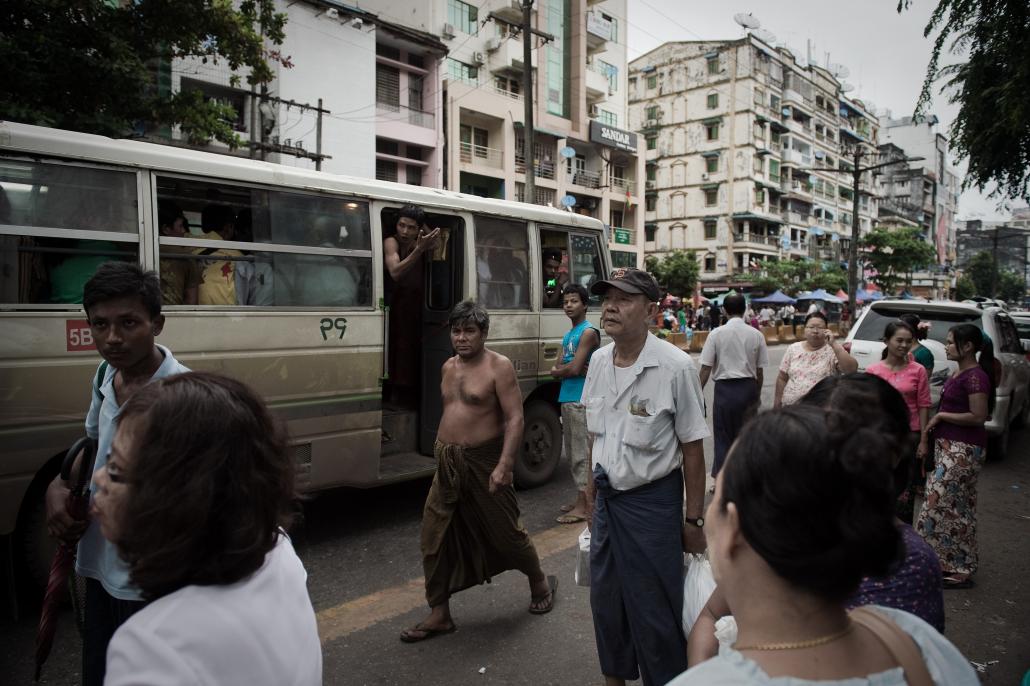 Shwe U Daung attracted Takahashi's interest when she was assigned to the Japanese embassy in Yangon in 1991 as a Myanmar language expert. The result was a monograph, The case-book of Mr San Shar: Burmese Society and Nationalist thought in the 1930s as seen in the Burmese Sherlock Holmes Stories, that Takahashi presented at an Asian studies conference in Melbourne in 2008.
As well as A Strange Murder Case others included An Indian Woman Hiding in Her House (an adaption of The Adventure of the Veiled Lodger, in which a woman is mauled by a lion while trying to have her husband killed), A Murder Case on Boundary Road (adapted from the original Holmes story A Study in Scarlet) and Kyaing the Cripple (adapted from The Man with the Twisted Lip).
"The character of San Shar is very important to Burmese people," said writer Ko San Lin Tun, who has translated some of Shwe U Daung's novels into English. "And the work of Shwe U Daung remains very influential for many of the writers who came later," he said.
The stories were incredibly popular, but, in common with Doyle, Shwe U Daung grew tired of his best-known character and killed off San Shar in his adaption of The Final Problem, in which Holmes dies after plunging into Switzerland's Reichenbach Falls during a fight with his nemesis, Dr Moriarty.
In Mr San Shar is Caught by the Villains' Hands, the detective dies after falling into a waterfall in Shan State during a fight with his rival, Professor Tun Pe. He is described as "an incredibly talented Burmese man who was once a chemistry professor at Rangoon University, but because of misconduct he was dismissed and became a criminal mastermind in Rangoon".
Shwe U Daung brought his character back to life in The Assassination of Mr San Shar, an adaption of The Empty House, in which Holmes reappears as a bookseller. In Shwe U Daung's version, San Shar returns as a Buddhist hermit.
There were times when San Shar's destiny differed from that of Holmes. In The Disappearance of Governmental Treaty, published in 1937 and an adaption of The Adventure of the Bruce-Partington Plans, San Shar discovers that a murder was committed by the younger brother of a Burmese official after he was approached by a rich Japanese businessman, Mr Kalawa.
In her monograph, Takahashi argues that this incident illustrates a distrust of the Japanese at the time when Tokyo was trying to enlist the support of Burmese nationalists, causing grave concern to the British.
At the end of the story, Holmes receives a gift from Queen Victoria, but no similar event occurs in Shwe U Daung's version. "Shwe U Daung must have felt that receiving a gift from the British was no longer appropriate for a Burmese nationalist hero," Takahashi wrote.
The 1930s were a time of heightened nationalism and anti-British sentiment in Burma.
"Shwe U Daung himself was a journalist and a nationalist," said San Lin Tun. "It is strange then that his main character was an adaption of a British one," he said.
Although Takahashi argues that Shwe U Daung was a nationalist, his views differed from those of the "Dobama Asiayone" (We Burmans Association), the main nationalist movement in the 1930s, which was predominantly Bamar.
A consistent theme throughout the San Shar stories is of the detective helping people regardless of race or religion. The Scorpion's Traitor and A Murder Case on Boundary Road, are about the Indian victims of Indian gangs, and The Examination Paper shows a friendship between an old Bengali servant and a young Burmese student. San Shar was also commonly helped by a group of Indian boys, an adaption borrowed from Holmes' famous "Baker Street Irregulars".