The British Council is celebrating a special anniversary with an exhibition that tells the stories of 12 of the thousands of Myanmar whose lives it has enriched since 1946.
By THOMAS KEAN | FRONTIER
In 1997, Daw Kathleen Thein was teaching at an international school in Yangon. She was, by her own admission, struggling. Years as an English tutor at public universities, including Yangon and Sittwe, had left her ill prepared, with little experience of lesson planning or teaching methodologies other than rote learning. So she turned to the British Council for help.
Fast forward nearly 20 years, and she is the co-chair of Myanmar's Teachers of English to Speakers of Other Languages committee, and regularly travels abroad to speak at TESOL conferences. She's heavily involved in interfaith dialogue groups, as a representative of the Hindu community, and chair of the Hindu Women's Association. She is also passionate about gender rights and development, and is involved with several women's organisations.
She doubts that she would or could have taken on these leadership roles if she had not sought help from the British Council, which is affectionately referred to as "BC" by its many alumni.
"Because of the British Council I gained a lot of knowledge and confidence," she told Frontier. "I am very thankful."
But Kathleen Thein's success is also in large part due to her own determination to improve and succeed. She began by attending workshops for English teachers on weekends, and in 2003 enrolled in a two-year course through the British Council.
"Those days were very stressful. I was working at an international school and at night I had to do homework from this course," she said. "But at last this program gave me more confidence in public speaking. I never had stage fright to give a speech in any occasion."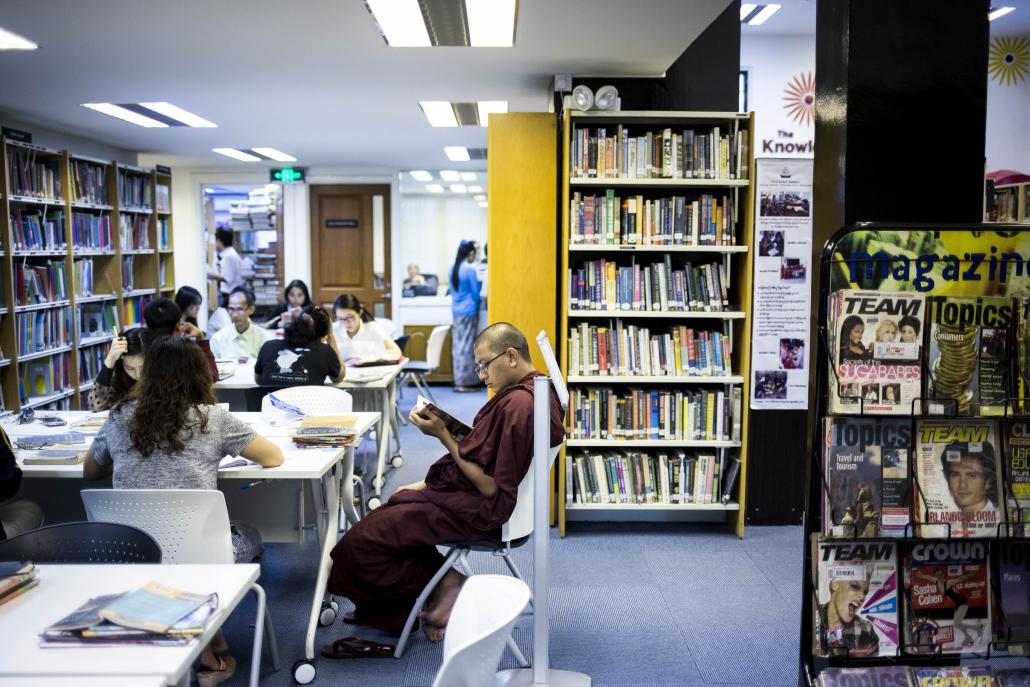 Her story is one of 12 told as part of the Life Stories: Past present and future exhibition, which was crafted to mark the 70th anniversary of the arrival of the first British Council representative in Myanmar.
British Council director Mr Kevin Mackenzie said the anniversary was an opportunity to present not only the organisation's past, but also the modern – and often tragic – history of Myanmar and its people.
"In a country that was changing fast, and which was entering a whole new age – long before we knew there would be an NLD government – I thought there would be a danger that the history would be lost," said Mackenzie, who has been based in Myanmar since 2012.
"That we would forget … that people in this country have had an extraordinary history by any standards really and I thought it was important to record that and somehow reflect our contribution to it.
"Our first representative arrived in 1946, so I thought, 2016 is our anniversary, it's just after the election, there's a new government, so it's a good time to take stock and think about the future because this is going to be a time of great change."
Each of those featured has engaged in some way with the British Council over the years, from U Thaw Kaung, a former president of the Myanmar Libraries Association who joined the British Council library in 1951, to Yangon Region MP U Naing Ngan Linn, who completed a degree in politics and government from the UK's Open University in 2006 with assistance from British Council.
The diversity of those profiled is striking, representing a wide range of ages, ethnicities, religions and geographical areas. This was no accident, said Mackenzie, who oversaw the selection process, conducted many of the interviews and edited the transcripts.
The decision to put these 12 people front and centre for the anniversary, rather than the British Council itself, was an easy one, he said.
"It's a more interesting story than the story of the British Council, I think. We've had an extraordinary history but I think the real story [of the British Council] is in the people we've come into contact with," Mackenzie said.
"In each case I was looking for a narrative arc, something that told the story and was distinctive," he said. "We didn't want any one theme to dominate – we didn't want to make it overtly political."
Their stories give a sense of the hardships that characterised life during the dark days of socialist autarky and then military rule. Some of these are obvious, like Ko Min Ko Naing's imprisonment for more than two decades.
But others speak to the everyday poverty and lack of access to education that afflicts rural areas in particular. Ma Htoot May, now an Amyotha Hluttaw representative for the Arakan National Party, recalls how growing up on Ramree Island she walked two hours a day to get to high school. After moving to Yangon, she wanted to study nursing but refused to pay the bribe required to gain admission.
Hardship and resilience are not the only themes to emerge though. There's also a very strong emphasis on education, international exposure and selflessness, Mackenzie noted.
"One of the things I've realised going through this process is just how community-minded people tend to be here – of working for the broader community, of not being able to do enough for their community," he said. "They're not just interested in personal gain."
The exhibition, which runs until June 30 at the council's headquarters on Strand Road, also contains a timeline and commentary of the British Council's engagement with Myanmar, which has broadly mirrored the country's turbulent modern history.
During the parliamentary democracy period of the 1950s, the British Council established relations with universities and focused on English-language teaching. Its library was also a cultural hub, at a time when Cold War rivalries saw world powers compete hard for Burmese affections.
The Ne Win coup of 1962 marked a seismic shift. Four years later, the British Council was expelled from the country, along with all other foreign cultural institutions. Its former residence, Rander House on Pansodan Street, was taken over by the government, and is now an Internal Revenue Department office.
In an effort to salvage some of the library's more important works, librarian Daw Monica Mya Aung hid some 200 works throughout the British embassy. Remarkably, they survived until the British Council reopened in 1977 – at the request of the Ne Win government, which was concerned about declining standards of education, and English instruction in particular.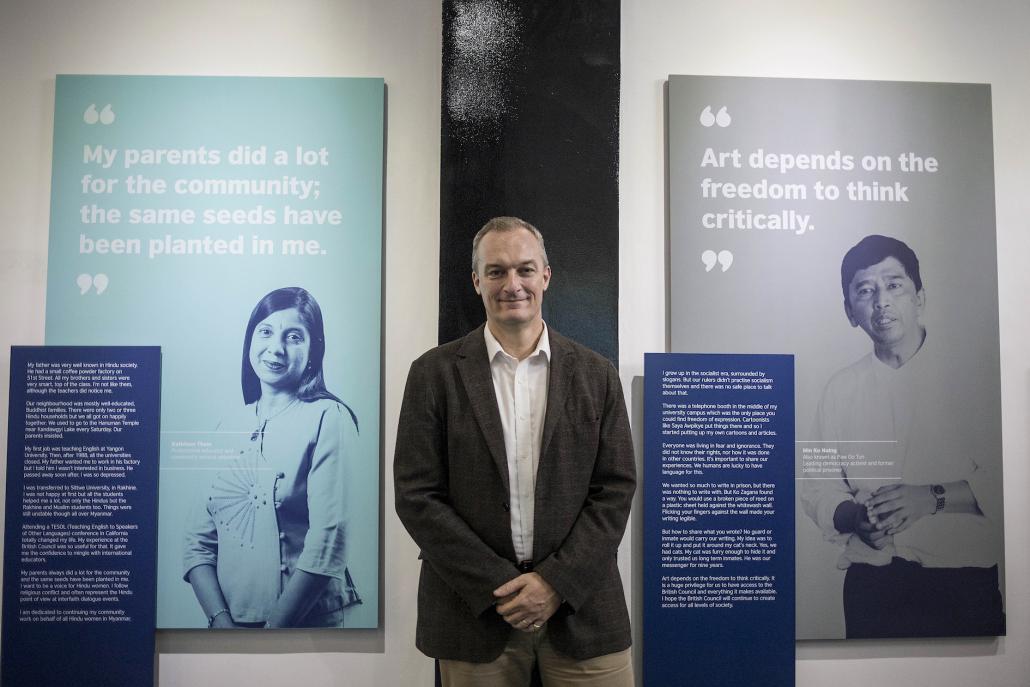 After the 1988 uprising was crushed, the British government stopped nearly all aid to Myanmar. But the British Council built and maintained links with civil society, and remained an important source of information for many in Myanmar.
A significant policy change occurred in 2003, when it began more actively engaging with a new generation of leaders in Myanmar – activists and politicians, but also civil society leaders and educators such as Kathleen Thein. It launched courses on a wide range of topics, from human rights to economics and the environment, as well as conversation classes. For the best part of a decade, it was one of a few places in the country where Myanmar people could discuss sensitive topics openly, without fear of arrest by the military or police.
The reforms of recent years have prompted another shift, with greater government engagement and expansion into areas such as rule of law, through the MyJustice program. With the ascent of a government with which the British Council is clearly on good terms, it's easy to imagine this expansion continuing.
For now, though, the exhibition is a time to reflect on the past. For Kathleen Thein, being selected to tell the history of such a storied institution was a significant and unexpected honour.
"When I was selected among these 12 people, I didn't know how to express my surprise and happiness," she said. "It's made me more energetic to do my community work. [I'm glad that] the British Council noticed my contributions."
Top photo: A scene from the library of the British Council in 1961. (British Council)