The regional government appears to be backtracking on a high-rise construction halt following a backlash from developers, but the long-term consequences of its controversial decision for the property sector and urban planning remain unclear.
By HTUN KHAING | FRONTIER
TAXI DRIVER Ko Kyaw Zin Htut was disappointed. At a time when he was struggling to cover his running costs because of the grinding traffic, he'd lost a regular source of income: a group of passengers who hired his car every day.
The customers were construction workers, who pooled to rent the taxi from North Okkalapa to downtown, paying K4200. But now they have no work to go to.
The reduction in Kyaw Zin Htut's income is one of the many consequences of the Yangon Region government's order to suspend more than 200 high-rise construction projects across the city, pending a review.
Kyaw Zin Htut is far from the only one upset at the regional government's decision. The standstill at construction sites has led to mass lay-offs of casual workers and contractors, while developers are struggling to find the money to pay their permanent staff. The ecosystem of companies, mostly SMEs, that supply the construction sector has also been badly affected.
Developers have accused the government of retrospectively applying new standards after they had already been given permission to build. They have warned of catastrophic losses, even bankruptcy, in the sector if projects are cancelled or significantly curtailed – an outcome that could have dire consequences for Myanmar's commercial banks.
Chief minister U Phyo Min Thein has cited concerns that the projects had been approved without adherence to urban planning guidelines as justification for the order. But many have also alleged widespread corruption in the municipal bodies that provide the construction permits, as well as the former regional government, which approved the largest of the projects.
Undoubtedly it is a high-stakes game. The question is whether the government will stand firm, or blink and give in to the demands of developers.
Anatomy of a crisis
The high-rise freeze has its roots in the early years of the U Thein Sein government. Market optimism fed by his administration's reforms prompted a rush of money into the property sector, sending land prices skyrocketing. Landowners and companies sought to cash in on the buoyant mood by launching a series of taller and grander construction projects mostly targeted at the luxury market – average pre-sale prices were close to US$5000 a square foot. Because of the lack of financing available, most of these projects relied on pre-sales to get off the ground.
Those that launched first experienced strong sales. But by the end of 2014, an oversupply was looming, with 10,000 units were forecast to come online by 2017. At the start of 2016, there were already more than 6650 vacant high-end residential units – more than double the total figure for 2014 – Oxford Business Group said last month, citing figures from property analysis firm Colliers International.
This oversupply combined with political uncertainty associated with last year's election led to a significant drop in sales through 2015. The luxury end of the property boom was threatening to go bust almost as soon as it had boomed.
Despite the sluggish market, there was optimism that a smooth handover of power to a democratically elected government would spur renewed interest and sales. Many developers had already invested heavily in land, promotions and permits, and had little option but to plough on.
At the end of 2015, about 220 projects over 8.5 stories were still under construction or in planning, with in-principle approval from Yangon City Development Committee (YCDC) or the regional government.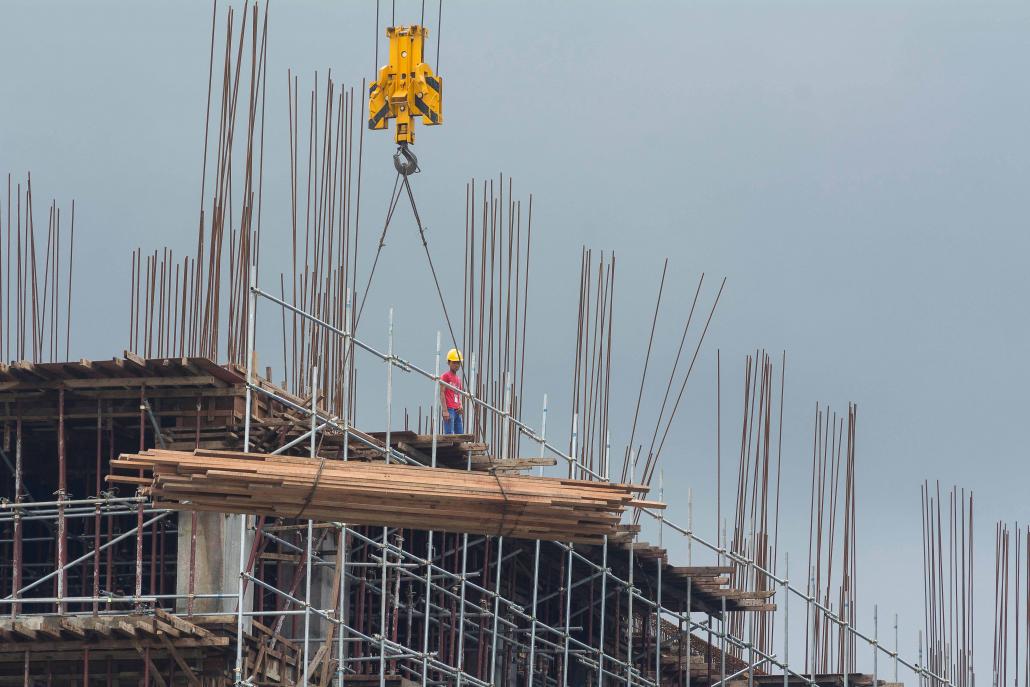 Amid this construction boom, conservationists had been lobbying for the introduction of a zoning plan for Yangon. A zoning plan with height limits was first proposed in 2012. YCDC led consultations in 2014 with the aim of submitting the plan to parliament by the end of the year. It was never submitted — in part because of opposition from developers, who argued it was overly restrictive — but in some areas informal zoning plans were put in place: around Shwedagon Pagoda and in the better preserved sections of downtown, such as Pansodan Road.
Under the present construction permit system, buildings under 12 stories receive final approval from YCDC, while those of 13 stories or above are decided on by the regional government. According to construction business owners, permission is needed from at least six different government bodies, with an average construction time is two to three years.
This system has been widely criticised. In February, former elected YCDC official U Khin Hlaing told Frontier that the "problem" with the approval process was that the regional government could give permission for projects to proceed regardless of the assessment of YCDC's departments. He cited a number of cases where approval had been given over objections from YCDC.
But developers had expected the new government and National League for Democracy-dominated parliament to focus on the controversial "new city" projects initiated by Myint Swe's administration, which were also clouded in corruption allegations.
They were caught off guard when newly elected MPs instead took aim at Yangon's high rise developments, criticising the system as chaotic. The Union Parliament approved a proposal by Mayangone lower house representative Daw May Win Myint that urged the government to investigate the city's high rises.
At that time, the former Yangon Region government was serving out the final days of its term, with current vice president U Myint Swe as its chief minister. Rather than address the concerns of MPs, it left the issue for incoming regional administration, which, headed by Phyo Min Thein, took office in late March.
He ordered the halt in late May, and formed a 13-member committee to review the projects on June 17. He also announced that the zoning plan would be introduced this year and, most controversially, that its stipulations could be enforced on already approved projects – including those where construction was underway.
U Ye Min Oo, a spokesman for the committee that is examining the high-rises, said the chief minister had little choice but to undertake the review. "The government has a responsibility to implement the decision of the Hluttaw," he told Frontier.
A hard fall
The scrutiny committee began by examining the 64 projects that had already received final approval. Most were already under construction. About three weeks after the committee was set up, it delivered its first verdict on 12 of those projects.
The results were devastating. In nearly all cases developers were instructed to reduce the planned height of their buildings. In some cases, this would mean removing floors that had already been built, and on which apartments had already been sold. One company was even told to re-apply for a construction permit, casting doubt over whether its project would be allowed to go ahead at all.
The committee cited a lack of car parking, zoning restrictions or the narrowness of the facing road as reasons for ordering the changes, The Myanmar Times reported at the time.
Affected contractors slammed the order as unfair and overly severe, and have petitioned State Counsellor Daw Aung San Suu Kyi and President U Htin Kyaw for a review.
"The government's action is like withdrawing a matriculation certificate because the holder passed the exam with the old curriculum," said U Myo Myint, who is an investor in Kabaraye Executive Residence.
The developers of the 32-storey project were told to stop building at the current height of 188 feet, about half the planned height.
"It's going to cause great financial loss," Myo Myint said, adding that the developers spent US$12 million just on the foundations of Kabaraye Executive Residence.
Developers have claimed the review could cause total losses of up to $6 billion. While there's no way to verify this figure, construction has been brought to a standstill for months, leaving thousands without work.
U Kyaw Myint Oo, director of Resources Group, which was told to scale back its Paragon Residence project in Ahlone Township from 27 stories to 20, said a single high-rise project employs an average of about 200 to 300 workers, including engineers and technicians.
Not all projects are at the constructions stage, but based on this figure the suspension of the 64 approved projects alone could have put up to 20,000 people out of work. The number would be higher if associated businesses are included, he said.
"There's no exact figure, but the number of workers left jobless is likely to be in the tens of thousands," agreed U Aung Linn, a labour rights activist.
The construction materials market has also been affected by the sudden drop in demand. "Market activity has suddenly stopped – it's the first time anything like this has happened in a decade," said a shop owner who was supplying plywood to Paragon Residence.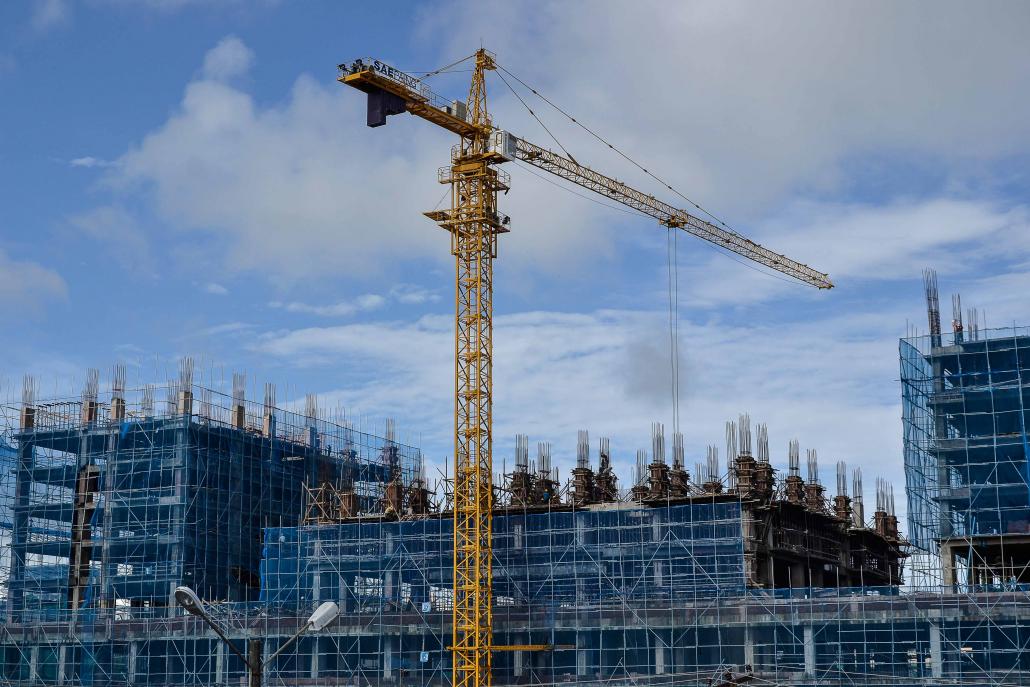 According to a report in Commerce Journal, which is published by the Ministry of Commerce, imports of Portland cement dropped more than 13 percent between May and June, from 181,000 tonnes to 157,000 tonnes.
But Kyaw Myint Oo from Resources Group said the impacts were potentially longer term.
"Public confidence in the sector has also been damaged," he told Frontier.
With little access to modern financial instruments, real estate is an important avenue for investment. Cash-rich local and foreign buyers – the latter through Myanmar fronts – pumped millions into luxury projects between 2012 and 2014. Now the flow of money into the sector has dried up – and there are few signs of it coming back.
"The property market has been quiet since 2015,"said Ko Nyan Lynn Htet, a senior reporter at the property-focused journal Home and Services. "At a time when the market is struggling to recover, it could go into crisis because of the government's suspension order."
Sai Khun Naung, who runs a real estate firm and has been working in the industry for more than 20 years, agreed. "Confidence in property developers has become weak. There's little interest in property now."
Construction rules
While developers are crying foul, in some cases existing policies were ignored or waived for unexplained reasons.
"We are not trying to stop the construction business," review committee spokesman Ye Min Oo said. "We want to make sure projects meet the rules and regulations."
He said that existing rules dictate that a building must have a parking space for each apartment, plus an additional 20 percent. That means a high-rise with 100 apartments must have 120 parking spaces.
But many of the suspended buildings lack sufficient spaces – in some cases less than one per apartment. The contractors have responded that officials from YCDC used their discretion to grant construction permits even though the proposed buildings had less than the required number of parking spaces.
Leaked documents from the high-rise review show that at some of the 12 projects the developers built fewer car parking spaces than they had proposed. In one case a developer had told YCDC the project would have 160 spaces, but when the building was checked there were only 122. Another building had 58 when it was supposed to have 70.
Ye Min Oo said some developers had also ignored the suspension, perhaps in an attempt to make it harder for the government to alter the project plans.
"We found this when we did inspections after ordering the suspension," he said. "Suddenly a six-storey building was up to 10th level."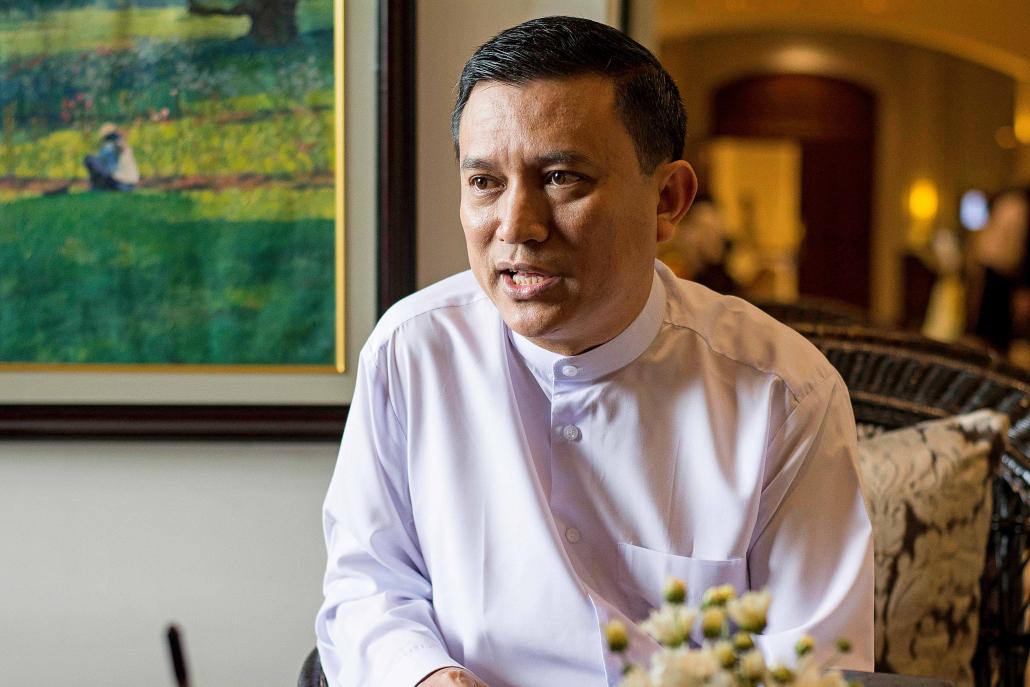 At an economic forum in Yangon on July 21, chief minister Phyo Min Thein made similar remarks.
"Out of more than 200 high-rise buildings in our country, an appreciable number are not in accord with rules and regulations," he said, adding that failure to follow regulations was a "hindrance to economic development".
While the high-rises are the most visible example of municipal planning failures, the problem runs far deeper.
In 2015, YCDC inspected construction sites around the city and found that 1800 apartment buildings had been built without permission since the introduction of a new municipal law in 2013. More than 1000 cases have been filed under the law, according to YCDC's Engineering Department (Building), and construction companies, engineers and contractors have been placed on a municipal blacklist.
Thingangyun Township was one of the hotbeds of illegal building activity. The township's former Yangon Region Hluttaw representative, U Kyaw, said 600 of the 900 buildings had been constructed without a permit. After the new YCDC Law came into effect, municipal officials ordered a halt to construction, causing significant problems for both developers and landowners. Charges were filed, developers blacklisted – some buildings were even torn down.
"I asked in the hluttaw, how can that many buildings have been built illegally without the government knowing?" Kyaw said.
The end game
The regional government is coming under increasing pressure to allow the projects to move forward – even from within the NLD. In late July, Daw Sandar Min, a party MP and head of the Yangon Region Hluttaw's Finance, Planning and Economic Committee, told local media that her committee had reviewed the 12 projects and believed they should proceed according to their original construction permits.
Almost the same day, an NLD lower house MP, Daw Thet Thet Khine, also publicly criticised the construction halt, telling the Irrawaddy that the projects "were in line" with the previous government's regulations. "Now, they are changing" the regulations, she said.
Thet Thet Khine is hardly a disinterested observer: her family's business is a major investor in one of the most controversial of the stalled projects, 68 Residence, on the corner of Kabar Aye Pagoda and Sayar San roads. But her willingness to publicly speak out suggests that senior figures in the party are uncomfortable with the building suspension.
So far, no changes have been ordered. One insider told Frontier that four of 12 developers had recently met Phyo Min Thein to discuss the decision. "Nothing has changed yet," the developer said, asking not to be named.
He denied suggestions of corruption in the permit process. "It's not easy to get a permit from YCDC. Some companies have waited two or three years."
There have been signs of softening from the regional government on the other suspended projects, however. On July 21, it issued a statement saying it was trying to revitalise the suspended construction business.
While maintaining its tough line on the first 12 projects, the 52 others that had already received their final construction permit have been quickly approved according to their original plans.
Ye Min Oo said these projects were now "running normally". He conceded that some were "not up to standard", but because they were basically complete the committee had given them the green light to continue.
"The purpose of the scrutiny committee is not to demolish already completed buildings," he said. "But business owners should cooperate with the government on this – it's in their interests. If they say or do things that they shouldn't, we are worried that they'll cause a confrontation with the people."
The committee is still reviewing another 158 projects that had been granted a construction permit but not yet received permission to start work when the halt was ordered in May.
Of these it is giving priority to the 51 projects where developers had begun work on the foundations without permission. It began reviewing these on July 25 and The Myanmar Times reported on August 3 that the committee was expected to finish inspections on the same day.
It does not plan to release its findings to the public. Instead it will report them to the government, which will in turn direct YCDC's Engineering Department (Building) to take action based on the results of the review.
At the remaining 105 projects, no construction work has got underway. Developers have been told to reapply for permits.
The Myanmar Times report quoted Ye Min Oo as saying that a new zoning plan will be in place by September, after which "there will be no arguments".
"All problems will be solved by this policy, which will include all the rules," he was quoted as saying.
But this is dependent on proper implementation by municipal officials, who have often proved unreliable in the past.
U Soe Win, a former MP for Lanmadaw in the Yangon Region Hluttaw, said there had been a "lack of rule of law" in Yangon's construction sector for decades.
"Some problems were handed over [to U Thein Sein's government] from the military government," he said.
In February 2015, five projects near Shwedagon Pagoda were cancelled due to public opposition. The military-owned land had been tendered in 2010 to private Myanmar companies, some of which then formed joint ventures with foreign firms.
Soe Win, who represented the National Unity Party, said he believed Phyo Min Thein's decision to halt construction was intended to send a message that the government expected all stakeholders to follow the law in future.
"I don't think U Phyo Min Thein's decision was about politics," he said. "He was focusing on the law."
Kyaw, the former Thingangyun MP, agreed. "Phyo Min Thein's government said these projects were against the law. If this accusation is true, the developers broke the law under the former government. The law doesn't change with the government – if they were in violation of the law then, they are in violation of it now, too."