Groups seeking the repeal of 66(d) are disappointed with the refusal of the NLD to allow its MPs to freely debate recent amendments to the Telecommunications Law.
By OLIVER SPENCER, ZAR CHI OO & YIN YADANAR THEIN
ON AUGUST 29, President U Htin Kyaw signed into law long-awaited amendments to the 2013 Telecommunications Law that parliament had been debating for a month.
Amending the law's notorious section 66(d), which criminalises undefined online "defamation", had been a common demand from civil society because the section was undemocratic and amounted to censorship.
Since the law was adopted in 2013, more than 90 cases of alleged breaches of 66(d) have been brought against journalists, Facebook users, and human rights defenders, most of whom had been exercising their legitimate right to freedom of expression. The overwhelming majority have been filed since the National League for Democracy government came to power in March 2016.
However, the amendments did not repeal 66(d), as demanded by civil society, but merely played around the edges. The amendments restrict those who can lodge a case under 66(d), enable defendants to be granted bail, and reduce the maximum penalty. But the changes do not define "defamation" or add defences necessary under international law, such as truth or opinion. Even the defamation section of the Penal Code, introduced in 1861, has 10 exceptions – the first, for example, states that it is "not defamation to impute anything which is true concerning any person, if it be for the public good that the imputation should be made or published".
Since 2016,  a coalition of human rights defenders and civil society groups, including those working on digital rights, free speech and media freedom, had joined forces to campaign for the repeal of 66(d). The coalition held regular meetings, engaged in advocacy and networked with MPs and the relevant ministries.
Early in its campaign, the coalition approached the Ministry of Transport and Communications after learning that it had drafted an amendment to the Telecommunications Law in response to public pressure. The meeting was amicable but the coalition was dissatisfied with the changes and disappointed that the ministry had sent the amendment to cabinet without proper consultation with civil society.
Despite problems with the amendment, the coalition initially welcomed the opportunity to meet Minister for Transport and Communications U Thant Sin Maung and ministry officials, and hoped they would consider its recommendations.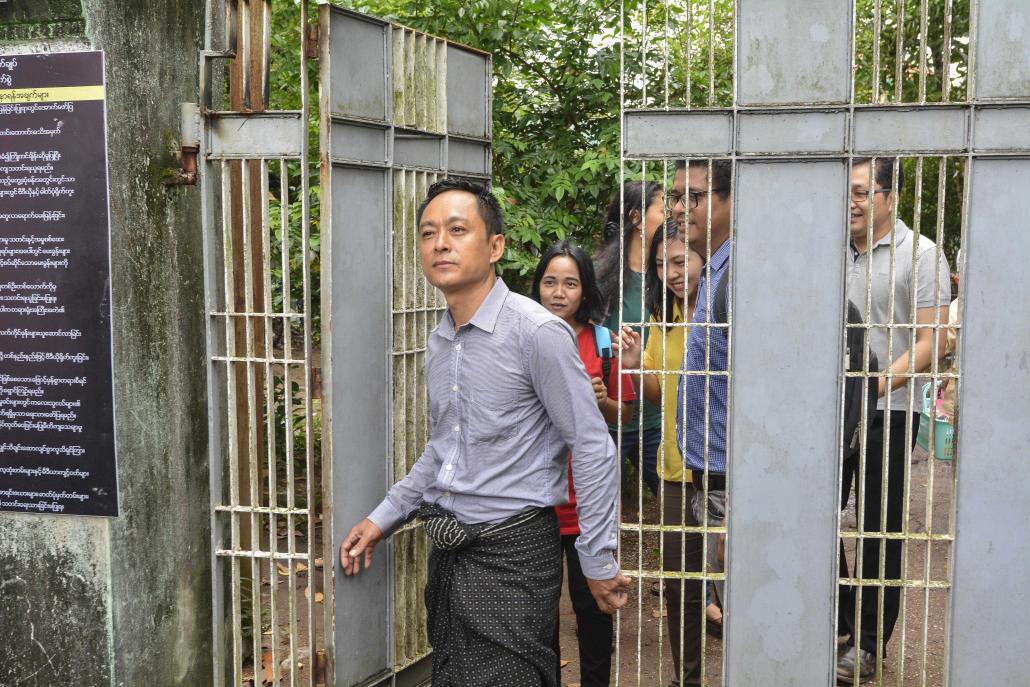 Unfortunately, within a few days of State Counsellor Daw Aung San Suu Kyi pledging at a press conference in Nay Pyi Taw on July 6 to reform 66(d), the draft amendment was sent to parliament without any of the changes sought by the coalition.
In a rushed process, the draft was published and MPs were given only three days to discuss it in parliament.
The coalition immediately turned its attention to lobbying MPs. After a series of urgent meetings many MPs agreed with the coalition that 66(d) needed to be repealed if Myanmar was serious about becoming a democracy. In response to media pressure on parliament, bill committees announced that there would be proper public consultation over the amendments, including with civil society groups.
However, the whips of the ruling National League for Democracy reportedly instructed its MPs not to propose changes to the draft and the promised public consultations never took place.
MPs in Myanmar are subject to undemocratic procedures that make it difficult for them to function effectively and to properly scrutinese proposed legislation. For example, MPs were required to seek the permission of the parliamentary speaker to attend coalition workshops.
MPs who wish to participate in Hluttaw debates usually only have to give their names, but lawmakers who wanted to be involved in discussions on 66(d) also had to fill in a document and provide a summary of what they intended to say.
MPs have little time to prepare for debates or to consult over issues up for discussion because they do not know what is on the parliamentary agenda until the previous evening. As a result, civil society also had no time to brief lawmakers on the topic, as this generally requires face-to-face meetings in Nay Pyi Taw.
The MPs who were brave enough to criticise the draft amendment and urge the repeal of 66(d) spoke out in vain, as did the lawmakers who then tried to seek changes to the amendment bill that would have added exceptions for defamation.
The amendment that was signed into law is almost exactly the same as the draft originally submitted to parliament by the Ministry of Transport and Communications.
Throughout this process, it remained unclear why the NLD wanted to retain 66(d), even though it is clearly undemocratic, a target of public ridicule and a violation of the right to freedom of expression.
Based on its experience, the coalition can only speculate on the reasons why the NLD government does not want 66(d) repealed. Research on 66(d) cases shows that a significant number of complaints were brought by NLD members or their associates.
A second potential reason is that the unelected military MPs who hold 25 percent of the seats in parliament want to retain 66(d). A third possible reason is that many MPs wanted to keep 66(d) to ensure that anyone who insults Aung San Suu Kyi online will be punished.
FEM and the coalition will continue to push for the repeal of 66(d), which must happen if Myanmar is serious about becoming a democracy.
The small changes made to the Telecommunications Law will not stop cases coming to court. Journalists, Facebook users and human rights defenders continue to face the risk of being prosecuted under 66(d) for vague reasons and at the behest of powerful individuals and institutions.