Hostility greeted three journalists who made a clandestine trip to Maungdaw late last month after the security operation had began against those behind the August 25 attacks.
By MRATT KYAW THU | FRONTIER
WHEN 10 journalists with domestic and international media organisations, including Frontier, arrived at Buthidaung jetty by river ferry from Sittwe on August 28 in the hope of travelling to Maungdaw, special branch police were everywhere.
We'd taken the ferry with Border Guard Police escorting a consignment of yellow packages wrapped tightly with yellow tape. No one we asked knew what the parcels contained.
Problems began soon after we left for Maungdaw. We were stopped by BGP at the 6-mile checkpoint outside Buthidaung. After a 25-minute wait an immigration official and a township administrator arrived and told us that the district administrator had ordered our return to Buthidaung. The two officials then asked for our names.
One of our group managed to call the district administrator, U Ye Htut, who said he could not allow us to proceed to Maungdaw because he lacked a document from the Rakhine government to allow our trip.
We remonstrated, citing comments by Rakhine State Chief Minister U Nyi Pyu and Union Minister for Social Welfare, Relief and Resettlement, Dr Win Myat Aye, "that no one is prohibited from going there". But Ye Htut was adamant.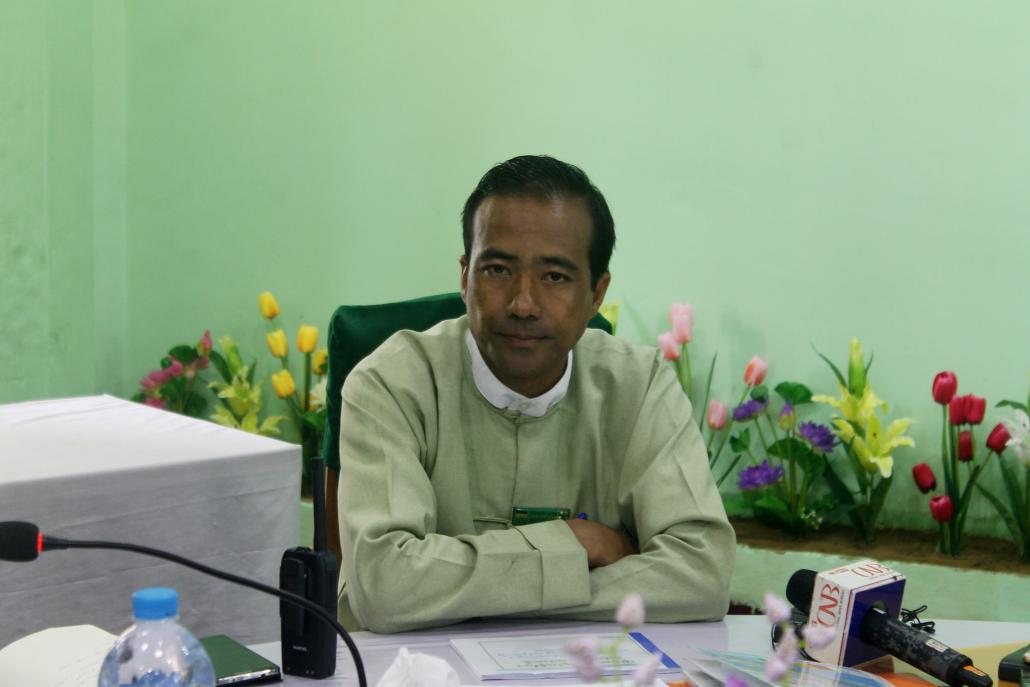 We had no choice but to return to Buthidaung. A 6pm to 6am curfew was in force and accommodation was hard to find because guesthouses and motels were crowded with people fleeing violence in Maungdaw.
We had to find a safe place to spend the night and a kind friend invited us to stay at his home. The situation was tense and our host was on edge. After a rumour spread online that "terrorists will occupy Buthidaung tonight", our host moved his family to somewhere he considered safer. "I've been moving them to a safe place every night" since the coordinated attacks by the extremists on August 25, he said.
At midnight, a Muslim friend called our host and said he was concerned because "some people are very quiet" – a reference to local Muslims. He warned us to "stay alert".
We spent a nervous, sleepless night, alert for trouble that did not eventuate.
The next morning we were summoned to a meeting with the deputy township administrator, U Hla Shwe, who warned that we needed official permits to visit and report on the situation in Buthidaung and Maungdaw. He read out a Union government statement about the official permits. Frontier learned later that the statement was issued on April 6.
Amid rising tensions, some journalists decided that afternoon to return to Sittwe. Hostile rumours had circulated on social media about our presence in Buthidaung. One rumour-monger claimed to have overheard us planning the trip to Maungdaw so we could report pro-Rohingya stories and afterward get paid millions of dollars by a foreign Muslim organisation.
The situation grew more ominous for us after our names and other personal information were posted on fake social media accounts and went viral. Local government officials were likely the only ones with access to this information. The posts included images of the journalists who had opted to return to Sittwe.
Frontier and two Rakhine journalists decided to travel to Maungdaw by van with three other passengers. We were warned that our pants, shirt and shoes immediately marked us as outsiders, so we did our best to dress like locals. It was a journey fraught with suspense, especially when the van passed through the three checkpoints between the two towns.
We arrived in downtown Maungdaw without incident and made our way to a camp for Rakhine displaced by the fighting since August 25. That's when the trouble started.
A woman pointed at a reporter and shouted that he was creating "wrong news". The reporter invited her to speak on the record about the information she claimed was incorrect and promised to send the interview to his office. She did not seem to be listening and continued shouting at him.
We knew there was already some hostility towards reporters in Maungdaw because a Rakhine reporter had been accosted the previous day by angry residents, who made him delete images he had taken of military helicopters. Nevertheless, we were surprised by the level of vitriol.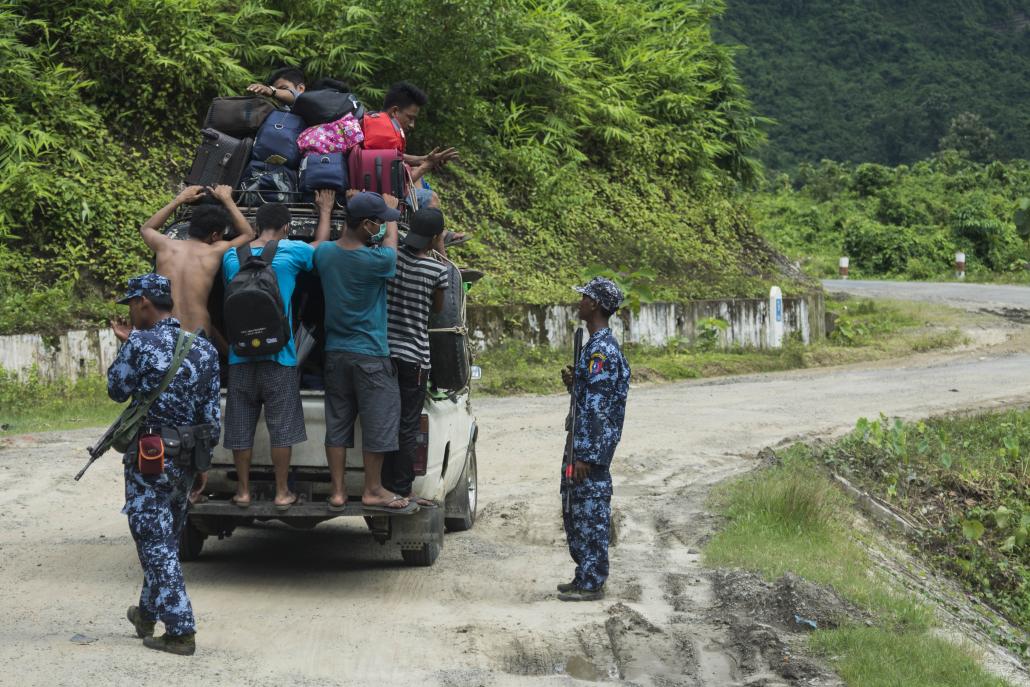 We then travelled by three-wheeled motorcycle to a bridge that connects downtown Maungdaw with a large Muslim village, Shwe Zar. We left the area immediately when we realised we were being followed by two men.
Our next destination was a camp sheltering thousands of Hindus displaced by the violence. They were suffering from shortages of food and other assistance.
After speaking to some of the Hindus, we asked our motorbike driver to return to the camps housing displaced Rakhine.  We did not get far. A drunk man on a big motorcycle blocked our way and began issuing threats.
He pointed to a Rakhine reporter. "I know you, bastard. Do your job right, OK," he said. Then he addressed all of us. "You motherfuckers are doing wrong news. Get out of here right now. Don't you know that no journalists are allowed to come to Maungdaw?" he said. His tirade began to attract a supportive crowd.
It was a shock to realise that the crowd was aware of the deputy township administrator's instruction to visit Maungdaw, which had been issued to us verbally just 90 minutes earlier.
After the drunk man threatened to kill our young motorbike driver, we left the area quickly and headed to a camp for displaced Rakhine. The cursing drunk followed us on his motorbike.
At the camp, we were fortunate to meet Rakhine State MP U Maung Ohn (Arakan National Party, Maungdaw-2). We asked him to protect us from the drunk man.
The situation grew uglier. The drunk shouted that we deserved to be killed and were "bastards" and "traitors". A crowd of men and women gathered, shouting their agreement.
The situation escalated after another man asked for our identity cards. When a reporter from The Irrawaddy produced his press card, the man yelled, "That guy should be killed."
Maung Ohn tried to calm the crowd but was shouted down by the belligerent drunk and an argument broke out. It was frightening: The crowd was chanting that we were spreading wrong information and deserved to be killed.
After Maung Ohn and the drunk began quarrelling, an elderly woman warned us to leave immediately and we fled. The drunk followed, shouting, "There are journalists in town, here they are."
One of the Rakhine reporters led us to an office of the Arakan National Party, where one of his friends helped us to hire a van. The driver offered to leave immediately. We agreed to pay K50,000 each for a trip that usually costs K4,000 and huddled on the floor of the van until it left Maungdaw Township.
During our visit to Maungdaw we saw no members of the security forces. In contrast, when journalists travelled to the town on a state-sponsored trip the following day, its streets were crowded with armed police and soldiers, who were also deployed in some of the villages on the arranged visit.
For the two Rakhine reporters, the encounter in Maungdaw was a particularly dispiriting experience. As they slumped down in their chairs back in the relative safety of Buthidaung, they agreed that the locals' anger towards them was unlike anything they'd seen before.
"It's very disappointing and … very sad. There's nothing else to say," one of them commented.
Journalists trying to cover the conflict independently face a range of challenges. It's no longer just about getting around government restrictions, keeping a low profile and trying to sort fact from fiction on the ground. It's clear that civilian anger at the perceived bias of journalists – even Rakhine journalists working for domestic media – is going to make our jobs much more difficult.
TOP PHOTO: A nearly deserted street in the centre of Maungdaw town on August 29. (Mratt Kyaw Thu | Frontier)