Preparations are underway to elect ward and village tract administrators, who play a vital local role for a pittance and have been at the frontline of the COVID-19 response.
By YE MON | FRONTIER
"Attention ward residents! We are holding elections soon for the ward administrator … please send a copy of your household registration list to the ward office," a man shouted through a megaphone as he strode along a street in Than Ta Dar ward, in Yangon's Sanchaung Township, on January 15.
The general election held on November 8 may be receding into the distance, but Myanmar is about to have a fresh round of local elections whose conduct could tell us just as much about the health of democracy in the country.
Elections for administrator posts in Myanmar's more than 16,800 wards and village tracts are due to be held before the new government takes office at the end of March. Under the instruction of township branches of the General Administration Department, incumbent local administrators across the country are busy preparing for the fourth such round of elections since the Ward or Village Tract Administration Law was enacted in 2012.
U Aung Myint, the 65-year-old administrator of Kyun Taw-North ward in Sanchaung, an inner Yangon neighbourhood, said the preparations included electing five elders to serve on a supervisory board to oversee the election in each ward. "The supervisory board will be selected by the people," he told Frontier, likening it to a ward "election commission".
Aung Myint, a retired GAD official, was re-elected as ward administrator in 2017 after first being elected to the position early the previous year, shortly before the current National League for Democracy government took office.
Next, he said, "We need to prepare elections to choose new 10-household and 100-household leaders. The final stage is to elect the ward administrator."
Although Aung Myint stressed the role played by "the people" in the local election, the process falls short of full democracy. Voting is limited to only one person aged 18 or above per household, rather than every adult resident of the ward. After electing the supervisory board, these household representatives are then arranged into groups of 10 and asked to elect a 10-household leader, followed by a 100-household leader from among those elected at the previous, 10-household stage. Any of these new 100-household leaders can then put themselves forward to be ward administrator; if more than one does so, they must vie for another round of votes from household representatives.
The process may sound convoluted, as well as antiquated, but it was less democratic under the previous Union Solidarity and Development Party government. Before the succeeding NLD government amended the Ward or Village Tract Administration Law in December 2016, the final round of voting for the ward administrator was limited to elected 10-household leaders.
However, the amendment, which triggered a fresh round of elections in late 2017, well before the five-year term of incumbent administrators were up, did not take heed of several civil society demands. These included not only the introduction of universal suffrage, but also of a right for voters to recall administrators, a lowering of the minimum age for administrators from 25 to 18, having the elections run by a body separate from the GAD, and the introduction of a clear timeline for voting. No date is specified for any stage of the local elections, which are instead carried out on an ad hoc basis.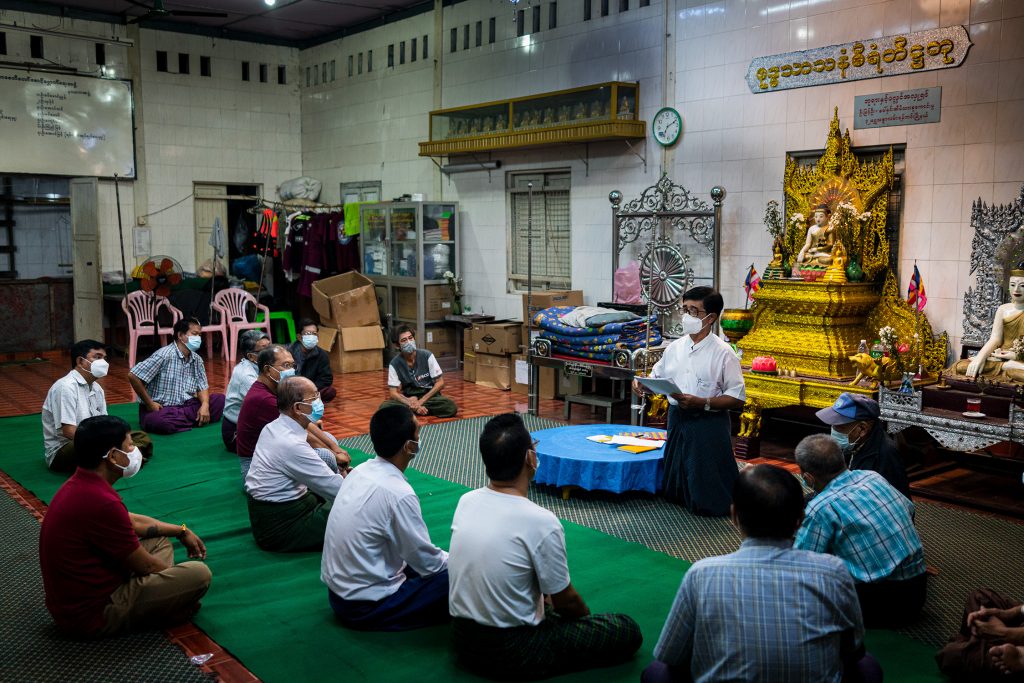 Many duties, little money
Local administrators like Aung Myint play central roles in their communities and are people's first point of contact with the government. They assist the local implementation of government programmes and development projects, help to maintain law and order, mediate disputes, register births and deaths, and provide crucial coordination during national elections. Their importance has only increased during the COVID-19 pandemic, when they have been at the frontline of both disease prevention and economic relief drives.
These administrators operate under the GAD, whose shift from the Tatmadaw-controlled Ministry of Home Affairs to the civilian-run Ministry of the Union Government Office, announced in late 2018, was considered a landmark reform in the transition from military rule. However, they are technically volunteers, not civil servants. The government gives them only a small personal allowance and meagre resources.
President's Office spokesperson U Zaw Htay told a news conference in Nay Pyi Taw on January 8 that administrators ought to receive a decent allowance, and that all should be allocated an office to be able to properly serve their communities. Some ward offices in Yangon have been established in religious compounds because of a lack of suitable spaces."The government is considering providing places where administrators can have offices, and it accepts in principle that the allowance they receive should be increased," he said.
Aung Myint said the negligible compensation meant few people wanted to seek election as local administrators. "We receive a monthly stipend of K70,000 and K50,000 for office expenses, and people are not interested in contesting the elections because the amount is so low," he said. "Also, residents are not interested in voting because they do not appreciate how important the role of an administrator is."
Administrators in populous wards or village tracts say K50,000 a month is not enough to cover their office costs. They are assisted by a salaried clerk from the GAD, who handles the paperwork and finances, but the range of duties that administrators are asked to assume means their resources, both monetary and human, are stretched thin.
U Ye Min Naung, coordinator at the Action Committee for Democracy Development, a coalition of civil society groups that have lobbied for local government reform and changes to the election rules, said raising the stipend would help to reduce corruption. The soliciting of "tea money", as petty bribes are called, from members of the public is a means of topping up low salaries and stipends across government departments, and ward and village tract administration is no exception.
Local administrators were under particular strain during the November general election. As well as overseeing the public display and amendment of voter lists, they also had to coordinate the dissemination of material to polling stations and arrange food and lodging for the many school teachers who worked as polling officers.
The Union Election Commission provided these teachers with a daily allowance of K20,000 for three days to cover their food and accommodation. However, Aung Myint said that he and other administrators paid the teachers' expenses and let them keep their allowance in recognition of their service. "I used my own money for the teachers and also sought donations [from residents] in my ward," he said, adding that he did this despite a previous GAD order forbidding local administrators from unauthorised fundraising.
But while the national election was tough, Aung Myint says the "biggest headache" of his five years as a ward administrator was helping to manage the local distribution of the government's most recent COVID-19 relief payment, given to 6.1 million low-income households in November. "Some people were greedy about that payment," he said.
Aung Myint said he did not want to be involved in the programme, partly because he disagreed with cash handouts. "It should have been food and nutrition that was distributed instead of money," he said. "If that had happened the administrators would not be hated."
During the November exercise, the fourth round of assistance and third round of financial aid, low-income households in stay-at-home townships – including all of urban Yangon – each received K40,000, and those in townships not subject to stay-at-home orders received K20,000. Confusion over the complex eligibility criteria, and rumours that all households were to receive a handout, led to hundreds of thousands of complaints from people claiming they had been unjustly excluded. The government later determined that most of these complaints were valid, but many desperate families are still waiting for the relief.
The widespread scapegoating of ward and village tract administrators for flaws in the financial relief programme has been so dispiriting for some administrators that they have decided not to seek re-election this year.
U Lin Naing Myint, administrator of Shwe Lin Ban ward in Yangon's industrialised outer northwestern Hlaing Tharyar Township, said he was not running again because criticism from residents over the cash handout had left him exhausted and in fear. He made up his mind after about 1,000 people rioted outside his office in the last week of November because they did not receive the cash.
"I feared for myself and my family's safety while I was managing the COVID-19 relief payments, which we did according to the government's policy," Lin Naing Myint said. "This is why I don't want to run again."
Daw Khin San Wai, the administrator of No 4 ward in downtown Yangon's Kyauktada Township, said she also feared reprisals from residents who did not receive a handout. "In my ward, no one was eligible to receive the relief payment, but some residents believed incorrectly that the government was giving K40,000 to every household," she said.
Unlike Lin Naing Myint, however, both Khin San Wai and Aung Myint said they will be seeking re-election in March.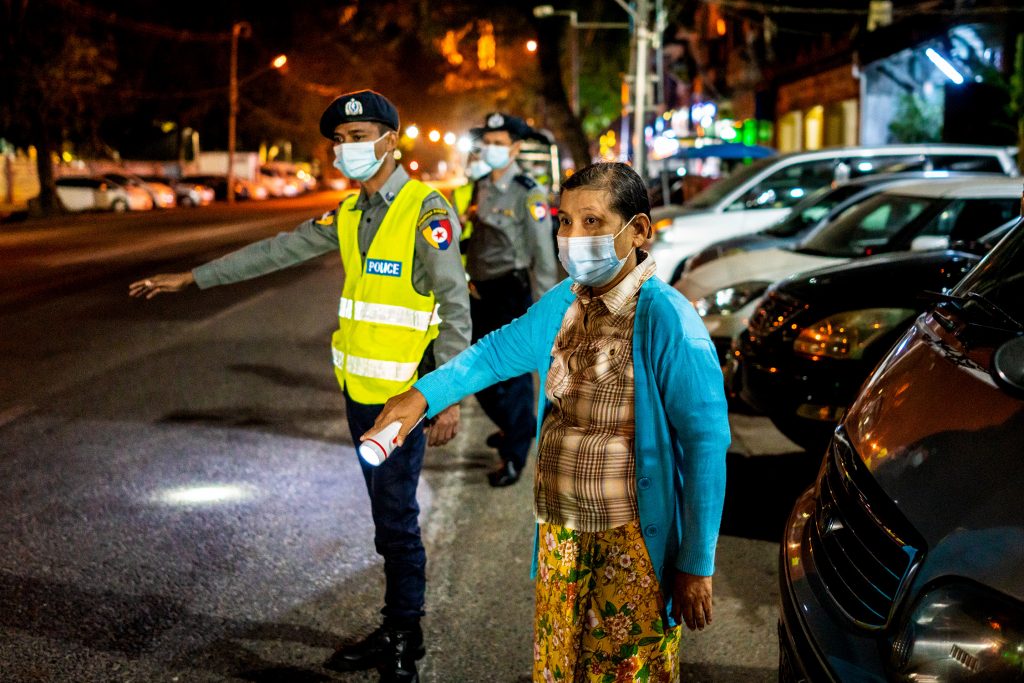 Law, order and democracy
There is much greater public interest in the parliamentary elections than those for ward and village tract administrators. This may be partly a legacy of their role under military rule, when they were more focused on shoring up the regime's power than on serving their communities.
U Tun Kyi, a leading member of the Former Political Prisoners Society, said local administrators had been complicit in the persecution and arrest of political activists and their families. "They were also informers; if someone was involved in [clandestine] politics, the administrators would inform military intelligence and the police," Tun Kyi said. "They were notorious under military rule."
Although they are far less feared today, their mandate, as set down in the Ward or Village Tract Administration Law, still revolves heavily around the maintenance of law and order, or what the former military government termed "community peace and tranquillity".
The 2012 law replaced both the Village Act and the Town Act of 1907. These colonial-era laws codified the role of local headmen as agents of a repressive imperial regime that was eager to stamp out dissent – a role that equally served the ends of post-independence military rule. But even under the current law, most of an administrator's duties relate to security. This focus is demonstrated when local administrators assist police at checkpoints.
Khin San Wai, the ward administrator from Yangon's Kyauktada Township, has recently been helping police search vehicles stopped at a checkpoint outside Ruby Mart supermarket on Bogyoke Aung San Road after dark. "It is one of my duties; if someone is arrested for possessing drugs or weapons I need to be there as a witness. Along with police, I am responsible for keeping my ward safe," said the 61-year-old, who is one of only 101 women nationwide in the role (a tiny 0.6 percent of all ward and village tract administrators).
The administrators' security-focused mandate is more accepted now that they are elected and no longer serve under a military-controlled department. However, reform advocates say ward and village tract administrators are constrained from fully serving their communities by the need to constantly answer to township administrators, who are unelected bureaucrats appointed by higher levels of the GAD.
This is part of a wider problem. Given how much government authority is exercised and how many services are provided at the township level, the absence of elected township authorities represents a missing link in the development of local democracy in Myanmar.
Ye Min Naung of the civil society coalition ACDD criticised the need for ward and village tract administrators to seek township-level permission for most activities. "It doesn't make sense that the elected administrators have to wait for approval from appointed township administrators," he said, adding that the role of township administrators in approving the result of ward and village tract elections should be shifted to a "third party" institution. A report co-authored by ACDD in 2018 recommended the involvement of township branches of the Union Election Commission, or the creation of a permanent body for local elections.
However, as the polls near, ACDD is focusing its advocacy on another reform. The coalition has launched an online petition to amend the law to expand voting rights from household representatives to all residents aged 18 or more. ACDD is collecting signatures until January 30, when the petition will be submitted to the Union parliament and government.
Administrators Aung Myint and Khin San Wai support the proposed amendment, because a more inclusive election would strengthen their legitimacy. "Everyone should have the right to vote," said Aung Myint. "It is one of the standards of democracy."