Teething problems marred the launch of the Yangon Bus Service last month but Chief Minister U Phyo Min Thein, a driving force behind the new system, is confident that commuters can look forward to a better ride.
By HEIN KO SOE | FRONTIER
FRUSTRATION REIGNED among the hundreds of commuters waiting patiently at the City Hall bus stop during the evening rush hour on January 17, the day after the launch of the Yangon Bus Service. Most were waiting for buses on routes 4, 7 and 31, which terminate at East Dagon, South Dagon and Thanlyin townships, respectively.
As well as commuters waiting to travel home, the crowd included volunteers who were providing information about Yangon Bus Service, introduced by the Yangon Region government and aimed at giving the country's largest city a much-improved public bus system.
When a No 4 bus arrived and one of the volunteers shouted over a loudspeaker that its destination was Yuzana Garden City in East Dagon, a rush of commuters shoved and jostled as they tried to board the vehicle.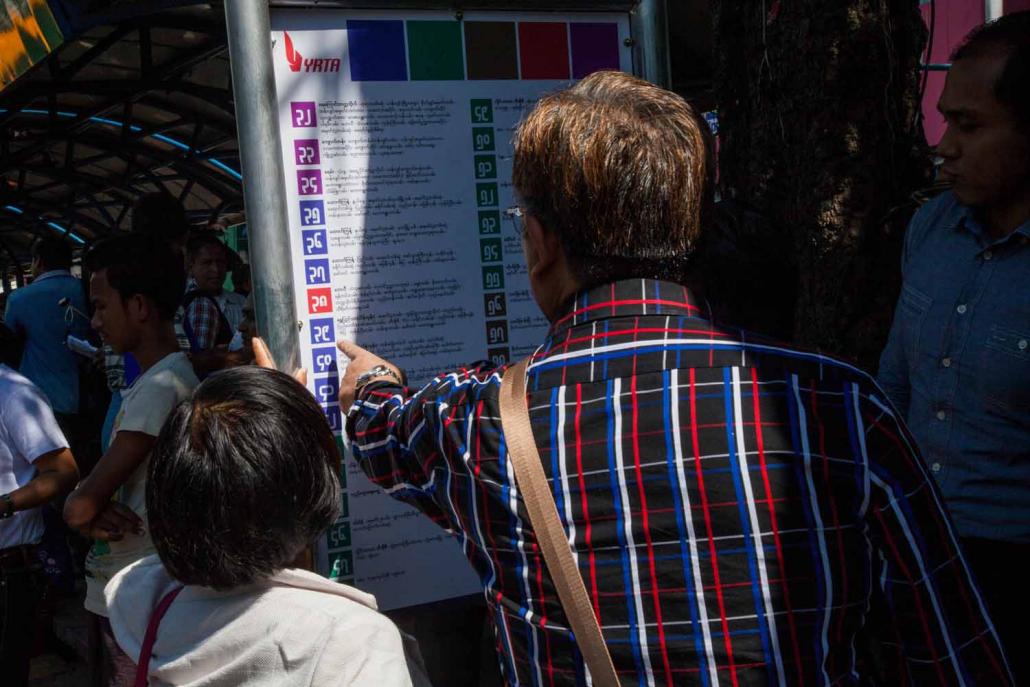 "I'm waiting for a No 7 to take me to Thingangyun," said Ma Mary, 24. "I couldn't get on two No 7 buses that stopped earlier because too many people were pushing to board them," she told Frontier.
The No 7 route, which operates between downtown and South Dagon via Thingangyun, Tarmwe and Mingalar Taung Nyunt townships, replaced the No. 39 line in the old system, which was notorious for overcrowded buses, speeding drivers, and foul-mouthed conductors who often overcharged passengers.
A rationalisation of the network has resulted in more than 300 lines being reduced to about 70. The change to the YBS has been accompanied by the introduction of monthly salaries to replace commission-based payments to owners, drivers and conductors that encouraged overcrowding and dangerous driving, and a mandated upgrade of old vehicles to improve safety and passenger comfort.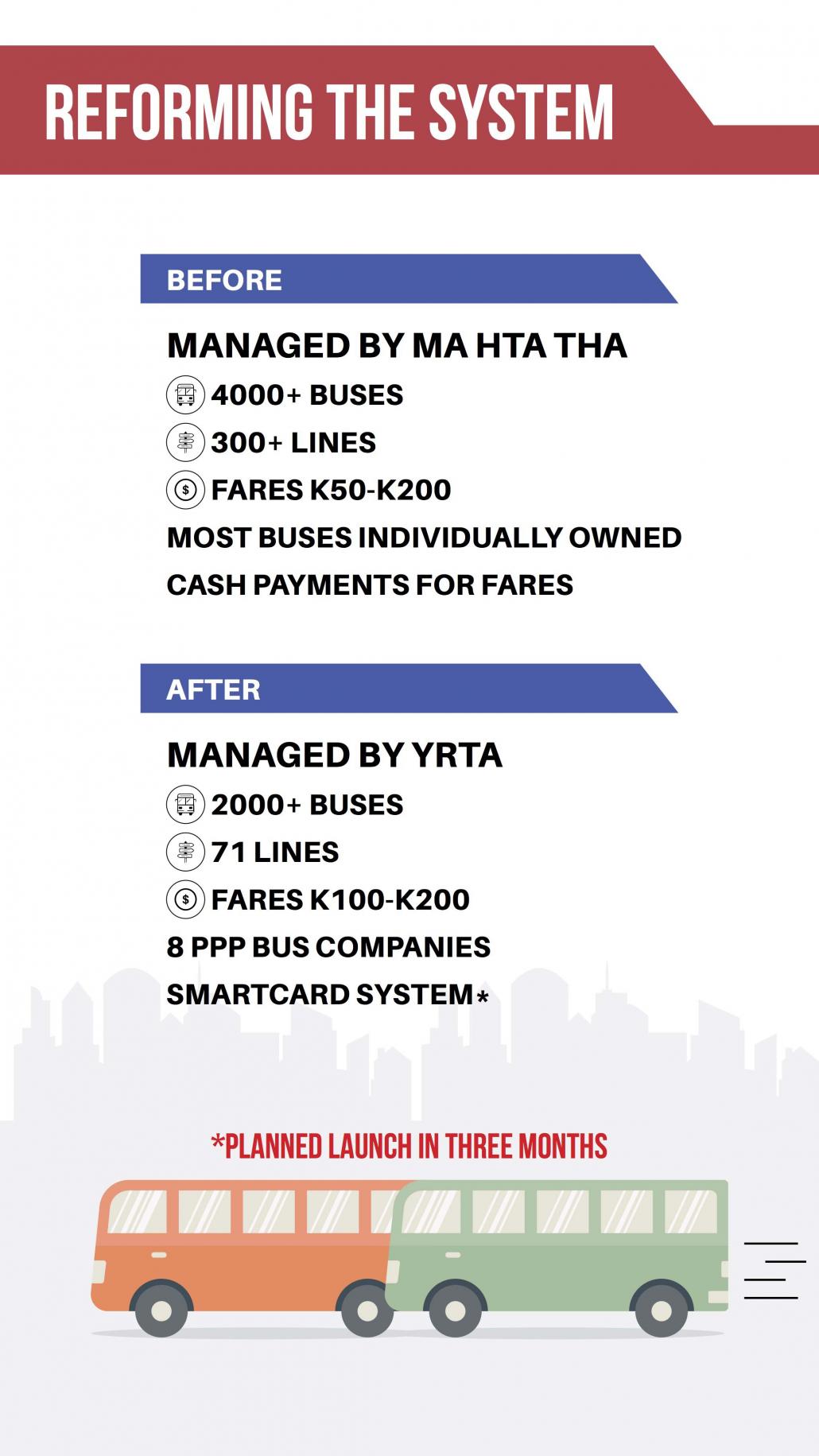 Despite a K200 cap on fares and a government threat of legal action against overcharging, many commuters complained on the first day of the new service that their fare costs had doubled.
This was due to a combination of passengers being overcharged by conductors and also having to take multiple buses to reach their destination.
Ma Than Than Aye, who travelled to downtown Yangon from the city's northern outskirts on January 16, said she had to take three buses, on two of which she was overcharged by K100.
"Under the old system I paid K300, but today I paid K700," Than Than Aye said.
Other commuters complained of long waits amid a shortage buses as they scrambled to familiarise themselves with new routes, though the teething problems encountered on the first day eased as the week progressed.
"I'm an hour late for work and have had to spend more on fares," Ma Nyein Nyein, a bank teller commuting from Dagon Seikkan to her workplace in Mayangone, said on January 16. The new system forced her to detour downtown and doubled the distance of her commute, she said.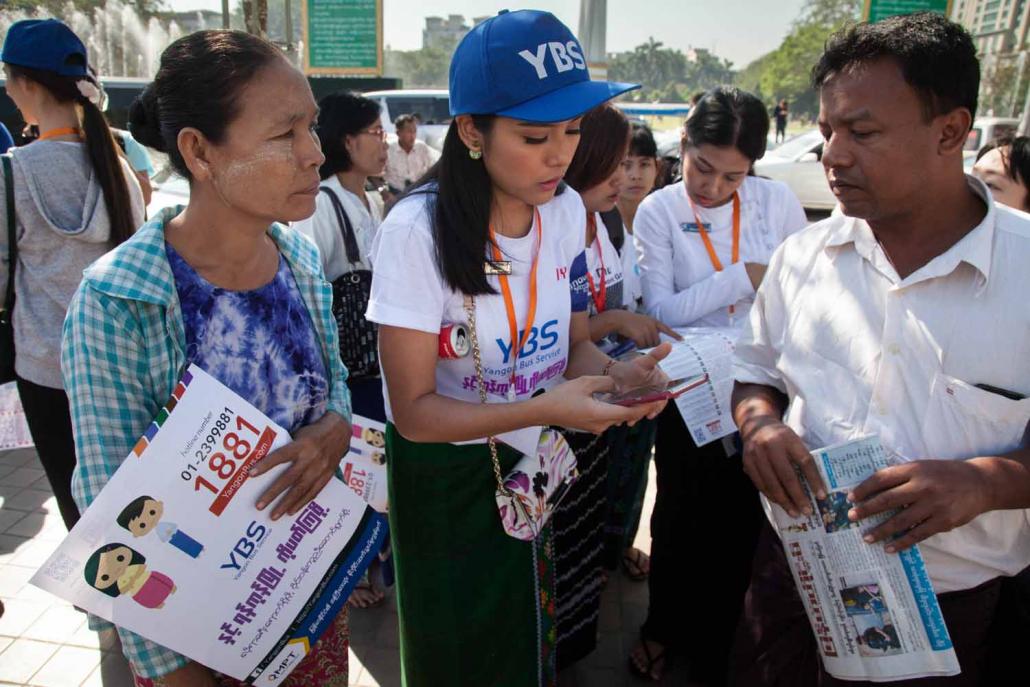 When Frontier travelled from Dagon Seikkan to downtown Pansodan Road on January 16 the journey involved boarding a No 3 bus and changing to a No 7 and took nearly three hours. The fares cost K400 in total. Many commuters from Dagon Seikkan had to wait up to an hour before they could board a bus, taking their travel time to nearly four hours.
Crowds at bus stops were a common sight in Yangon on January 16, the day the YBS system launched. At the Mingalar Market stop in Mingalar Taung Nyunt a crowd of up to 70 commuters was waiting to travel downtown just after noon.
Managed by the Yangon Region Transport Authority headed by Yangon Region Chief Minister U Phyo Min Thein, YBS replaces the military-linked Central Supervisory Committee for Motor Vehicles, better known by its Myanmar-language acronym, Ma Hta Tha.
Phyo Min Thein, who has played a prominent role in the introduction of the YBS, tested the system on January 17 when he rode a No 56 bus from Thakin Mya Park in Ahlone Township to the stop near Botahtaung Pagoda.
As he travelled on the bus, he told reporters, "We will review the system and identify the difficulties for commuters and all other participants in YBS. After the review we will discuss with all stakeholders and find the best solutions."
The review would take around three months, he added.
The major challenge so far has been simple: a lack of buses. About 4,000 were running under the old system, but only 2,000 were available on January 16.
Some vehicles were not available immediately because there were delays in decorating them with new signage, while around 900 BM and 200 Dyna model buses have been taken out of service in urban areas due to their old age and poor condition.
But some owners, drivers and conductors are unhappy at the reforms and have so far refused to cooperate. Instead, they have taken their vehicles out of the system and are waiting to see how it develops before committing to join up.
U Than Win, joint secretary of the YRTA, said it planned to add another 1,000 buses to the YBS in the coming months, using a K60 billion (US$44 million) funding allocation from the regional government as a "first step" to upgrading the new system.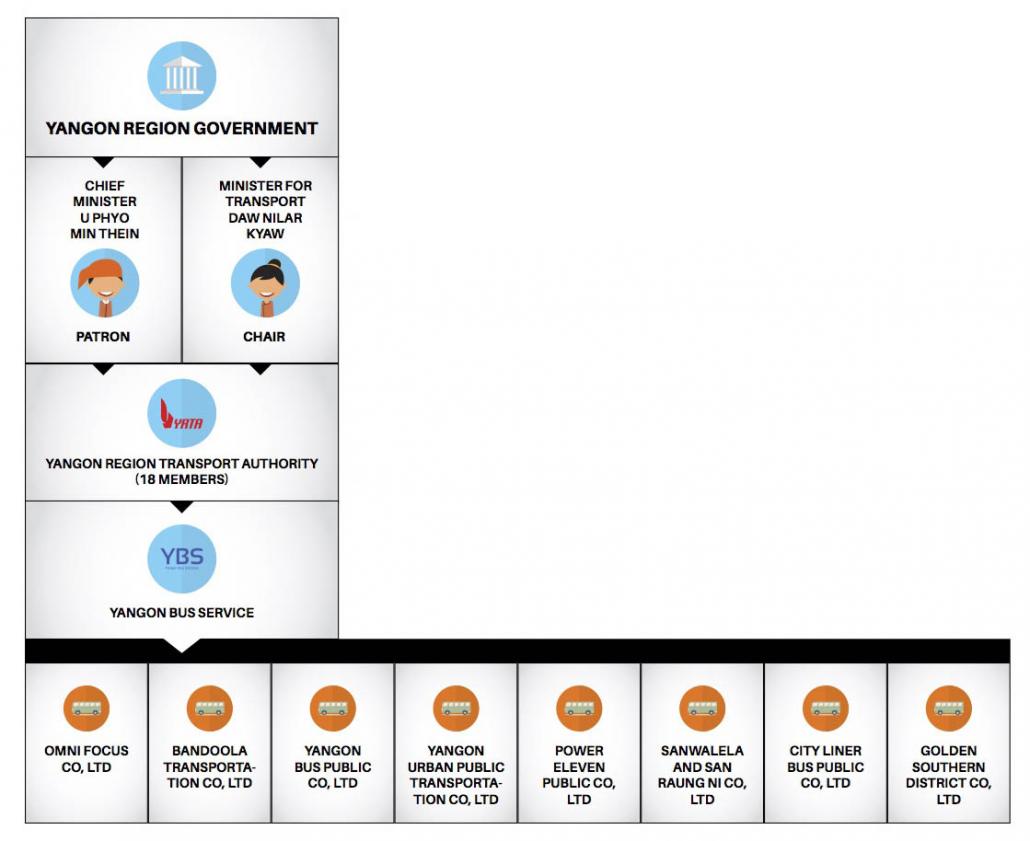 Some of the older vehicles still on the roads would be phased out within about three months as new buses were acquired, Than Win said.
U Myat Thu, the chairman and co-founder of the Yangon School of Political Science, said the YRTA must be prepared to take strong action to ensure that the YBS is an improvement over the previous system and to prevent bad behaviour by drivers and conductors.
Myat Thu said the new service had encountered problems because the changes had been launched overnight, rather than incrementally. "YBS is a huge change from the old system," he said. "The government could have started with a pilot project that would have enabled it to get research data and identify potential problems.
"It needs to conduct research to gather data about the number of people using buses and on which routes."
He suggested that communication from the regional government and YRTA would be very important for determining how YBS is perceived.
"The government needs to educate commuters about its new policy, the changes they have made and why."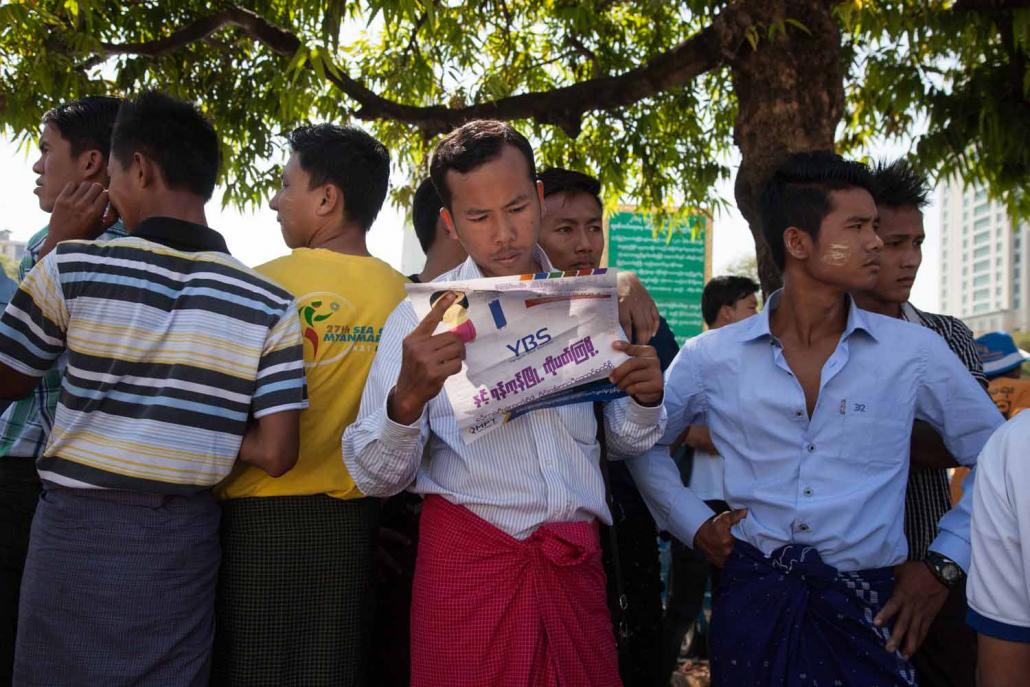 However, Than Win said research was conducted and it showed that the city's buses were being used by about two million people a day.
"Buses are running every two or three minutes, based on the density of commuters on the route. The YBS will not fail – it has been designed to provide a good transportation system for Yangon," he said.
One of the challenges YRTA and the regional government have faced reforming the system is managing the dramatic change in private sector involvement in the bus network. Previously, most buses were owned by individuals rather than companies, with some owners operating as few as two or three buses.
They have now been forced to consolidate into eight public-private partnerships, two of which are existing companies: Yangon Bus Public Co, which launched the BRT Lite service early last year; and Bandoola Transportation Co Ltd, a subsidiary of military-owned conglomerate Myanmar Economic Holdings Ltd.
The six others are newly formed public companies. Yangon Urban Public Transportation Co director U Ko Ko Naing, who owns buses the No 29 line, said the company had bought 420 buses from South Korea and China using a bank loan guaranteed by the Yangon Region government.
Ko Ko Naing said 160 of the buses had arrived and the other 260 were due to be delivered next month.
He said the next major challenge would be to overhaul the payment system. Conductors and drivers were previously paid on commissions and regularly accused of cheating owners by withholding additional income from fares. 
Under the new system, they are being paid a salary rather than a commission. For now, conductors are still collecting fares in cash, which is then deposited into a bank account at the end of the day by the companies.
However, YRTA has said it plans to introduce a smartcard payment system within three months, ending the use of cash on the bus network – and, hopefully, accusations of corruption. Conductors will be given alternative jobs on the network, according to YRTA and the bus companies.
"When we introduce the smartcards, we will need to make sure that everybody is using them properly so we don't lose fare income," Ko Ko Naing said.
Daw San San, who owns seven buses running on YBS route No 27, which runs between the Yangon Mental Health Hospital in East Dagon and Mingalar Market in Mingalar Taung Nyunt, is confident the new system will be successful. "I like the YBS; it's a good system and even though its introduction was difficult for all involved in the long-run it will be a big improvement," she told Frontier.
The need for reform is clear, however. In a July 2016 policy note on urban transport in Myanmar, the Asian Development Bank warned that the situation in Yangon was approaching breaking point because of a rapid increase in passenger cars.
The figures show that the car numbers doubled from 160,000 to 320,000 in the three years to April 2015, and bus services have been losing passengers at the rate of 10 percent a year. Average vehicle speeds in Yangon were estimated to have dropped from 30 kilometres an hour to about 10kmh between 2007 and 2015.
Both the ADB and the Japan International Cooperation Agency have called for significant investment in new road and transport infrastructure, including an international-standard bus rapid transit (BRT) system, that the bank has costed at US$20 million a kilometre. It said the most viable route for launching a BRT system would begin at Sule Pagoda and head west along Phone Gyi Road and north along Pyay Road to the intersection with Kaba Aye Pagoda Road.
"If current trends continue unchecked, Yangon's urban transport could become a major constraint on economic growth," the ADB warned, adding that traffic could "grind to a halt".
"While buses are well-used, they are of low quality and not responsive to demand. As such, an increasingly affluent population is likely to reject low-quality transport modes in favour of private transport … This would dramatically degrade bus transport conditions and push more users to shift to cars." A factor in increased car use in Yangon was the ban on motorcycles in the urban area.
Ma Wutyee Oo was one of the volunteers helping commuters to navigate the new system on January 16. She arrived at the Mingalar Market stop at 5.30am to explain to confused commuters that several lines to the downtown area had been consolidated into one route.
The regional government assembled about 800 volunteers, mostly members of NLD branches throughout the city, to provide information at some of the more than 2,000 bus stops in the metropolitan area.
But the rocky start to YBS has concerned many, who now face longer commutes and higher fares.
As she waited on January 19 for a bus to take her from Yuzana Plaza to her home in South Dagon, Ma Ei Thet, 35, told Frontier the chaos of the YBS launch reminded her of what the bus system was like in the early 2000s.
"Back then, buses were overcrowded morning and evening," she said.
"We are spending more money to travel on crowded, uncomfortable buses," she added. "Please tell the government for me that we do not want that."