Times are hard for many residents of industrial areas in Yangon's outer suburbs, especially for those without permanent jobs who have to rely on loan sharks to make ends meet.
By SU MYAT MON | FRONTIER
Photos NYEIN SU WAI KYAW SOE
MANY OF the residents living near Industrial Zone 1 in Yangon's South Dagon Township are in severe debt, borrowing money at high interest rates from informal lenders, locals say. The area is home to many people who rely on casual work at the nearby factories and lack job security.
On a cloudless afternoon in early November, Daw Htwe Myint, 60, a widow, sat at the small shop outside her humble home where she sells bananas, flowers and watermelons bought at Thirimingalar Market in Hlaing Township.
In South Dagon, a poor area northeast of downtown Yangon, many of the women interviewed by Frontier were widows. They said it was because their husbands had worked dangerous or difficult jobs, though some had been alcoholics.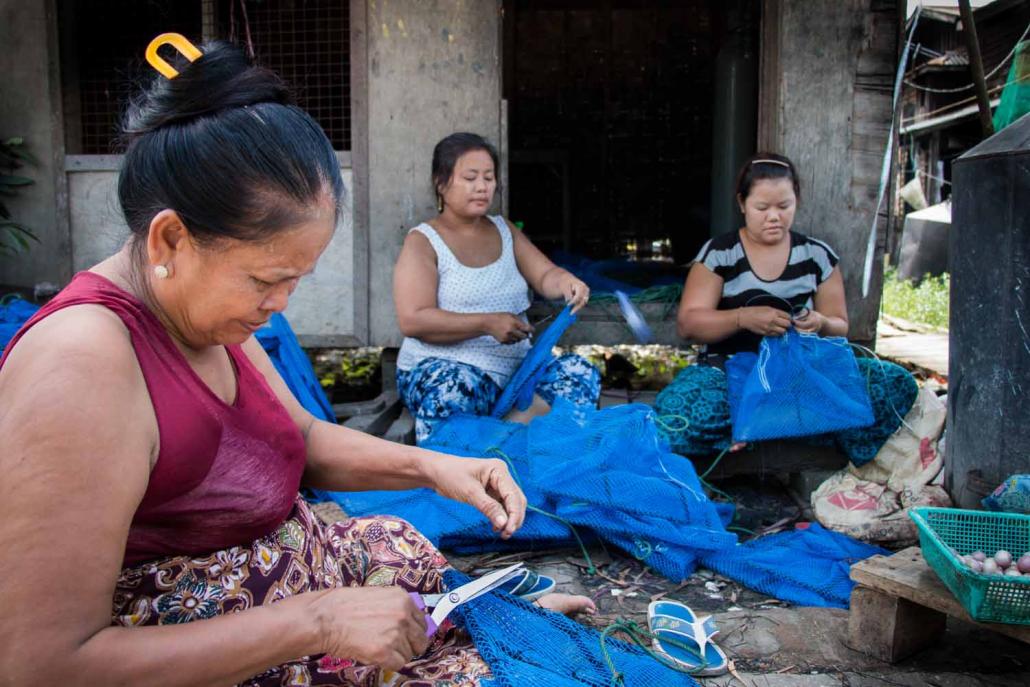 "Sometimes, I make a profit selling fruit and flowers," said Htwe Myint. On the days when she does not make a profit, she has to borrow from moneylenders who charge usurious interest, sometimes as high as 30 percent for loans due to be repaid within 20 days.
"It is a constant cycle of borrowing money from others," said Htwe Myint, who also has problems with customers who buy on credit.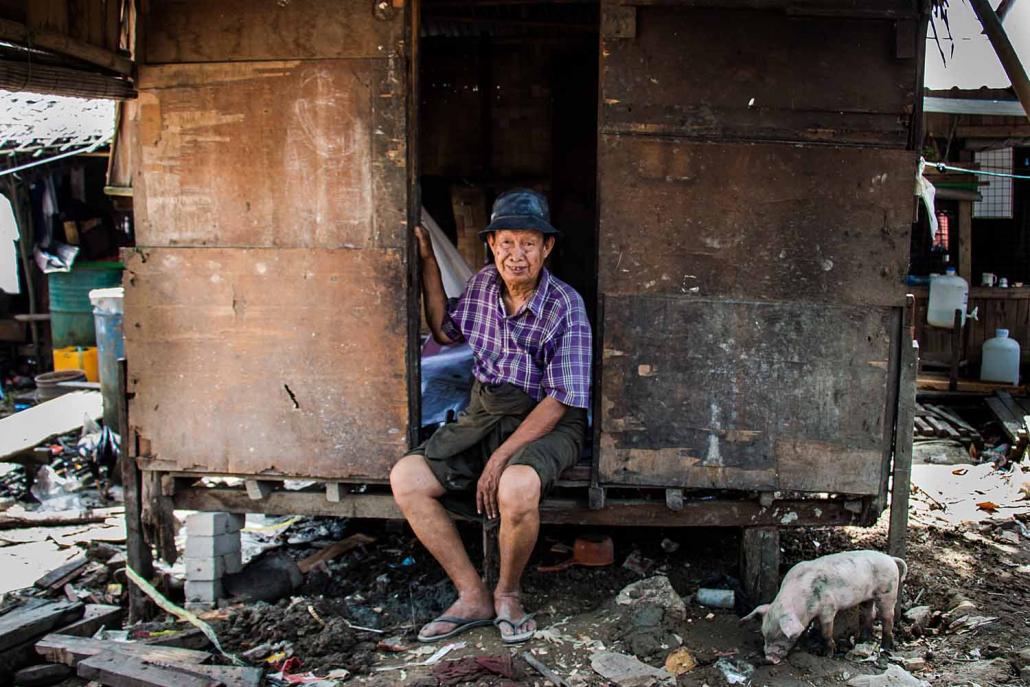 Htwe Myint and her extended family of 13 once lived on a plot of nearby farmland. She said was seized by the junta without compensation being paid. The family was later given an opportunity to buy a plot measuring six square-metre plot, but could only afford the 10 square-feet site where they live.
The family continues to suffer as a result of the seizure of their farmland by the military government than run the country until 2011.
"When the government started bulldozing our [old] house and farmland, we had to find a new place straight away," she said, adding that the situation was difficult because the family had almost no money at the time.
Other families in the area were given land by the government but Htwe Myint and her three daughters, including one who is a widow, had no option other than to move to the small plot where they now live.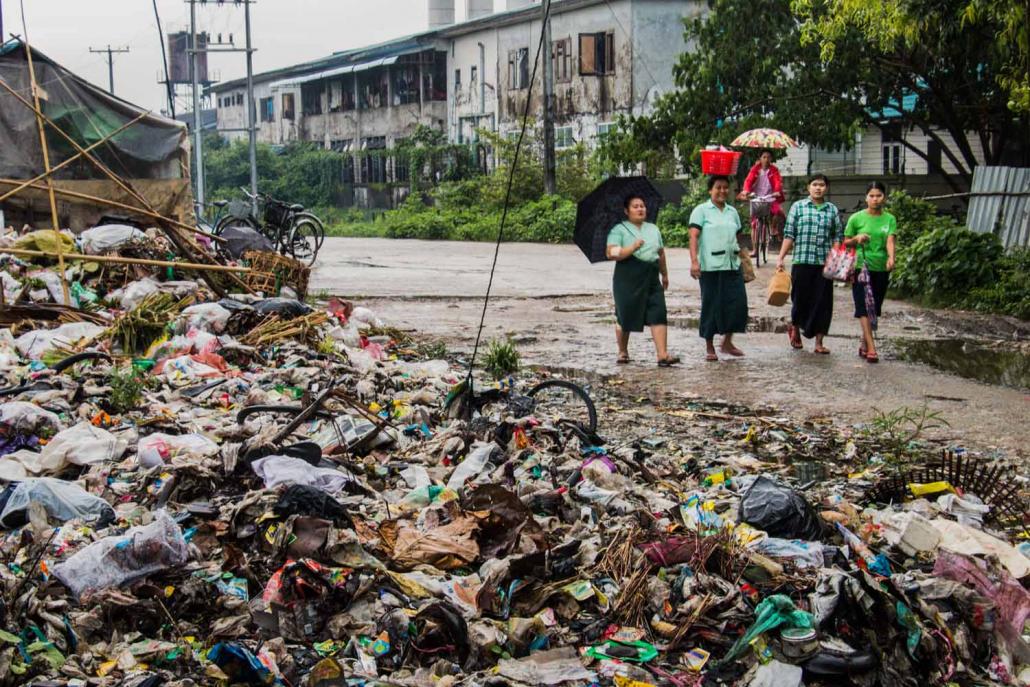 "My daughters have no place to live other than with me, so we live together in a congested house of 13 people. I have to stay in the shop-house," she said, referring to the tiny space where she sells her products.
Htwe Myint said the family cannot sleep when there's heavy rain because it flushes out rats and snakes that seek refuge in the house.
Htwe Myint's widowed daughter, Daw Win Win Aye, 41, said that many other women who have lost their husbands have been unable to get government housing. Her husband died of kidney disease 10 years ago after working for many years as a casual labourer on building sites.
Win Win Aye has four children. One of her sons, Maung Thein Soe, 24, works for an industrial company based in South Dagon. Even though the workers are paid a salary and have opportunities to work overtime, their positions are not secure, he said. If the company wants to sack someone, it will find fault with their work to avoid compensation.
"I do not want to work there anymore but I have no choice because of my family situation," Thein Soe told Frontier. "I want to have my own business."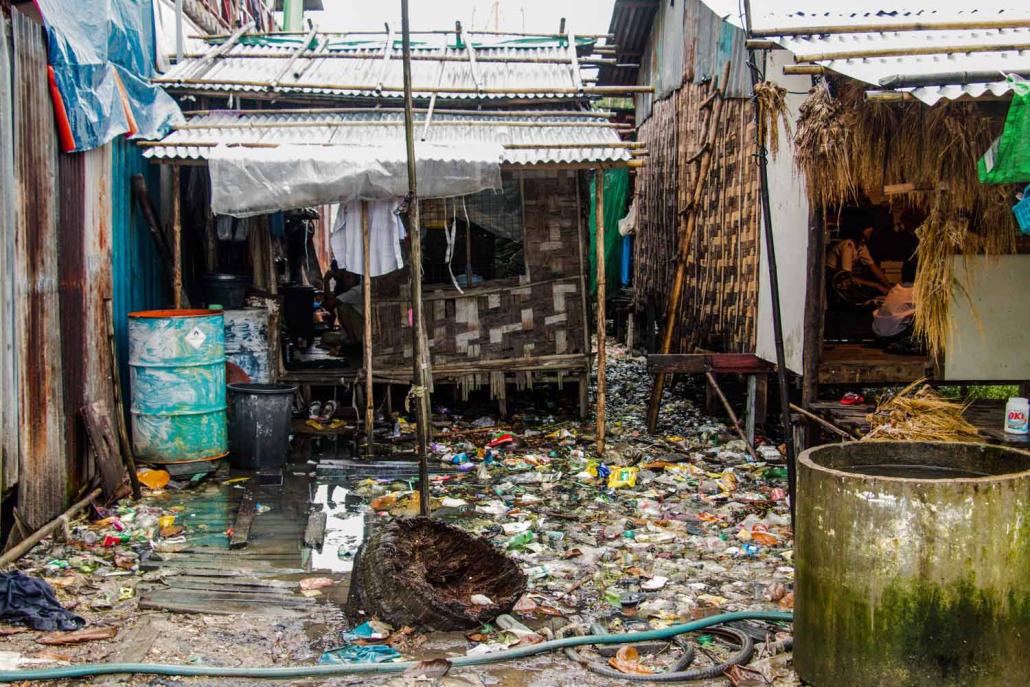 Thein Soe is paid K105,000 a month and wants more opportunities to work overtime but says his departmental supervisor is reluctant to raise the issue with those higher in the company. Thein Soe said his departmental colleagues also lack the overtime opportunities provided to workers in other departments.
"My pay is still too low after five years of hard work, I do not get enough overtime, and without overtime I do not earn enough each month to buy food for my family," he said.
"If we make a mistake in our work, it is deducted from our salaries. There is no appreciation of the hard work we do," said Thein Soe, adding that the company employs many women who are afraid to speak out about the working conditions.
U Than Zaw, 45, a carpenter who relies on casual jobs at building sites in South Dagon, says he has not had work for about a month. Of his four children, one is too young to work, two are casual labourers in Yangon and another is in Thailand.
His family had lived in a small house at Pyapon Township in Ayeyarwady Region but after Cyclone Nargis devastated the delta in 2008 they moved to South Dagon in the hope of finding work.
Than Zaw said he has to earn about K8,000 a day to cover daily living costs and be able to pay the monthly rent of K50,000. It was difficult to make ends meet without a financial contribution from his children, he said.
"We live a hand-to-mouth existence and even then we have to ask for money from our neighbours," said Than Zaw.
There has been little improvement in their lives since they came to Yangon. Than Zaw his wife, Daw Thin Thin Oo, said they want to return to Pyapon but do not have enough money.
"Whoever is our president, it is important for us to have an easy life. If housing was provided for us by the government, we would be very happy," he said.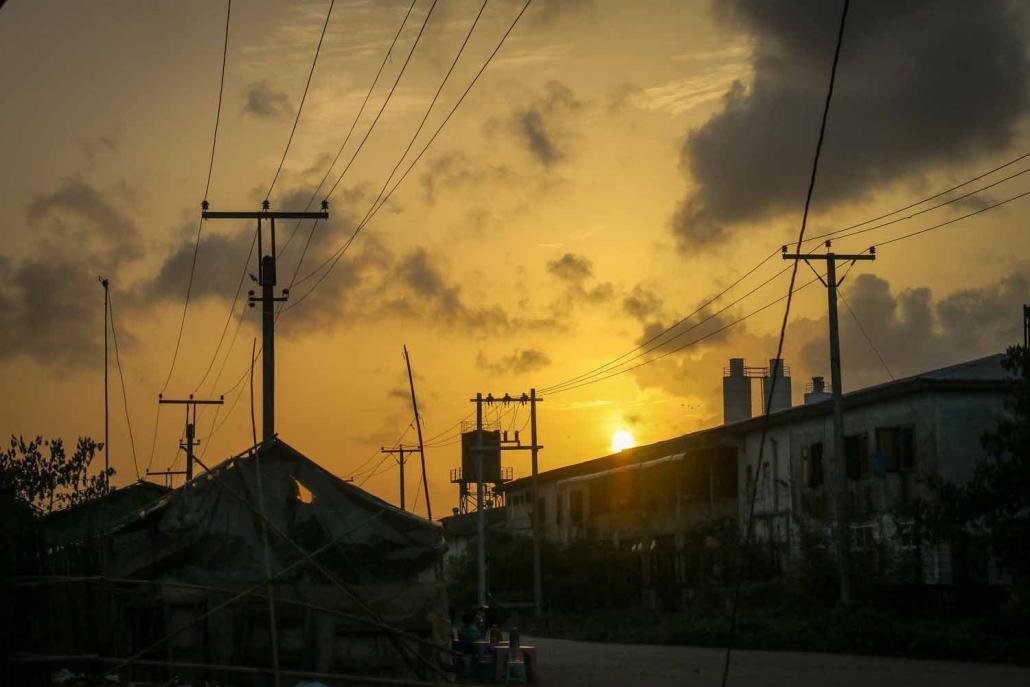 By the side of the road, a group of women were weaving fishing nets that they sell for K70 each.
Ma Myo Myo Khine, 30, a widow, said she makes about K3,500 a day selling the nets, but the work was not regular.
"Even though this work is not regular we still have to find a way to support our families," she said.