The Civil Disobedience Movement has shuttered hospitals and crippled the COVID-19 response, but striking medics say military rule is far worse for the nation's health.
By FRONTIER
Employees at the Lashio General Hospital in northern Shan State received their first COVID-19 jab on January 28 – just three days before the military seized power from the democratically-elected government.
The staffers were some of the more than 103,000 government health workers throughout the country who at the end of January received their first of two doses of Covishield, the Serum Institute of India-made vaccine based on the Oxford-AstraZeneca one. The second dose – which must be taken between four and 12 weeks after the first to be effective, according to the SII ­– was due 28 days later, on February 25.
But on that date, almost none of the staff showed up. LGH staff began joining the Civil Disobedience Movement on February 3; now, 44 of its 46 assistant physicians and 132 of its more than 200 nurses are on board, forcing the facility to close. These frontline workers are still refusing their second jab.
They say their refusal is part of their commitment to the CDM, which is growing by the day and includes staff from across government, as well as parts of the private sector seen as strategic for the regime. Some striking medics are afraid that, if they return for the jab, they'll be forced against their will to begin working for the health ministry again. All say they will never return to work so long as the military remains in power, even if it means refusing to be vaccinated in the midst of a global pandemic.
"The military dictatorship cannot lure us back to work with a second dose of vaccine," Dr Min Thu Aung, a paediatrician at LGH, told Frontier on February 23.
"We will not return just to be vaccinated," he said of himself and his co-workers.
They are not alone. Health staff across the country have joined the CDM, and are refusing to get their second dose of vaccines for fear that if they return to their place of employment military officials will force them back to work. Their protests have forced almost a third of public hospitals to close and scuppered the country's COVID-19 treatment and vaccination programmes, which the Tatmadaw said it would prioritise during the one-year state of emergency it declared after seizing power.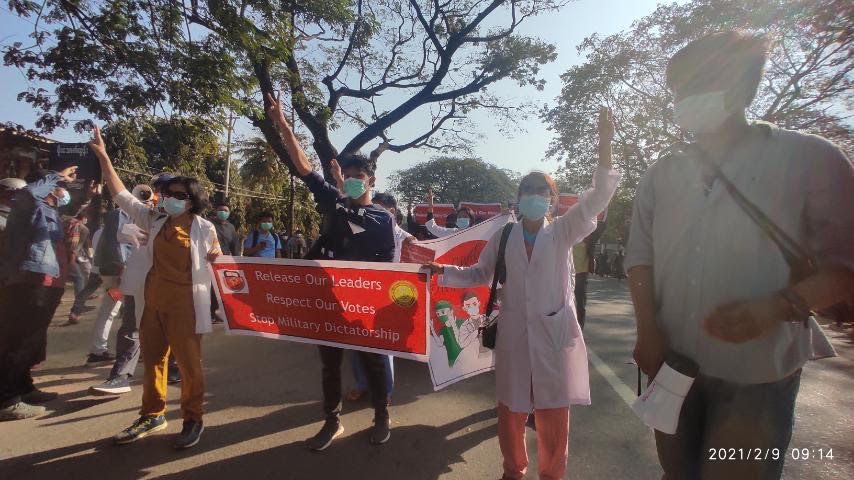 Most of the government health workers taking part in the CDM are from the departments of Public Health and Medical Services, two of seven within the Ministry of Health and Sports.
The ministry has not officially said how many of its staff are participating in the CDM, but ministry sources told Frontier they estimate that, nationally, more than 50,000 of the ministry's 110,000 employees have so far joined.
Additionally, a senior official with the Department of Medical Research estimated that nearly 70pc of the department's 500 employees at its Yangon headquarters have joined the CDM.
The regime has begun pushing back. At a State Administration Council meeting in Nay Pyi Taw on February 22, military chief Senior General Min Aung Hlaing said doctors who refuse to provide treatment are in breach of their professional oaths.
"I will prevent any acts which can endanger the lives and health of human beings," he reportedly told council members.
On February 11, police arrested Dr Pyae Phyo Naing at his home in the Ayeyarwady Region town of Ingapu. The doctor had stopped going to work at the Ingapu Township Hospital and was instead treating patients voluntarily at home, and had in the meantime joined protests against the coup in his town. He is facing charges under the Natural Disaster Management Law and section 188 of the Penal Code that together carry more than two years in prison and fines, though the exact nature of the crimes he's been charged with are not clear, his wife, Dr. Phyu Lei Thu, told Frontier on March 5.
"Authorities targeted him because we supported the NLD in the 2020 general election," she said. "Right now, I'm not safe either, and have gone into hiding from the military regime."
Since Pyae Phyo Naing's arrest, at least eight more medical workers have been arrested for joining the CDM, seven of whom have been charged with sedition under section 505(b) of the Penal Code and have gone into hiding, according to Daw Moe Pan of the Assistance Association for Political Prisoners.
The AAPP says the regime has arrested, charged or sentenced more than 1,800 people for political acts, including joining the CDM, since seizing power from the country's democratically-elected government.
Resistance strains
The threats and detentions do not seem to have deterred many health professionals from joining the movement, and the strain of their resistance is being felt at the nation's hospitals. So far, 357 of the country's 1,162 public hospitals have closed, and 27 remain open but do not have enough staff in most wards to actually treat patients, according to the military-run Myawaddy TV news.
A letter by Myanmar doctors and published online by The Lancet on February 19 said the rapid spread of the CDM among health workers and the closure of so many public hospitals has drastically diminished health services and led "to a health system suddenly in crisis".
"Our duty as doctors is to prioritise care for our patients – but how can we do this under an unlawful, undemocratic, and oppressive military system?" the letter said. "For emergency care providers, limiting access to life-saving interventions presents an acute and complex ethical challenge, notwithstanding the significant risks to the public."
That ethical challenge became particularly acute on March 3, when authorities sharply increased the brutality of their crackdowns on anti-coup demonstrations nationwide. In North Okkalapa Township ­– the epicentre of violence in Yangon that day, where police fired semi-automatic rounds at crowds and killed at least seven young men ­– the number of injuries was so high that doctors participating in the CDM rushed to briefly reopen the township hospital to treat them. Before that, doctors were treating demonstrators at charity clinics, such as one run by Yangon's Free Funeral Services Society.
These crackdowns have not encouraged medics to rethink their position on the CDM, however. If anything, they've strengthened the resolve of medics in the CDM to continue resisting. As the letter in The Lancet concluded, "50 years of previous military rule failed to develop our health system and instead enshrined poverty, inequality, and inadequate medical care. We cannot return to this situation."
The six authors of the letter, which was headlined "Myanmar's health leaders stand against military rule", include Dr Zaw Wai Soe, rector of the University of Medicine (1), Yangon, and Professor Dr Maw Maw Oo, head of the emergency department at Yangon General Hospital.
On March 2, Dr Zaw Wai Soe was appointed acting health minister ­– as well as education and labour, immigration, and population minister ­– by the Committee Representing the Pyidaungsu Hluttaw, the group of elected MPs ousted by the military and now acting as a parallel government in opposition to the SAC.
'I will never surrender'
The doctors' letter also warned of the implications of the CDM ­– or of continued military rule, if you prefer ­­– for the pandemic.
"Mass public rallies and protests are both serving a critical function for resistance and unity, but also as likely superspreader events for virus transmission. Without adequate testing, public compliance and goodwill for isolation, access to acute clinical care, and continued immunisations, the implications for COVID-19 spread, morbidity, and mortality are substantial," the letter said.
But this, too, does not seem to be deterring health workers from joining the CDM, or from refusing their second jabs. In one sign of how far the movement has spread, a public health source in Chin State told Frontier that 1,500 public health workers in eight of the remote state's nine townships have joined the CDM.
Dr Thang Mun Khai, a medical officer in the Public Health Department for the state capital Hakha, said he's not taking his second jab in order to "show support for Htar Htar Lin", the former director of Myanmar's Expanded Program on Immunization, which ran the country's COVID-19 vaccine rollout. Dr Htar Htar Lin has gone into hiding after the military regime began threatening her with criminal charges for joining the CDM.
"I may escape or I may be detained by the military by the time you read this, but I will never surrender my country or our children's futures", Htar Htar Lin wrote to colleagues in a Signal message announcing her resignation. The message was later leaked to the media and confirmed as authentic to Frontier by multiple health ministry sources.
In Yangon, Daw Thidar Swe, a midwife and one of 50 Public Health Department employees to have joined the CDM in South Dagon Township alone, said she and her colleagues are unanimous in their refusal to receive their second COVID-19 shots until the elected government returns to power.
In Mandalay Region, more than 3,000 Medical Services Department employees and more than 6,000 Public Health Department workers in 28 townships have joined the CDM, and most of them are also refusing their second jab.
"We absolutely do not recognise the military government. If we get a second vaccine it might disrupt our CDM, so we have decided not to be vaccinated," a Mandalay Region health department staffer, who declined to give her name, told Frontier, also suggesting that military authorities would force doctors back to work if they returned to their hospitals for a second jab.
For most, the only acceptable solution is the reversal of the coup and the restoration of democracy. Until then, said Min Thu Aung, the Lashio paediatrician, "we will continue to protest against the military government".