Many government workers who went on strike in protest after the coup are in dire financial straits, and their plight is exacerbated by regime blacklists that block job and travel opportunities.
By FRONTIER
On February 1, 2021, Ma Myat* and her father were listening to the radio together as she got ready for work at the Ministry of Electricity and Energy, where she was a staff officer. The familiarity of this morning routine was interrupted when news of the coup d'état came over the airwaves. Ma Myat recalls her father exclaiming, "Ah this shit is happening again!"
Unsure of what to do next, Ma Myat continued getting ready and went to work. There she discovered that many colleagues were unaware that the military had seized power because the internet had been cut off. When they realised what had happened, many of them were despondent.
"Most of my colleagues said they didn't want to work under military rule like they had to before 2010," Ma Myat said, referring to the previous military regime led by former dictator Than Shwe. "They [the military regime] cited vote-rigging as the reason for their coup, but I'm sure that wasn't possible. It was a deliberate act of bullying by the military."
Over the next week, Ma Myat encouraged dozens of her colleagues not to work in order to shut down the military regime's ability to run the country. She was overheard by the head of her department, who warned that if she went on strike she could be prosecuted under the Civil Service Personnel Law.
Ma Myat took a month off and decided not to return to work, joining hundreds of thousands of other civil servants who left their jobs in protest and joined the Civil Disobedience Movement.
"It's not clear if my leave request was approved, but I didn't care because I decided not to go back to the office. The only person who was in the office was the director of our department – all the other staff stayed away as well," she said.
Walking away from her job meant not only giving up a regular salary, but also leaving the government-provided apartment she lived in with her husband and child. Worried that moving in with her parents would potentially endanger them, Ma Myat and her family instead moved to a nearby village in Nay Pyi Taw where they took part in protests against the new regime. Eventually, Ma Myat decided to go abroad and study – but, even there, she found that the regime was determined to punish those who had taken a stand against its illegal power grab.
'I thought it best to leave for Thailand'
Ma Myat learned of a Thai government scholarship for Myanmar civil servants to study social sciences in Thailand, and contacted Chiang Mai University to see whether she was still eligible despite no longer working as a civil servant.
After getting the green light, she said the decision to apply was a simple one: she didn't see a future for herself in Myanmar. "People participating in the CDM were being arrested, so I thought it best to leave for Thailand," she said.
A year after the coup, in February 2022, Ma Myat received an email advising that her application had been shortlisted, and was later selected to study for a Master's degree.
Her next challenge was securing a passport. Under Myanmar law the passports of all government employees are held by their departments, and civil servants – even those on leave – need to get permission from their ministries in order to travel abroad. Civil servants also hold a special type of passport which identifies them as government representatives, so Ma Myat pretended to be a housewife in order to apply for a new passport.
"As a government employee, my passport was held at the office so I had to quickly arrange a new passport, which was hard, and then apply for a visa," she said. "I had to pay about K300,000 [US$160] to get it issued quickly, but it was a relief to get it."
After receiving her passport, she applied for a student visa at the Thai embassy. Ma Myat left for Thailand on June 10 to begin studying her degree in Chiang Mai.
Then Myanmar's military regime, which refers to itself as the State Administration Council, tried to intervene.
"The military council wrote to the Thai government to ask that my admission be withdrawn because they wanted it transferred to a military council employee," she said. The scholarship, which was offered as part of a government-to-government scheme, was withdrawn by the SAC.
Ma Myat said she was lucky that Chiang Mai University disregarded the request to cancel her admission and offered her a fellowship to pay for her first semester. She is working as a research assistant at the university to pay for her second semester and will have to work to pay for her remaining university fees.
"If we want to study abroad, the military council will send a letter to the relevant country to ask for the scholarship to be cancelled, so I am very lucky to be able to study in Thailand," she said.
The regime's blacklists
Many CDM participants are unable to go abroad for work or study because they have been put onto blacklists that have been given to passport and immigration offices throughout the country.
But even finding jobs in the private sector can be difficult, especially in professional roles. Several former civil servants told Frontier that the junta has also sent names of former civil servants to businesses warning them they could be shut down for hiring anyone on the blacklist.
Faced with being unable to get work in the private sector, many CDM participants have been struggling financially.
After Ko Myo joined the CDM and was sacked from his position with the Ministry of Electricity and Energy, he applied for a job with a Thai company based in Myanmar.
"I passed the first round of interviews and during the second round was asked why I had resigned from my position as a civil servant. I explained that I did not want to continue working for the military council. They said they would get back to me within a week. A week later I received a call from the company to tell me that I could not get the job because I was CDM and had been sacked by the military," Ko Myo said.
He said the company told him that it had been ordered by the military council not to hire CDM participants and that checks were being conducted with ministries to ensure that staff who resigned had approval to leave their jobs.
Ma Myat said that a blacklist of CDM participants had been sent by the military council to more than 40 companies, including Thai, Chinese and Japanese companies. Frontier has viewed the list of the 40 companies, and it includes major corporations in the energy, mining and land development sectors. Eight of the companies were contacted for this article and none responded.
"CDM staff trying to get a job should definitely avoid companies on the list," Ma Myat said.
U Kyaw Zaw, a spokesperson for the Office of the President of the National Unity Government, said the junta's actions targeting CDM staff were reprehensible.
"CDM employees were arrested and charged under sections of the Penal Code, they were sacked and the military council seized their assets. They went further and even created blacklists to prevent CDM employees from working. Every time we talk to the international community, we often mention that such actions violate the basic human rights of citizens to live and work freely," said Kyaw Zaw.
The Universal Declaration of Human Rights includes the right to non-discrimination on the basis of beliefs as well as the right to work and the choice of work. Myanmar (then known as Burma) was one of the first signatories to the declaration but has long failed to adhere to many of the human rights principles contained in the declaration.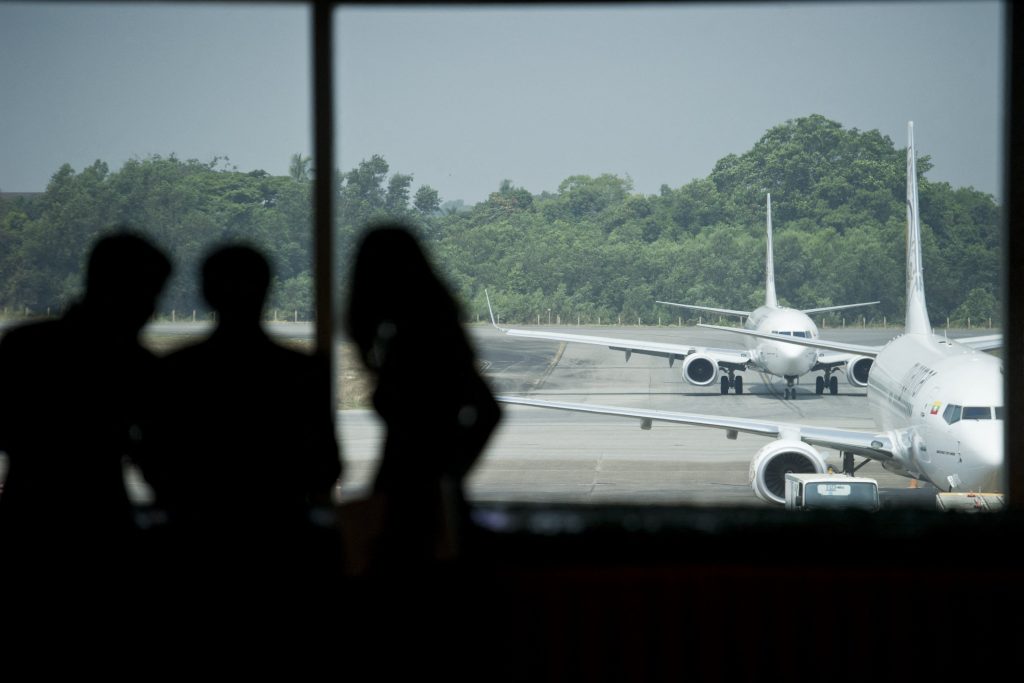 Risky departure
There have also been cases where CDM participants trying to leave the country for jobs abroad have been arrested at the passport office or at Yangon International Airport.
Ko Aung Aung Myo, a broker at the Yangon passport office, said the authorities had become stricter about applications from CDM participants this year and were refusing to issue them passports.
"In the past you could easily get a passport if you paid K300,000 or K400,000 [$160-$210]," he said. "But now there's a list that is checked and people have been arrested. It became easier to check for CDM staff when passport applications changed to an online booking system."
Aung Aung Myo said arrests of CDM participants at the airport began in late 2021, and that he is aware of about 25 cases of arrests of CDM people at the airport and at passport offices. "Any CDM participant who wants to leave the country by air needs to be careful," he added.
Aung Aung Myo said passport brokers did not provide services for people who they know are CDM staff because "we don't want to be arrested and interrogated".
He said a broker was arrested in mid-May for applying for a passport for a CDM teacher, who was also detained. "She did not tell the broker when he asked that she had joined the CDM, but her name was on the blacklist that had been sent to the office. I would like to warn CDM staff to be careful when applying for passports. They have lists and applicants are being arrested," he said, adding that both the teacher and broker are now in prison.
Arrests and interrogations at the airport are frequent. Most of those detained are CDM participants, an immigration official at the airport, who asked not to be identified, told Frontier.
The official said that even if a CDM staffer has not been accused of a criminal offence, they are only allowed to leave the country with the approval of the ministry they served because they have been suspended from their duties due to their participation in the CDM.
"If CDM participants don't have a recommendation letter from the relevant ministry they have to turn back," the official said, "and some were taken by the military for questioning."
* denotes the use of a pseudonym upon request for safety reasons