Unscrupulous job agents are taking advantage of seafarers, leaving some stranded far from home and stinking of fish.
By KYAW LIN HTOON | FRONTIER
SOON AFTER the six Myanmar job seekers arrived in the Iranian capital, Tehran, they began to suspect that something was amiss.
Ko Yan Naing Htwe, 34, and the five other merchant seamen were met at Imam Khomeini International Airport by Mr Safa Ounaghi, managing director of the Artan Darya Shipping Corporation, based in Tehran.
He took the six men to a hotel, where they spent the night in a single room with two beds. There were bullet holes in the mattresses and the men were fed loaves of sour bread for dinner.
The next day they were put on a bus and travelled south for more than 12 hours to Bandar Bushehr, a port city on the Persian Gulf about 1,200 kilometres from Tehran.
They were accommodated in a cramped guesthouse and their movement was restricted. Their meals mainly consisted of sour bean soup and Indian flatbread; steamed rice and curry was a rarity.
A month after they arrived in Bandar Bushehr, the men realised that they had been cheated by job agents in Iran and Myanmar. They had signed contracts to work on supply boats and tankers based in the United Arab Emirates for a monthly salary of between US$400 (about K570,000) and $500. What they were offered after arriving in Iran was labouring work on line boats and fishing trawlers for less than $250 a month.
With the help of an Indian sailor stranded in Bandar Bushehr, the Myanmar men were able to contact their families, who then reported their plight to the Myanmar Maritime Workers' Federation. The federation took up the case with the Myanmar government and other labour groups, and Yan Naing Htwe's family was eventually able to organise his release from Iran after he had worked on the boat for just four days. Yan Naing Htwe returned to Myanmar in December 2017, about two months after leaving on his ill-fated trip to Iran.
"We lost all; our hope, money, everything," he said. "I was a fool who smelt of fish when I returned home. I want to speak out so that other seafarers do not encounter a similar situation."
Yan Naing Htwe said it was hard to believe that so many people were involved in the fraud.
In 2017, he had been issued with a Continuous Discharge Certificate, a seafarer's identity document that shows them to be qualified according to the International Convention on Standards of Training, Certification and Watch-keeping for Seafarers. He then sought an agent who could help him find a job.
He contacted U Tin Soe Wai, a director of Golden Sea Dragon Co Ltd, who handled the job application for a fee of $2,500. A few months later, Yan Naing Htwe was told he had been placed on a supply boat owned by a company based in the UAE and would be paid $400 a month.
When Yan Naing Htwe arrived at Yangon International Airport with his family last November to travel to Iran, his agent introduced him to the five other seamen who would travel with him. He discovered that he and one of the others shared the same agent; the other four, plus another Myanmar seafarer who arrived at Bandar Bushehr weeks later, used an agent named U Thomas Tin.
All had been promised that they would be employed on tankers and supply boats.
It might seem strange to pay $2,500 for a job paying just $400 a month. But in the shipping industry it's common because the Department of Marine Administration – the Ministry of Transport and Communications agency that regulates the industry – requires all CDC holders to spend at least a year at sea before sitting the exam to become a third officer, third mate or third engineer. These positions tend to attract a salary closer to $1,000 a month; the salary increases significantly the higher you climb up the ranks.
Unlicensed brokers
The relatively high salaries lure in countless young men like Yan Naing Htwe. Hoping for a better future, they can be easy prey for unscrupulous brokers and agents. Neither Yan Naing Htwe nor the sailors he travelled with were aware that the agents who had placed them in jobs abroad were not officially registered to engage in overseas employment.
In Myanmar, seafarers can only be legally hired by a company that is registered to provide seafarer recruitment and placement services (SRPS). The DMA says there are 161 SRPS-listed companies but there is no guarantee that all are operating ethically.
U Kyaw Myint Oo, secretary general of Myanmar Seafarer Employment Services Federation, says he cannot deny that some SRPS companies are cheating job seekers, but insists that "very few" are involved in unethical behaviour. "Mostly, the fraud involves non-SRPS companies or brokers with a connection to registered companies," he said.
Kyaw Myint Oo said such brokers often open offices in the downtown area so they can connect and work closely with SRPS-listed companies. They contact brokers from other countries and after receiving fees from job seekers, they approach an SRPS-listed company and pay an inducement to have their client included on its books. However, the unlicensed brokers have little way of knowing if their counterparts abroad are trustworthy or unreliable.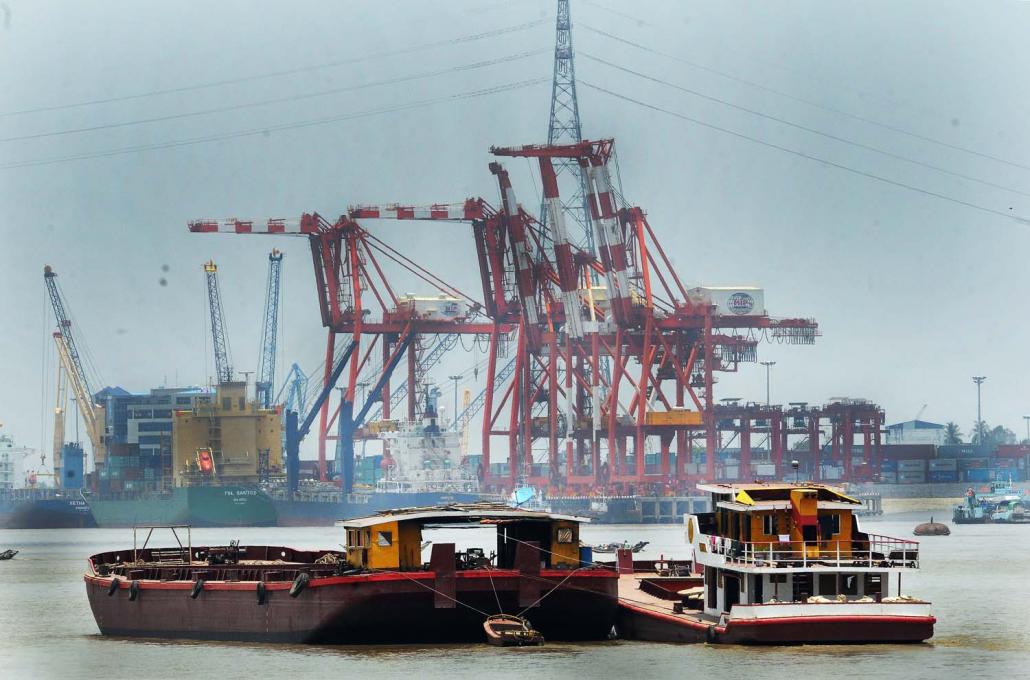 This seems to have been the template followed in the case of Yan Naing Htwe and the other seafarers. Tin Soe Wai's company, Golden Sea Dragon, is registered at the Directorate of Investment and Company Administration but is not on the DMA's SRPS list. The other broker, Thomas Tin, claimed to run a company named Hein Group of Companies, but no such firm is registered with DICA or on the SRPS list.
Frontier visited the address in Yangon's Dawbon Township where Golden Sea Dragon is listed with the DICA and on shipping company websites, but the company had moved. Frontier was unable to determine a new address for either the company or Tin Soe Wai.
Both Tin Soe Wai and Thomas Tin cooperated with an SRPS-listed company, Golden Seafarer Co Ltd, to get what is known as an "exit certificate" for the men, several of the seafarers confirmed to Frontier. After receiving this certificate, they could then apply for other necessary documentation.
A representative for Golden Seafarer declined to comment when contacted by Frontier. In 2017 the company's licence was suspended in relation to the death of a seafarer but it has since been placed back on the SPRS list.
A search by Frontier could find no mention of Artan Darya Shipping Corporation on Iran's companies register, or on other company listing sites, such as Servcorp. There is a mention of Sofa Ounaghi and Artan Darya on LinkedIn. The Artan Darya website is perfunctory, with just some images of ships and the company's contact details.
Those cheated have few options for recourse. After returning home, Yan Naing Htwe and the six other seafarers reported their case to the DMA and the Bureau of Special Investigation, the Myanmar Police Force's economic crime-fighting body. 
Eight months later, they are disappointed there has been no progress in their case. Each of them has lost an average of more than $3,000 and as hope of recovering their money has faded, they have suffered from depression. Both of the brokers have disappeared, together with more than $20,000 that the seafarers paid them.
DMA: A barrier to better conditions?
Some say the government should be doing more to protect seafarers from unscrupulous brokers. The MMWF regards the DMA as an obstacle to better job opportunities, alleging that the department is beholden to shipping companies and private training schools and is allowing them to control the job market.
"The DMA should be able to freely consider what is in the best interests of both the country and maritime workers without any influence from shipping companies," said the federation's general secretary, U Tin Ko Ko Thet. "When the DMA is drafting and implementing policies it should also seek suggestions from us and the other three seafarers' unions."
The MSESF, along with military-owned Myanma Five Star Line, represents employers on an industry body known as the Myanmar Maritime Tripartite Committee. The government is represented by the DMA, while four maritime unions represent seafarers.
MSESF secretary general Kyaw Myint Oo rejected the accusation of the MMWF's Tin Ko Ko Thet that the DMA is under the influence of the employers' bloc. He said the MSESF has tried to address the problem of fraudulent practices in the job market, including by creating awareness about the situation.
Kyaw Myint Oo said the MMWF's accusation could be the result of a misunderstanding. "Our federation also has to operate under the control of the DMA, so how would we be able to influence it?" he said.
The accusation was also denied by DMA's deputy director general (technical), U Ye Myint.
However, he admitted that DMA lacked enough skilled personnel to check the quality of seafarers and ships, or monitor the shipping companies and training schools.
Ye Myint said there was a simple reason for the shortage of skilled personnel at DMA.
"People with sound industry experience have a choice: they can work on merchant ships for thousands of dollars a month or work here for only K500,000 or K600,000. I can understand why they take their families into consideration when they make the decision," he said.
Most Myanmar seafarers are employed internationally as the country has less than 10 ocean-going ships in the private sector, according to DMA figures. As of February this year Myanmar had 60,963 active seafarers out of 1.64 million internationally, with most from the Philippines, followed by China, Indonesia, Russia and Ukraine.
However, with Myanmar seafarers accounting for only a small percentage of those working internationally, competition for jobs is fierce. The decline in the global oil market over the past year has resulted in the closure of some shipping companies, and further shrunk job opportunities.
But Ye Myint said younger Myanmar seafarers were not as conscientious as their predecessors.
"When we were their age, we had to learn and work hard with enthusiasm. But kids these days tend to focus on getting the required certificates and jobs in the easiest way possible. Most of them are only interested in passing easily and they'll do whatever is necessary to pass except rely on themselves," he said.
Yan Naing Htwe though is determined to work again as a seafarer.
"I'm not giving up," he told Frontier. "Despite an unforgettable lesson I intend to keep trying until I can return to work as a seafarer."
TOP PHOTO: Despite his ordeal in Iran, Ko Yan Naing Htwe is still determined to work as a seafarer. (Kyaw Lin Htoon | Frontier)