The Rakhine are angry at their treatment by representatives of the Bamar-dominated Union government, as anxiety and fear continue to poison communal relations in their state.
By OLIVER SLOW | FRONTIER
U NYAN CHAY, 50, has lived all his life in Mrauk-U. Apart from a few trips in his native Rakhine State, he has hardly left the ancient city.
"I've never been to Yangon," said Nyan Chay, who works as a tour guide in Mrauk-U. "I'd like to go one day, but this is my home."
Soon after Frontier arrived in Mrauk-U in March after a four-hour boat trip from the state capital, Sittwe, Nyan Chay guided the team enthusiastically around the city, impressing with his knowledge of its stupas and pagodas.
"That one was built by the Mrauk-U leader King Minbin," he said, pointing to the Shittaung temple, one of the ancient capital's most visited sites. "And that one was built a few years later, by his son King Mintaikkha," he said, pointing to the Kothaung temple. "And that one," he said, stifling a giggle, "was shaped on a woman's breast".
"I'm very proud of this place," he said, a sentiment expressed by many Rakhine.
Mrauk-U was founded as the capital of the Arakan kingdom in 1430. At its peak, the kingdom spanned an area extending west to Chittagong, in modern-day Bangladesh, and to the Ayeyarwady River in the east.
The city became a flourishing trading hub, attracting merchants from as far as Europe and the Middle East. An Augustinian friar, Father Sebastian Manrique, who visited between 1628 and 1633 marvelled at the palace and its rooms of gilded and lacquered teak, and the quality of exquisitely-woven Arakan textiles.
"Surrounded by the serene, rolling hills stippled with whitewashed stupas, Mrauk-U was visible from a distance up the Kaladan river, with its palace steeples and soaring temple spires radiating in the sun, high above a canopy of the lush green tropical foliage against a backdrop of the clear blue sky," author Maung Tha Hla wrote in his 2004 book The Rakhaing, an admittedly nationalistic take on the history of the state.
Mrauk-U, and with it the Arakan kingdom, fell to the Burmese in 1785, when it was conquered by the Konbaung dynasty ruler, King Bodawpaya.
"With the monarchy toppled, a terrible fate laid its grip upon the people of Rakhaing whose misery reached beyond the limit of human endurance," wrote Maung Tha Hla.
"The dissolution of the Rakhaing kingdom by the Burmese was but to bring low to the ground the pride and spirit of its people; it was nothing short of extirpation of a nation."
January protests
More than 200 years later the fall of the Arakan kingdom to the Burmese remains a sensitive issue among the Rakhine.
On January 16, at least seven people were killed and several others injured in Mrauk-U when police opened fire on an angry protest that erupted after local authorities cancelled an event to commemorate the anniversary of the fall of the Arakan kingdom.
"The event had been organised for two weeks and there was a lot of excitement about it," U Sein Gyaw, 79, a Rakhine civil society leader in Mrauk-U told Frontier. "U Aye Maung [former leader of the Arakan National Party] was due to hold a speech, as well as monks. They had permission," he said.
The day before the anniversary, Aye Maung made an incendiary speech at an event in nearby Rathedaung. Speaking alongside prominent Rakhine writer Wai Hun Aung, the pair accused the Bamar-majority government of treating the Rakhine like "slaves".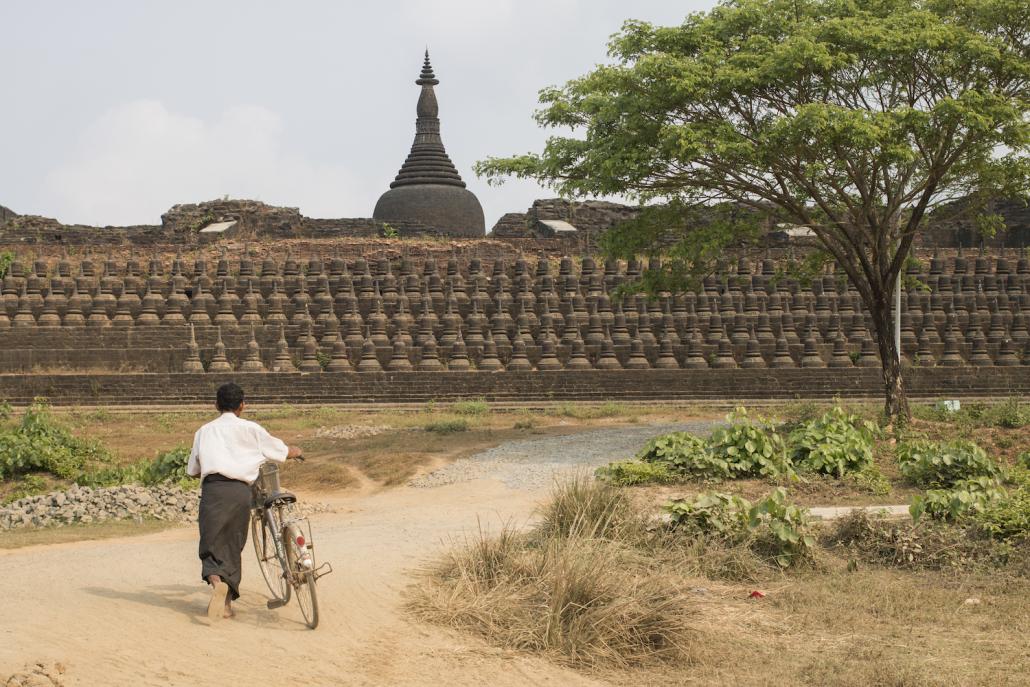 Aye Maung is also alleged to have made a call for greater sovereignty for the Rakhine people and discussed the need for armed struggle, an apparent reference to the Arakan Army, an insurgent group that has launched several deadly attacks on the Tatmadaw in recent years.
Aye Maung and Wai Hun Aung were arrested and detained after the Rathedaung speeches and are on trial in Sittwe, where they face charges under the Unlawful Association Act and sections of the Penal code relating to high treason and incitement.
Sein Gyaw said that on the morning of January 16, a large donation ceremony had been held for the town's monks and there was "much excitement" about that evening's event.
"Then, the township administration told people they could no longer hold it," he said.
Sein Gyaw said the town's residents learned of the cancellation in the afternoon, but those who had travelled from nearby rural areas only found out when they arrived in Mrauk-U.
"When they arrived, they were very angry," he said. "They said, 'Why have they cancelled this event? We've been holding it for the past four years'".
Irate protesters marched around Mrauk-U before heading to the offices of the General Administration Department, under the military-controlled Minister of Home Affairs.
Recounting accounts by witnesses, Sein Gyaw said that after protesters entered the GAD compound, a security officer began firing into the crowd.
"They didn't use tear gas or anything like that to scare people away. They just started shooting," he said.
Almost three months after the incident, the anger and fear of many Mrauk-U residents remained palpable.
Frontier sought interviews with several people who witnessed the shooting, but all declined to speak, citing concern for their safety.
"People are really angry; they are grieving," said Sein Gyaw. "Even months later, we are really sad and upset about what happened."
The incident has added more tension to an already complex situation in Rakhine, in the aftermath of the violence last year that sent more than 680,000 Rohingya fleeing to Bangladesh.
On January 30, the body of U Bo Bo Min Theik, the GAD administrator in Mrauk-U at the time of the protests, was found in an overturned car beside the Sittwe-Ponnagyun road. Police said he had been stabbed multiple times.
Days later, the Ministry of Home Affairs released a statement saying that four suspects arrested over the killing had trafficked drugs and weapons on behalf of the Arakan Army.
The AA denied involvement in the killing, telling DVB that the ministry had "falsely accused" the group.
In the early hours of February 23, three bombs exploded in Sittwe, slightly injuring a police officer. It is not clear who was responsible for the bombings.
A grieving mother
On the night of January 16, a woman who Frontier has chosen not to identify, waited at her home on Mrauk-U's outskirts for her son to come home from work.
"In the evening, the owner of my son's business came to the family home to see if he was there," the woman told Frontier.
"He still hadn't come home and we had heard the gunshots, so later on we went to the hospital," she said.
The woman said that when she arrived at the hospital, police denied entry. Later that evening an employee at the hospital emerged to show a waiting crowd images of those who had been killed, she said.
"That's when I saw the photo of my son, dead," she said, fighting back tears. "He was the only one to earn money for this family. I can't think about anything else," she said.
In January, the Rakhine State government said it had formed a committee to investigate what happened at Mrauk-U, but the results have not been released.
"No one comes here," said the mother. "After it happened, some men came and took some photos and gave me some money, but I don't know who they are."  
Tourism potential
As well as its impact on the mood of Mrauk-U residents, the January incident has also affected local businesses, particularly those involved in tourism.
Although official figures are elusive, many tourism-related businesses in Mrauk-U told Frontier that the number of foreign visitors had fallen since January.
The negative headlines did not deter Polish tourists, Mr Jacob Wozniak and Ms Ewa Falkiewicz.
"We're here aren't we?" said Wozniak. "We had read about what happened, but we also read that the town is very safe for visitors. And we've found that to be the case," he said.
A proposal that UNESCO World Heritage listing be sought for Mrauk-U was among the recommendations to the government in the final report of the Advisory Commission on Rakhine State headed by former UN secretary-general Mr Kofi Annan.
The report was handed down last August, shortly before the Arakan Rohingya Salvation Army attacked security posts in northern Rakhine, triggering the clearance operation that the UN and United States have said amounted to ethnic cleansing, an accusation denied by the government.
In November, the Minister of Religious Affairs and Culture, Thura U Aung Ko, announced that the government would begin the process of seeking World Heritage listing for Mrauk-U. In late March, the Italian embassy in Yangon said it had signed an agreement with UNESCO's Myanmar office to provide €300,000 (about K489 million) for conservation work in the ancient capital.
"The [government] has begun some groundwork already, and UNESCO has supported them," Ms Min Jeong Kim, the head of UNESCO's Myanmar office, told Frontier on April 2.
Kim said the benefits that World Heritage listing could bring to Mrauk-U included better protection for its ancient temples as well as extra publicity that could help to bring significant development to the area.
"It means additional attention, and hopefully additional resources can be provided for the protection of the site. For a place like Mrauk-U that's so little known, it can help raise the profile, as not many people have even heard of Mrauk-U," she said.
Kim said it was important to ensure that the Mrauk-U community was involved in the bid for World Heritage listing.
"They are the ones living there everyday, and they're the ones who have an important role in contributing to the protection and conservation," she said.
A well-documented issue in the state since communal violence flared there in 2012 has been a distrust of international agencies. There is a perception among many Rakhine and other Buddhist ethnic nationalities in the state that their needs are ignored because international agencies are biased in favour of Rohingya, a claim the agencies deny.
However, the Mrauk-U community is supportive of a role by UNESCO in preserving the town's archeological treasures.
"We welcome the work UNESCO is doing," said Sein Gyaw, the civil society leader. "We want to make sure that these ancient temples remain. We are proud of them."
However, development alone will not help to alleviate all of the problems in Rakhine, said Ms Laetitia van den Assum, one of three foreigners on the nine-member Annan advisory commission.
"In conversations with Rakhine people, we identified three major crises; security, human rights and development," she said. "These three crises have to be tackled simultaneously. Focusing only, or mostly on development – which is what we are probably seeing now – is likely to make matters worse."
"If the grievances of the Rakhine people are not addressed, the situation will only get worse," she told Frontier. "That is what is making it all so complex. The grievances of the Rakhine are the same as many other minorities across the country."
'We can't leave'
But there are ethical questions, too. Only a short drive from Mrauk-U are villages inhabited by Rohingya, who have been unable to leave their communities since 2012.
An estimated 200,000 people living in similar circumstances in central Rakhine are "largely forgotten" said Mr Pierre Peron, spokesperson in Myanmar for the UN Office for the Coordination of Humanitarian Affairs.
"They live in rural villages that were not directly affected by last year's violence, but they do face increasing hardship and deprivation as a result of ongoing restrictions on their freedom of movement," Peron told Frontier.
"These restrictions severely compromise their basic rights and access to health, education, livelihoods, and other essential services," he said, adding that the restrictions reinforce the "marginalisation of communities that were already extremely vulnerable and in need of assistance".
In a report released late last year, human rights watchdog Amnesty International said Rohingya in central Rakhine villages were enduring conditions that "legally constitutes apartheid".
The report, Caged without a roof, described the situation as an "institutionalised system of segregation and discrimination of Muslim communities".
Amnesty said Rohingya it interviewed in 11 villages in central Rakhine said they had to seek permission to travel to other Muslim communities.
"The process for this is varied," said the report. "Some reported they had to verbally inform their Village Administrator, while others said they needed written permission. In both cases, villagers said the cost was around 200 kyat each and every time they leave their village."
Frontier found a similar situation at villages along the main road between Mrauk-U and Minbya, a busy trading town about two hour's drive to the southeast.
"I cannot leave this village," said a Rohingya man who lives in a mixed Buddhist-Muslim village. "I haven't been able to leave since 2012," he said. Frontier has chosen not to identify any Rohingya interviewed for this report out of concern for their safety.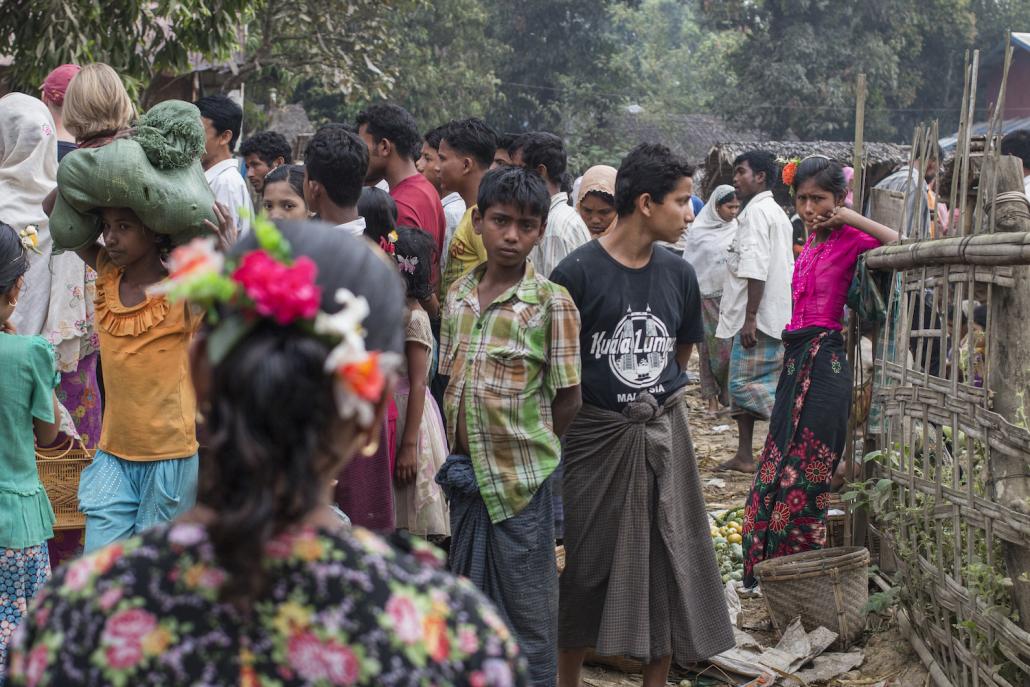 Further along the road to Minbya, Frontier visited a village inhabited only by Rohingya.
"The Rakhine can come here, but we can't go anywhere," a man said.
Residents said there was no government school in the village and the only education for their children was provided by volunteers. Asked about health care, residents said there was a small hospital a few kilometres away but it was rarely staffed by doctors.
"My father has a kidney problem. He is very sick, but he can't get treatment," one man said.
Divisions between the Buddhist and Muslim communities were evident in Minbya.
As we neared Minbya, our Rakhine guide pointed to what he said was a Rohingya village on the edge of the town. When we asked to visit the village to interview residents, our guide seemed surprised.
"I'm sorry, but I cannot. If people see me in there, it could cause problems for me," he said.
A rich and diverse history
Kim, from UNESCO, said an objective of seeking World Heritage listing for Mrauk-U was to highlight the ancient capital's rich diversity.
"One of the things we'd like to see working on this World Heritage nomination is to also promote the value of diversity that is part of the culture heritage in Myanmar, and also in Rakhine," she said.
"The monuments on the site itself are linked to Buddhism, but the history of Rakhine and the history of Mrauk-U as the capital of the Rakhine kingdom has a very rich and diverse history with a lot of influences from different cultures, different people and different religions. In that way, we are hoping to see how we can bring in some of those conversations around diversity in discussing the universal value of Rakhine."
Ms Gabrielle Aron, an independent consultant who focuses on Rakhine, said frustration had been building among the Rakhine since last August and could have contributed to the January protest in Mrauk-U.
"When you have high levels of tension and fear, it's easy to see how protests can boil over," she told Frontier.
"Three months later it's still an issue. It hasn't disappeared into the background. It was a heavy crackdown in response to a grievance related to oppression; the revocation of permissions to commemorate the fall of the Arakan empire," she said. "Further oppression" would only ensure that grievances grew, she added.
Aron urged the Union government to include Rakhine representatives in its initiatives in the state.
"There's been little representation or consultation with Rakhine people. They are not being given a say in decisions about where the state is heading," she said.
TOP PHOTO: Renovation work at a temple in Mrauk U. (Nyein Su Wai Kyaw Soe | Frontier)