An Israeli state-owned company has sent four shipments of aircraft parts to Myanmar since the military seized power in 2021, as the air force ramps up attacks on resistance groups and civilians.
By FRONTIER
Israel has supplied the Myanmar military since the 2021 military coup, according to a major general in the Myanmar air force, who spoke with Frontier on the condition of anonymity, and new trade data shared by activist group Justice for Myanmar.
Israel Aerospace Industries Ltd, a state-owned company that designs and produces both civil and military aviation equipment, has sent at least four shipments of "aircraft parts" since February 2021, the trade data shows. These follow four earlier consignments starting in 2019, despite existing arms embargoes from the United States and European Union.
The first two shipments were in July and August 2019, starting a month after several Myanmar military personnel were seen attending the Israel Defense and Homeland Security Expo, the country's largest arms fair, in Tel Aviv. The second set followed in March and April 2020.
Two more shipments were made in March and November 2021, and another two in February and March last year, amid brutal military crackdowns and the imposition of sanctions by the US, EU, Canada and United Kingdom on the Directorate for Defence Procurement, which was identified as the importer of all the consignments. An external relations official at the Ministry of Defence, which contains the directorate, declined to comment to Frontier.
The final three shipments were also sent after Israel backed a United Nations General Assembly resolution in June 2021 that called for member states to "prevent the flow of arms into Myanmar".
The major general in the air force told Frontier in June that "countries such as Israel are selling aircraft spare parts and related items for aircraft to the Myanmar military" and that these shipments had been received both before and after the coup. He did not say how the items were used and could not be reached for further comment.
According to the trade data shared with Frontier, all eight shipments departed from Ashdod Port south of Tel Aviv, on Israel's western coast, and were unloaded in Yangon. Shipping memos list DHL as the forwarding and booking contact, although a DHL Group spokesperson told Frontier that the company "could not identify any transports that were processed with us".
The goods were described as "metal plates" in the shipping records but no further information was provided. The Israeli company IAI advertises sheet metal and machined detail parts for "aerospace products" on its website, but it's unclear whether these are the same parts as those described in the data.
IAI did not respond by press time to Frontier's request for comment, but in a story by Israeli newspaper Haaretz that cited the same trade data, the company said "there has been no business activity with Myanmar in recent years" and the company "acts in accordance with the policies of the Defense Ministry's Defense Exports Control Agency".
Haaretz also reported that Elbit Systems, a publicly-traded defence electronics company, has sold military systems to the Myanmar air force, including an air combat manoeuvring instrumentation pod, parts for unmanned aerial vehicles and a remotely operated naval turret. It was not clear from the report whether these items were sent before or after the coup.
The IAI shipments are the first reported instance of trade between Israel and the Myanmar military since the military takeover. It also adds Israel, a US ally, to a list of mostly anti-Western countries such as Russia and China that have continued to supply the military since it deposed the civilian government and launched a campaign of deadly attacks across the country. The Embassy of Israel in Yangon did not respond to Frontier by press time.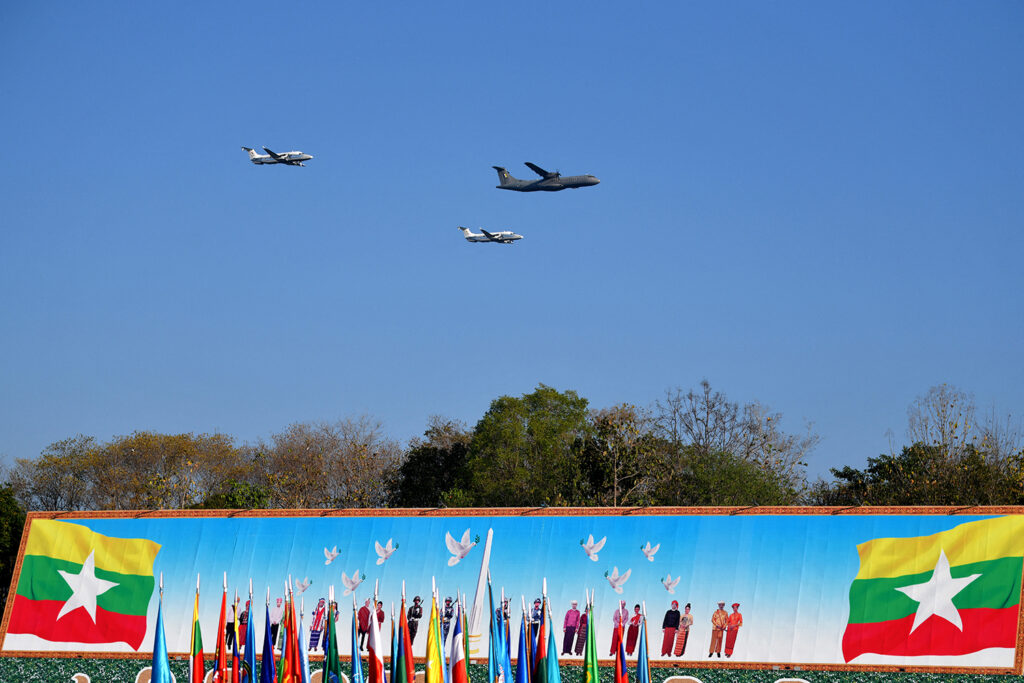 Terror from the air
Over the last decade, the Myanmar military has substantially upgraded its aerial capabilities, buying helicopters and fighter jets from Russia and China.
The same major general in the air force told Frontier that after the coup leader Senior General Min Aung Hlaing became commander-in-chief in 2011, military expenditure increased and the air force became a priority.
This investment has paid off since the coup, giving the military an advantage over armed resistance groups that lack anti-aircraft weapons. As it has lost ground to these groups in large parts of Myanmar, it has increasingly resorted to aerial attacks – including against civilians accused of supporting the resistance.
Between the coup and March this year, the military carried out 1,427 air strikes, according to data from local research group Nyan Lynn Thit Analytica, and these attacks are becoming more frequent. In August alone, war planes conducted more than 100 bombings, and the monthly average has risen to 30 this year, up from 26 last year and 8 in 2021.
"Airstrikes are effective in terms of what the military is trying to do," said Mr Morgan Michaels, a research fellow for Southeast Asia at the International Institute for Strategic Studies. "You can't wipe out an armed movement with airstrikes alone, but you can prevent [resistance forces] from consolidating control over territory, you can contest any area, you can prolong the war and you can likely tire out the civilian population with incessant air attacks."
Citing an escalation in "violent airstrikes", the US introduced new sanctions in late August against two individuals and three Singapore-based entities "involved in the procurement and distribution of jet fuel" to the military.
In its announcement, the US Treasury Department noted the particularly deadly bombing of Pa Zi Gyi village in Sagaing Region in April, which killed an estimated 170 people.
Mr Richard Horsey, a senior advisor on Myanmar at think tank International Crisis Group, said the attacks on Pa Zi Gyi showed the lengths the military would go to inflict harm.
"They're not restrained by concerns over civilian casualties or concerns over being perceived as brutal or inhumane and therefore they're ready to use these kinds of horrific weapons against civilian populations if they believe that it will help them suppress dissent," said Horsey.
"It hasn't worked, but their calculation is that the higher the cost and the greater the fear, the less people will be willing to continue fighting against them."
Longstanding ties
Military ties between Myanmar and Israel are longstanding. Myanmar was the first country in Southeast Asia to recognise the State of Israel upon its foundation in 1948, a few months after Myanmar's independence from the British. For several years after that, the Tatmadaw regularly sent officers to Israel to buy weapons and seek out ways to build its own forces.
According to a paper by security scholar Dr Andrew Selth, these ties were considerably weakened under the isolationist regime of General Ne Win, between 1962 and 1988, but were "strengthened considerably" under the junta that ruled Myanmar between 1988 and 2011.
These strong relations continued during the following decade of semi-civilian rule. Shortly before the coup, in 2020, Israel's Cognyte Software won a tender to sell intercept spyware to Myanma Posts and Telecommunications, a state-owned enterprise under Myanmar's Ministry of Transport and Communications.
The previous year, Israel's CAA Industries Ltd, a registered arms manufacturer, sold US$5 million worth of materials used to upgrade small arms to the military through Star Sapphire Trading, a company controlled by Myanmar arms broker U Tun Min Latt. Both have since been sanctioned by the US, while Tun Min Latt was sanctioned separately by the UK and has been in Thai custody since September last year on drug trafficking and money laundering charges.
IAI was also accused of supplying the Myanmar navy with two Super-Dvora Mk III fast attack craft in April 2017. This was less than a year after the military launched a brutal clearance operation in Rakhine State, in response to attacks by Rohingya militants in October 2016.
Shortly before the IAI craft were sent, a petition was filed to Israel's High Court of Justice seeking to prohibit defence cooperation with Myanmar.
A gag order has prevented the court ruling from becoming public, but since 2018, the Israeli government has repeatedly denied that it is exporting military equipment to Myanmar. Israel also joined several other countries, including Australia, Germany and South Korea, in downgrading its representative in Myanmar from ambassador to charge d'affaires after the coup.
"Israeli authorities should urgently investigate IAI's business with the Myanmar military and ensure accountability for any breaches of Israel's High Court ruling and its responsibilities under international law," JFM spokesperson Daw Yadanar Maung told Frontier. "It's time Israel stands with the people of Myanmar and end all support for the illegitimate junta."
Israeli human rights lawyer Mr Eitay Mack told Frontier that while Israel has not stopped military exports to Myanmar, the High Court ruling prompted a shift from the country sending large arms or boats to shipping small parts. This allows Myanmar to "produce its own [equipment] independently," said Mack, who submitted an application to Israel's attorney general earlier this year to investigate CAA Industries.
"If it's only parts it's like a disguise. We see a pattern with Cognyte, with the CAA and now the parts [from IAI]," he said, also noting that Israel chose to list themselves as the exporter and send the shipments directly to Myanmar rather than from a third country.
"Maybe it's a political statement to say to the Myanmar junta, we have trouble now to be open about our relationship but we still support you."